This keto fish pie recipe is delicious and creamy low carb fish pie that taste better than classic fish pie recipe. Keto fish pie without cauliflower!
I just love this creamy keto fish pie recipe! I could eat this every day and my children approved it! That's really important for me because I don't have time to cook few meals for each family member in a day. 🙂 I prefer to cook the meals you can reheat and eat for 2 days or freeze and reheat after few days. Usually, that's not the often case with fish recipes but with this one is totally OK.
It is not very often here in Croatia to cook this kind of fish pies, so my first time to eat this kind of fish pie (non keto) was in England few years ago. And, I loved it! Probably that's the best place to try fish pie - England!
Taste of this dish is fantastic, it looks wonderful but you can make it really economically, especially if you buy your fish in a supermarket or even more if you buy it frozen! Yes, you can use frozen fish and it will still be so delicious!
HOW TO MAKE KETO FISH PIE WITHOUT CAULIFLOWER?
This fish pie recipe is really easy to make. Not so many steps and the result is fantastic! It could be perfect keto fish pie for Easter or for any other day. Wonderful yellow color will add even more style to your festive table!
I have made this fish pie with prawns or shrimp and fish and the result is amazingly delicious meal! Nice chunks of fish and shrimp smothered in a creamy white sauce and wonderful golden topping.
Best fish for low carb fish pie
I like to use combination of smoked and unsmoked fish and prawns/shrimp. Smoked fish provides a lot of flavor but don't use smoked fish only, use just a smaller part, because it could be too much. When you combine unsmoked fish with smaller amount of smoked fish and shrimp you get really the best balanced flavor and structure.
If you can't find smoked fish, this recipe will still turn out fantastic! It's full of wonderful spices and other flavorful ingredients that bring the flavor and taste to white fish that is sometimes without a lot of flavor.
For this recipe you may use fresh fish or frozen. I tried both and both works great.
Before putting the fish into the baking dish, you will need to poach the fish for 5 to 10 minutes into the boiling water with a pinch of salt and optionally clove of garlic.
Steps to making creamy fish pie
Here is a step by step procedure how to assemble this fish pie. On the bottom put fish chunks with shrimp, vegetable and spices.
Next layer are boiled eggs cut in quarters and on top goes so called white sauce for fish pie but I love making it very yellow because it looks so much better, colorful! And that's fantastic if you're making it for Easter!
Top everything with grated parmesan cheese. Parmesan cheese on top will give more of that golden brown color and it will be so tasty!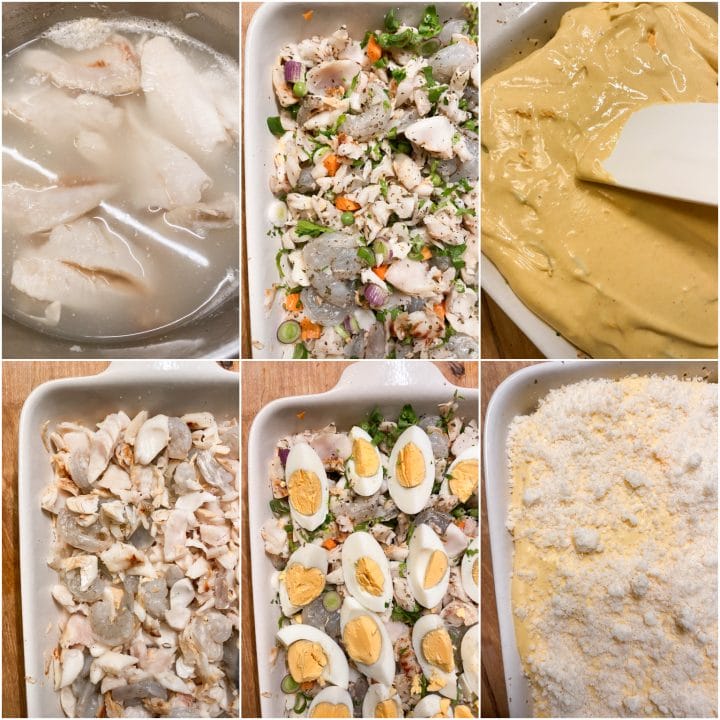 LIKE AND SHARE!
If you like my recipes, please leave a comment and share this recipe on your social networks and in favorite groups to support my work!
Want to calculate your macros? I have an easy to use, and reliable keto macros calculator! Connect with me on FACEBOOK, INSTAGRAM, PINTEREST and join my TELEGRAM CHANNEL. Scroll down and subscribe to my newsletter to get my recipes to your email!
Enjoy!
Ines
Keto fish pie
This keto fish pie recipe is delicious and creamy low carb fish pie that taste better than classic fish pie recipe. Keto fish pie without cauliflower!
Ingredients
FISH
Raw fish of choice (cod, monk fish, salmon, perch, snapper or similar fish that can be flaked into large fish chunks) 400 g/14 oz
Smoked fish (cod or similar) 100 g/3.5 oz
Shrimp 220 g/7.8 oz
Clove of garlic
Pinch of salt
PIE INGREDIENTS
4 hard boiled eggs
Frozen or fresh peas ½ cup/70 g/2.5 oz
Carrot cut in small cubes 40 g/1.4 oz
Spring onion finely choppedParsley finely chopped 1 TBS
Dried basil 1 TBS
Nutmeg ¼ tsp
Garlic powder ½ tsp
Salt to taste
Pepper to taste
SAUCE
Mascarpone cheese or cream cheese 250 g/8.8 oz
Heavy whipping cream ¼ cup/50 ml
3 eggs
Salt to taste
Pepper to taste
Nutmeg ¼ tsp
Powdered garlic ¼ tsp
Turmeric 1 tsp
TOPPING
Parmesan cheese grated 5 TBS/30 g/1 oz
Instructions
FISH
Place fish in a large pot, add water, pinch of salt and clove of garlic and turn the stove onto medium heat.
Poach the fish from 5 to 10 minutes from the moment the water starts simmering.
When it's done, take out the fish and flake into chunks using forks. Remove all the bones.
PIE
Boil the eggs.
Turn on the oven to 180 C/350 F.
Prepare deep lasagna dish and put the chunks of fish and shrimp with carrot, spring onion, peas, parsley, basil, nutmeg, powdered garlic, salt and pepper and stir on the bottom of the dish.
Put boiled eggs cut in quarters on top of the mixture of fish, shrimp and veggies.

PREPARE THE SAUCE
Mix together mascarpone, heavy whipping cream, 3 raw eggs, salt, pepper, nutmeg, garlic and turmeric.
Pour over the pie and boiled eggs layer.
TOPPING
Top everything with 5 TBS of grated parmesan cheese.
Bake in a preheated oven on 180 C/350 F for 20 minutes or until golden brown on top.
When it's baked, serve warm.
Enjoy!
Notes
This fish pie is for deep lasagna dish size 26 x 17 x 7 cm/10 x 7 x 3 inch.
Nutrition Information:
Yield:

6
Amount Per Serving:
Calories:

360
Total Fat:

23g
Net Carbohydrates:

3.65g
Protein:

32g
Please, calculate your own macros with ingredients you use, this is for your information only.