Sugar free lemon blueberry cake is easy to make keto lemon blueberry dessert. Moist and delicious almond keto cake with lemon buttercream frosting. This keto lemon blueberry cake is low carb and gluten free!
Lemon and blueberries combined with delicious and moist keto cake totally remind on spring. Probably because of that wonderful yellow color. I just love combining lemon and blueberries, not just because of the color but because of irresistible flavor too. That's really special combination of flavor.
As you could already notice on my website, I love easy to make keto desserts, and this one is definitely super easy!
HOW TO MAKE SUGAR FREE LEMON BLUEBERRY CAKE
This keto lemon blueberry cake is one of the easiest keto cakes to make. Literally, you just mix all ingredients for the cake in a bowl, bake and put delicious keto frosting on top. You need just one bowl to mix the cake ingredients, and that's what I really love when it comes to desserts. Simplicity, fast to prepare, delicious and KETO! 🙂
KETO LEMON CAKE
For the cake you will need some simple KETO INGREDIENTS:
Almond flour or blanched almond meal - I love using blanched almonds for this cake because of the wonderful color and really moist and delicious keto cake structure.
Coconut flour is definitely one of the staples of every keto kitchen. I use it for so many low carb baked goods. Make sure to be precise with coconut flour because it is absorbing the liquid and if you add too much you will get a really dry cake. But don't skip it because this ratio of almond and coconut flour is perfect to get a structure of a real cake.
Low carb sweetener of your choice - I love using erythritol, but you can use xylitol (be careful if you have a dog) or another sweetener you like.
Lemon juice and lemon zest
Eggs - definitely use large eggs on a room temperature to get the best result.
Softened butter
Vanilla extract
Baking powder
Almond milk or another nut milk or coconut milk. Also diluted heavy whipping cream could work great. Just dilute it with water 50:50.
Fresh blueberries - don't forget to leave few to decorate the cake!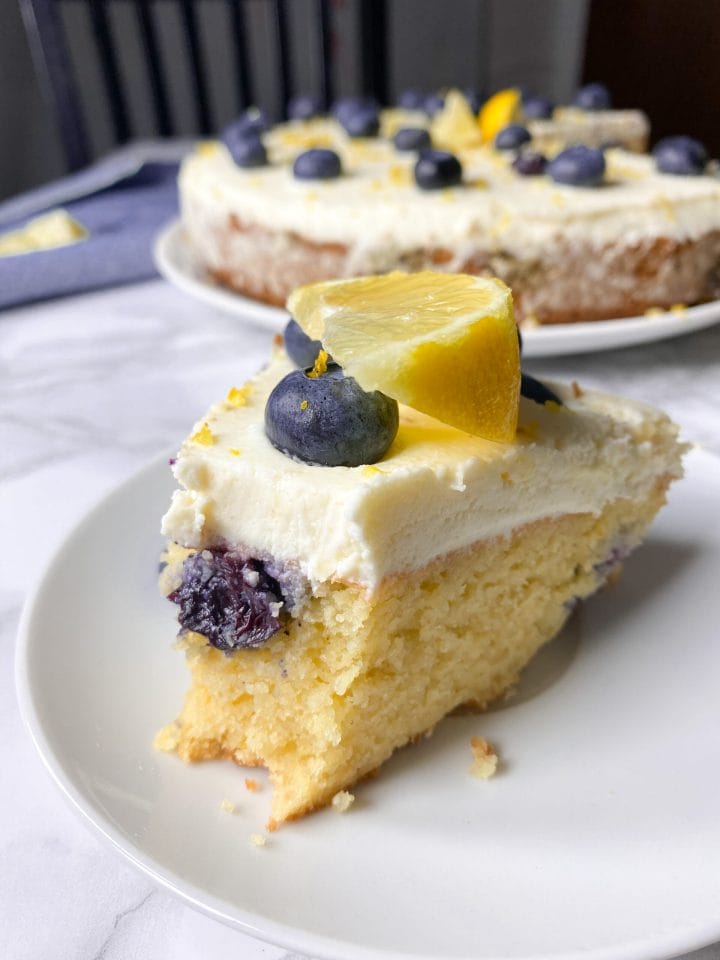 KETO BUTTERCREAM FROSTING WITH LEMON
When you combine mascarpone cheese with butter and a little bit of heavy whipping cream you'll get the most delicious keto buttercream. Smooth and so tasty! Just add some powdered low carb sweetener, vanilla, lemon juice and lemon zest and that's it! Keto lemon buttercream! Pure deliciousness!
Just whisk it until smooth. Don't over mix it to avoid it to be too thick or to turn into butter. That's why I always whisk these type of buttercream with mascarpone or with cream cheese.
When you put buttercream on top, decorate with few blueberries and leave it in the fridge for few hours. It's so much better when cooled. Of course, if you're having a huge desire for something sweet, you might get the piece of keto cake like this, even when it's just made!
LIKE AND SHARE!
If you like this recipe, please leave a comment and share this recipe on your social networks and in favorite groups to support my work! Share in stories in INSTAGRAM and tag me @familyonketo.
Want to calculate your macros? I have an easy to use, and reliable keto macros calculator! Connect with me on FACEBOOK, INSTAGRAM, PINTEREST and join my TELEGRAM CHANNEL. Scroll down and subscribe to my newsletter to get my recipes to your email!
Enjoy!
Ines
Sugar free lemon blueberry cake
Sugar free lemon blueberry cake is easy to make keto lemon blueberry dessert. Moist and delicious almond keto cake with lemon buttercream frosting. This keto lemon blueberry cake is low carb and gluten free!
Ingredients
CAKE INGREDIENTS
Dry ingredients
Almond flour/almond meal 3 cups/300 g/10.5 oz
Coconut flour 3 TBS/27 g/0.95 oz
Low carb sweetener ¾ cup
Pinch of salt
Baking powder 1 TBS
Other ingredients
Softened butter 1 stick/113 g/4 oz
4 large eggs
Vanilla extract 1 tsp
Almond milk ½ cup/100 ml
Lemon zest of 1 lemon
Lemon juice 1 TBS
Blueberries ¾ cup/120 g/4.3 oz
BUTTERCREAM FROSTING INGREDIENTS
Mascarpone cheese 1 cup/250 g/8.82 oz
Softened butter 45 g/1.23 oz
Heavy whipping cream ½ cup/100 ml
Powdered low carb sweetener ½ cup
Lemon zest 1 tsp
Lemon juice 2 TBS
Vanilla extract 1 TBS
Instructions
CAKE INSTRUCTIONS
1. Preheat the oven to 175 C/ 350 F.
2. Combine all dry ingredients together.
3. Add other ingredients - softened butter, eggs, almond milk, vanilla, lemon zest and lemon juice and whisk until cake mixture is done.
4. Add blueberries and gently fold the mixture until combined. Keep few blueberries for decoration.
5. Pour the mixture into a cake tray layered with a parchment paper.
6. Bake in a preheated oven on 175 C/350 F for 40 to 50 minutes or longer if necessary, until the cake is baked. Check with a toothpick.
BUTTERCREAM INSTRUCTIONS
1. Make buttercream when cake is completely cooled.
2. Whisk all ingredients together until you get smooth buttercream. Don't over mix it to avoid getting butter.
3. Put the buttercream on top and decorate with few blueberries.
4. Leave it in the fridge for few hours.
5. Serve it with a cup of tea or coffee and enjoy!
Notes
This cake is for 23 cm/9 inch diameter cake tray. 
Nutrition Information:
Yield:

16
Serving Size:

1 slice
Amount Per Serving:
Calories:

290
Total Fat:

29g
Net Carbohydrates:

2.29g
Protein:

8.75g
This is for your information only. Please calculate your own macros with ingredients you use.