Keto chicken curry is delicious and nutritious low carb chicken in keto curry sauce. Chicken with curry sauce is easy family friendly meal.
Keto chicken curry is one of my favorite keto curry recipes. I live in Europe, precisely in Croatia and I discovered a real and delicious curry recipes when I started to work for one international company and my boss was Indian lady who was a real expert in the kitchen. So I've got my first curry cooking lessons from her!
During all these years of working in international company, I am grateful for having a chance to travel the world. I was eating curry in the best Indian restaurants all over the world and wherever I travel and see good curry spice mixtures I buy for myself, friends and family!
I transferred my love for curry to my husband so now he is always happy when I cook curry. Especially keto curry recipes! I have a delicious keto chicken curry soup on my blog, as well as delicious low carb pork curry with coconut.
Chicken meat could be boring if you're eating always just fried chicken in the oven. However, just a tiny amount of curry can transform chicken meat into a delicious curry experience!
I also have other delicious chicken recipes you might try!
Mediterranean chicken Dalmatian stye
Keto chicken with peanut butter sauce
Easy keto curry
My keto chicken curry recipe is really delicious and, as majority of my recipes, it is really easy and fast to prepare! This is one of my family friendly keto recipes you can prepare in less than 30 minutes!
For working mom on keto this is fantastic because I can easily prepare it fresh after work. Also, this keto chicken with curry sauce is fantastic even when reheated. You can even freeze this keto chicken in curry sauce and keep it it in the freezer for few weeks and take it out as keto emergency meal!
HOW TO PREPARE KETO CHICKEN CURRY?
CHOPPED ONION - I always start with frying onion on a hot coconut oil. If you're using spring onion you will need just a minute to do it. Be careful to avoid burning your onion.
CHICKEN MEAT - for this curry it's the best to use chicken breasts or thighs cut in small bite size cubes.
CURRY SPICES - I use mild curry powder because of my children, you can use spicy if you like it hot. Also, I add ground paprika, garam masala and turmeric. This is combination of spices I like best for my curry. However, I really love spicy food, so I sprinkle my portion with crushed chili to make it hot!
Serving keto chicken with curry sauce
I love this chicken with curry sauce poured over a nice fried cauliflower rice. I am on keto and if you're on keto, fried cauliflower rice is great side dish for this keto chicken curry. Here you can find recipe for fried cauliflower rice.
You can definitely serve it also with cauliflower mash or with cauliflower gnocchi.
I love garnish everything with some chopped spring onion or fresh cilantro leaves. Also a slice of fresh lemon or lime goes fantastically.
When it comes to serving the dish, for me everything tastes better with a pinch of crushed chili. I love spicy food so I to love add some chilies on top. Looks and tastes wonderful!
Sharing is caring!
If you like my recipes, leave a comment! Connect with me on FACEBOOK, INSTAGRAM, PINTEREST and join my TELEGRAM CHANNEL. Scroll down and subscribe to my newsletter to get my recipes on your email!
Enjoy!
Ines <3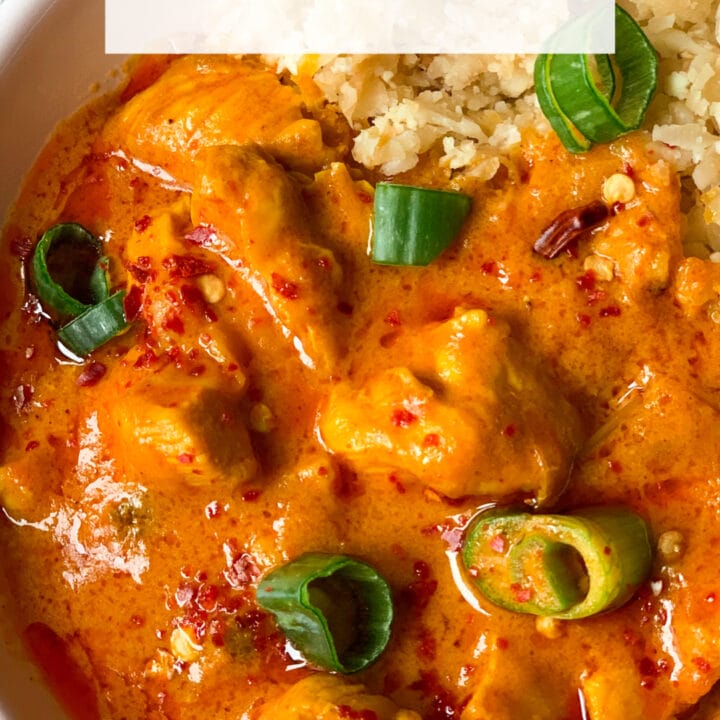 Keto chicken curry – chicken with curry coconut sauce
Keto chicken curry is delicious and nutritious low carb chicken in keto curry sauce. Chicken with curry sauce is easy family friendly meal.
Ingredients
CHICKEN
Coconut oil 2 TBS
Small onion chopped 20 g/0.7 oz
Garlic 2 cloves
Fresh ginger 2 tsp
Chicken breast or thigh 450 g/16 oz
Tomato puree/passata ½ cup/100 ml
Coconut milk full fat 1 can/400 ml
Salt 1 tsp
Freshly ground pepper ½ tsp
CURRY SPICE BLEND
Curry powder mild or spicy (your choice) 1 TBS
Garam masal 1 tsp
Ground paprika 1 tsp
Turmeric 1 tsp
GARNISH
Crushed chili to taste
Fresh cilantro leaves or spring onion
Lime or lemon slices
Fresh cucumbers and tomato
Instructions
Heat coconut oil in a deep skillet or pot over a medium high heat. Add onion, garlic and ginger and cook for 2 minutes or until onion is translucent and golden brown.
Add chicken meat cut in cubes and cook with occasional stirring for 5 - 10 minutes or until golden brown on the edges.
Add salt, pepper and curry spices blend and stir until meat is nicely coated with spices.
Add coconut milk and tomato pure/passata (add water or broth if you want it more diluted) and stir until everything combined.
Cook covered for 10 to 15 minutes.
Serve with cauliflower rice, cauliflower mash or similar keto side dish.
Garnish with fresh cilantro, chopped spring onion or crushed chili to your taste (optional).
Enjoy!
Nutrition Information:
Yield:

4
Serving Size:

2 cups
Amount Per Serving:
Calories:

470
Total Fat:

32g
Net Carbohydrates:

4g
Protein:

37g
This is for your information only, please calculate your own macros with ingredients you use.