Peanut butter cream pie keto recipe is creamy, smooth and flavorful. Peanut butter cream with chocolate ganache on delicious low carb chocolate pie crust.
Do you like cream pies? Oh, I love keto cream pies and I love peanut butter. Peanut butter is great ingredient you can use in keto baking and especially in keto desserts.
Keto peanut butter pie is delicious choice for any occasion, weekend baking, birthdays or when you just want some no guilt sweets.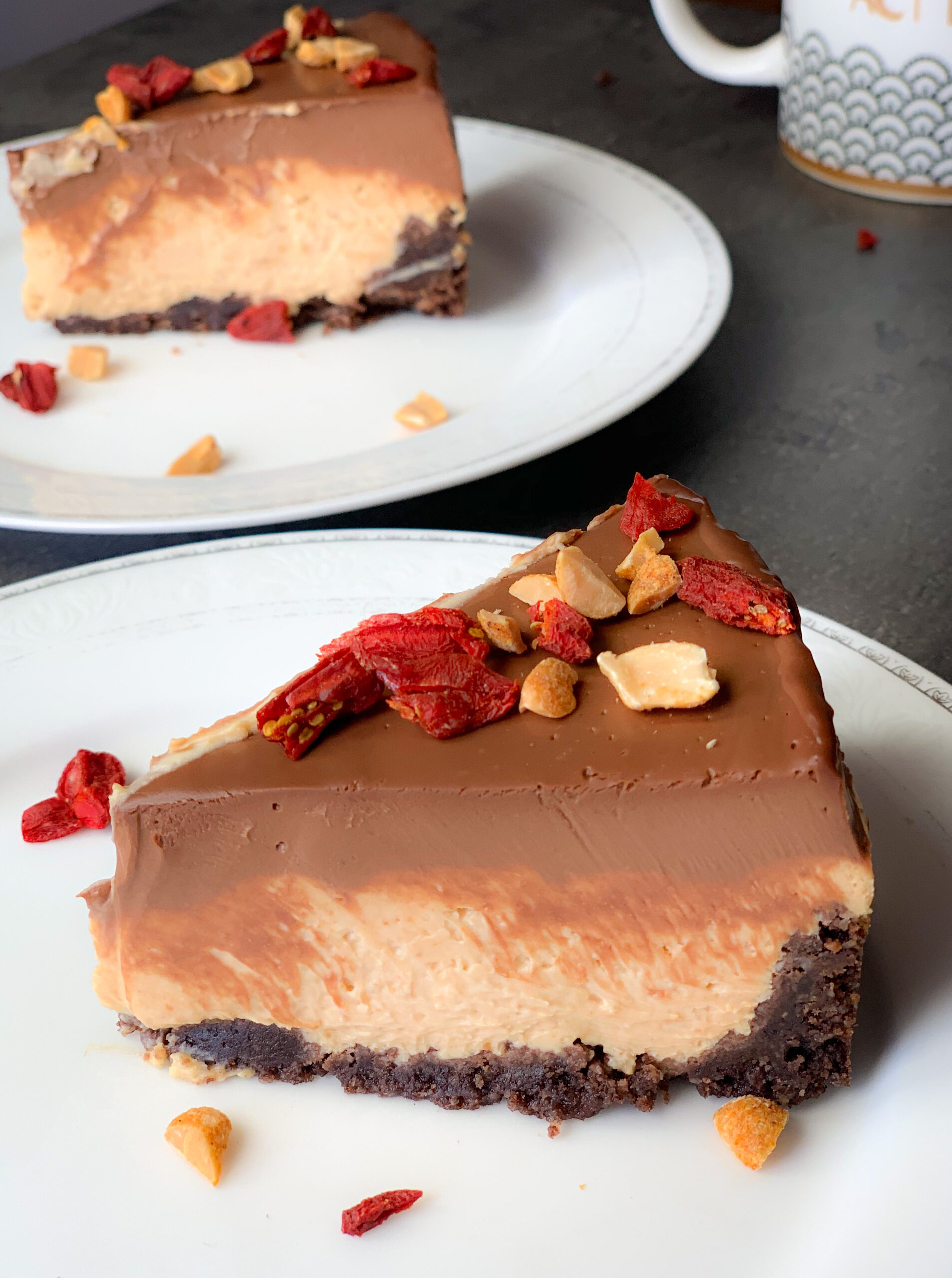 Peanut butter pie goes great with a cup of coffee. I love it on a weekend's mornings. Usually I don't have breakfast but during the weekend I wake up before others and I have 2 hours until they wake up.
So, I enjoy my long coffee time with a slice of good keto cake. And there's nothing better than a slice of creamy keto pie to enjoy.
This cake is favorite to my keto kids also! They are not on keto all the time, they also eat some fruits and their food is more paleo with diary. We don't have sugar and sugary products in our house, only keto desserts. Of course, as sugar is everywhere we can't avoid sugar when we are visiting family but we try to have sugar free home definitely.
I notice how they behave strange and irritating when having some non-keto sweets during the visits of family and friends. When eating keto sweets, I don't observe that.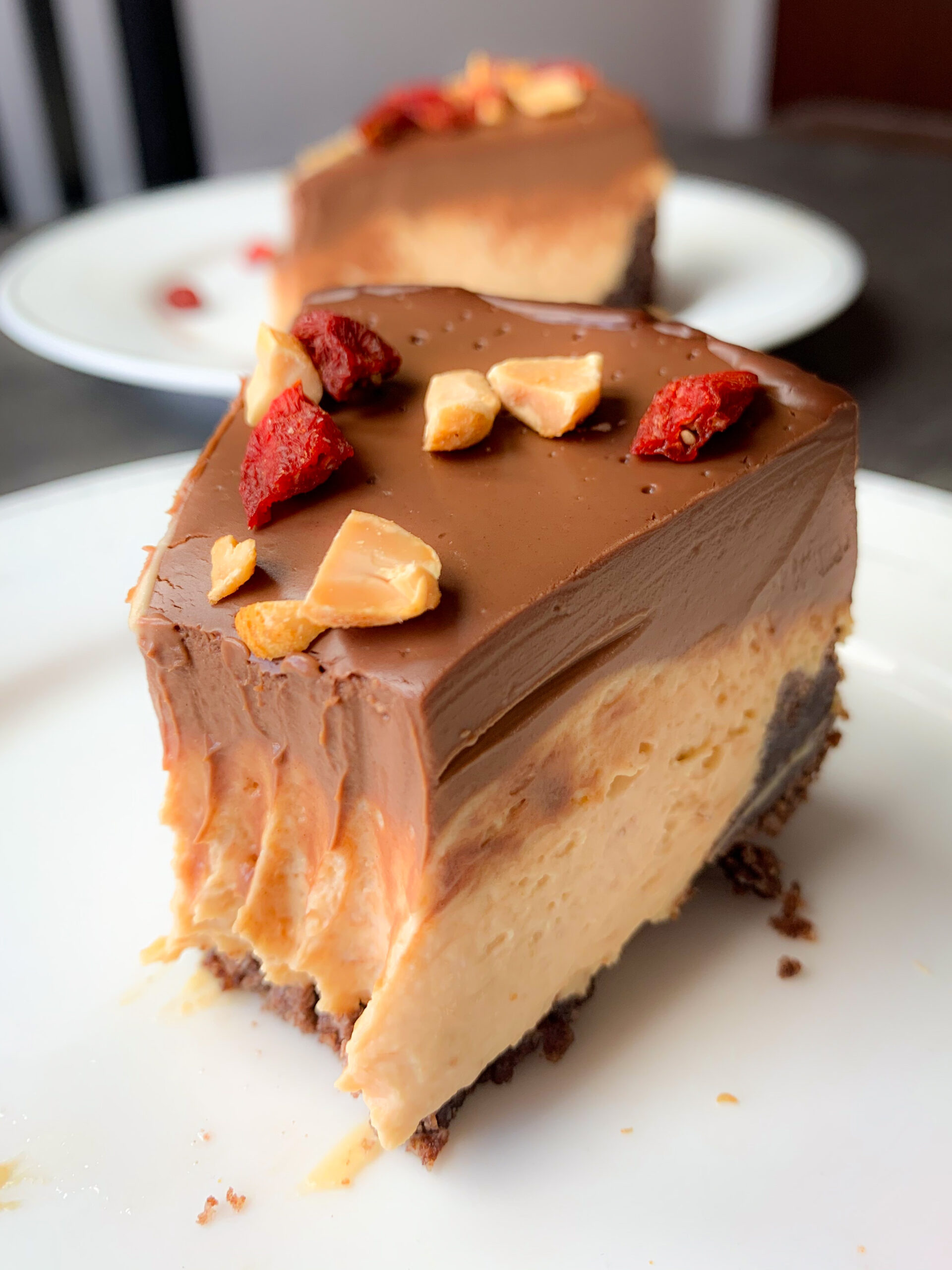 Tips to make keto peanut butter cream pie
Chocolate low carb crust is combination of blanched almond meal, low carb sweetener, melted butter and unsweetened cocoa with a small pinch of salt. Put that pinch of salt when you prepare something with cocoa or chocolate. Salt elevates chocolate flavor and gives special touch to chocolate desserts.
Peanut butter filling is the best if you combine unsweetened smooth peanut butter, mascarpone cheese, sweetener and vanilla extract. Rum or rum extract works good in this combination too.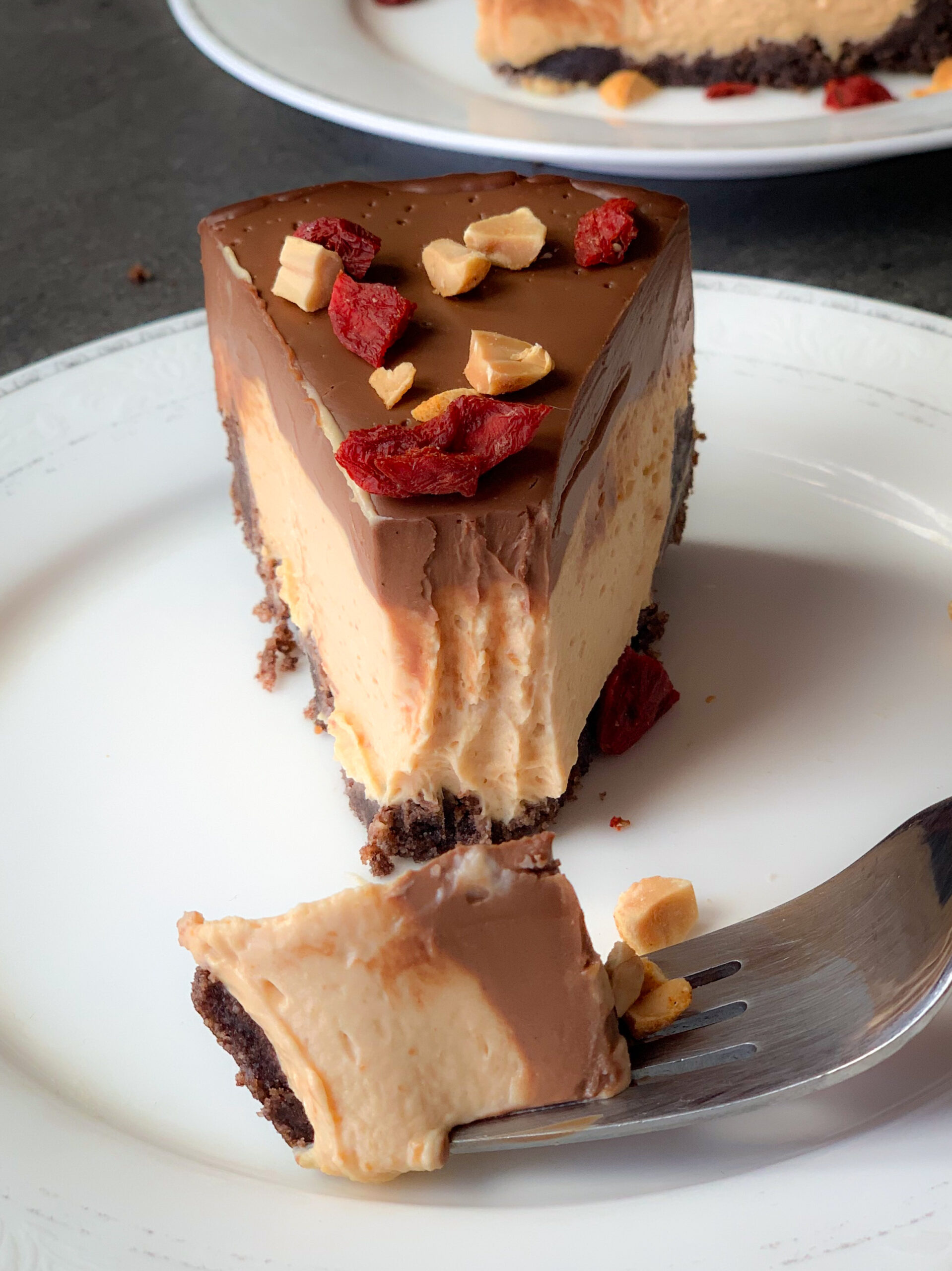 Rich chocolate ganache is so easy to make. Just bring heavy whipping cream to boil, remove from the heat, pour over the dark chocolate, whisk well until combined and smooth, and voila! You have delicious, rich and creamy ganache.
To make keto chocolate ganache, use dark unsweetened chocolate with more than 80% coco and add some low carb sweetener. Great alternative is to use dark chocolate already sweetened with stevia or erythritol.
As you can see on the photos of this peanut butter keto pie, I put some chopped wolfberries or goji berries and chopped peanuts on top jut to garnish. It looks better on photos! 🙂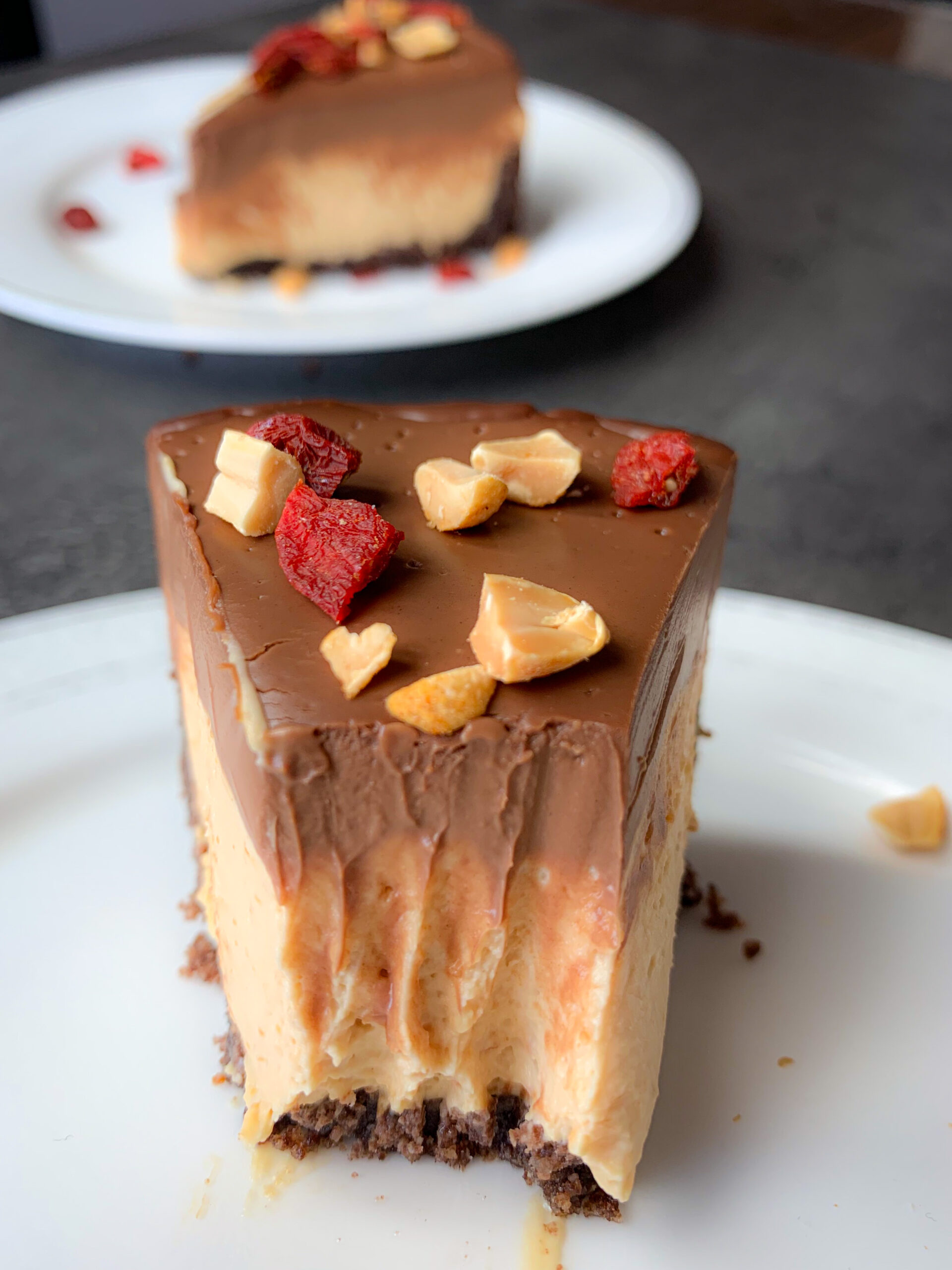 Try my other recipes!
For every cream pie enthusiast, my keto coconut cream pie is a must try! Of course, if you love coconut. If you are not a huge fan of coconut, but you love pies, definitely you should try my low carb blueberry pie of keto pecan pie cheesecake! You will love it! 🙂 These pies are huge hit in keto community.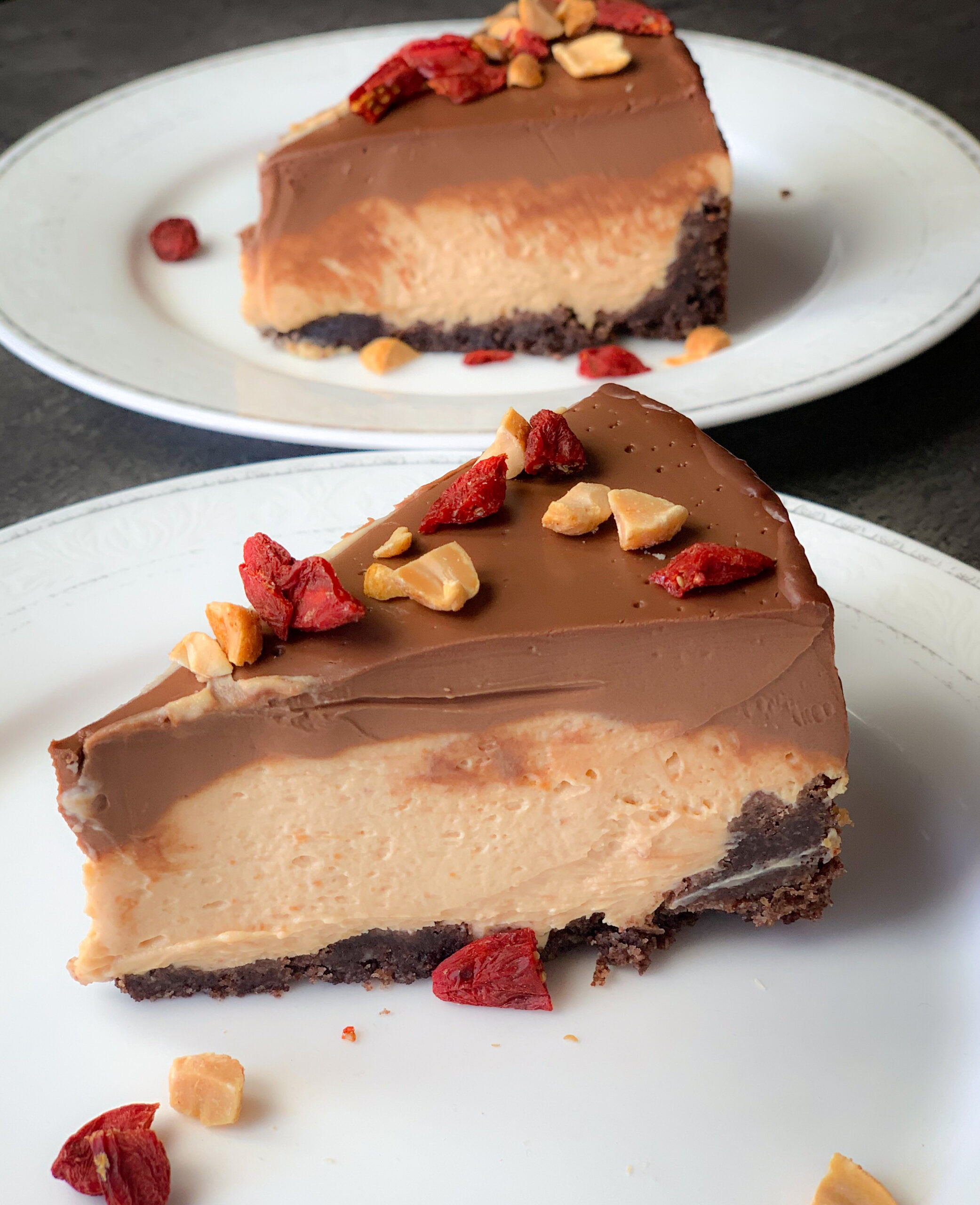 Sharing is caring!
If you like my recipes, share with friends! Connect with me on FACEBOOK, INSTAGRAM, PINTEREST and join my TELEGRAM CHANNEL. Scroll down and subscribe to my newsletter to get my recipes on your email!
Enjoy baking!
Ines
Ingredients
Ingredients for crust

Blanched almond meal 1 cup/95 g/3.4 oz

Unsweetened cocoa powder 1 TBS/5 g/0.17 oz

Low carb sweetener (erythritol) 5 TBS

Pinch of salt

Melted butter 80 g/2.8 oz

Ingredients for peanut butter filling

Smooth unsweetened peanut butter 1/2 cup/110 g/3.9 oz

Mascarpone cheese 1 cup/250 g/8.8 oz

Low carb sweetener (erythritol) 5 TBS

Heavy whipping cream 1 cup/200 ml

Vanilla extract 1 tsp

Ingredients for chocolate ganache

Heavy whipping cream 1 cup/200 ml

Dark chocolate chopped 80 g/2.8 oz

Low carb sweetener erythritol 1 TBS (optional)
Instructions
2
Prepare deep 17 cm/7 inch cake tin or a deep pie tin layered with a parchment paper. This pie or cake is high.
3
Mix together blanched almond meal, cocoa powder, low carb sweetener of your choice and pinch of salt.
4
Add melted butter and mix until you get the dough.
5
Press the dough in a pie tin or cake tin layered with a parchment paper.
6
Bake in a preheated oven for 5 - 10 minutes on 180 C/350 F (it depends on your oven, maybe you will need few minutes more).
7
Leave crust to cool for at least 15 minutes before pouring the peanut butter cream.
9
Mix together peanut butter, heavy whipping cream, sweetener, mascarpone cheese and vanilla extract until nice and smooth cream combined.
10
Mixture should be smooth and creamy.
11
You can whisk it or mix with electric mixer. Don't over mix it.
12
When nice and smooth cream combined pour it on a chocolate crust.
14
In a sauce pan bring heavy whipping cream to boil. When starts boiling remove from the heat.
15
Add chopped chocolate and whisk until chocolate completely melted and nicely combined with cream.
16
Pour prepared ganache over the peanut butter cream.
17
Leave cake to cool for few hours. The best is over night.
Notes
Use deep cake tin 17 cm/7 inch or deep pie tin. This pie serves 12. Nutritional value per serving: Cal 259, Fat 31 g, NET Carbs 4.8 g, Protein 6.8 g. This is for your information only, calculate your own macros with ingredients you use.