Bacon wrapped stuffed pork tenderloin is one of my family's favorite meals! Pork tenderloin stuffed with ham and cheese on the grill or in the oven it's tasty and juicy keto family friendly meal.
My family loves pork tenderloin stuffed with ham and cheese, wrapped in bacon. This is one of our favorite meals at home and I make it very often. It's one of these meals that look complicated but actually, this is so easy to make and so fast to prepare! It could be your go to dinner when you want to impress someone with your cooking skills! 🙂
For me this is a great choice when I want to prepare an easy and fast keto dinner for my whole family.
From early spring until late autumn we prepare a lot of food on the grill in the garden. And that's really wonderful. When you prepare it on a grill you get that wonderful smoke and extra flavor. However, even when prepared in the oven, this recipe is so good!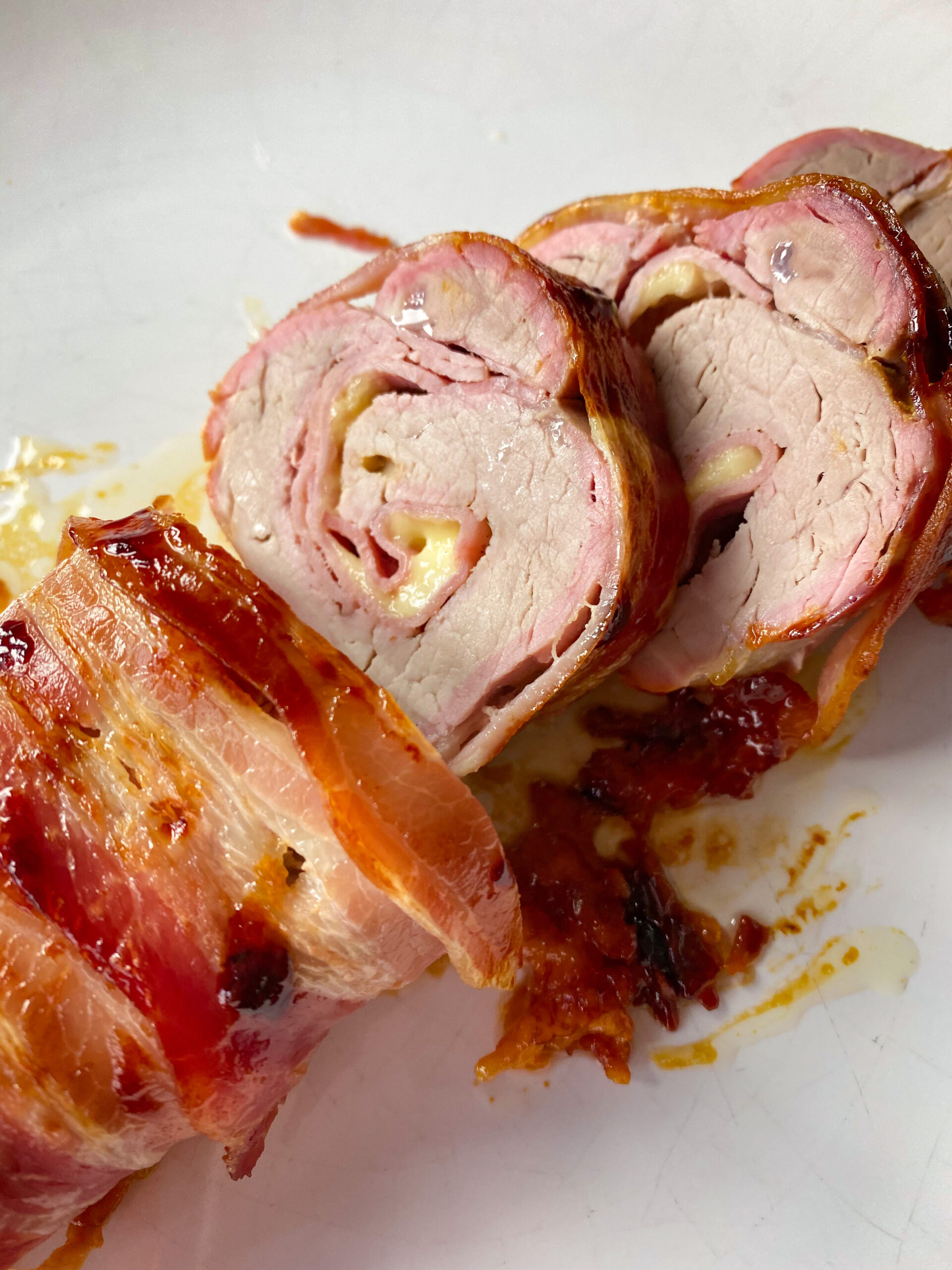 HOW TO MAKE BACON WRAPPED STUFFED PORK TENDERLOIN
PREPARE PORK TENDERLOIN
Cut pork tenderloin down the long end to make it flat and to open it like a book, but don't cut it too thin. You need to prepare it for stuffing and rolling. When tenderloin is cut, season it with salt and pepper and put on it slices of ham and cheese. Roll it and when rolled, wrap it with bacon slices all around the stuffed tenderloin.
When tenderloin is completely wrapped in bacon, secure it with the toothpicks or with a smaller skewer sticks.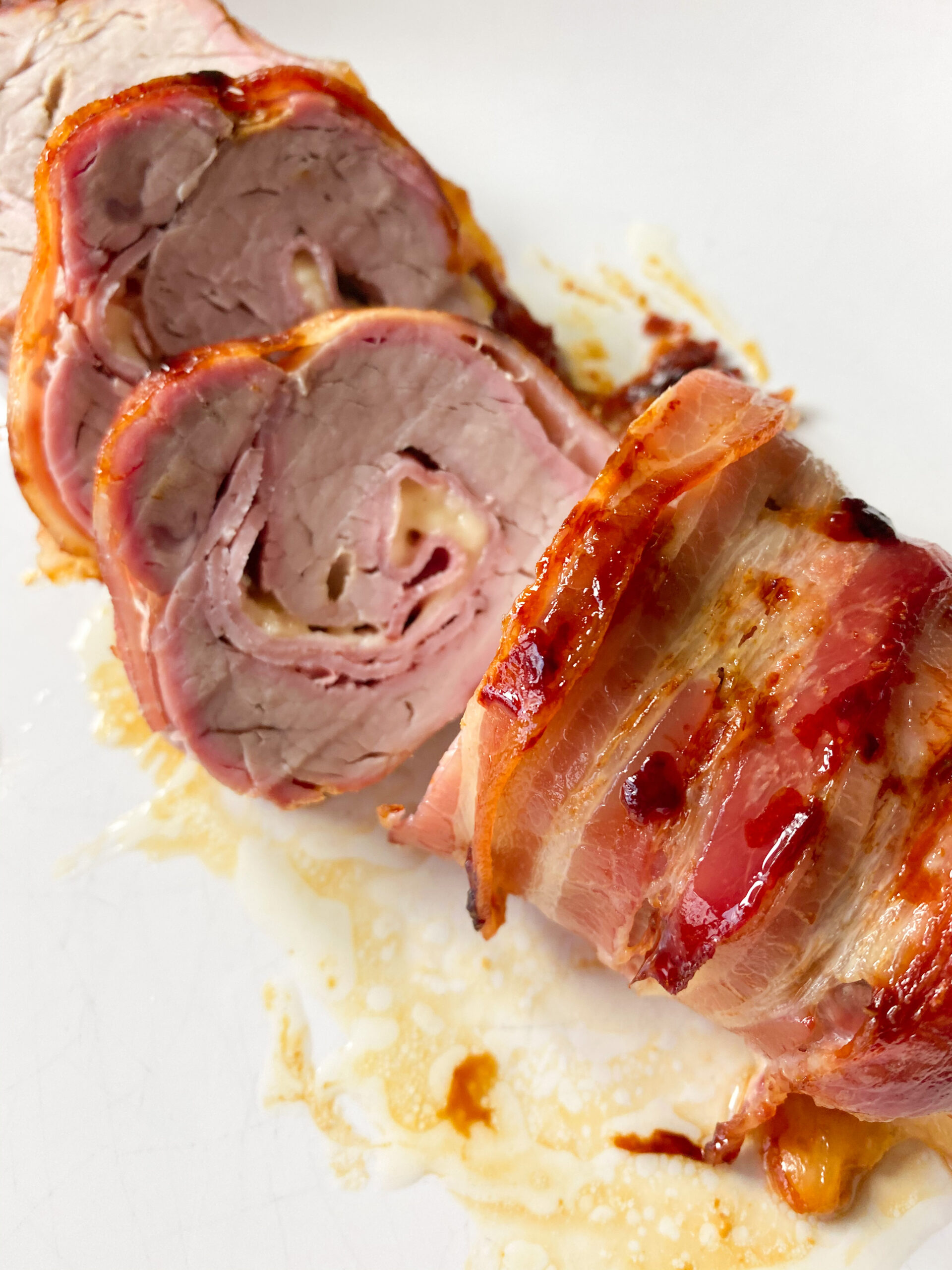 BAKING KETO STUFFED PORK TENDERLOIN
When prepared on this way, you may prepare bacon wrapped stuffed pork tenderloin on the grill or you can bake bacon wrapped stuffed pork tenderloin in oven. Both ways will be delicious and there is no difference in preparation steps before baking.
When baking in the oven, bake it in a preheated oven on 180 C/350 F for 40 minutes or until bacon is golden, crispy and meat is done to your liking. Bake uncovered. When it's baked just glaze it with remaining fat on the bottom of the skillet or baking dish.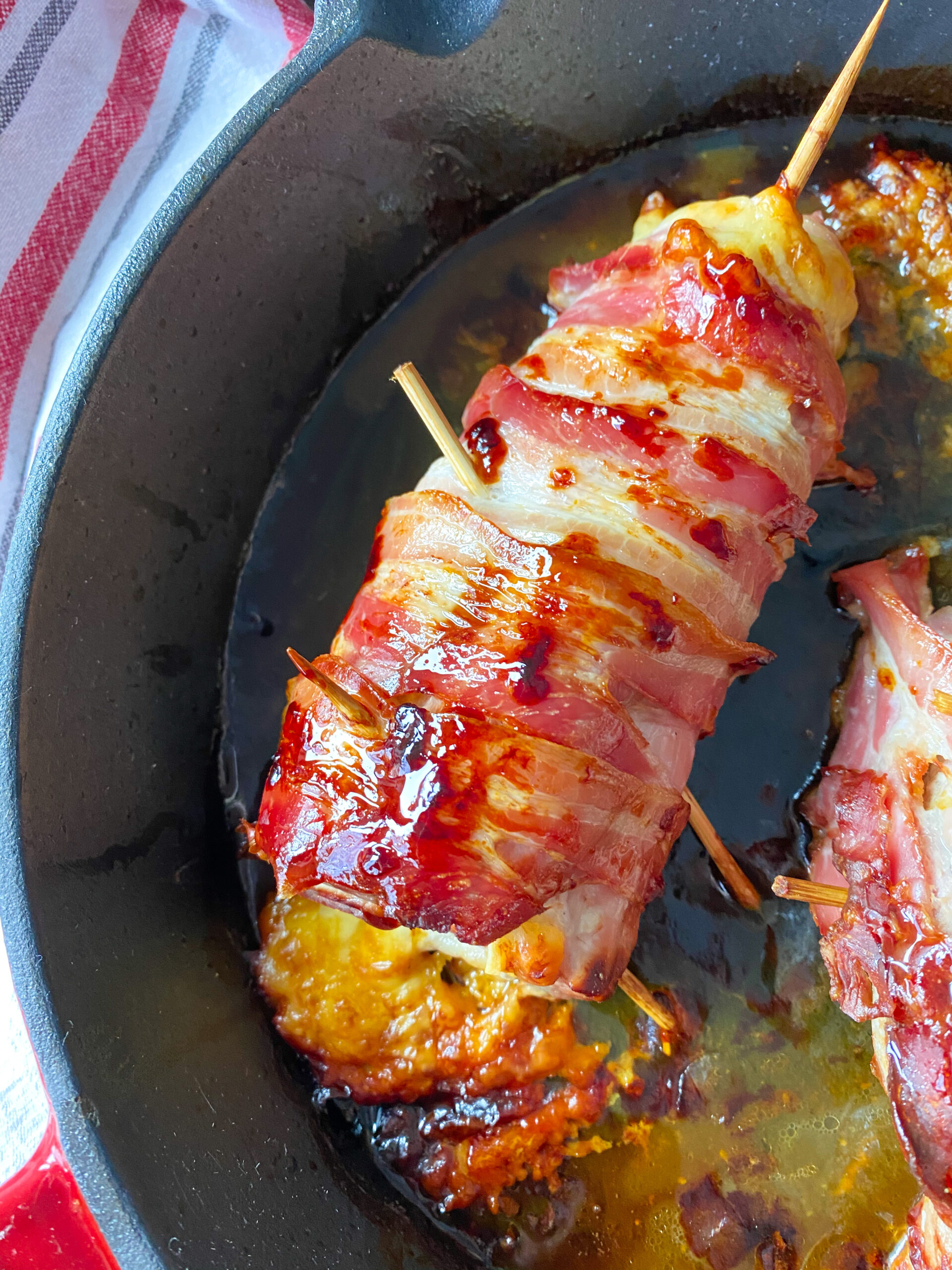 Serving ham and cheese stuffed pork tenderloin
Ham and cheese stuffed tenderloin is so juicy and melted cheese inside gives delicious flavor. This is perfect meal for keto diet and you can serve it with any low carb side dish like cauliflower mash, salad, cauliflower rice, or with these delicious baked zucchini.
It's wonderful when dipped in this delicious and easy cheese sauce too.
LIKE AND SHARE!
Do you like my recipes? Please leave a comment and share this recipe on your social networks and in favorite groups to support my work!
Want to calculate your macros? I have an easy to use, and reliable keto macros calculator! Connect with me on FACEBOOK, INSTAGRAM, PINTEREST and join my TELEGRAM CHANNEL. Scroll down and subscribe to my newsletter to get my recipes to your email!
Enjoy!
Ines
Ingredients
Lard or olive oil 1-2 TBS

Pork tenderloin 680 g/1.5 lb/24 oz

Salt 1/2 tsp or more to taste

Freshly ground pepper to taste

Ham 4 slices 100 g/3.5 oz

Cheese 4 slices 100 g/3.5 oz

Bacon 8 slices 150g/5.3 oz
Instructions
1
Preheat the oven to 180 C/360 F.
2
Remove silver skin from pork tenderloin and cut it all the way down the long end. It should be opened like a book, but not too thin.
3
Sprinkle inside with salt and pepper.
4
Put slices of cheese and bacon on top of the opened tenderloin and roll tightly.
5
Wrap stuffed and rolled tenderloin with bacon slices and secure it with few toothpicks or short skewer sticks.
6
Put 1 or 2 TBS of lard or olive oil in a skillet or in oven safe baking dish and put wrapped stuffed tenderloin in the skillet.
7
Bake in a preheated oven on 180 C/350 F for 35-40 minutes or until bacon is crispy and golden and meat inside is baked.
8
The same procedure is for the grilling.
9
When baked, glaze with the fat on the bottom of the skillet and serve with your favorite salad or other side dish.
Notes
This amount gives you 6 servings. Nutritional value per serving: Cal 507, Fat 33 g, NET Carbs 0.6 g, Protein 47 g. This is for your information only, please calculate your own macros with ingredients you use.