Keto stuffed pepper soup is flavorful and nutritious low carb soup with ground beef, red and green peppers cooked with beef broth and tomato. This delicious keto Mediterranean soup is family friendly twist of popular stuffed peppers, just in low carb version.
Stuffed peppers are actually something that is usually linked to summer in my world. In Mediterranean, especially in Balkans, we eat stuffed peppers so often during the summer when pepper season starts. That's fantastic dish because you can make a huge amount and eat for few days. Just reheat and enjoy!
I love this version of low carb stuffed pepper soup even better, because you can make it even faster. There is no need to stuff the peppers, just cut them and cook with other ingredients.
So easy to prepare, so little time to invest and the taste is so original! Fantastic and inexpensive dish for your keto meal prepping for the working week. You can make it in the instant pot to have it even faster, or in a slow cooker. Fantastically versatile dish.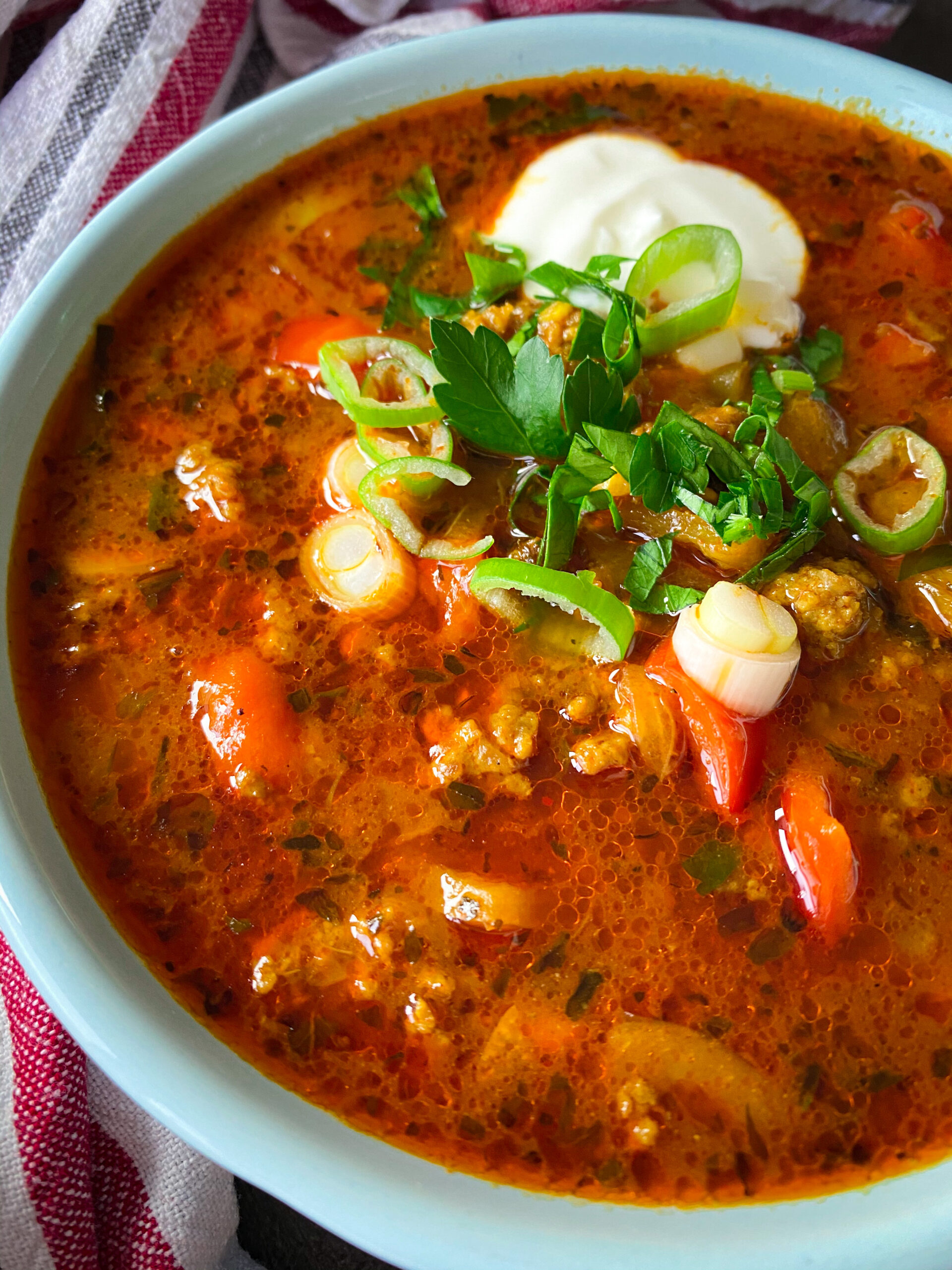 HOW TO MAKE KETO STUFFED PEPPER SOUP
This low carb ground beef soup with peppers is really easy to make. Here is what you will need to get a really delicious deep flavor of original Mediterranean stuffed peppers, just in a soup version.
Caramelized onion
As for every dish with ground beef or when I want to get that deep and big flavor, I start with cooking chopped onion on a hot olive oil. You may use lard or another fat, but for this Mediterranean stuffed pepper soup, I use olive oil to be more traditional.
When onion is golden brown and release the flavor and becomes caramelized, add ground beef.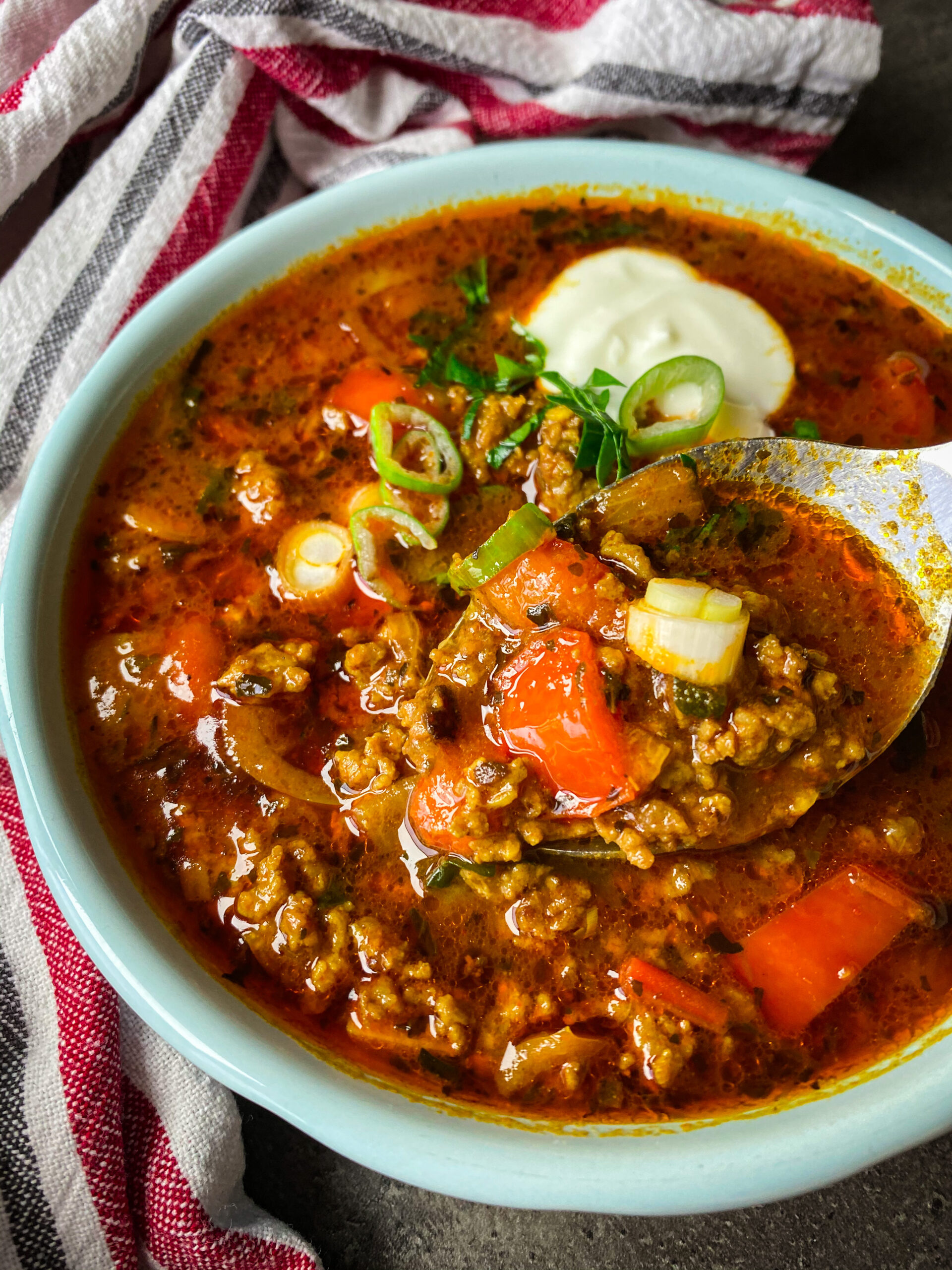 Brown beef
Ground beef should be also caramelized. I love to caramelize onion first and afterwards to add meat and stir occasionally until beef meat is caramelized too. It should be brown. When ground meat is brown, add peppers chopped in small pieces and minced garlic. Stir for few minutes and add crushed canned tomato, broth, water, salt, pepper and spices, bring it to boil. Stir and cook for 20 minutes, covered, on a medium heat on the stove. If you have time, cook it as long as it's possible, taste will be better as longer you cook it.
Serving stuffed pepper soup
You may serve it as a soup, just like that, in a bowl and enjoy! If you cook it longer and additionally reduce it you can serve it with cauliflower mash, cauliflower rice or with a slice of some nice keto bread.
It's great if you sprinkle fresh parsley, chopped spring onion, and add spoon of sour cream or shredded cheddar cheese on top. It will look so good and taste will be even better.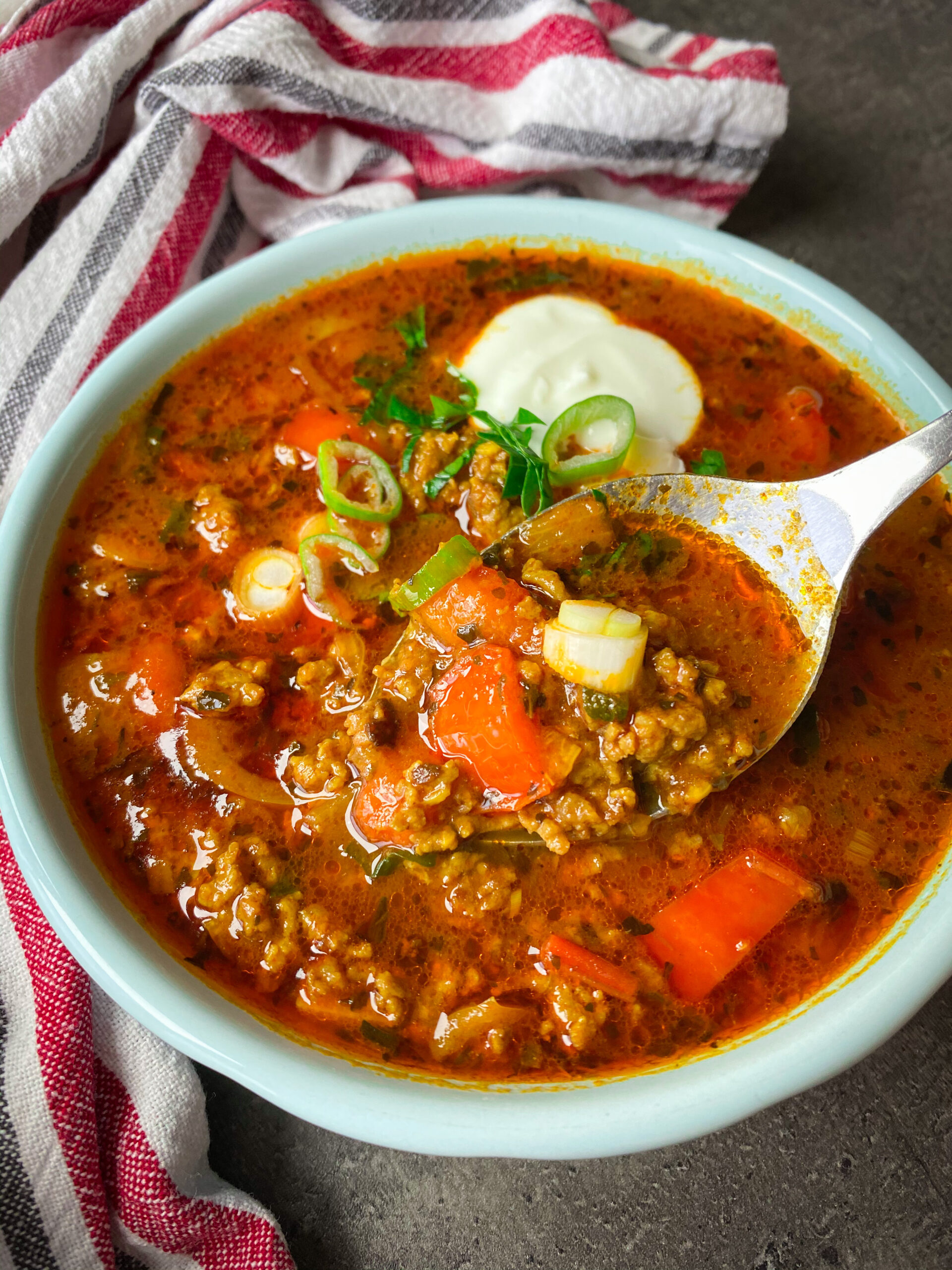 LIKE AND SHARE!
Do you like my recipes? Please leave a comment and share to support my work!
Want to calculate your macros? I have an easy to use, and reliable keto macros calculator! Connect with me on FACEBOOK, INSTAGRAM, PINTEREST and join my TELEGRAM CHANNEL. Scroll down and subscribe to my newsletter to get my recipes to your email!
Enjoy!
Ines
Ingredients
Olive oil 1 TBS

Onion chopped 70 g/2.5 oz

Ground beef 450 g/1 Lb/16 oz

Green or yellow pepper chopped 80 g/2.8 oz

Red pepper chopped 145 g/5.12 oz

Minced garlic 3 cloves

Canned crushed tomato 1 cup/200 ml

Beef broth 1.5 cup/300 ml

Water 2 cups/400 ml

Salt 1/2 tsp or more to taste

Pepper to taste

Ground paprika 1 tsp

Turmeric 1 tsp

Dried basil 1 tsp

Dried oregano 1 tsp

Freshly chopped parsley 1 TBS

FOR SERVING

Sour cream

Freshly chopped parsley

Spring onion chopped

Shredded cheddar cheese
Instructions
1
In a large pot, heat 1 TBS of olive oil.
2
When olive oil is hot, add chopped onion and stir until onion is golden brown and caramelized.
3
When onion is caramelized, add ground beef and stir occasionally until it's brown and caramelized.
4
Add chopped pepper and minced garlic, stir for few minutes until garlic release all the oils, smell and flavor.
5
Add crushed tomato, broth and water, salt, pepper and spices (everything except fresh parsley).
6
Stir and bring it to boil. When starts boiling, cook covered for 20 minutes on medium heat.
7
After 20 minutes try and add more salt if needed, cook uncovered for 5 to 10 minutes more and add chopped fresh parsley.
8
Serve hot with some freshly chopped parsley and chopped spring onion on top and a spoon of sour cream or shredded cheddar cheese.
Notes
This amount serves 5. Nutritional value per serving: Cal 334, Fat 28 g, NET Carbs 4.6 g, Protein 14 g. This is for your information only, please calculate your own macros with ingredients you use.