Delicious & keto slice and bake cookies with cranberries. Sugar free cookies with cranberries and orange flavor are fantastic for your keto holiday baking!
I love this sugar free slice and bake cookies! They can stay fresh in a jar for few weeks. That's why these keto sugar cookies without sugar are my choice for holiday baking.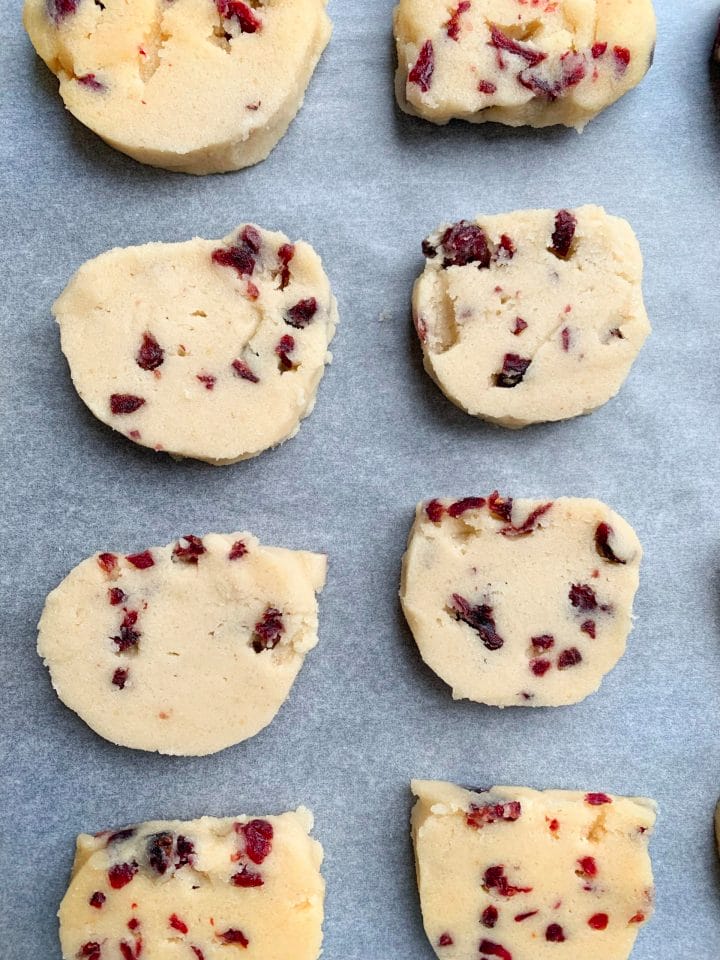 Because of a lot of traveling, I don't have so much time to bake everything for holidays in the last moment. That's why I bake in advance.
I just like to have a variety of low carb cookies and cakes for Christmas and other holidays. These keto cookies are always on the menu.
I make them with homemade sugar free cranberries. Now you can find sugar free dried cranberries in the stores and on the market or you can make your own.
Ingredients for sugar free slice and bake cookies
Butter - use real grass fed butter if you have access. Taste is incredible!
Low carb sweetener/keto swetener - if you can find granulated Swerve or Sukrin you will get fantastic sugar free cookies. I used erythritol and it was also great. To reduce cooling effect, just add few drops of liquid stevia to erythritol.
Orange zest - organic orange zest gives special aroma and flavor. Festive smell in your house. I can't find organic orange zest so easily whenever I wish to bake so I use edible orange essential oil. If you wish to try pure essential oils, here is my link for you to immerse into the whole new world of beautiful essential oils!
Vanilla extract - just 1 teaspoon of vanilla extract makes huge difference. Especially for holiday baking, vanilla and orange combination is extraordinary!
Dried unsweetened cranberries - it's easy to make your own sugar free dried cranberries. Nowadays you can find them in organic food stores or in the farmers market.
Almond flour or blanched almond meal - I use almond flour, but not super fine. Just regular almond flour of blanched almonds.

How to make keto slice and bake cookies?
Mixing keto cookies dough
It's easy to mix this keto cookie dough. You can do it with spatula or with a mixer. When you combine almond meal, butter and sweetener, just add other ingredients and mix.
After mixing, dough will be very sticky. Don't worry, it's normal! Just wrap low carb cookie dough in a plastic wrap in a long log. Refrigerate wrapped dough for at least 2 hours or longer. You can keep it probably 2 - 3 days in the fridge and longer frozen in a freezer. If the dough is frozen, leave it over night in the fridge before baking.
When you are ready to bake, just slice the dough, place it on a parchment paper and bake in a preheated oven on 180 C/350 F! So easy! When baked leave them to cook for at least 10 minutes because these cookies are very soft when baked.
Serving and storing keto cookies
This cookies are fantastic for baking in advance for holidays because they can last really long. In air tight container in dark and cool place you can keep them for 2 weeks.
Cookies are delicious with a glass of almond or coconut milk. They are delicious with Greek yogurt or sour cream for breakfast too.
For more keto desserts check this link or try my delicious keto pecan pie cheesecake, it's great!
If you like my recipes, leave a comment! Follow me on Facebook and Instagram for daily keto inspiration!
Enjoy baking!
Ines <3
Keto slice and bake cookies with cranberries
Delicious & keto slice and bake cookies with cranberries. Sugar free cookies with cranberries and orange flavor are fantastic for your keto holiday baking!
Ingredients
Blanched almond flour 2 cups/200 g/7 oz
Low carb granulated sweetener ⅓ - ½ cup
Orange zest 1 teaspoon or 3 drops edible orange essential oil
Vanilla extract 1 tsp
1 M egg
Softened butter 100 g/3.5 0z
Dried unsweetened cranberries ½ cup/60 g/2 0z
Instructions
Mix together with a mixer or with spatula almond flour, granulated sweetener, orange zest, vanilla extract, egg and softened butter.
When nicely combined add in unsweetened dried cranberries and mix everything together to get sticky keto dough with cranberries.
Scrape keto cookie dough with spatula on a plastic wrap and roll the log. Wrap it tight and refrigerate for at least 2 hours or over night.
When you are ready to bake, preheat the oven to 180 C/350 F and line a baking sheet with a parchment paper.
Take the dough from the fridge, slice it with a sharp knife to 20 parts.
Place the cookies on a parchment paper and bake for 10 - 15 minutes or until lightly golden on the edges.
When baked, remove the cookies from the oven and leave them to cool for at least 15 minutes before removing from the baking sheet. When baked cookies are slightly soft, and need to rest to be firm.
After 15 minutes you can serve your cookies and enjoy!
Nutrition Information:
Yield:

20
Serving Size:

1 cookie
Amount Per Serving:
Calories:

103
Total Fat:

3.71g
Carbohydrates:

5.51g
Net Carbohydrates:

4.31g
Fiber:

1.2g
Protein:

3.14g
This is for your information only, please calculate your own macros with ingredients you use.