This is keto protein peanut butter balls no bake recipe! Wonderful sugar-free and gluten-free energy keto peanut butter bites with protein powder and coconut.
I am sure you will love this high protein balls recipe. Not just it's high in protein, but these keto protein bites are delicious and so easy to make!
We are making these sugar free peanut butter protein balls so often, and my children love them, so last few times they made them without my help. I just give them ingredients and they are mixing, shaping and eating. That is wonderful way for me to get some time for myself while children are being creative. Of course, there is a little bit more cleaning in the kitchen but who cares!? I had a half an hour of me time! 🙂
HOW TO MAKE KETO PROTEIN PEANUT BUTTER BALLS?
These keto peanut butter bites are so easy to make! As I wrote before, my children can make them without my help. And we all love them! They are perfect keto snack or dessert that goes great with coffee or tea!
Here are INGREDIENTS you will need:
PEANUT BUTTER - always look for unsweetened peanut butter, made just from peanuts, without added sugar or other sweeteners and without added oils, especially palm oil. That's how you will be sure that you have clean and whole food product and you will definitely keep your NET Carbs very low.
KETO FRIENDLY VANILLA FLAVOR PROTEIN POWDER - I love vanilla flavored whey protein powder and it's wonderful for baking, not just for drinking as a protein shake but also in many of my recipes. Those are usually big packaging but you may try so many recipes, so it makes sense to get it!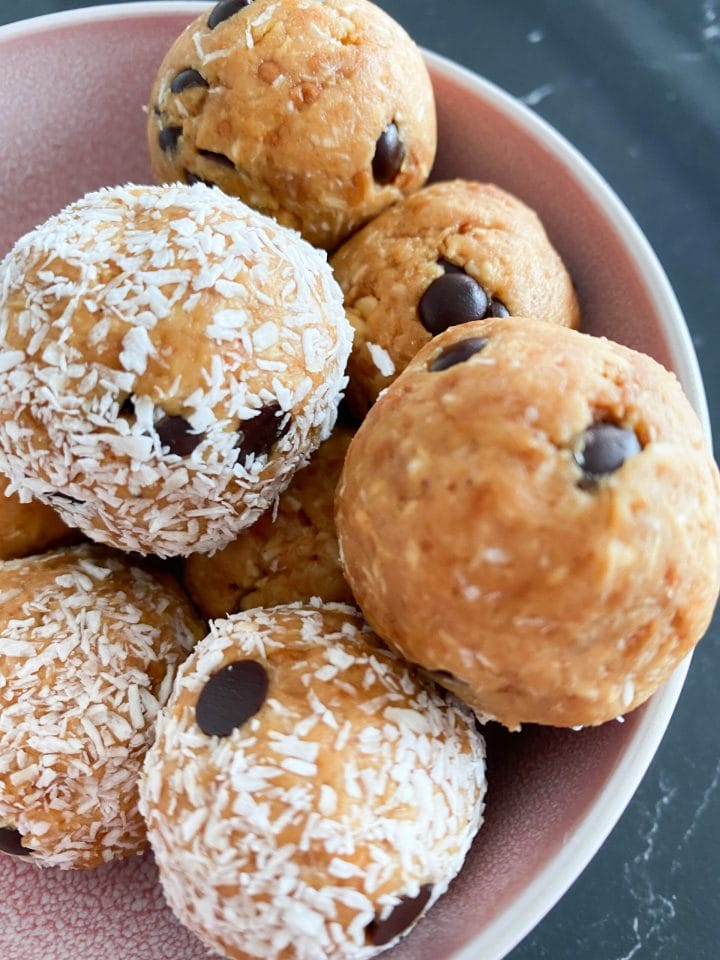 My favorite keto recipes with vanilla protein powder:
Keto protein raspberry and chocolate smoothie
Keto pound cake with strawberries
LOW CARB SWEETENER - I use powdered erythritol. You may use other sweetener you like.
KETO PANCAKE SYRUP - Just 2 TBS of keto or sugar-free pancake syrup. I prefer ones with caramel flavor. That's so delicious in this combination. Really irresistible. Instead of this you can use sugar-free maple syrup too.
FINELY SHREDDED COCONUT - When choosing shredded coconut, definitely take unsweetened and finely shredded. Unsweetened are great for keto recipes and you can make so many keto desserts with shredded coconut, like my favorite keto coconut cream pie!
NUT MILKS are always good to have in your fridge. I prefer to make my own, it's so easy to make, literally you just take few nuts and bled them with water in a blender. Also, you can buy almond milk, macadamia nut, hazelnut or cashew milk, just be careful and choose unsweetened.
DARK CHOCOLATE CHIPS - It's great to add few tablespoons of dark chocolate chips. Also choose dark chocolate without added sugar. Now you can find chocolate sweetened with stevia and erythritol. Those are the chocolates I use.
PROCEDURE TO MAKE KETO PEANUT BUTTER BALLS
These keto peanut butter balls no bake, so you will just need to combine all ingredients in a bowl and form little balls. Leave chocolate chips for the end. First combine all dry ingredients, then peanut butter, milk and syrup.
If you want these little keto protein bites to look nicer, leave 1 or 2 TBS of coconut for coating.
LIKE AND SHARE!
If you like this recipe, please leave a comment and share on your social networks and in favorite groups to support my work! Share in INSTAGRAM stories and tag me @familyonketo.
Want to calculate your macros? I have an easy to use, and reliable keto macros calculator! Connect with me on FACEBOOK, INSTAGRAM, PINTEREST and join my TELEGRAM CHANNEL. Scroll down and subscribe to my newsletter to get my recipes to your email!
Enjoy!
Ines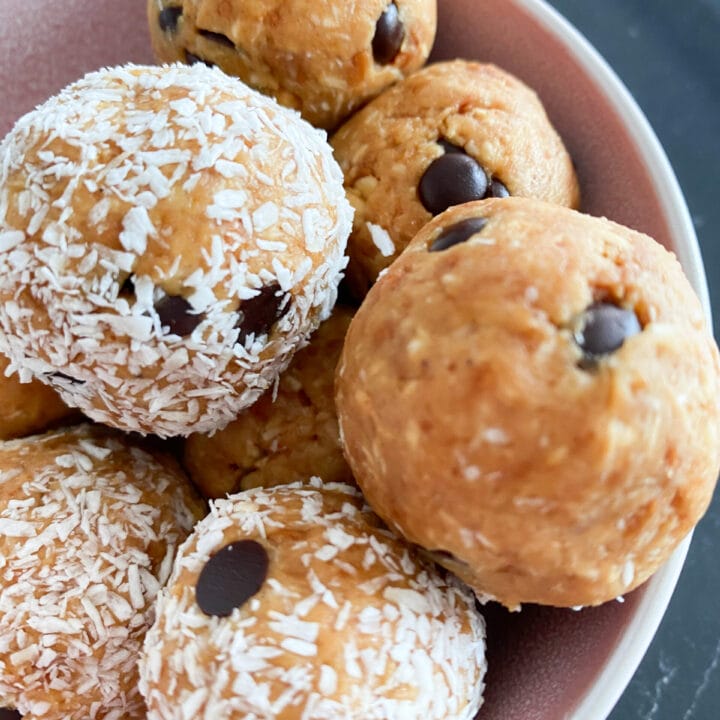 Keto protein peanut butter balls no bake
Keto protein peanut butter balls no bake recipe! Wonderful sugar-free and gluten-free energy keto peanut butter bites with protein powder, coconut and dark chocolate chips.
Ingredients
PEANUT BUTTER BALLS
Unsweetened peanut butter ½ cup/114 g/4 oz
Vanilla whey protein ¼ cup/25 g/0.88 oz
Low carb sweetener (erythritol) 2 TBS
Sugar-free pancake syrup or sugar-free maple syrup 2 TBS
Finely shredded unsweetened coconut ¼ cup/20 g/0.7 oz
Almond milk or another nut milk 2-4 TBS
Dark chocolate chips 3 TBS
FOR COATING (optional)
Shredded coconut 2 TBS
Instructions
1. Melt peanut butter in microwave.
2. Add all other ingredients, except the chocolate chips, and combine with a spoon.
3. When everything combined, add dark chocolate chips and make the balls with your hands. If you like you may coat them into shredded coconut.
4. Serve and enjoy!
Nutrition Information:
Yield:

10
Serving Size:

1 protein ball
Amount Per Serving:
Calories:

87
Total Fat:

11 g
Carbohydrates:

1.59 g
Net Carbohydrates:

1.59 g
Protein:

6 g
This is for your information only, please calculate your own macros with ingredients you use.