Keto chocolate chip cookie lasagna is light and creamy keto dessert that actually tastes really good. Layers of keto chocolate chip cookies with rich low carb cream will make you happy and keep you totally guilt-free.
Sweet and delicious and at the same time low carb, one of the most delicious and easiest keto sweets recipes I make often for my kids. And for me too! And, I feel so good! Because, this recipe is made with just a few clean and simple ingredients, that won't make you feel bloated and won't give you any heavy feeling. Only full mouth of deliciousness!
HOW TO MAKE KETO CHOCOLATE CHIP COOKIE LASAGNA?
Choose smaller lasagna dish
This recipe is for a small lasagna dish, or another similar, deeper and smaller dish.
If you wish to make it bigger, for a larger family, just double the recipe for the cookies and for the cream and you are safe!
Low carb chocolate chip cookie layer
It's so easy to make these delicious keto chocolate chip cookies! You will need just a few ingredients – almond flour or blanched almond meal, one egg, butter, dark chocolate chips and splash of vanilla and a pinch of salt. This recipe for keto chocolate chip cookies will never let you down. These are wonderful!
I bake keto chocolate chip cookies by this recipe all the time, and that's definitely my favorite low carb cookie recipe. We all love them in my family, so if you have a family members who can't resist the cookies, just make a double batch of these when baking cookies for this keto cookie and cream lasagna.
This is also wonderful and easy way to make 2 types of keto sweets if baking for holidays. Make double batch of cookies and half you use for creamy keto cookie lasagna and another half you keep as cookies for dipping in almond or coconut milk for Santa Claus! 🙂 In case that Santa goes keto! 🙂
Light keto cream
This keto cream layer is so light and delicious, make it with just a 4 simple ingredients! Incredibly delicious and so easy to make. Literally, you just whip it in a minute and that's it! Combine ingredients together and whip it by hand or mix with a mixer, everything works great.
As this cream is with heavy whipping cream, don't over mix it to avoid making butter!
My children usually can't wait to get the mixer handles after the mixing! That's their favorite part of preparation!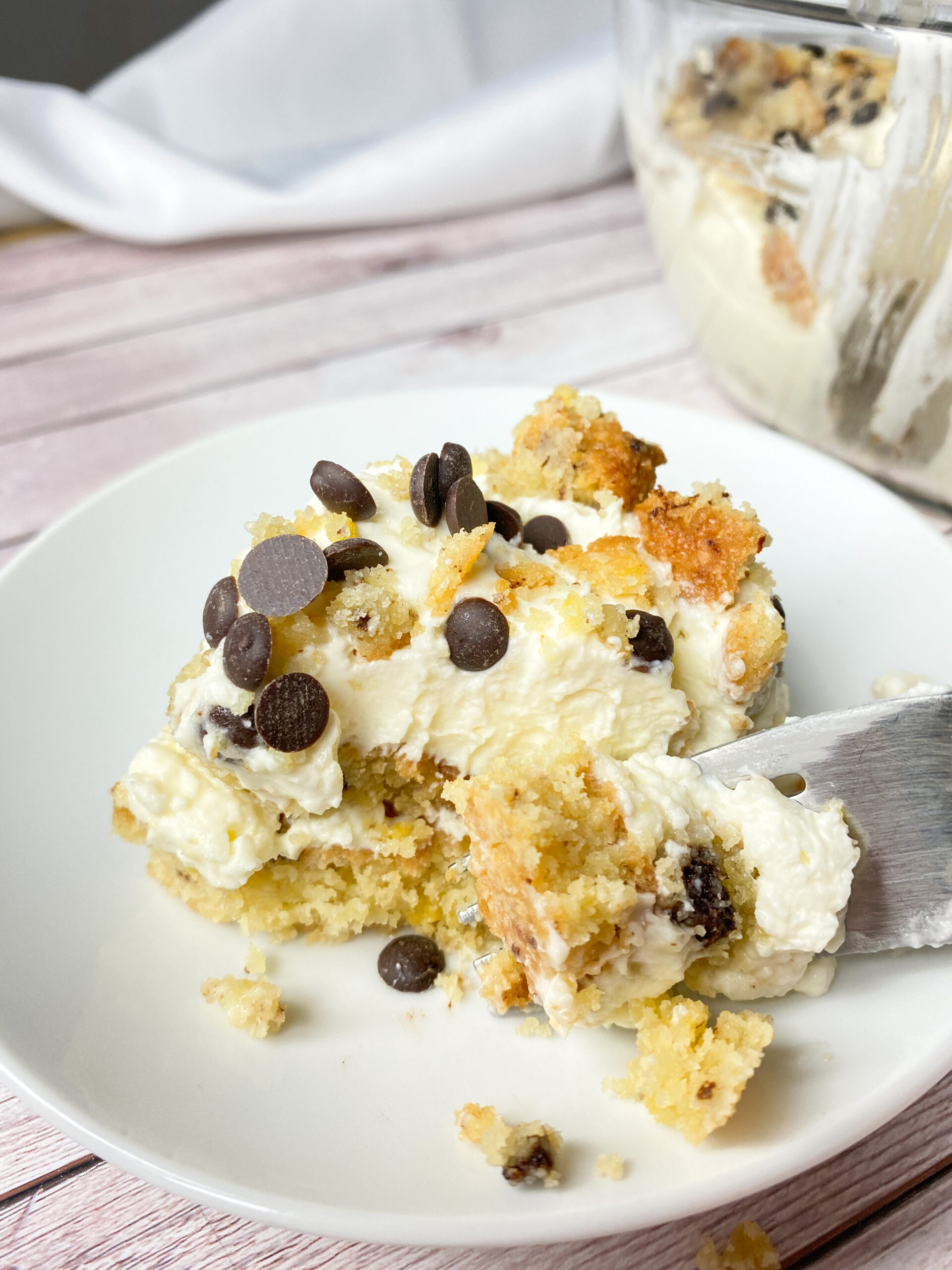 Assembling sweet low carb cookie lasagna
You will need 2 layers of cookies and 1 single cookie for the topping. Just have that in mind when assembling your cookie lasagna. When you have just baked totally fresh cookies and they are still soft, just put layers without dipping cookies into the milk. If you have cookies prepared day before or few days before, you may dip them into the almond milk or coconut milk before making the layers, to make them softer.
Also, you will need 2 layers of cream, so you need to divide your cookies in 2 parts, as well as the cream. Plus 1 single cookie for the topping.
Put one layer of cookies on the bottom, layer of cream on top of cookies, and repeat with another layer of cookies and layer of the rest of the cream. Sprinkle some dark chocolate chips on top and one crushed cookie.
Leave it to completely cool in the fridge for few hours. However, if you can't wait until it's cooled, it's great to eat immediately!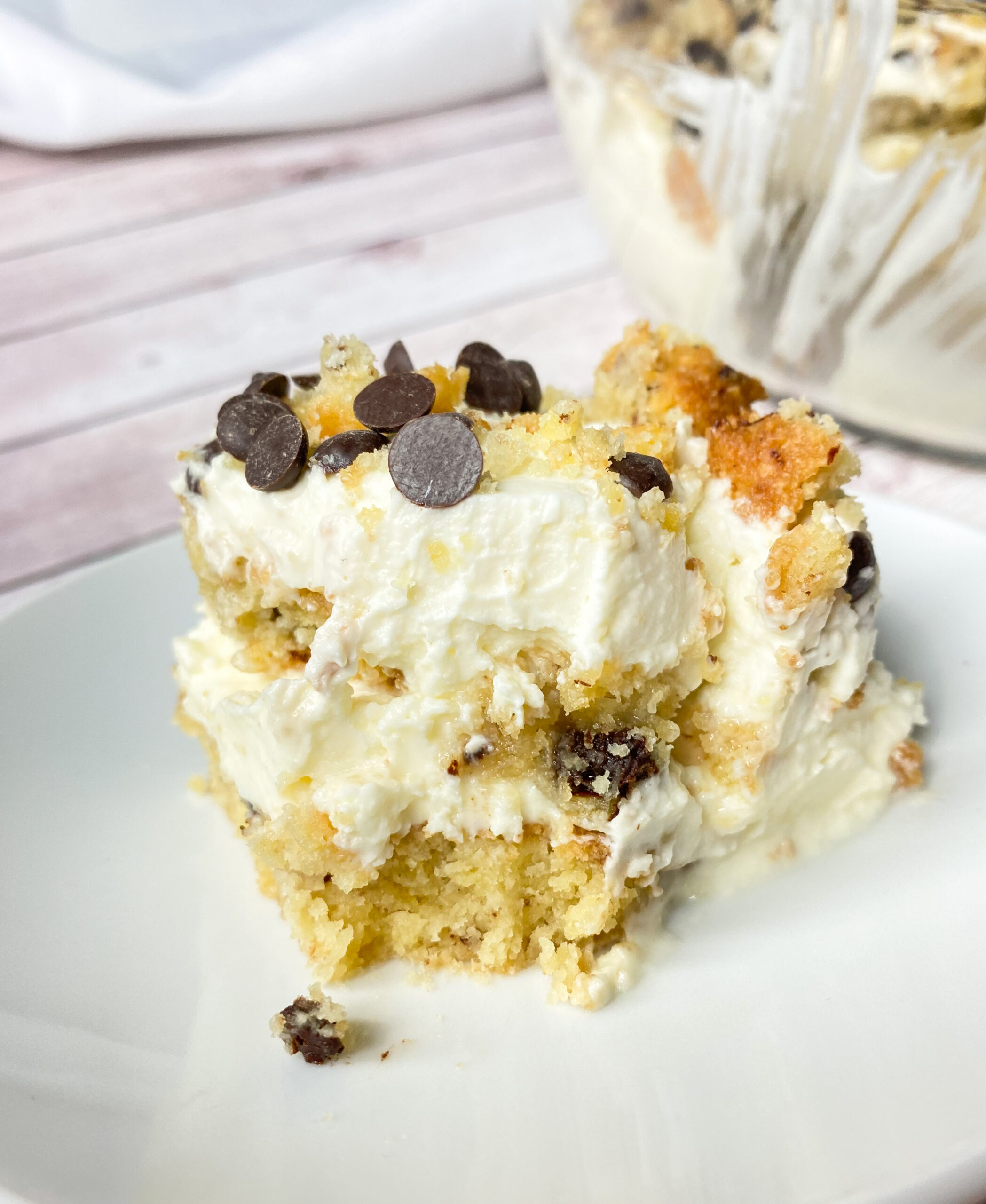 LIKE AND SHARE!
If you like this recipe, please leave a comment and share to support my work!
Want to calculate your macros? I have an easy to use, and reliable keto macros calculator!
Connect with me on FACEBOOK, INSTAGRAM, PINTEREST and join my TELEGRAM CHANNEL.
Scroll down and subscribe to my newsletter to get my recipes to your email!
Enjoy!
Ines
Ingredients
COOKIE LAYER

1 batch of these keto chocolate chip cookies.

Coconut or almond milk 1 cup/200 ml (optional)

CREAM LAYER

Mascarpone or cream cheese 1 cup/250 g/

Heavy whipping cream 2 cups/400 ml

Low carb sweetener (powdered erythritol) 1/4 cup - 1/2 cup

Vanilla extract 1 TBS

TOPPING

1 crushed cookie

Dark chocolate chips 2 TBS
Instructions
5
Combine all ingredients and whip them with hand or mix with a mixer until smooth and creamy. Don't over mix it to avoid making butter.
7
Layer 6 cookies on the bottom of a smaller 17 x 23 cm/7 x 9 inch deep lasagna dish to cover the bottom with cookies.
8
If you like you may dip the cookies in almond or coconut milk before making a layer, or you can sprinkle them with milk.
9
Put half of the cream on top of the cookies.
10
Put one more layer of cookies on top of the cream.
11
Remaining cream put on top of the cookies.
12
Sprinkle on top 1 crushed cookie and 2 TBS of dark chocolate chips.
Notes
This dessert serves 12. Nutritional value per serving: Cal 320, Fat 29 g, NET Carbs 6.04 g, Protein 7 g. This is for your information only, please, calculate your own macros with ingredients you use.