Easy and delicious keto almond flour chocolate chip cookies are sugar-free and gluten-free. Fantastic keto almond flour cookies for dipping into delicious coconut or almond milk and enjoy!
Who likes dipping cookies into the milk!? Oh, I think almost everyone! I certainly enjoy it!
Actually, I enjoy in my food in general, so my weakness to these yummy keto almond flour cookies is noting unusual. Fantastic fact related to these cookies is that it's so easy to make them. And they are baked very fast.
I created this keto cookies recipe because of my obsession with this recipe for edible keto cookie dough. I make it very often, and it is a great hit on my website. So, last time I was making it, I actually made a huge quantity. One part I used as a quick keto dessert, another part for this yummy keto edible cookie dough cheesecake and in one part I just added one egg and made this deliciousness!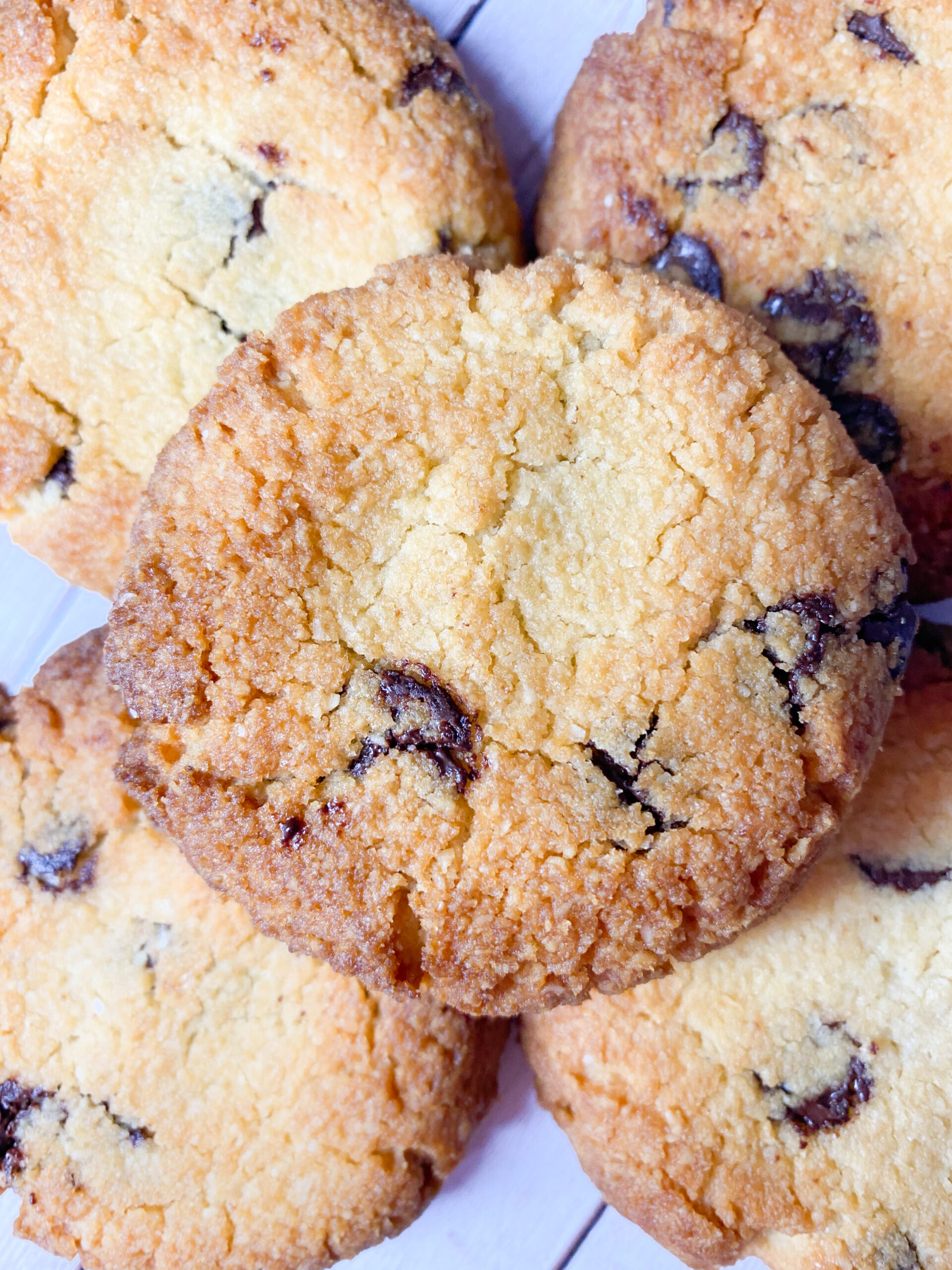 HOW TO MAKE KETO ALMOND FLOUR CHOCOLATE CHIP COOKIES
Prepare keto cookie dough
This low carb cookie dough is so tasty and really easy to make. Literally you will just need to combine all ingredients together until you get the tasty keto dough. Form small balls of dough, press them in the middle and spread on a baking tray layered with a parchment paper. Bake in a preheated oven on 180 C/350 F for 20 minutes or until golden brown and properly baked.
I always use parchment paper, so I don't have to clean too much afterwards, and baking becomes easier. I believe I bake more often on this way.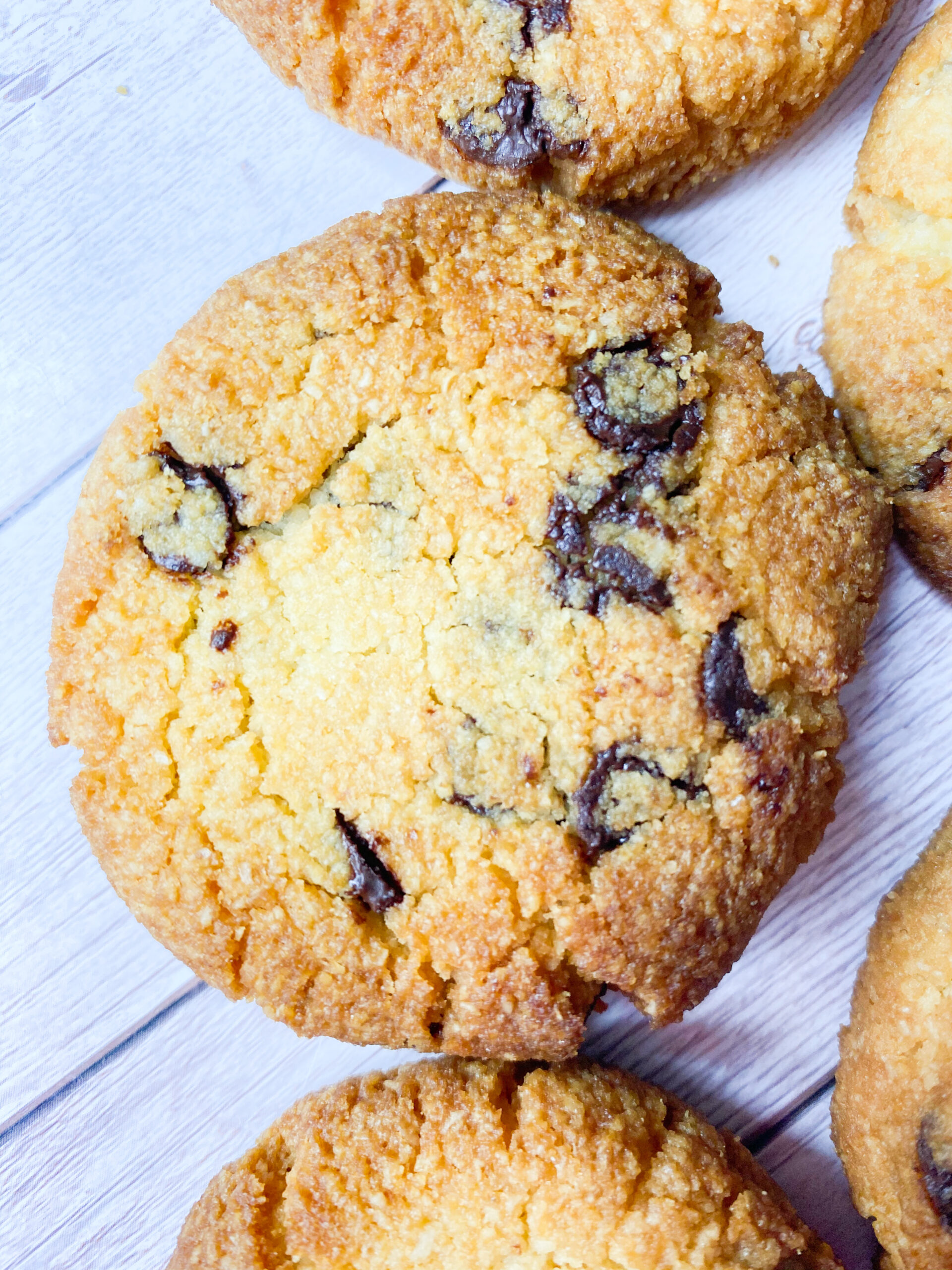 Cookies for keto kids
If you have kids, make these cookies together with your kids. My children enjoy so much when I include them in making and baking. I use that time to educate them about healthy food, healthy ingredients, plus – they get wonderful new skills!
Serving gluten free chocolate chip cookies with almond flour
Serve these cookies still warm or cold with a glass of coconut milk or almond milk. They are perfect for dipping in milk. Also, these are wonderful choice to make during holidays, as holidays keto cookies!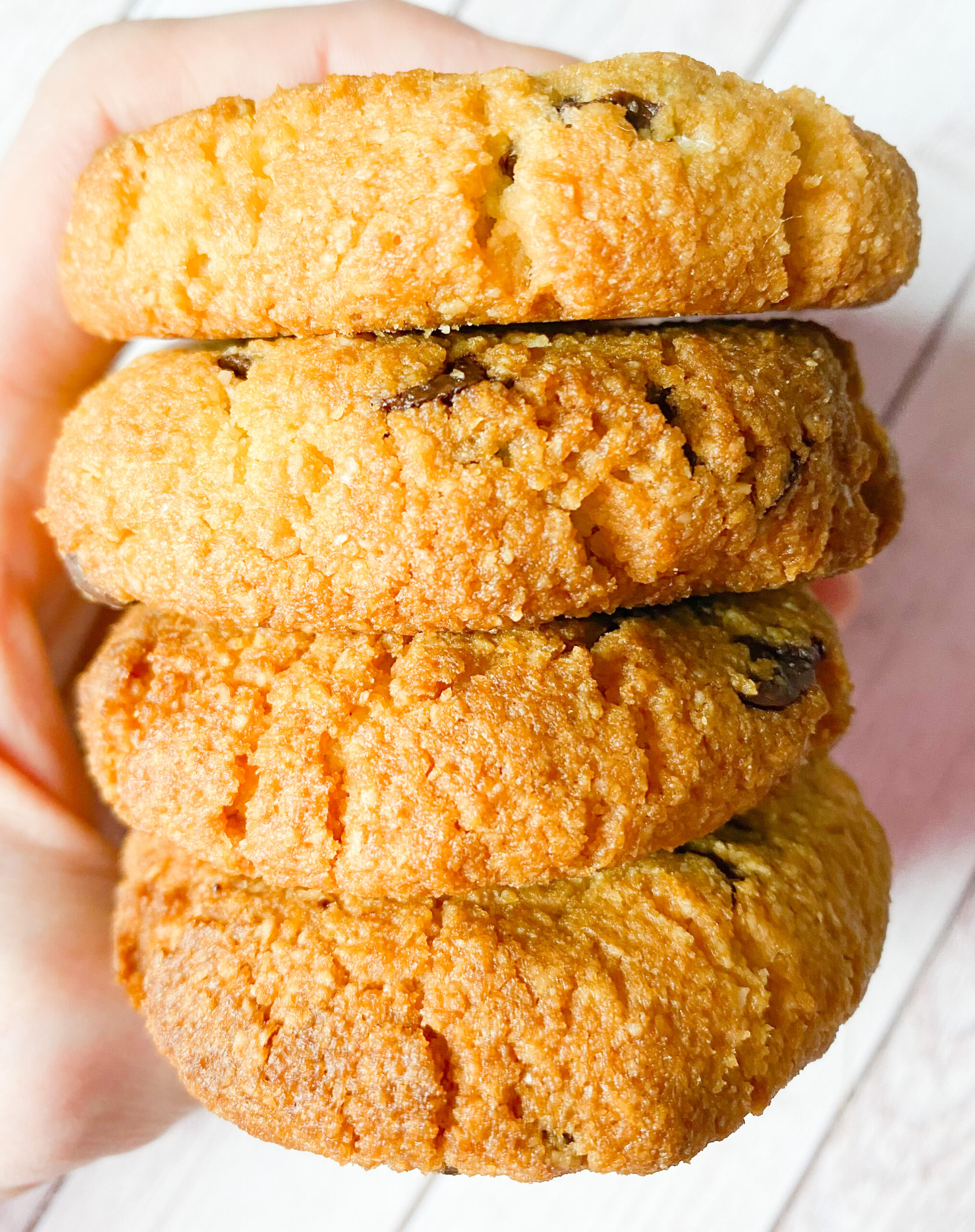 LIKE AND SHARE!
If you like this recipe, please leave a comment and share to support my work!
Want to calculate your macros? I have an easy to use, and reliable keto macros calculator!
Connect with me on FACEBOOK, INSTAGRAM, PINTEREST and join my TELEGRAM CHANNEL.
Scroll down and subscribe to my newsletter to get my recipes to your email!
Enjoy!
Ines
Ingredients
Blanched almond meal or almond flour 2 cups/200 g/7 oz

Softened butter 1/2 cup/110 g/3.9 0z

Vanilla extract 2 tsp

Low carb sweetener (erythritol) 1/2 cup

Pinch of salt

1 egg

Dark chocolate chips 1/3 cup/53 g/1.8 oz
Instructions
1
Combine all ingredients in a bowl, except of dark chocolate chips.
2
Combine ingredients with the spoon until you get smooth and well combined dough.
3
Add dark chocolate chips, combine with a spoon.
4
Form 12 balls and press them gently in a form of cookie.
5
Spread on a baking tray layered with a parchment paper.
6
Bake in a preheated oven on 180 C/350 F for 15 - 20 minutes or until baked and golden brown.
Notes
This amount serves 12 big cookies. Nutritional value per cookie: Cal 190, Fat 16 g, NET Carbs 5 g, Protein 5.5. This is for your information only, please calculate your macros with ingredients you use.