Keto chocolate ganache tart with pecan and dried cranberries is sugar free chocolate tart. Crispy crust filled with dark chocolate ganache, gluten free and delicious!
I love sugar free chocolate tart, especially with a cup of coffee or tea in the afternoon. Now when it's cold outside, a great book and a piece of this delicious low carb chocolate ganache tart are so comforting and heartwarming.
However, this keto chocolate tart with pecan nuts and dried cranberries is delicious during the summer heat too, especially when cold straight from the fridge.
HOW TO MAKE KETO CHOCOLATE GANACHE TART WITH PECAN AND DRIED CRANBERRIES
LOW CARB CHOCOLATE TART CRUST
This keto chocolate crust is flavorful, really rich in taste and crispy. It's easy to make and it's baked in 8 to 10 minutes only.
For sugar free crust you will need almond flour, some shredded coconut and unsweetened cocoa, 1 egg, pinch of salt, butter and low carb sweetener you like the best. I was using erythritol and it works great. Probably xylitol would be great too. Just be careful with xylitol if you have a dog.
To make the crust, you will need to combine all ingredients with spatula or in a food processor. When all combined, press it in a small cake tray of 17 cm/7 inch diameter, layered with a parchment paper and bake in a preheated oven on 180 C/350 F for 8 to 10 minutes.
When baked it won't be firm, you will need to leave it to rest and cool before it becomes firm and crispy.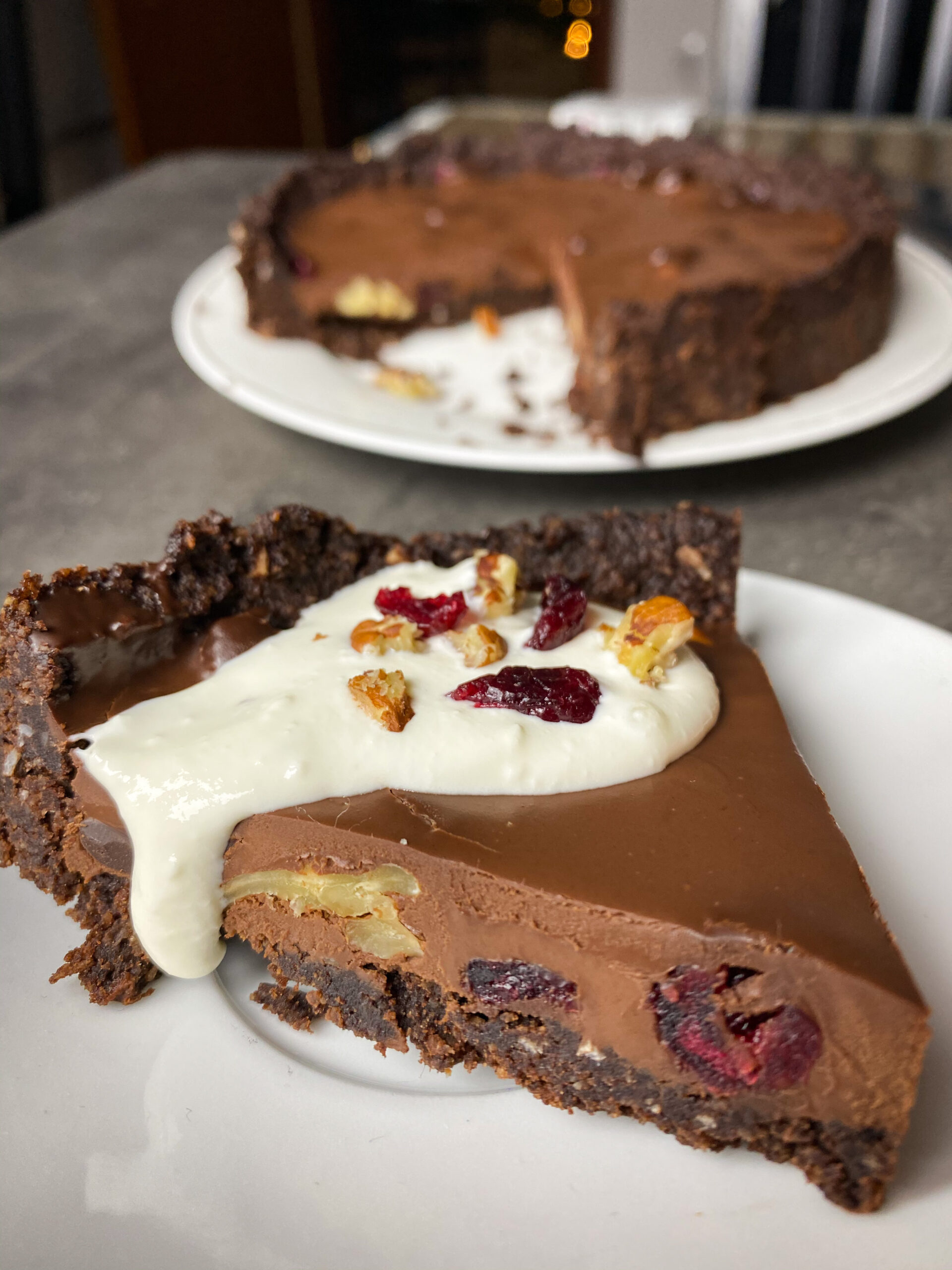 SUGAR FREE DARK CHOCOLATE GANACHE
Sugar free dark chocolate ganache is easy to make. You will need to heat the heavy whipping cream in a double boiler, sauce pan or in a microwave. If you have microwave, I highly recommend you to use it. In microwave, ganache is done in less than a minute!
Just heat the heavy whipping cream and before it starts to boil add chopped sugar free dark chocolate. Remove from the heat and stir until chocolate is completely melted. I use dark chocolate sweetened with erythritol and stevia and it gives perfect ganache when combined with heavy whipping cream.
If using dark chocolate without any sweetener, just add 1 TBS of erythritol or 2 drops stevia.
To make this ganache completely perfect, I add 2 drops of edible orange essential oil. I always use this edible essential oil, and here is my affiliate link if you wish to buy. If you use my link I earn a little fee and there is no extra cost for you. On this way you support my work and creation of new recipes.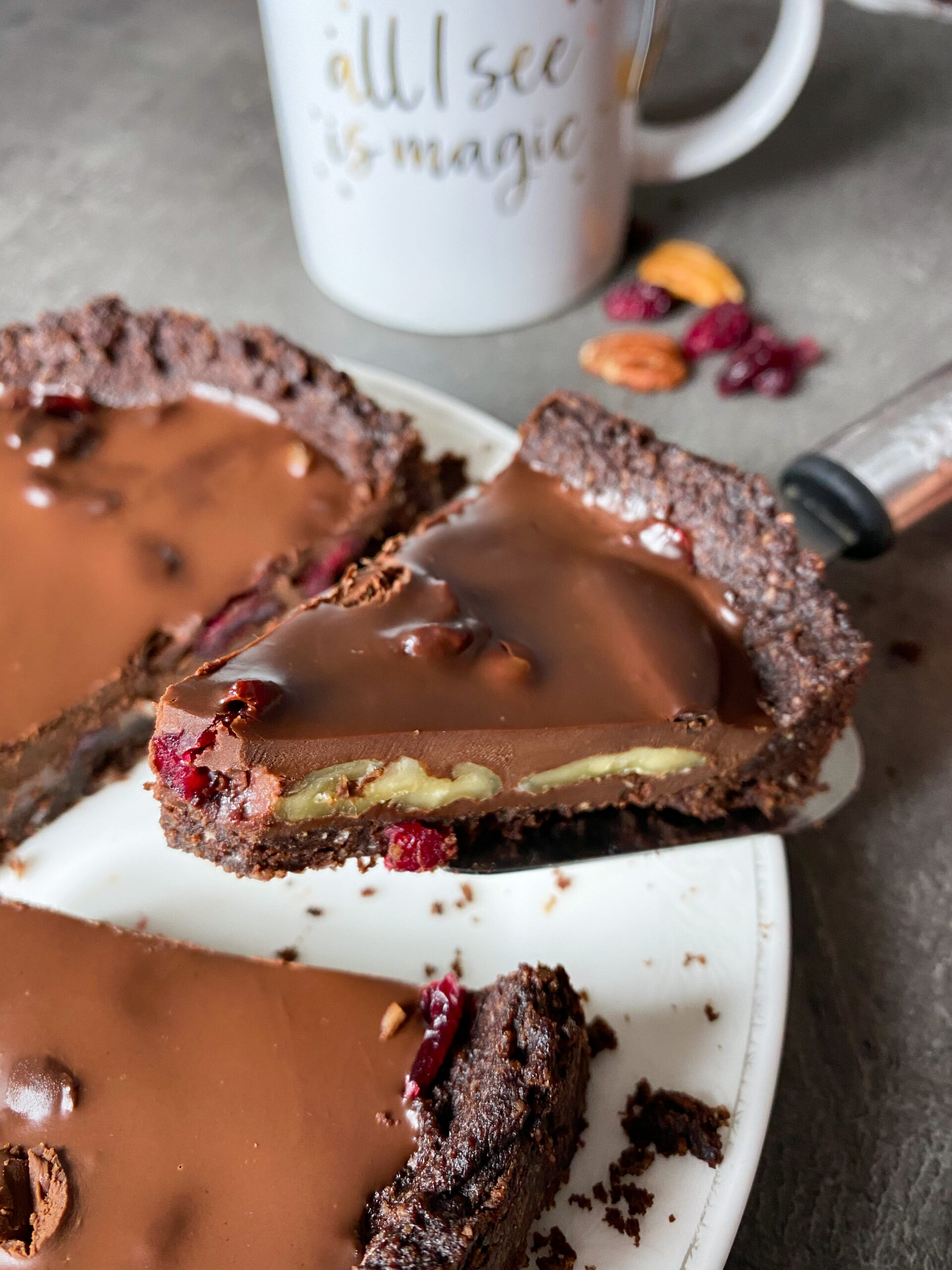 PECAN AND DRIED UNSWEETENED CRANBERRIES
Pecan nuts and dried unsweetened cranberries are so good match with chocolate ganache and crispy crust. I find unsweetened cranberries in healthy and organic local stores, you can also make them in your oven.
SERVING KETO CHOCOLATE TART
I love serving a slice of this yummy tart with1 TBS of sour cream on top and few chopped pecan nuts and cranberries. It goes perfectly with a cup of coffee or tea. For a cozy feeling, just turn on your diffuser, add favorite oils, take a book and your favorite blanket and enjoy the moment. Still don't have a diffuser!? Here you can get it! 🙂
Would you like to try my other sugar free desserts?
Here is a delicious keto chocolate chip cookie lasagna, it's so delicious and so easy to make! Keto cherry cream pie is especially yummy too!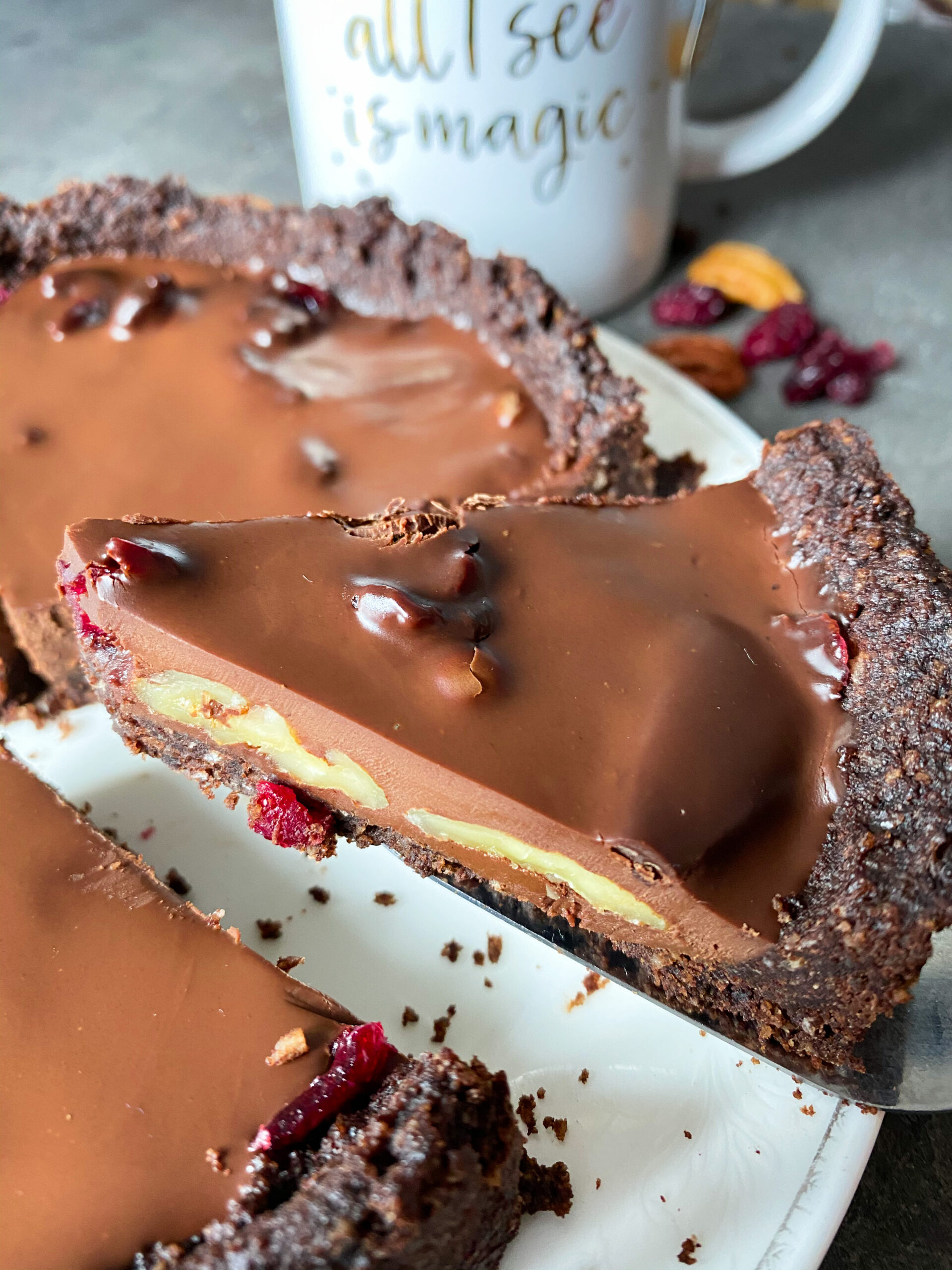 LIKE AND SHARE!
Do you like my recipes? Please leave a comment and share to support my work! Want to calculate your macros? I have an easy to use, and reliable keto macros calculator! Connect with me on FACEBOOK, INSTAGRAM, PINTEREST and join my TELEGRAM CHANNEL. Scroll down and subscribe to my newsletter to get my recipes to your email!
Enjoy!
Ines
Keto chocolate ganache tart with pecan and dried cranberries
Print Recipe
Ingredients
CHOCOLATE CRUST

Almond flour or blanched almond meal 2/3 cup/80 g/2.82 oz

Unsweetened cocoa powder 2.5 TBS/15 g/0.53 oz

Shredded unsweetened coconut 2 TBS/10 g/0.35 oz

Low carb sweetener (erythritol) 1/4 cup

1 small egg

Pinch salt

Softened butter 55 g/2 oz

CHOCOLATE GANACHE

Heavy whipping cream 6 TBS/75 ml

Dark sugar free chocolate (70% cocoa or more) 50 g/1.8 oz

Orange essential oil 2 drops

Optional 1 TBS powdered erythritol

Pecan nuts 1/4 cup/25 g/0.9 oz

Dried unsweetened cranberries 1/4 cup/30 g/1 oz

TOPPING (optional)

Sour cream

Whipped heavy cream

Chopped pecan nuts and dried cranberries
Instructions
2
Turn on the oven to 180 C/350 F.
3
Combine all ingredients in a bowl or in a food processor until you make the dough.
4
Press in the dough to make a shell in a layered small cake tray 17 cm/17 inch diameter.
5
Bake the crust for 8 to 10 minutes in a preheated oven to 180 C/350 F.
6
When baked, crust won't be immediately firm, it will need to rest for at least 15 minutes to become firm.
8
Bring heavy whipping cream to boil in a microwave or in a double boiler.
9
When starts boiling remove it from the heat and add chopped dark chocolate and stir or whisk until chocolate completely melted and ganache started thickening. If needed add 1 TBS of erythritol.
10
Pour the ganache over the crust and add pecan nuts and cranberries.
11
Leave it in the fridge for at least 1 hour until ganache is completely firm and crust crispy.
13
P.S. You may add 1 TBS of sour cream and more chopped pecan nuts and cranberries on top of every slice if you like before serving.
Notes
This tart will give you 10 servings. Nutritional value per serving: Cal 180, Fat 17 g, NET Carbs 1.5 g, Protein 3 g. This is for your information only, please calculate your own macros with ingredients you use.