Keto fathead focaccia with olives and tomatoes is the best Mediterranean keto bread you can have! Olives, tomato and parmesan cheese on top in combination with aromatic Mediterranean herbs are delicious.
I love dipping this low carb fathead focaccia into the olive oil. That's one of my favorite keto snacks or keto bread appetizer.
If you're saving your carbs for a glass of good red wine, this is ideal recipe for you! Prepare some extra virgin olive oil, olives, maybe some anchovies or prosciutto, few slices of hard cheese and enjoy like never before.
This is a perfect movie night keto snack and ideal choice for romantic keto dinner! Also, if you roll it thinner, this keto dough could be wonderful keto pizza crust.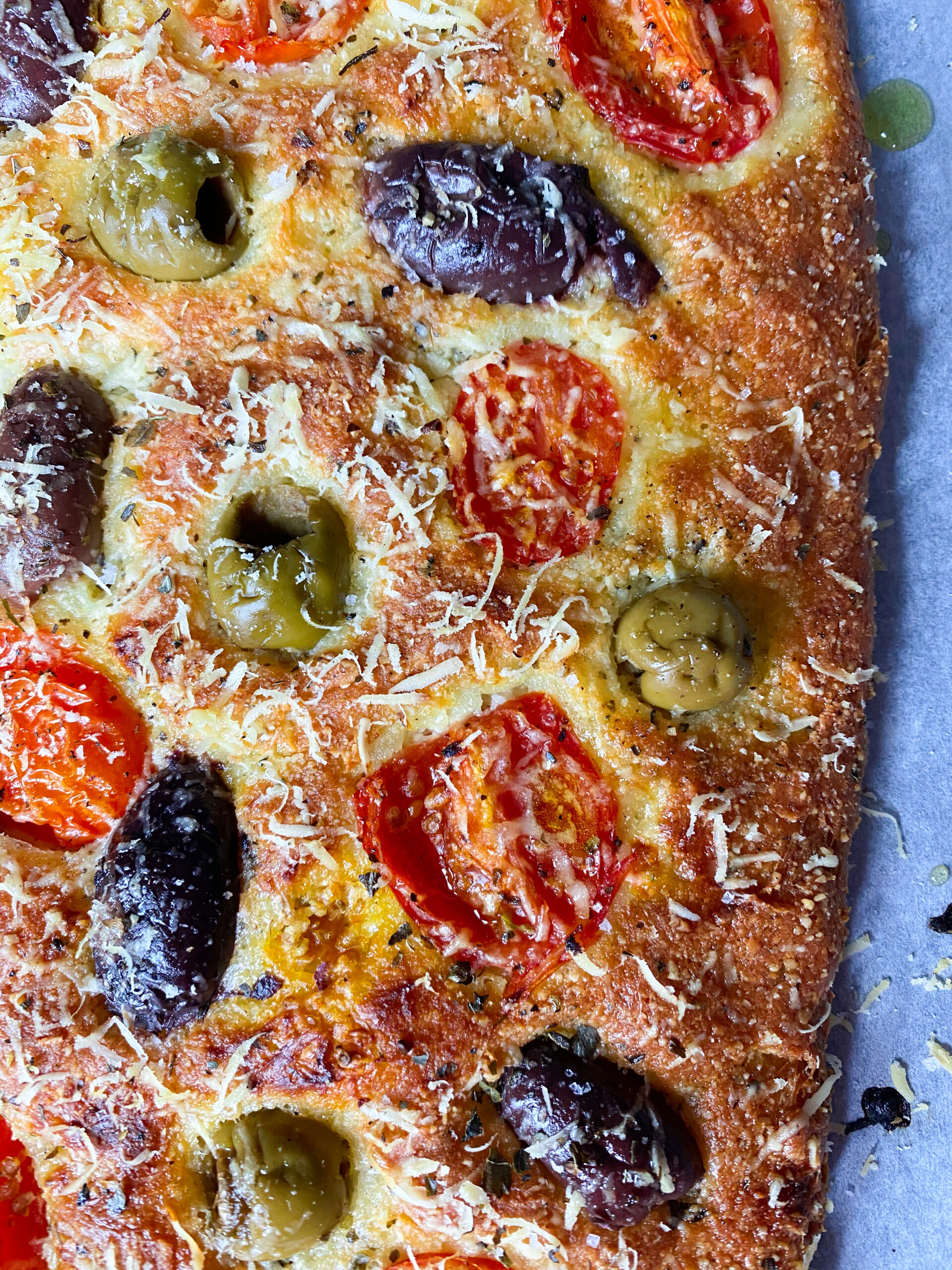 HOW TO PREPARE KETO FATHEAD FOCACCIA WITH OLIVES AND TOMATOES?
This is one of the easiest keto bread recipes and you can make it without any special effort, especially if you have a microwave.
PREPARE FATHEAD DOUGH
Fathead dough is easy to prepare. Just combine shredded mozzarella in a microwave safe bowl with almond flour or blanched almond meal, coconut flour, pinch of salt, baking powder, olive oil, garlic powder and Mediterranean herbs like basil and oregano and microwave on high per instructions below.
Stir everything with a fork or a spoon and repeat the procedure. After repeating try to knead the dough. If it't still not melted enough to prepare the dough, repeat the procedure once more. Try kneading, if it's easy to knead, add one large egg and knead until you get a nice dough.
Roll the dough onto the sheet pan layered with a parchment paper. You can easily roll it between two layers of a parchment paper or with just spread it with your hands.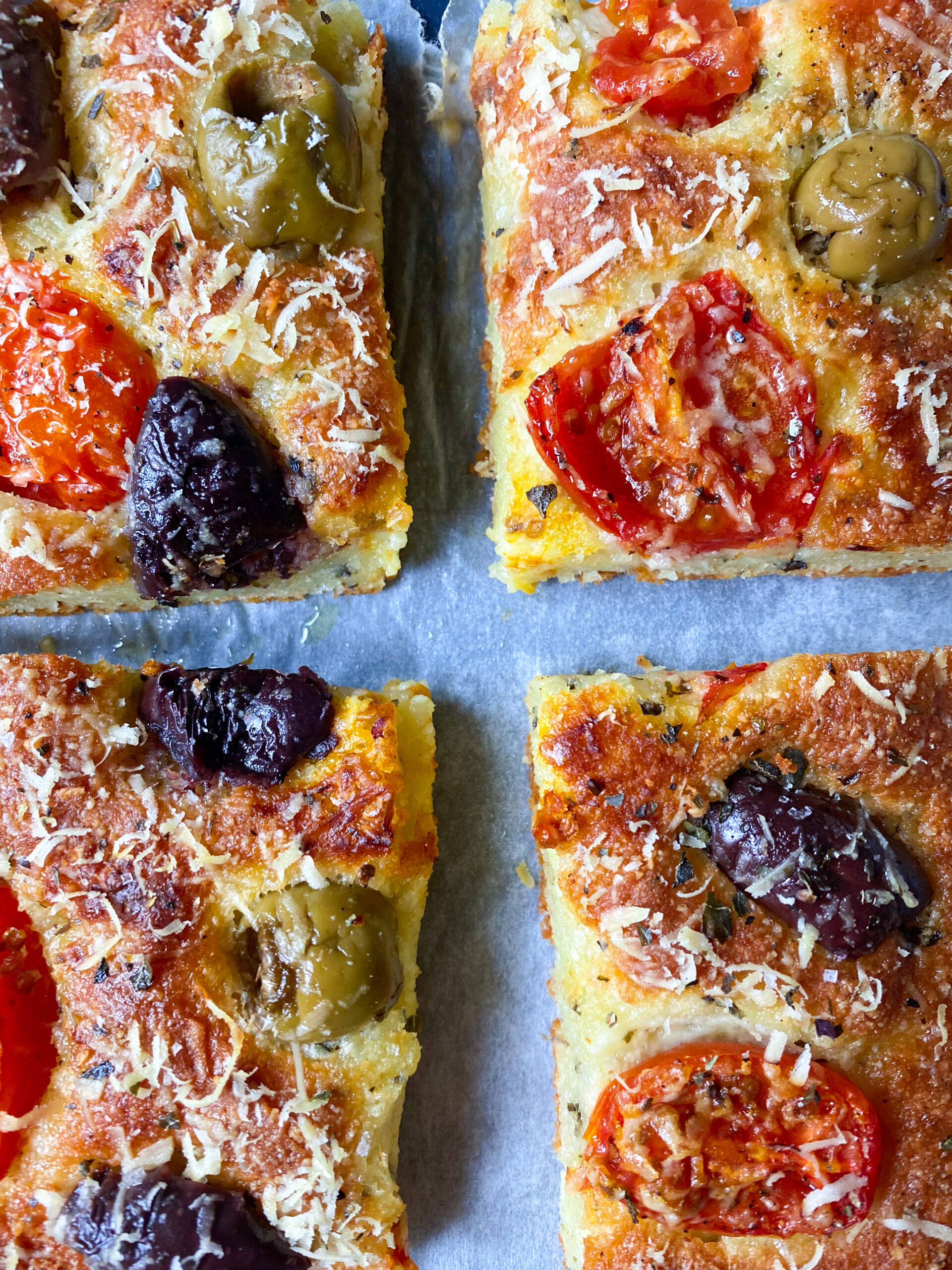 KETO FOCACCIA TOPPING
When your keto dough is rolled, press it gently with your fingers on top to get the small hollows on top. Drizzle with some nice olive oil, sprinkle with salt and Mediterranean herbs and distribute cherry tomatoes cut in halves and olives. I love using green and black or kalamata olives. When you mix it like that, taste is the best!
Sprinkle everything with a generous layer of parmesan cheese and bake in a preheated oven on 180 C/350 F for 20 minutes or until baked.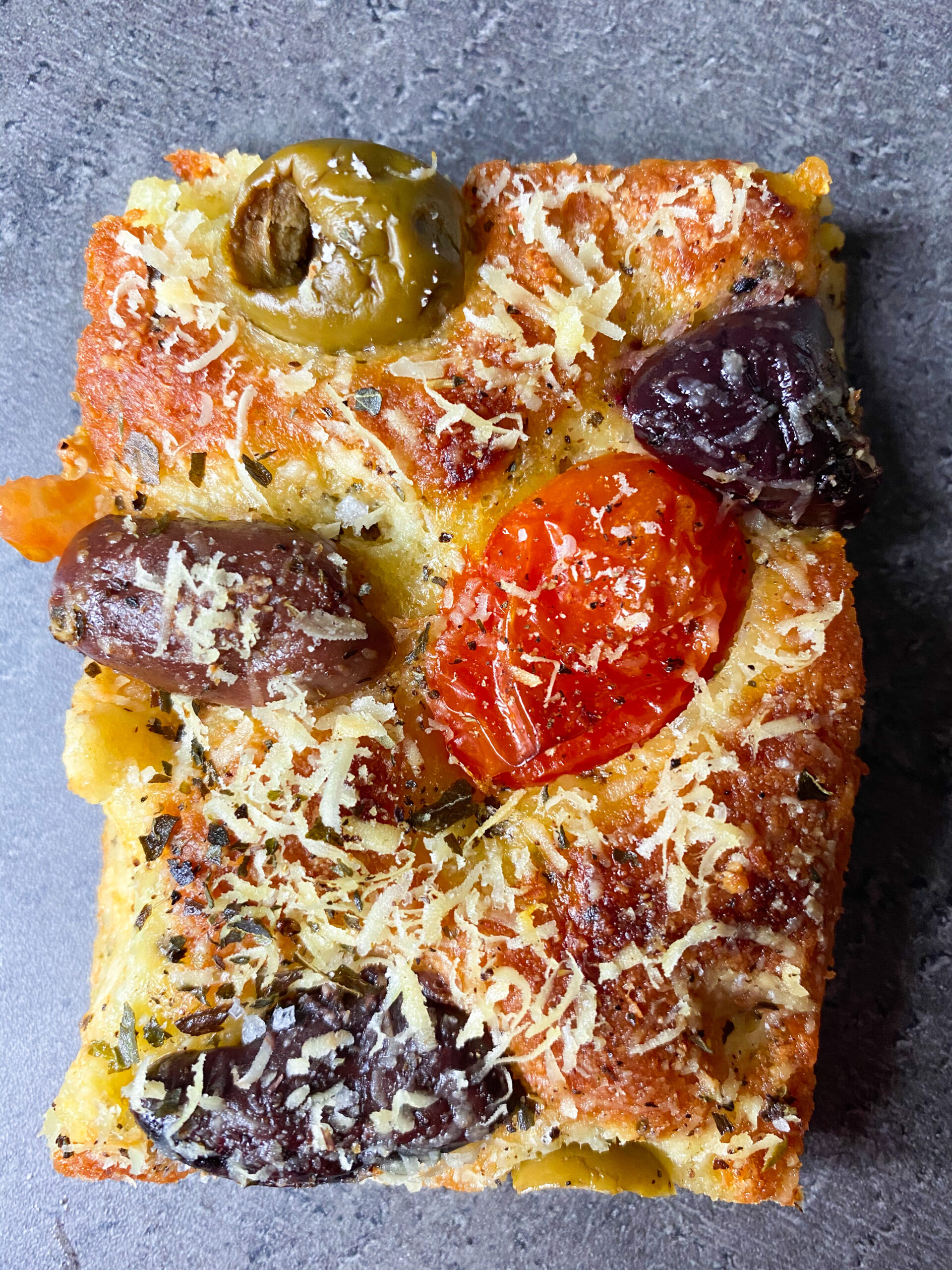 SERVING LOW CARB FOCACCIA
I love serving this fathead focaccia with olive oil for dipping. Of course, it goes perfectly with prosciutto, anchovies, hard cheese, more olives and tomato. I love to enjoy it with a little glass of red wine, so if you are not completely alcohol-free, this is a perfect recipe to enjoy with a glass of red wine.
Want to try more keto bread recipes?
Definitely try this delicious keto bacon bread. This is one of my favorite keto breakfasts besides eggs and bacon. I have one more really delicious recipe for unusual low carb bread with zucchini and cheese. That's one of my favorite go to recipes when I crave bread. You really don't taste zucchini, but they give the best texture to this keto bread and make it soft and moist.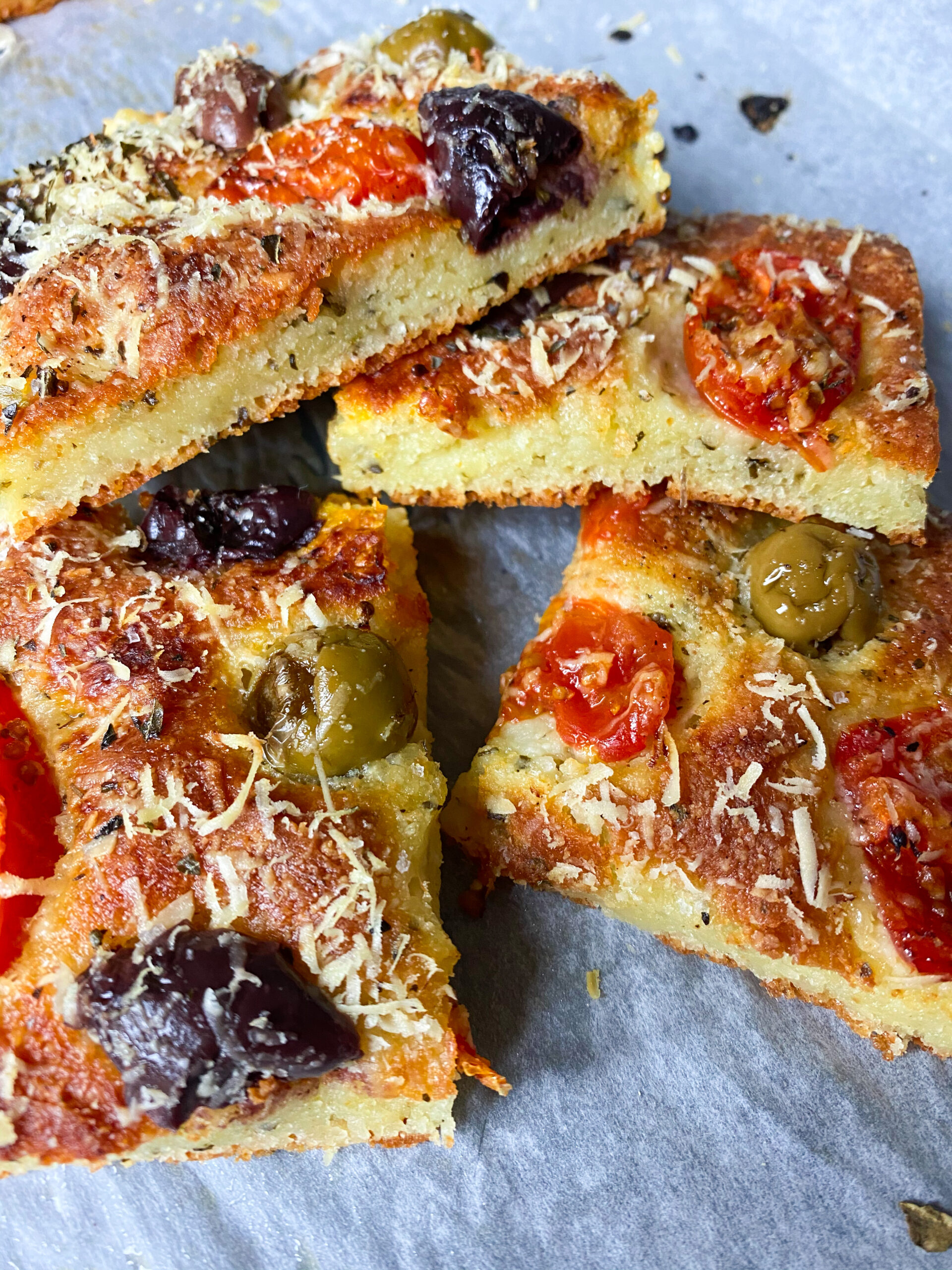 LIKE AND SHARE!
Do you like my recipes? Please leave a comment and share to support my work!
Want to calculate your macros? I have an easy to use, and reliable keto macros calculator! Connect with me on FACEBOOK, INSTAGRAM, PINTEREST and join my TELEGRAM CHANNEL. Scroll down and subscribe to my newsletter to get my recipes to your email!
Enjoy!
Ines
Ingredients
FATHEAD DOUGH

Shredded mozzarella 1.5 cup/250 g/8.8 oz

Almond flour or blanched almond meal 1 cup/110 g/3.9 oz

Coconut flour 2 TBS/18 g/0.63 oz

Baking powder 1 TBS

Pinch of salt

Olive oil 2 TBS

Dried basil 1 tsp

Dried oregano 1 tsp

Powdered garlic 1/2 tsp

1 large egg

TOPPING

Basil 1 tsp

Oregano 1 tsp

Olive oil drizzle 2 TBS

Black olives or kalamata olives 10 pieces cut in halves 35 g/1.23 oz

Green olives 10 pieces cut in halves 35 g/1.23 oz

Cherry tomato 10 pieces cut in halves 80 g/2.8 oz

Parmesan cheese 1/4 cup/25 g/0.88 oz
Instructions
1
In a microwave safe bowl combine shredded mozzarella cheese with all the ingredients and herbs listed for the keto fathead dough, except the egg.
2
Stir everything and microwave on high for 45 seconds.
3
After 45 seconds take it out from the microwave, stir and microwave for another 45 seconds.
4
After microwaving stir with a spoon until all ingredients well combined and try to knead. If it's still not possible to knead repeat the microwaving for another 30 or 40 seconds.
5
Add 1 large egg and knead until the dough is formed.
6
Roll the dough between 2 parchment paper or spread it on a sheet pan layered with a parchment paper with your hands.
7
Don't roll it very thin, focaccia shouldn't be thin as pizza.
8
Drizzle on top with olive oil, press the dough with your fingers to make small hollows on top.
9
Distribute halves of tomatoes, kalamata and green olives halves on top, add Mediterranean herbs and parmesan cheese.
10
Bake in a preheated oven on 180 C/350 F for 20 minutes.
Notes
This focaccia serves 8. Nutritional value per serving: Cal 287, Fat 17 g, NET Carbs 1.99 g, 14 g. This is for your information only, please calculate your won macros based on ingredients you use.