Keto butter cake with berries is my favorite keto breakfast cake. Low carb butter cake with blueberries and raspberries is great for breakfast with a cup of coffee or tea.
This morning we totally indulge ourselves for our keto breakfast. We had a generous portions of fried eggs, bacon and sausages and at the end we ate this delicious berry breakfast cake with a cup of coffee.
I created this keto butter cake recipe yesterday evening and I was so happy to have it for breakfast with my cup of coffee in the morning. Especially because I haven't slept enough. I feel I need more sleep now when pregnant, but life is happening and sometimes things just go unplanned, and I miss my sleep.
INTENTIONAL KETO BREAKFAST
However, that's why we have our keto desserts, to make us happy even when everything is not so perfect. At least, our breakfast was perfect! I try to enjoy my intentional breakfasts with my children, if possible, every day. We talk about our plans for the day, wishes, and whatever they want to talk about. That's how they eat their nutritious breakfast, and at the same time we enjoy the time together and connect ourselves. I really believe, our breakfasts are our favorite part of the day.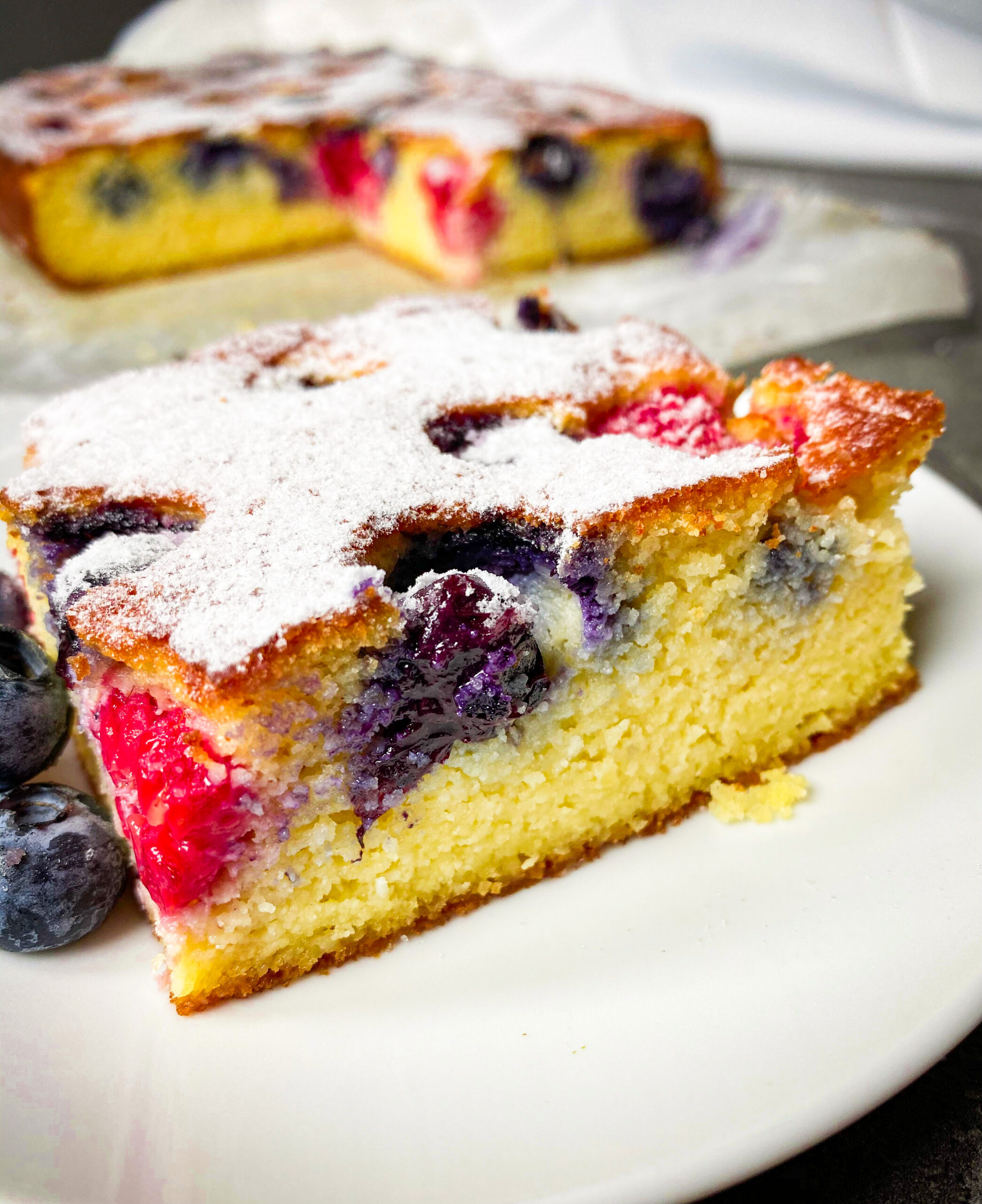 HOW TO MAKE KETO BUTTER CAKE WITH BERRIES
KETO BUTTER CAKE
Butter cake is easy to make. Literally, just whisk all the ingredients, except the berries together in a bowl, with a whisk, mixer or with a fork. You don't need to be very experienced baker or having fancy kitchen utensils, and still you can enjoy this delicious keto cake with berries.
When you combine all the ingredients together, just put it in a baking pan layered with a parchment paper, distribute blueberries and raspberries on top and bake in a preheated oven on 180 C/350 F for 35 – 45 minutes.
When cake is baked, just leave it to rest and when it's not hot anymore just add some powdered low carb sweetener on top. This time I used powdered xylitol. You may use powdered erythritol or another low carb sweetener you like.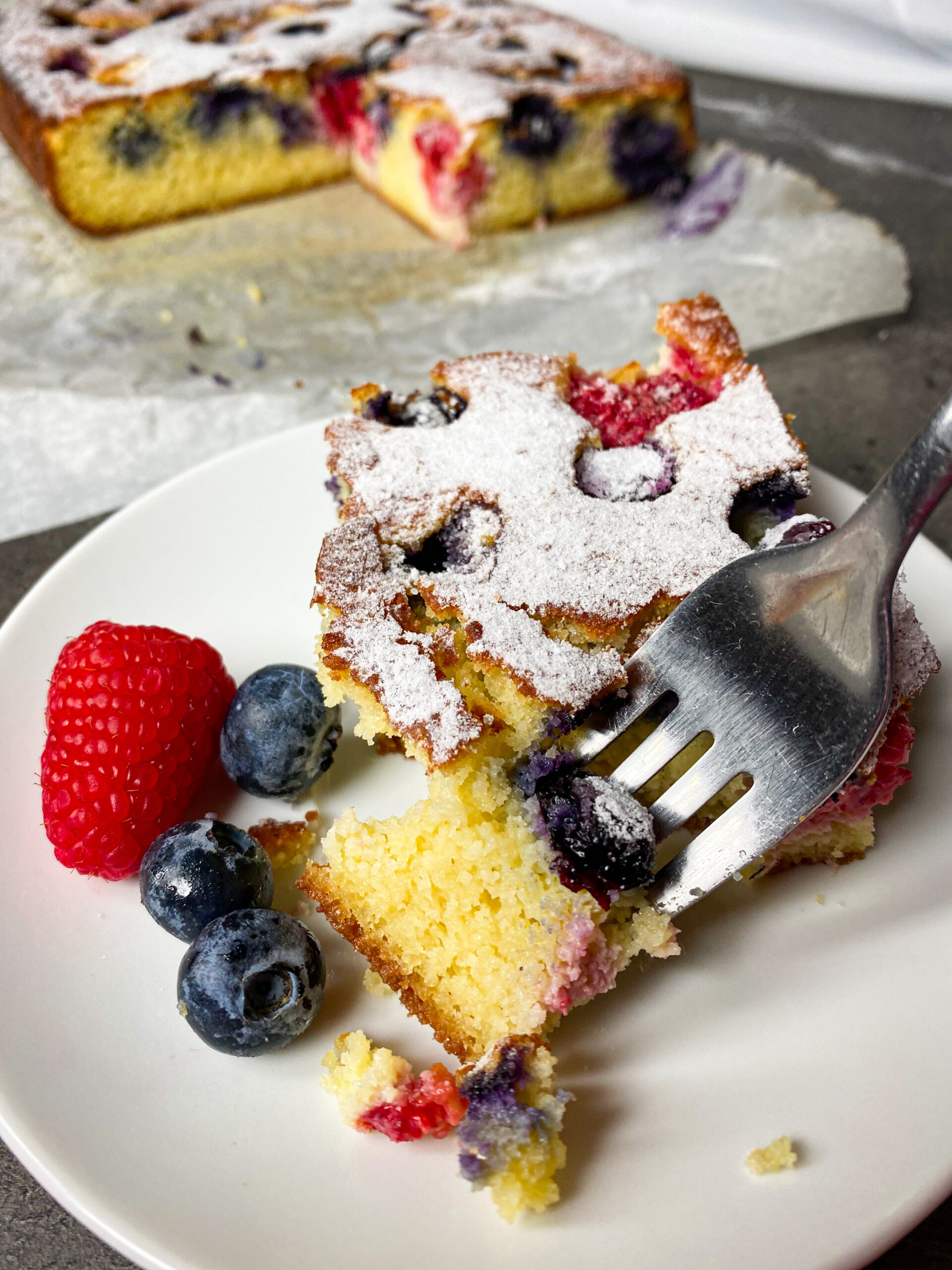 SERVING KETO BUTTER BERRY CAKE
I love serving a slice of this cake for breakfast or for my afternoon tea, as a keto tea cake. You may add few fresh berries, butter, low carb or keto blueberry jam or a spoon of sour cream.
However you serve it, it will be delicious because this cake is so flavorful and moist, and those berries are giving special aroma. Your whole family and friends will enjoy, I'm sure!
Would you like to try my other recipes?
This keto Mediterranean pie is delicious as a main dish, snack or for your tea party. One more delicious recipe to serve with your coffee and tea is this wonderful keto chocolate ganache tart with cranberries. Really extraordinary delicious!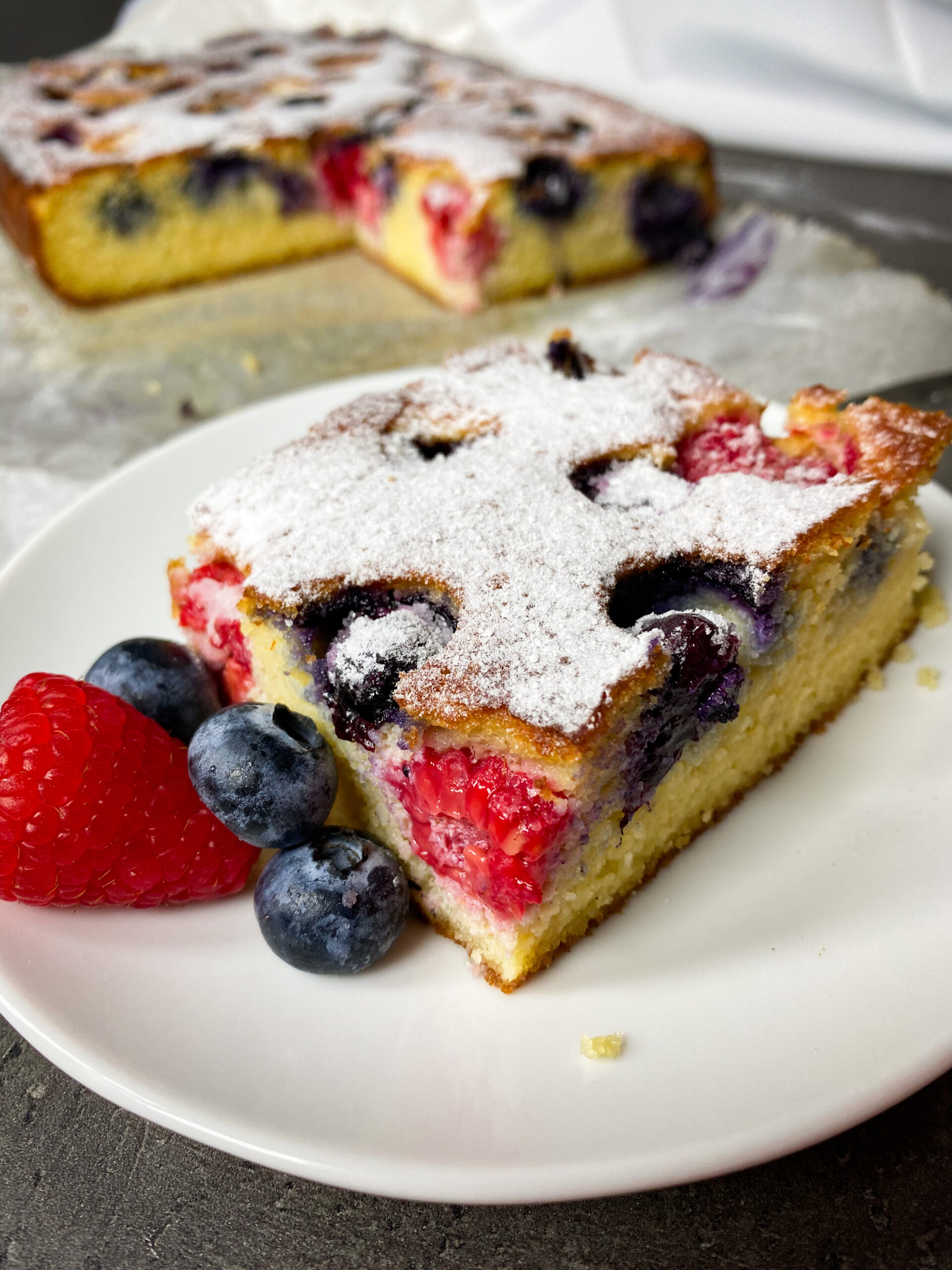 LIKE AND SHARE!
Do you like my recipes? Please leave a comment and share to support my work!
Want to calculate your macros? I have an easy to use, and reliable keto macros calculator! Connect with me on FACEBOOK, INSTAGRAM, PINTEREST and join my TELEGRAM CHANNEL. Scroll down and subscribe to my newsletter to get my recipes to your email!
Enjoy!
Ines
Ingredients
Blanched almond meal or almond flour 2 cups/200 g/7 oz

Coconut flour 2 TBS/18 g/0.64 oz

Whey protein unflavored and unsweetened or vanilla flavor 1/4 cup/20 g/0.7 oz

Baking powder 1 TBS

Pinch of salt

Low carb sweetener (erythritol) 1/2 cup - 1 cup

3 large eggs

Vanilla extract 2 tsp (don't need if using whey with vanilla flavor)

Heavy whipping cream 1/2 cup/100 ml

Water 2 TBS

Butter softened or melted 180 g/6.35 oz

Fresh blueberries 1/2 cup/60 g/2.12 oz

Fresh raspberries 1/2 cup/60 g/2.12 oz
Instructions
1
Preheat the oven to 180 C/350 F.
2
Prepare baking tin 22 cm x 15 cm/ 8x 5 inch, layered with a parchment paper.
3
In a large bowl combine all ingredients except berries, and whisk or mix with a mixer until all nicely combined.
4
Pour the mixture into the layered baking tin and distribute blueberries and raspberries o top. Press them gently, just a little bit in the mixture.
5
Bake in a preheated oven on 180 C/350 F for 35 minutes to 45 minutes or until baked (depends on your oven).
6
When baked and cooled put on top powdered erythritol, xylitol or another low carb powdered sweetener of your choice.
Notes
This amount serves 15. Nutritional value per serving: Cal 214, Fat 20 g, NET Carbs 1.96 g, Protein 5 g. This is for your information only, please calculate your own macros with ingredients you use.