Keto German chocolate cheesecake is delicious low carb cheesecake with coconut and pecan topping. Baked or no bake crust with rich and flavorful chocolate cheesecake layer and topping with coconut.
Taste of this keto German chocolate cheesecake is really rich so you need a really little piece of cake to satisfy your sweet tooth.
If you're fan of strong and rich keto desserts, you will love this cake. If you're following me on Instagram or you're a regular reader of my blog, you probably know how I love this type of low carb flavorful desserts.
You could see my photos of cups of tea and coffee with a slice of cake in my garden. That's something I appreciate so much and I try to enjoy as much as possible.
I love my garden so much! My husband made a tree house for our children to play. Everything is green and peaceful, you can hear bees and smell the flowers. Perfect place to retreat after work and during the weekend.
As a mother and a woman who works, you can probably imagine how I use every opportunity when my children are playing together to plan the week ahead or just to enjoy breathing and simple being with a cup of coffee or tea and favorite keto desserts.
My favorite keto desserts
Peanut butter cream pie - keto recipe
This Sunday I took a piece of this low carb German Chocolate cheesecake and enjoy beautiful weather. Soaking up all the sun I could soak. This lockdown is helping me to be with myself. There is no need to travel anywhere, no need to meet anyone. There's just a need to be conscious and take care for yourself and your loved ones.
I started my career as an ICU nurse so I know very well how harsh life could be and I am always grateful for every healthy day I get with my family. This lockdown just reminds me on that so much stronger. And I am using it in the best possible way - to cuddle my children, bake my cakes and create more low carb content here.
TIPS FOR KETO GERMAN CHOCOLATE CHEESECAKE RECIPE
BAKED OR NO BAKE CHOCOLATE CRUST
This keto crust is wonderful and goes perfectly with this german chocolate cheesecake cake. You can make it as baked or no bake cake crust. If you bake it it will have wonderful flavor and it will be a little bit crispy. It will remind on a cake crust with Oreo cookies. However, you don't have to bake it al all. Just press in the dough for keto crust in a pan and leave it in the fridge for 15 minutes and that's it! It won't be crunchy but it will be easy to make and fork will go through the crust like through the butter.
GERMAN CAKE KETO TOPPING
Topping for this keto German cake is amazing! I roasted shredded coconut for extra flavor and it's so good. Don't skip this step because it makes so huge difference in flavor. Roasting or toasting shredded coconut on a pan is a literally 1 minute procedure but it is so important for tasty result.
Also, you can use raw chopped pecans, but if you toast them for a minute on a pan it will be so much better!
Share with your friends and connect!
If you like this recipe, leave a comment! Connect with me on FACEBOOK, INSTAGRAM, PINTEREST and join my TELEGRAM CHANNEL. Scroll down and subscribe to my weekly newsletter to get my recipes on your email!
Enjoy and let me know how was it!
Cheers!
Ines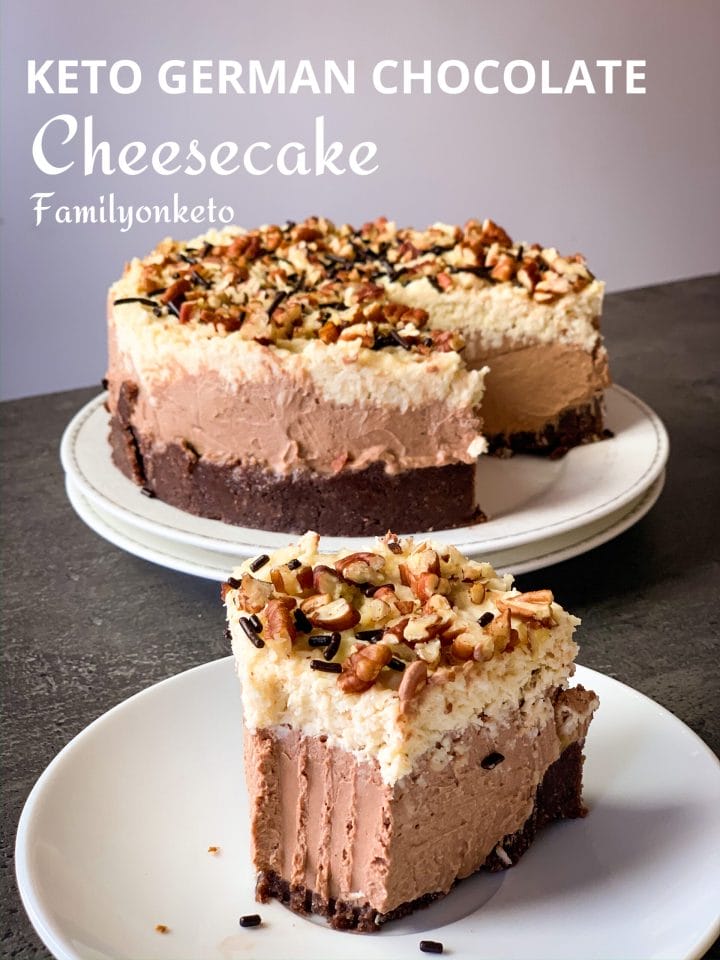 Keto German chocolate cheesecake
Keto German chocolate cheesecake is delicious low carb cheesecake with coconut and pecan topping. Baked or no bake crust with rich and flavorful chocolate cheesecake layer and topping with coconut.
Ingredients
KETO CHOCOLATE CRUST
Blanched almond meal 1 cup/100 g/3.5 oz
Unsweetened cocoa powder or cacao 1 TBS/5 g/0.17 oz
Low carb sweetener (erythritol) 5 TBS
Pinch of salt
Softened butter 60 g/2.11 oz
CHOCOLATE CHEESCAKE
Heavy whipping cream 1 cup/200 ml
Dark chocolate 80 g/2.8 oz
Low carb powdered sweetener (erythritol) 4 TBS
Unsweetened powdered cocoa or cacao 1 TBS
Cream cheese 400 g/14 oz
Vanilla extract 1 teaspoon or vanilla paste from 1 bean
GERMAN CAKE TOPPING
Heavy whipping cream ½ cup/100 ml
Low carb powdered sweetener (erythritol) 2 - 4 TBS
1 egg
Pinch of salt
Butter 30 g/1 oz
Vanilla extract 1 tsp
Toasted shredded coconut ⅔ cup/50 g/1.7 oz
Toasted chopped pecans or walnuts ¼ cup/24 g/0.8 oz
Instructions
Layer with a parchment paper deep cake tin 17 cm/7 inch.
KETO CHOCOLATE CRUST
Mix all ingredients together in a dough and press in a cake tin layered with a parchment paper.
If you decide to bake, bake in in a preheated oven on 180 C/350 F for 10 minutes. It won't be hard when baked, you need to leave it to cool for 15 minutes to be stiff.
If you decide to make it as a no bake crust, just leave it in the fridge for 15 minutes after pressing the dough into the tin.
CHOCOLATE CHEESECAKE CREAM
Heat heavy whipping cream in a small sauce pan until starts to boil. When start boiling, remove from the heat and put chocolate inside, stir until chocolate completely melted.
Stir in sweetener and all other ingredients and whisk until everything nicely combined in a thick chocolate cream.
Pour chocolate cheesecake cream on prepared crust and leave it in the fridge for 6 hours or overnight.
GERMAN CAKE TOPPING
In a sauce pan on a medium heat, whisk heavy whipping cream with sweetener and 1 egg, add butter and bring it to boil, whisking all the time. When it starts to boil, reduce the heat and continue whisking for 1 to 2 minutes or until starting to thicken.
Remove from the heat, add vanilla and set aside to prepare toasted coconut.
Toast shredded coconut on a clean large pan and add toasted coconut to mixture in a sauce pan. Stir until all nicely combined.
Put the topping on top of the cheesecake cream layer.
Put chopped and toasted pecans on top and optionally sprinkle with dark chocolate sprinkles.
Leave the cake in the fridge for at least 2 hours more.
Serve and enjoy!
Nutrition Information:
Yield:

12
Serving Size:

1 slice
Amount Per Serving:
Calories:

348
Total Fat:

30g
Net Carbohydrates:

3g
Protein:

5g
This is for your information only, please calculate your own macros with ingredients you use.