Easy keto lemon cream pie is creamy low carb lemon pie with easy keto press in pie crust. Sugar free, gluten free, light and refreshing keto lemon pie.
I was thinking about creamy and refreshing keto lemon pie for few days. Yesterday, after a long working day I decided to make it. And I have to share it immediately because it's so good!
I wanted to have a keto lemon cream pie with light lemon cream. Light and fluffy low carb lemon pie with mild lemony flavor. Just didn't want it to be too sour or too sweet. It has to be refreshing and fluffy keto pie.
This low carb cream lemon pie recipe is all of that and more. Light, lemony, creamy, flavorful and beyond that, it is sugar free and gluten free.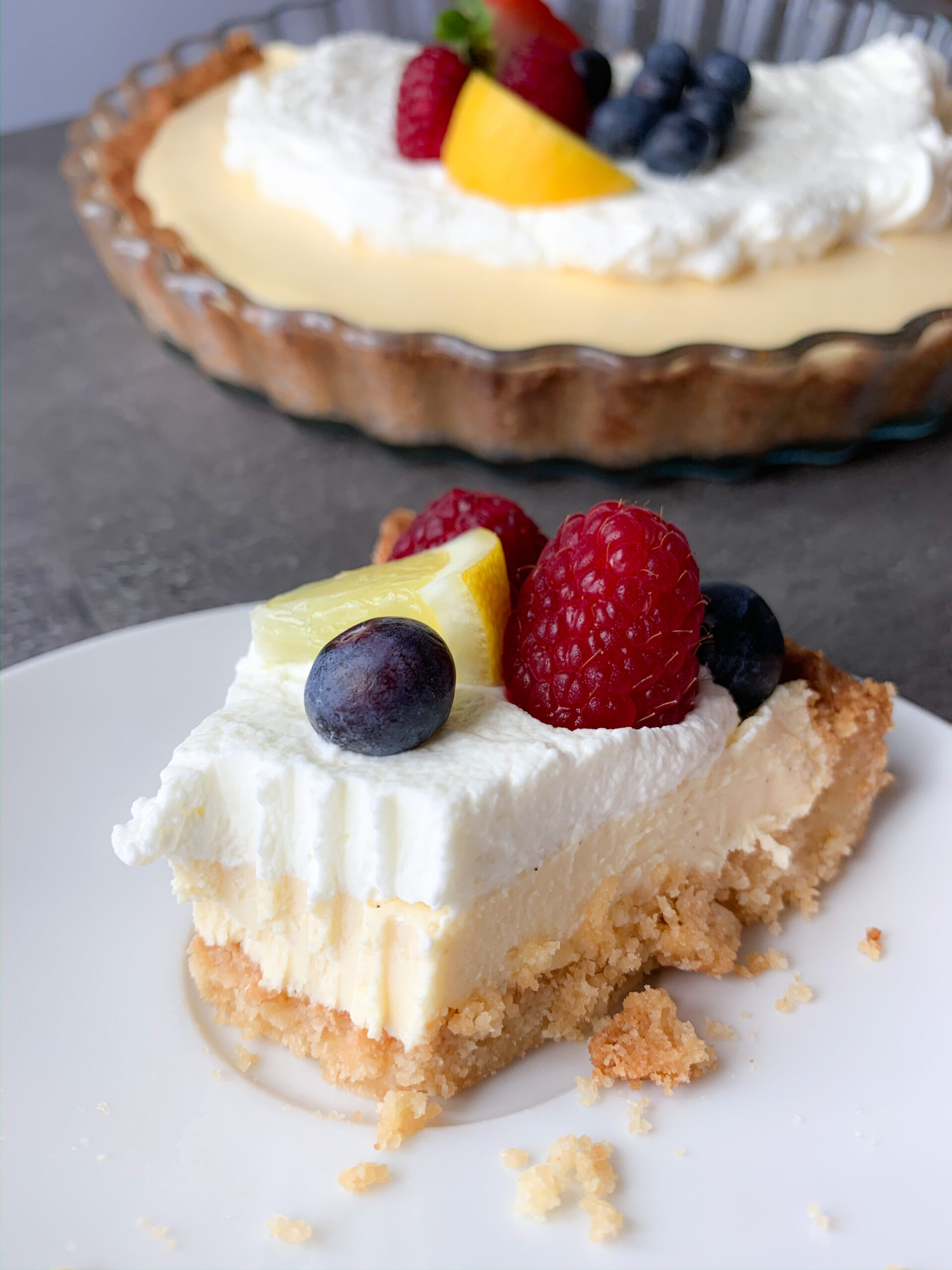 This is not recipe for lemon cream cheese pie but it is recipe for lemon mascarpone cheese pie and it is so easy to make. With really simple and delicious whole food ingredients.
One reader gave me so wonderful compliment – he told me that he likes my recipes because they are realistic! That's so powerful to hear, but also it is obliging me to continue this way. This lemon pie recipe is definitely realistic. With few normal, everyday ingredients that you have in your low carb kitchen.
Mascarpone cheese, eggs, some sweetener, almond meal and coconut flour. Just whole food keto ingredients.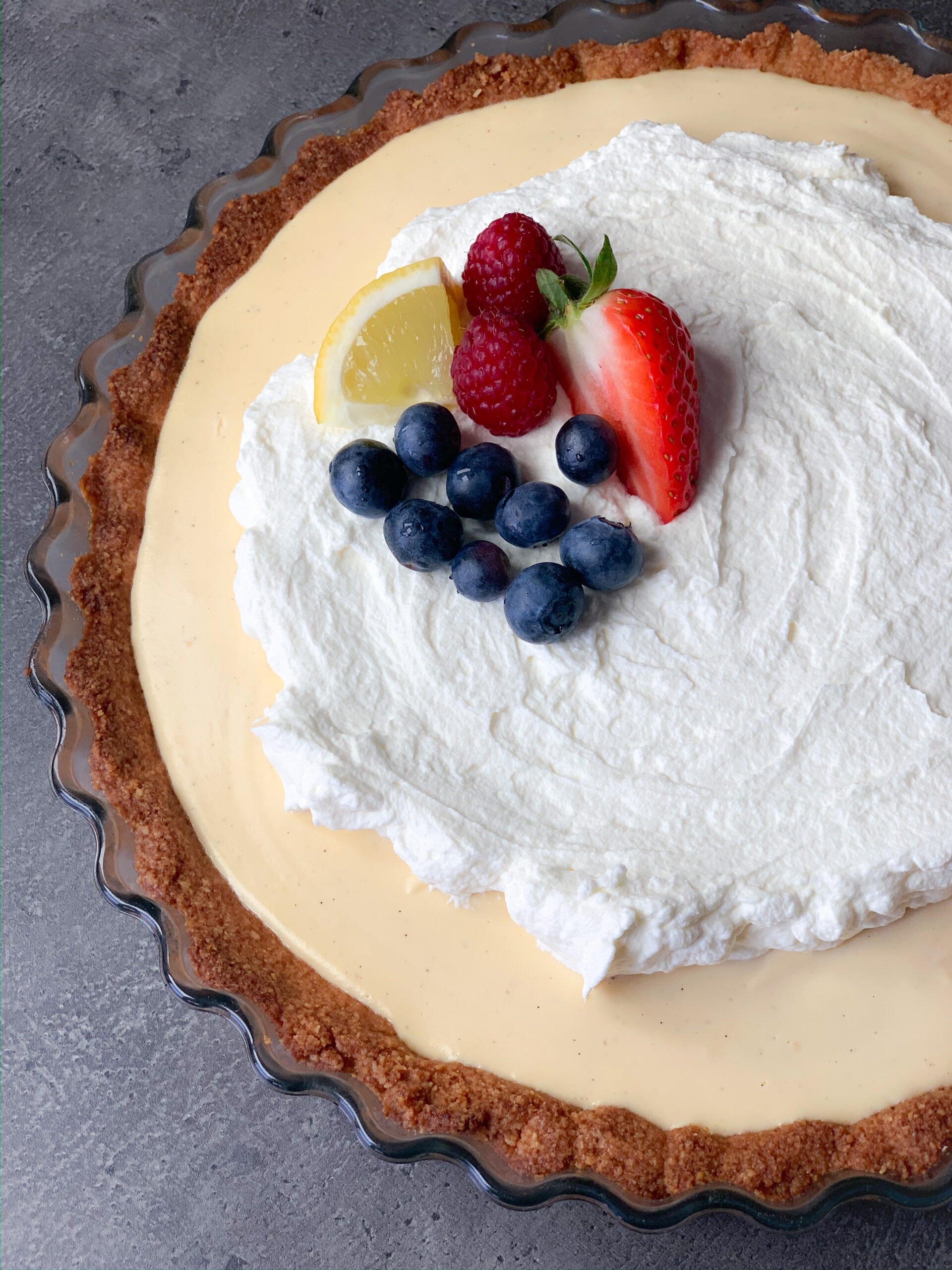 TIPS TO MAKE EASY KETO LEMON CREAM PIE
PRESS IN KETO CRUST
Keto press in crust is easy to make. Just mix all ingredients to make keto dough and press in to pie dish. If you want your low carb pie crust to be crispy, use cold butter. Colder your butter and your hands are – crust will be more crispy. Definitely don't use melted butter.
Bake low carb crust on 180 C/350 F for 15 minutes or until golden brown and your keto crust is done.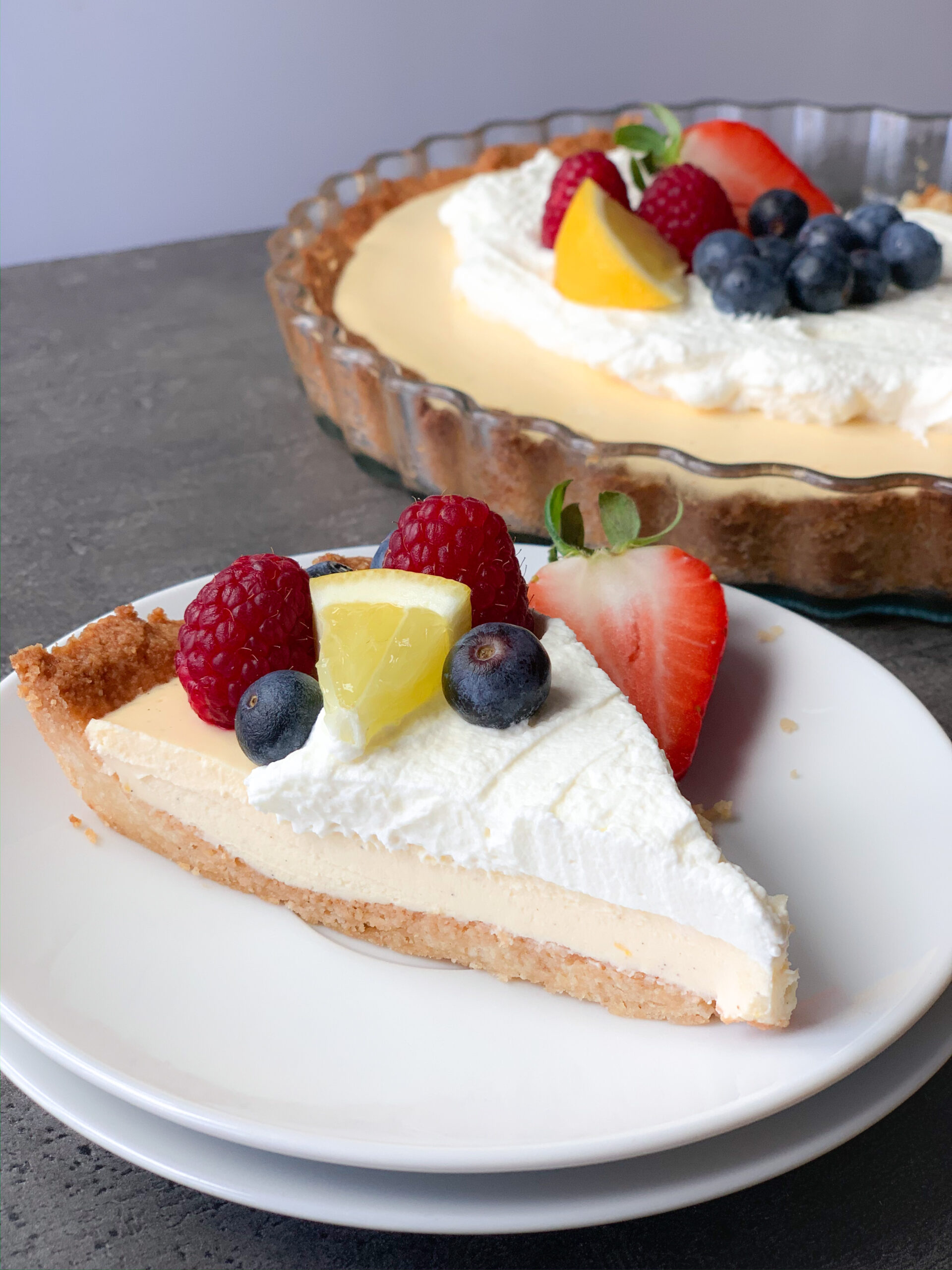 KETO LEMON CREAM
Low carb lemon cream is very light cream easy to make. You just need to whisk lemon juice and zest with low carb sweetener, eggs and heavy whipping cream and bring it to boil and stir for 3 minutes.
After boiling for 3 minutes, just mix in butter and mascarpone cheese until smooth and silky cream is formed. Pour mixed cream in the pie shell and keep it in the fridge for 8-12 hours. The best is overnight.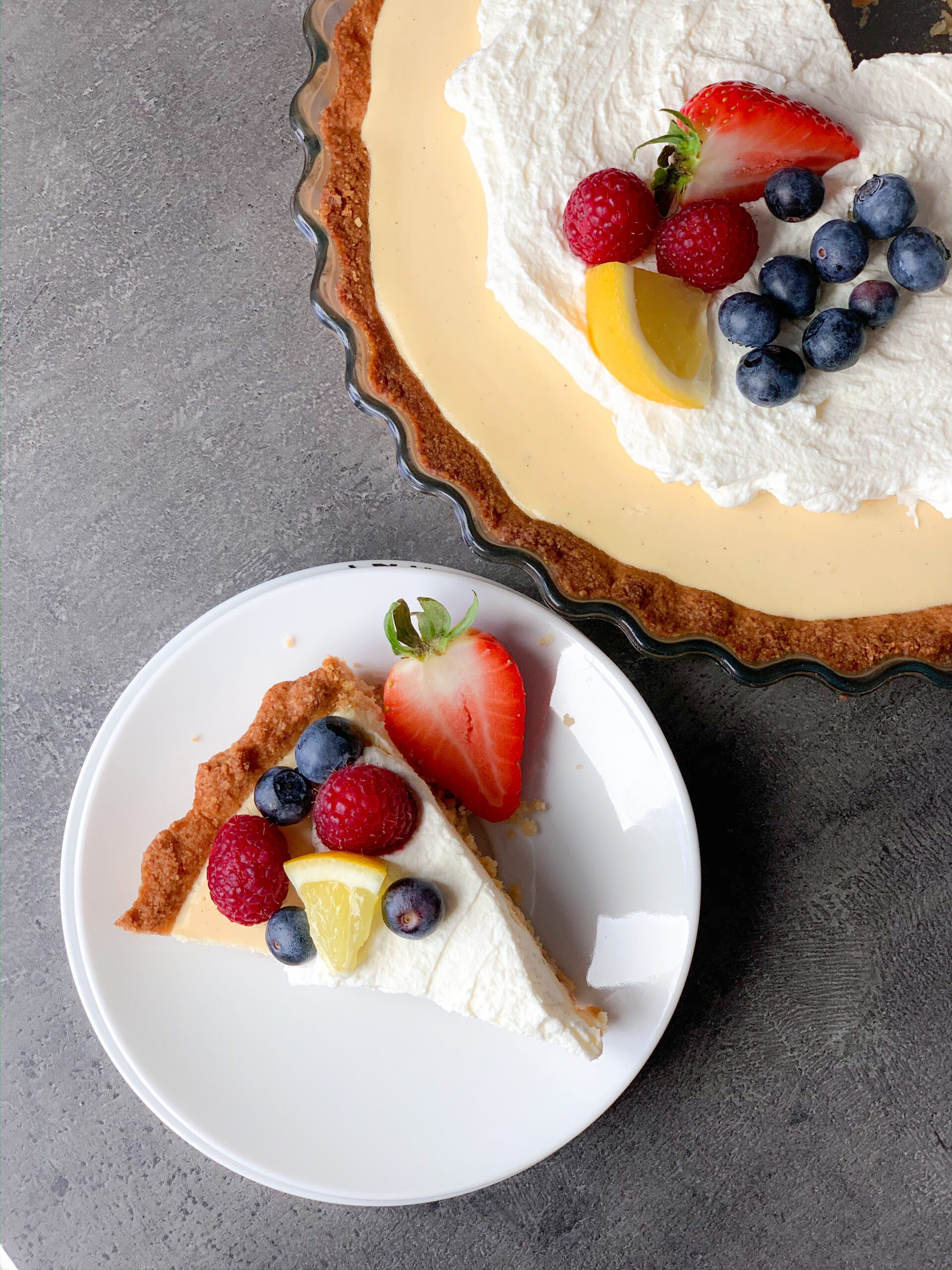 HEAVY WHIPPING CREAM TOPPING
For the topping I use plain heavy whipping cream. Just whipped before serving. Don't whip it in advance, it's much better when it's freshly whipped.
If you love your keto desserts to be sweeter, add 1 or 2 TBS of powdered low carb sweetener. In case you want to avoid all sweeteners but you love sweet taste, add 1 tsp of vanilla extract. Vanilla gives sweet feeling, just like you added some sweetener.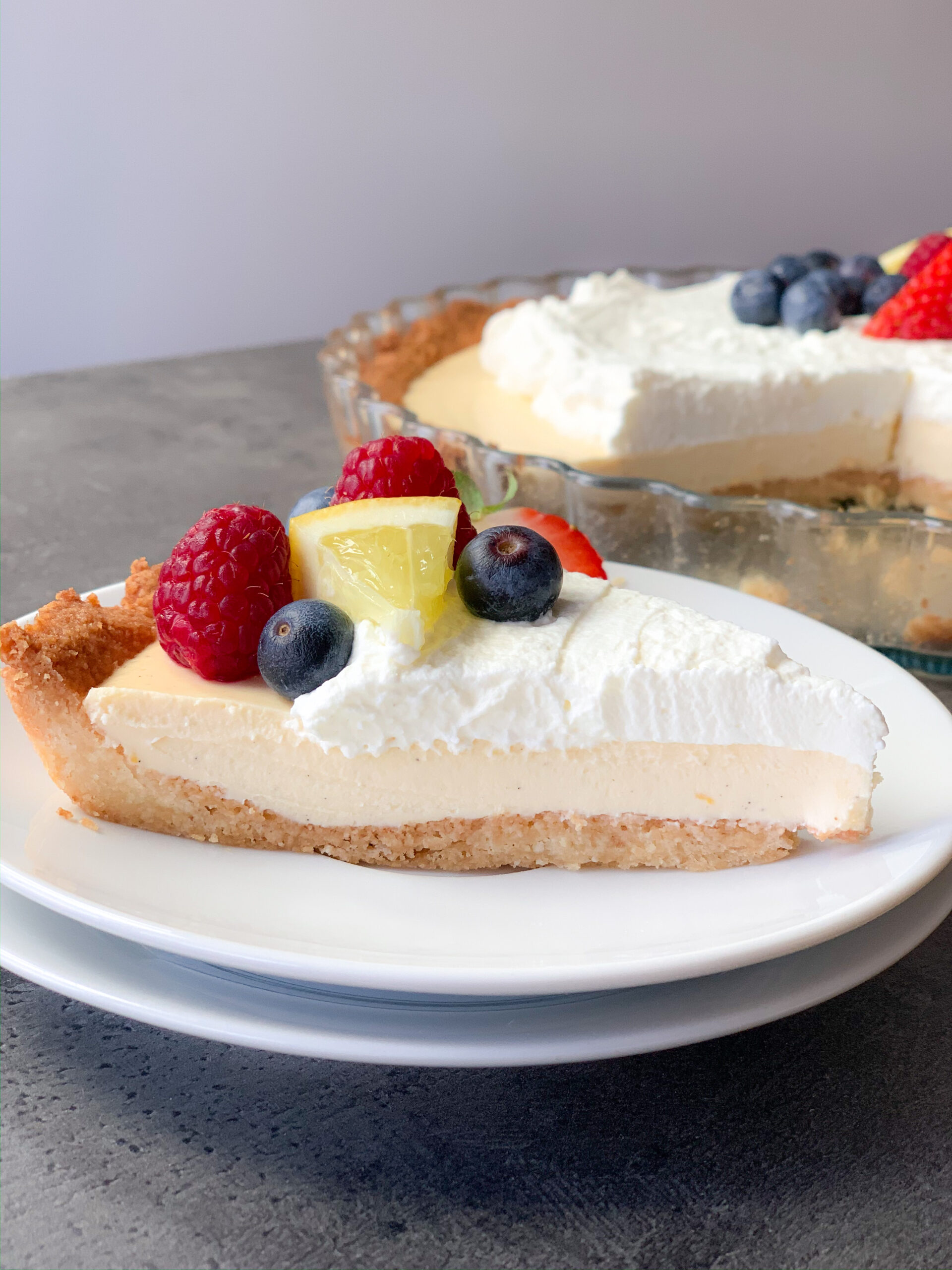 Want to try other keto recipes with lemon?
No bake lemon keto energy balls
Share with your friends and connect!
If you like this recipe, leave a comment! Connect with me on FACEBOOK, INSTAGRAM, PINTEREST and join my TELEGRAM CHANNEL. Scroll down and subscribe to my weekly newsletter to get my recipes on your email!
Enjoy and let me know how was it!
Cheers!
Ines
Easy keto lemon cream pie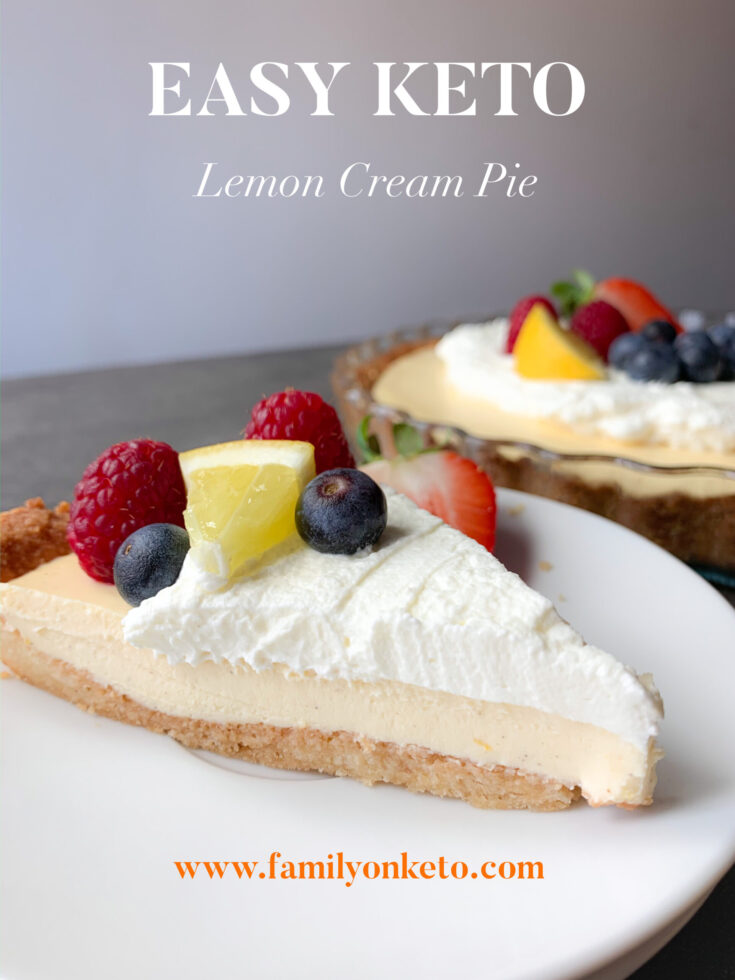 Easy keto lemon cream pie is creamy low carb lemon pie with easy keto press in pie crust. Sugar free, gluten free, light and refreshing keto lemon pie.
Ingredients
KETO CRUST INGREDIENTS
Blanched almond meal 1.5 cup/150 g/5.3 oz
Coconut flour 3 TBS/24 g/0.85 oz
Erythritol or other low carb sweetener 1/4 cup
Cold or softened butter 7 TBS/105 g/3.7 oz
Pinch of salt
Zest of 1 organic lemon
KETO LEMON CREAM INGREDIENTS
2 lemons juice 1/3 cup/70 ml
Zest of 1 organic lemon
Powdered erythritol or another low carb sweetener 1/2 cup to 2/3 cu (depends how sweet you like it)
Heavy whipping cream 1 cup/200 ml
2 eggs
Butter 2 TBS/30 g/1.06 oz
Mascarpone cheese 1 cup/250 g/8.8 oz
Vanilla extract 1 TBS or 1 vanilla bean
TOPPING
Heavy whipping cream 1 cup/200 ml
Vanilla extract 1 tsp (optional)
Powdered erythritol 1 - 2 TBS (optional)
Fresh berries (optional)
Instructions
KETO CRUST PROCEDURE
Preheat the oven to 180 C/350 F.
Mix all dry ingredients and lemon zest, add softened butter or cold butter cut into little pieces. Mix the dough in a food processor or with your hands until you get the dough.
Press in the dough into a greased 25 cm/10 inch pie dish.
Bake in a preheated oven on 180 C/350 F for 15 - 20 minutes or until golden brown and baked.
Leave it to rest until you prepare lemon cream.
KETO LEMON CREAM
In a large heavy sauce pan under a medium high heat whisk the eggs with lemon juice, heavy whipping cream and sweetener.
Whisk until it starts to boil. When it starts to boil, reduce the heat to medium and continue whisking for 2 to 3 minutes until it starts thickening. Be careful because you don't want it to curdle.
Remove from the heat, add lemon zest and butter and whisk or mix until butter is melted.
After butter is melted add mascarpone cheese and continue mixing until smooth and silky lemon cream is done.
Pour the cream on baked keto crust and leave the cake overnight or 8 - 12 hours in the fridge.
TOPPING
After 12 hours in the fridge pie cream should be completely firm.
Mix the heavy whipping cream alone or with vanilla and powdered erythritol or another low carb sweetener.
Put whipped heavy cream on top and garnish with fresh berries.
Serve cold and enjoy!
Notes
This amount if for large pie dish 25 cm/10 inch diameter.
Nutrition Information:
Yield:
12
Serving Size:
1 slice
Amount Per Serving:
Calories:

631
Total Fat:

32g
Net Carbohydrates:

3g
Protein:

6.3g
This is for your information only. Please calculate your own macros with ingredients you use.