Keto gingerbread cheesecake! This low carb gingerbread cheesecake is so good! And I have so funny story related to creation of this recipe!
I promised to make a cheesecake for my kids, despite I was home alone with three of them. As I started to bake this cheesecake, my youngest who is 8 months old just wanted me to carry him around, oldest was teasing my daughter... Complete mess!
Despite everything, I managed to bake it! While trying to transfer the cheesecake on a plate, my daughter who was on her skates, crashed into my legs and cheesecake just cracked completely! First, we all started to laugh. With a mindset from 10 years ago, I would probably sit and cry. But with my current mindset, I just look at that cracked cheesecake, took one part and put it on my son's nose. We were laughing like never before, while eating mixed cheesecake from the bowls. 🙂
Then, I managed to cut one nice slice, decorate it and take few photos. Cheesecake was the best ever! Gingerbread spice with cheesecake is so good! Bottom of this cheesecake is actually a giant keto gingerbread cookie and has a fantastic flavor!
HOW TO MAKE KETO GINGERBREAD CHEESECAKE?
Make keto gingerbread cookie bottom
For the cheesecake crust, you will need to make this easy gingerbread cookie dough. It is low carb and you will need to combine some almond flour, coconut flour, erythritol, pinch of salt and gingerbread spice with butter. Form the dough and press it to the bottom of the layered springform pan (or sprayed with oil). Bake it in a preheated oven on 180 C/360 F for 5 min.
Set it aside to completely cool before you prepare creamy cheesecake layer.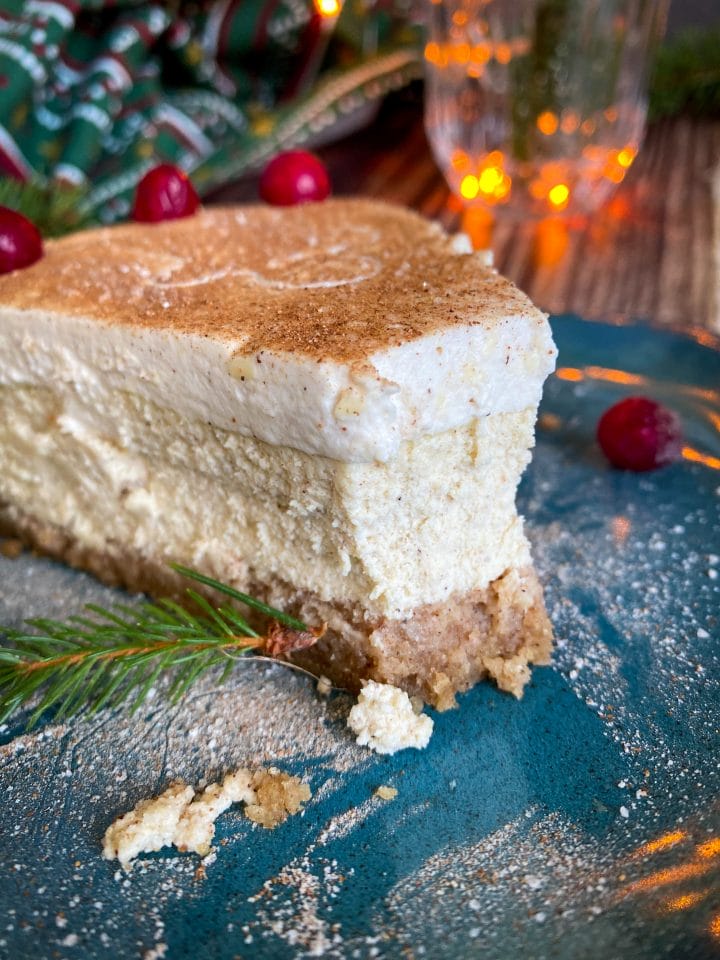 LOW CARB GINGERBREAD CHEESECAKE
This part is easy and so flavorful! You will just need to combine and mix some cream cheese, heavy whipping cream, erythritol, eggs, vanilla and gingerbread spice. When mixed, pour it over the cooled bottom and bake in a preheated oven on 170 C/340 F 45 minutes.
If you want to avoid cracking of your cheesecake, bake it in a way to use duty tinfoil wrapped springform pan in a deep pan with water inside and bake it like that. If you don't mind to have it cracked, just bake it in the oven. However, you will put the frosting on top, so the cracks won't be visible (little time saving hack!). 🙂
KETO CINNAMON FROSTING
This frosting is super delicious! Just mix butter and cream cheese with powdered erythritol, add heavy whipping cream, cinnamon and vanilla and mix it more. Decorate cheesecake and enjoy!
LIKE AND SHARE!
If you like this recipe, please leave a comment and share on your social networks and in favorite groups to support my work! Share in INSTAGRAM stories and tag @familyonketo.
Want to calculate your macros? I have an easy to use, and reliable keto macros calculator!
Connect with me on FACEBOOK, INSTAGRAM, PINTEREST and join my TELEGRAM CHANNEL. Scroll down and subscribe to my newsletter to get my recipes to your email!
Ines XX
Keto gingerbread cheesecake
Keto gingerbread cheesecake! Low carb gingerbread cheesecake with keto gingerbread cookie bottom and creamy gingerbread cheese layer!
Ingredients
CRUST
Blanched almond meal or almond flour 1.5 cup/150 g/5.3 oz
Coconut flour 3 TBS/24 g/0.85 oz
Erythritol ¼ cup
Pinch of salt
Gingerbread spice 1 TBS
Butter 7 TBS/105 g/3.7 oz
CHEESECAKE
Cream cheese 2.5 cups/600 g/21 oz
Heavy whipping cream 1 cup/200 ml
Erythritol ⅔ - 1 cup (depends on your taste)
3 eggs
Vanilla 1 TBS
Gingerbread spice 1 TBS
FROSTING
Cream cheese 1 cup/200 g/7 oz
Softened butter 50 g/1.76 oz
Heavy whipping cream 1 cup/200 ml
Powdered erythritol ½ cup
Vanilla 1 tsp
Cinnamon ½ TBS
OPTIONAL DECORATION
Powdered low carb sweetener 1 TBS
Cinnamon ½ TBS
Instructions
CRUST
1. Preheat the oven to 175 C/350 F.
2. If you want to avoid your cheesecake to crack, wrap the bottom and sides of your springform pan with heavy duty tinfoil. Make few layers to avoid any contact of your cheesecake with water. Spray your pan well or layer with a parchment paper.
3. In a bowl combine almond flour with coconut flour, erythritol, gingerbread spice and pinch of salt. Add butter and form the dough with your hands.
4. Press in the dough into the bottom of prepared pan.
5. Bake in a preheated oven for 5 to 8 minutes on 175 C/350 F. When partially baked, set it aside while you prepare the filling.
CHEESECAKE FILLING
1. Mix cream cheese and erythritol, add eggs, gingerbread spice and vanilla and continue mixing. Gently add heavy whipping cream and continue mixing until all combined.
2. Pour the mixture on prepared bottom crust.
3. Place the cheesecake pan into a large, deep pan. Fill the pan with 5 cm/2 inch water and bake 45 minutes or until baked, in a preheated oven, on 170 C/340 F.
4. When baked it should be still slightly wiggly but firm. Turn off the oven and let the cheesecake to sit for 30 min more in the oven with opened door.
5. Remove the cake from the oven, gently run a knife around the edge of the cake. Place it on a cold place to cool completely for 5 to 8 hours. The best is to leave it in the fridge overnight.
6. When completely cooled add frosting on top.
FROSTING
Mix softened butter and cream cheese with powdered erythritol, add heavy whipping cream, cinnamon and vanilla and mix it until stiff peaks are formed. Don't over mix it to avoid to turn everything into butter.
Distribute frosting on top of the cheesecake. You may decorate your cheesecake with this frosting and a piping bag.
If you like you can sprinkle with a mix of cinnamon and powdered low carb sweetener, like I did it (check photos).
Enjoy!
Nutrition Information:
Yield:

16
Serving Size:

1 slice = 1/16th
Amount Per Serving:
Calories:

347
Total Fat:

33g
Net Carbohydrates:

2.9g
Protein:

7g
This is for your information only, please calculate your macros with ingredients you use.