Keto Raffaello pralines are keto coconut almond fat bombs. This creamy low carb Raffaello recipe is irresistible!
Have you ever tried Raffaello pralines? That's one of my favorite childhood desserts. It has everything - creamy coconut, blanched almond in the middle and crunchy shredded coconut coating. It reminds me on a summer relaxation, and if vacation could have flavor - it would be exactly like this! Raffaello is vacation in one bite! 🙂

HOW TO MAKE KETO RAFFAELLO PRALINES?
This delicious keto Raffaello recipe is so easy to make. Literally, just put all the ingredients in the bowl, combine it with the spoon, make a little balls, put the almond in the middle, and that's it! To make them nicer, coat them in a shredded coconut. Voila! You have a wonderful homemade low carb Raffaello coconut balls!
INGREDIENTS FOR KETO COCONUT ALMOND FAT BOMBS
Mascarpone cheese is really important for this recipe. Of course, you can make it with cream cheese, but cream cheese is not so smooth as mascarpone. Mascarpone will give more authentic, smooth and creamy structure to this creamy coconut dessert.
Blanched almond meal or almond flour combined with mascarpone will keep those keto energy balls together, and give them firm structure and special flavor you will love. Don't use defatted almond flour. It won't be the same!
Unsweetened shredded coconut - to get a low carb dessert, you will need unsweetened shredded coconut. Coconut is what makes this dessert so special. And goes wonderfully with almonds!
Vanilla and coconut extract - these two in combination will give that "vacation" flavor. If you have only vanilla extract, it will be still fine, but if you have both, it's amazing!
Powdered low carb sweetener - I use erythritol, you may use any sweetener you like and you normally use, like xylitol or similar.
Blanched whole almonds - for this dessert you will need whole, blanched almonds. Instead of almonds, you can use macadamia nuts, too!
MAKING KETO RAFFAELLO BALLS
Just combine all the ingredients together, except the whole almonds. When combined, make a little balls with your hands, and in each ball put 1 whole blanched almond.
When coconut balls are formed, coat them in coconut. You can eat them immediately or leave them for at least 30 minutes in the fridge. If you live them to cool you will get firm pralines, so the structure and the taste will be perfect.
LIKE AND SHARE!
If you like this recipe, please leave a comment and share on your social networks and in favorite groups to support my work! Share in INSTAGRAM stories and tag me @familyonketo.
Want to calculate your macros? I have an easy to use, and reliable keto macros calculator! Connect with me on FACEBOOK, INSTAGRAM, PINTEREST and join my TELEGRAM CHANNEL. Scroll down and subscribe to my newsletter to get my recipes to your email!
Enjoy!
Ines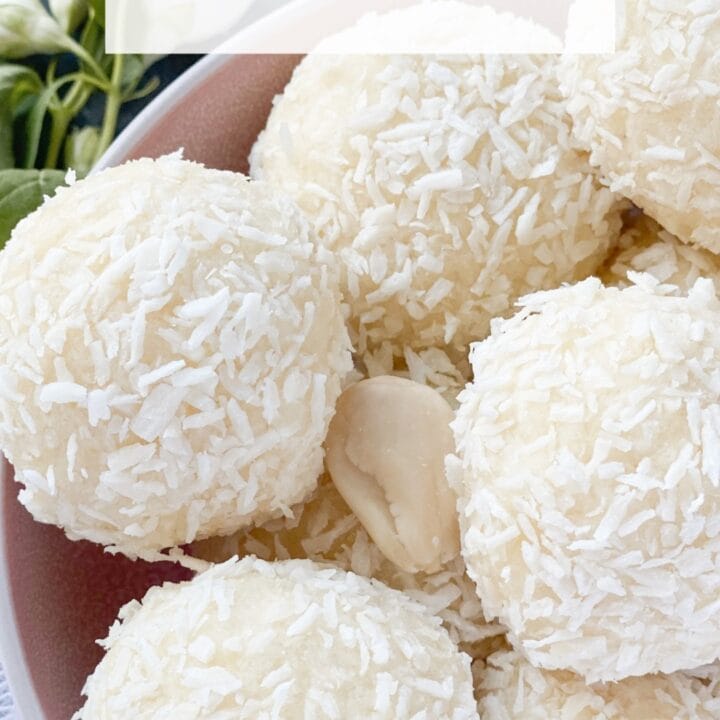 Keto Raffaello pralines
Keto Raffaello pralines are homemade keto coconut almond fat bombs. This creamy low carb Raffaello recipe is irresistible!
Ingredients
RAFFAELLO PRALINES
Blanched almond meal/flour ½ cup/50 g/1.76 oz
Unsweetened shredded coconut 1 cup/80 g/2.82 oz
Mascarpone ⅔ cup/160 g/5.64 oz
Powdered low carb sweetener (erythritol) ½ cup/100 g/3.5 oz
Vanilla extract ½ tsp
Coconut extract ½ tsp
Whole blanched almonds 12 pieces/14 g/0.5 oz
FOR THE COATING
Unsweetened shredded coconut 2 TBS
Instructions
In a bowl, combine blanched almond meal with shredded coconut and sweetener.
Add mascarpone cheese, vanilla and coconut extract and combine with a spoon or spatula.
Form 12 balls with your hands and in each ball press in 1 almond and form nicely shaped ball with your hands.
In a plate put shredded coconut for coating and coat each ball in coconut.
Leave it in the fridge for at least 30 minutes before serving.
Enjoy!
Notes
This recipe is for 12 pralines/balls. Nutritional information is for 1 praline/coconut ball.
Nutrition Information:
Yield:

12
Serving Size:

1 praline
Amount Per Serving:
Calories:

122
Total Fat:

10g
Net Carbohydrates:

1.06g
Protein:

2.2g