Keto beef minestrone soup is recreation of a popular minestrone soup in keto version with chunks of beef. Beef makes this keto soup more nourishing, rich in flavor and great keto family friendly dinner soup. This thick and comforting soup is perfect for keto meal prepping.
I am active on my Instagram account and seeing that people there really love family on keto soups! So many messages are reaching my inbox about soups and I am not surprised. It's probably because I make these soups for our family dinners and we all love them. My children are 4 and 7 and they love my soups (I have a newborn, he still doesn't eat soups). We just can't imagine a day without soup.
Nourishing tradition
Eating soup for a family dinner, every day is the tradition I inherited from my mom, and she inherited from her mom, etc.
Usually, I make a huge batch of beef broth each week. Sometimes, I have to make it twice per week! We eat the broth in soups or reheat and drink it. My children often ask for a cup of broth. The fact that they love my soups is one of the things I am really proud of, when it comes to being a mom and raising children 🙂
KEY STEPS TO MAKE PERFECT AND INSANELY DELICIOUS KETO BEEF MINESTRONE SOUP?
Caramelized onion
Procedure of the onion caramelization is a base of every rich and tasty soup. I believe that this step in combination with a good beef broth is the key of this soup deliciousness. You won't find more tasty recipe for this type of soup in the entire Internet! Just don't skip this step with onion.
Melt olive oil or lard and sauté onion until golden brown or caramelized. When it becomes golden brown, add chunks of beef and stir occasionally, until beef meat is browned on the edges.
Carrot, tomato & beef broth
When meat chunks become brown on the edges, add slices of carrot and stir. I use one medium carrot to keep the carbs low. You can avoid it completely if you wish to reduce the carbs even more.
After adding carrot, add salt, pepper and other spices and pour in crushed tomato or passata, beef broth and water.
How to thicken minestrone soup?
I love to keep this soup very low in carbs to be keto friendly. Because of that adding potato and similar starchy veggies or flour is not possible. However, I have one secret ingredient that I use often to thicken my soups and stews. It goes great with beef, and that is unsweetened cocoa or cacao. Cacao makes it thick and elevates the beef flavor. So, when making this soup, add 1 TBS of unsweetened cacao. It's not very Italian way, but it's so good!
Cook on a medium low heat!
If you're cooking on the stove, bring it to boil, reduce the heat to medium low and leave it to simmer for 30 minutes or until beef is cooked and tender to your liking.
When meat is cooked, add the rest of the veggies like zucchini, green beans, spinach and celery stalks, all cut into small cubes. Cook it altogether for 10 to 15 minutes more and you can enjoy it!
You can cook this beefy minestrone soup in the instant pot or in a slow cooker too! It freezes well also, so it's perfect for a meal prepping.
KETO SOUPS FOR MEAL PREPPING
Here are my other delicious keto soup recipes you might try if you're planning your weekend meal prepping:
CREAM OF CAULIFLOWER SOUP WITH CHICKEN
LIKE AND SHARE!
If you like this recipe, please leave a comment and share on your social networks and in favorite groups to support my work! Share in INSTAGRAM stories and tag me @familyonketo.
Want to calculate your macros? I have an easy to use, and reliable keto macros calculator! Connect with me on FACEBOOK, INSTAGRAM, PINTEREST and join my TELEGRAM CHANNEL. Scroll down and subscribe to my newsletter to get my recipes to your email!
Enjoy!
Ines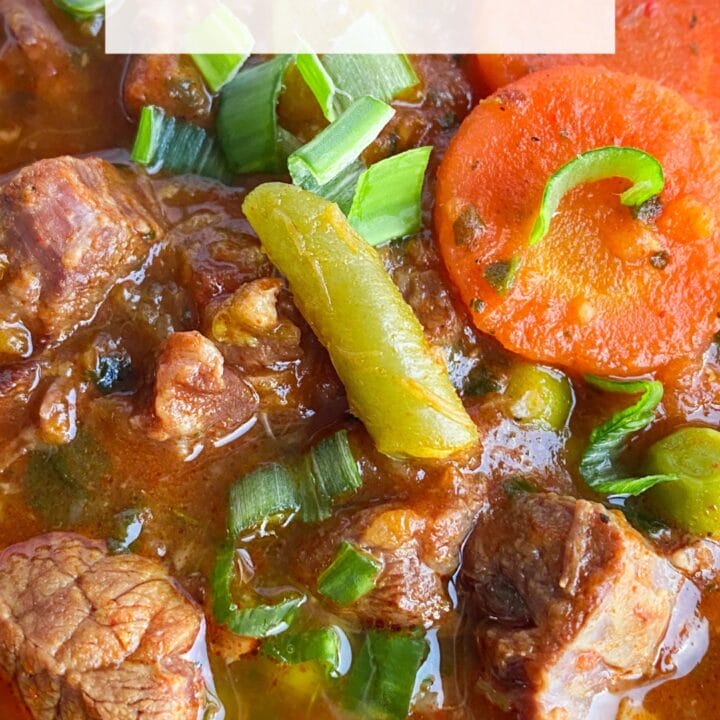 Keto beef minestrone soup
Keto beef minestrone soup is recreation of a popular minestrone soup in keto version with chunks of beef. Beef makes this keto soup more nourishing, rich in flavor and great keto family friendly dinner soup. Perfect for keto meal prepping. 
Ingredients
Olive oil or lard 1 TBS
Beef meat cut in small cubes 600 g/21 oz
1 small onion diced 70 g/2.5 oz
3 cloves garlic minced
1 small carrot/
Crushed tomatoes/passata ½ cup/100 ml
Beef broth 4 cups/800 ml
Red ground paprika 1 TBS
Freshly ground pepper to taste
Dried basil ½ TBS
Dried oregano ½ TBS
Dried or fresh chives ½ TBS
Sea salt ½ TBS (be careful if broth is salty, adapt it to taste)
Red chili flakes to taste (optional if you want it spicy)
Unsweetened cacao 1 TBS
Green beans cut in halves 1 .5 cup/150 g/5.3 oz
Green peas ½ cup/70 g/2.5 oz
Zucchini cut in small cubes 300 g/10 oz
1 red bell pepper cut in small pieces 80 g/2.8 oz
Baby spinach 3 cups/100 g/3.5 oz
Celery stalks 3-5 cut in small pieces 50 g/1.76 oz
Instructions
In a large pot on the stove (Dutch oven) heat the olive oil or lard and cook diced onion until golden brown and caramelized.
When onion caramelized, add minced garlic and beef cut into small cubes. Cook and occasionally stir until meat browned on the edges.
Add crushed tomatoes, carrot cut in slices, broth, salt, pepper, cacao and other herbs and spices, stir and cook on high heat until it starts to boil. Reduce the heat to medium low and let it simmer for 30 minutes or until meat is cooked and tender.
Add remaining veggies and simmer for 15 minutes.
Serve it hot an enjoy!
Nutrition Information:
Yield:

6
Serving Size:

1.5 cup
Amount Per Serving:
Calories:

306
Total Fat:

17.7g
Net Carbohydrates:

6g
Protein:

28g