One skillet chicken with vegetables is Mediterranean keto chicken recipe. Mediterranean flavor and feta cheese on top of juicy chicken meat and vegetables is great low carb summer dish.
We love this Mediterranean chicken and vegetables, especially during the summer. Veggies summer dishes are the best keto nourishing choices.
We don't eat breakfast, we usually fast and eating lunch early afternoon. Today we had this Mediterranean chicken with vegetables and we enjoyed it.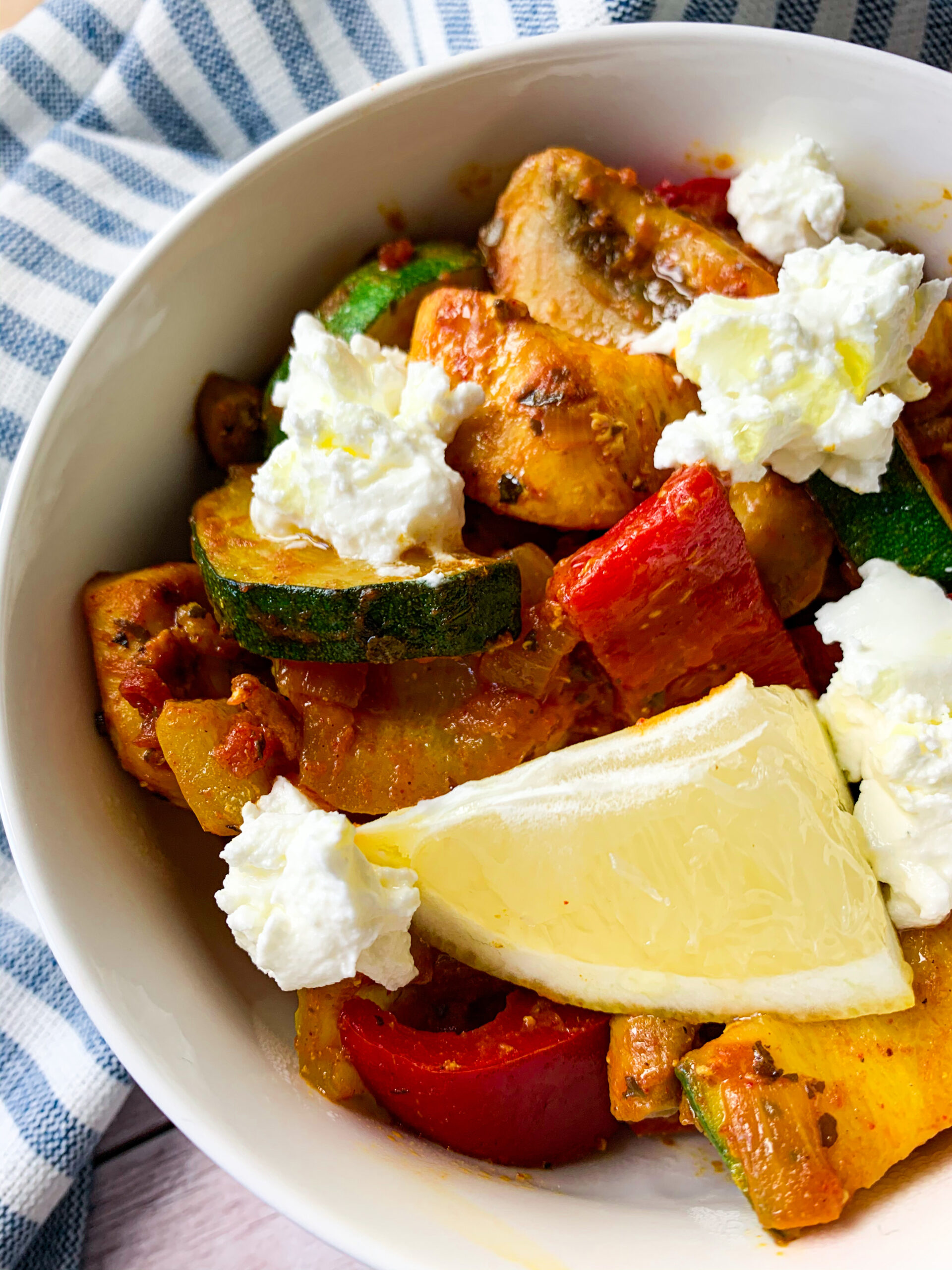 What vegetables to use for one skillet chicken with vegetables?
Onion – always use onion. Onion gives rich flavor and it's a perfect base for this one skillet vegetables dish. Sauté onion until translucent and golden brown. Golden brown color is a sign of caramelization and that's actually the taste and flavor of any skillet vegetable dish.
Mushrooms are great vegetable for this type of dish. They are rich in nutrients, especially in protein and they are earthy and really finely complementing other more watery veggies.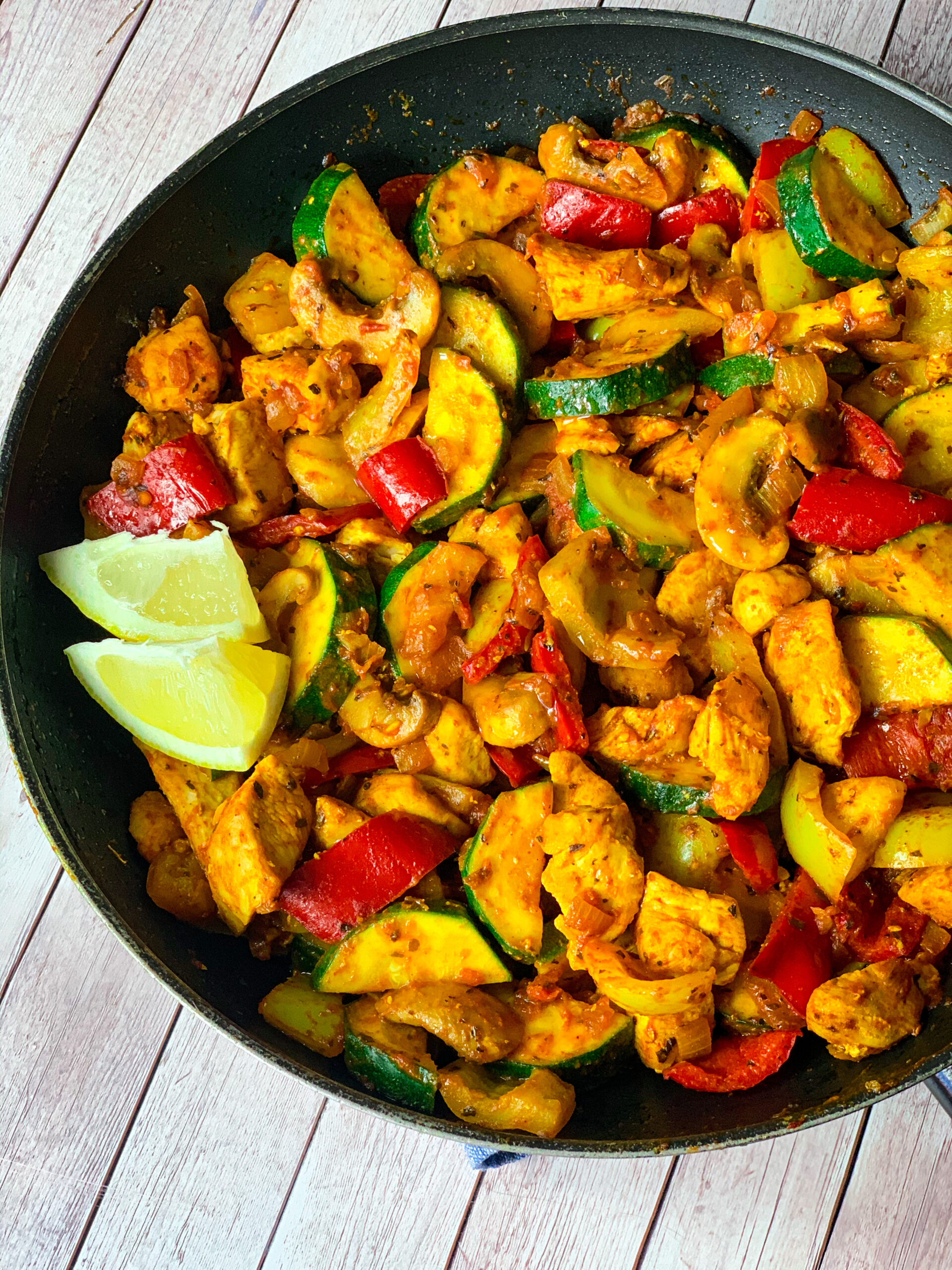 Red and green or yellow bell peppers are great when cooked on the pan or in a skillet. They have wonderful smell when you sauté them in a pan. Also, they are low carb and having very low glycemic load which makes them great vegetable for keto and safe option for diabetics.
Zucchini is wonderful addition to this chicken and vegetables recipe. Zucchini are fulfilling and low in calories and carbs so they are perfect for any keto meal.
Here on my blog I have few keto zucchini recipes that you might try.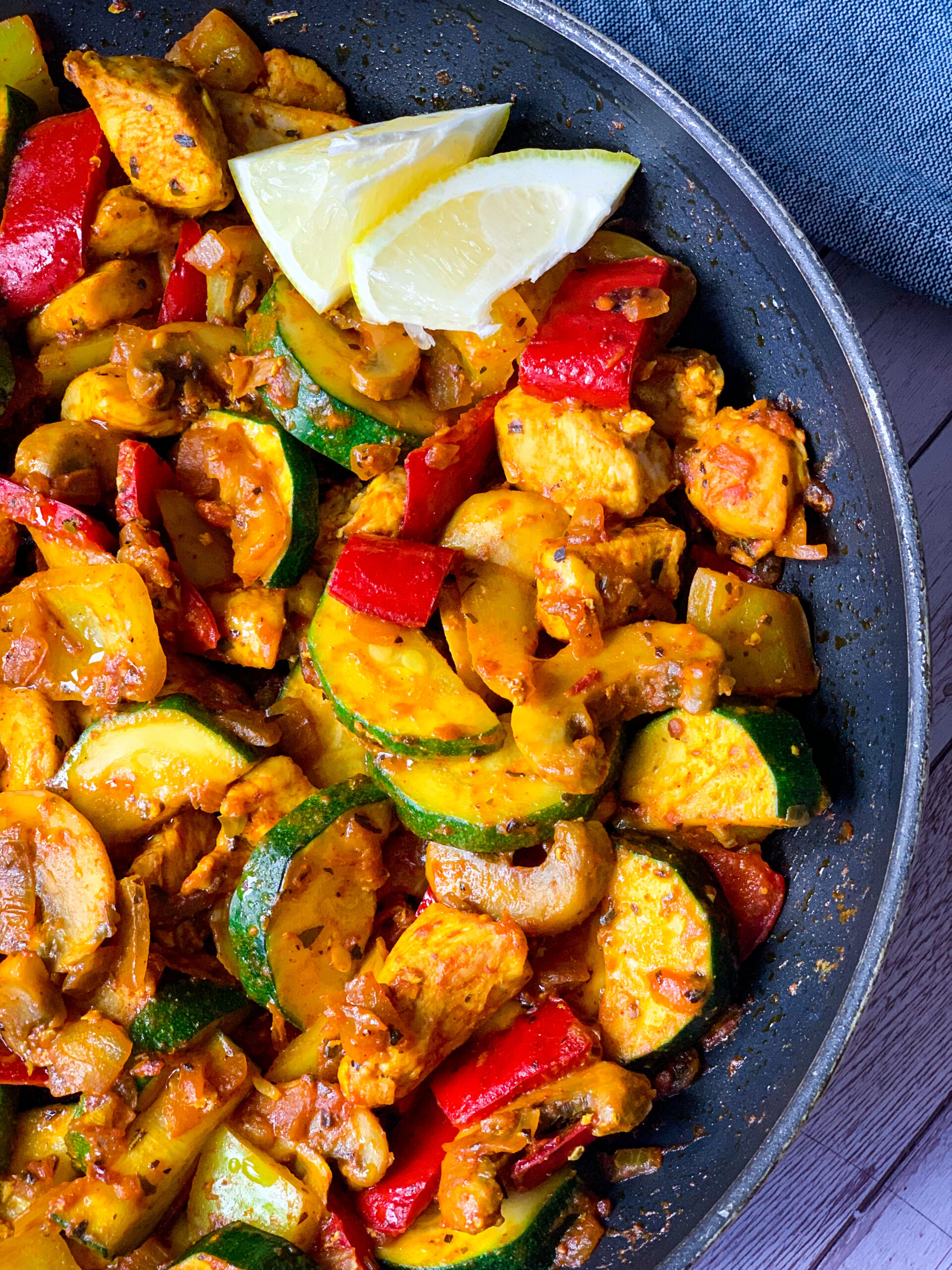 How to season Mediterranean chicken and vegetables
Tomato sauce or crushed tomatoes are almost always crucial part of Mediterranean recipes. It's almost not possible to avoid tomatoes in keto Mediterranean dishes. Of course, to make it more low carb we don't put so much of tomato, but some tomato is really needed and it gives flavor, like a seasoning.
Dried basil and oregano are basic Mediterranean spices and in this dish are really needed. Oregano and basil are responsible for a real Mediterranean smell of this dish. My children think I make pizza when they smell them!
Powdered turmeric and red paprika are my favorite spices and I love using them in so many dishes. They give beautiful color and these spices are so healthy for you so this is a great opportunity to include them in your diet.
Serving Mediterranean one skillet chicken with vegetables
I love serving this with some good quality feta cheese or goat cheese and drizzle with extra virgin olive oil. Be free with olive oil and put on top generous amount if you like. We, keto people are not afraid of healthy fats!
Of course, on top of everything you need some lemon juice. Lemon juice is giving that final kick to these veggies and makes this dish irresistible!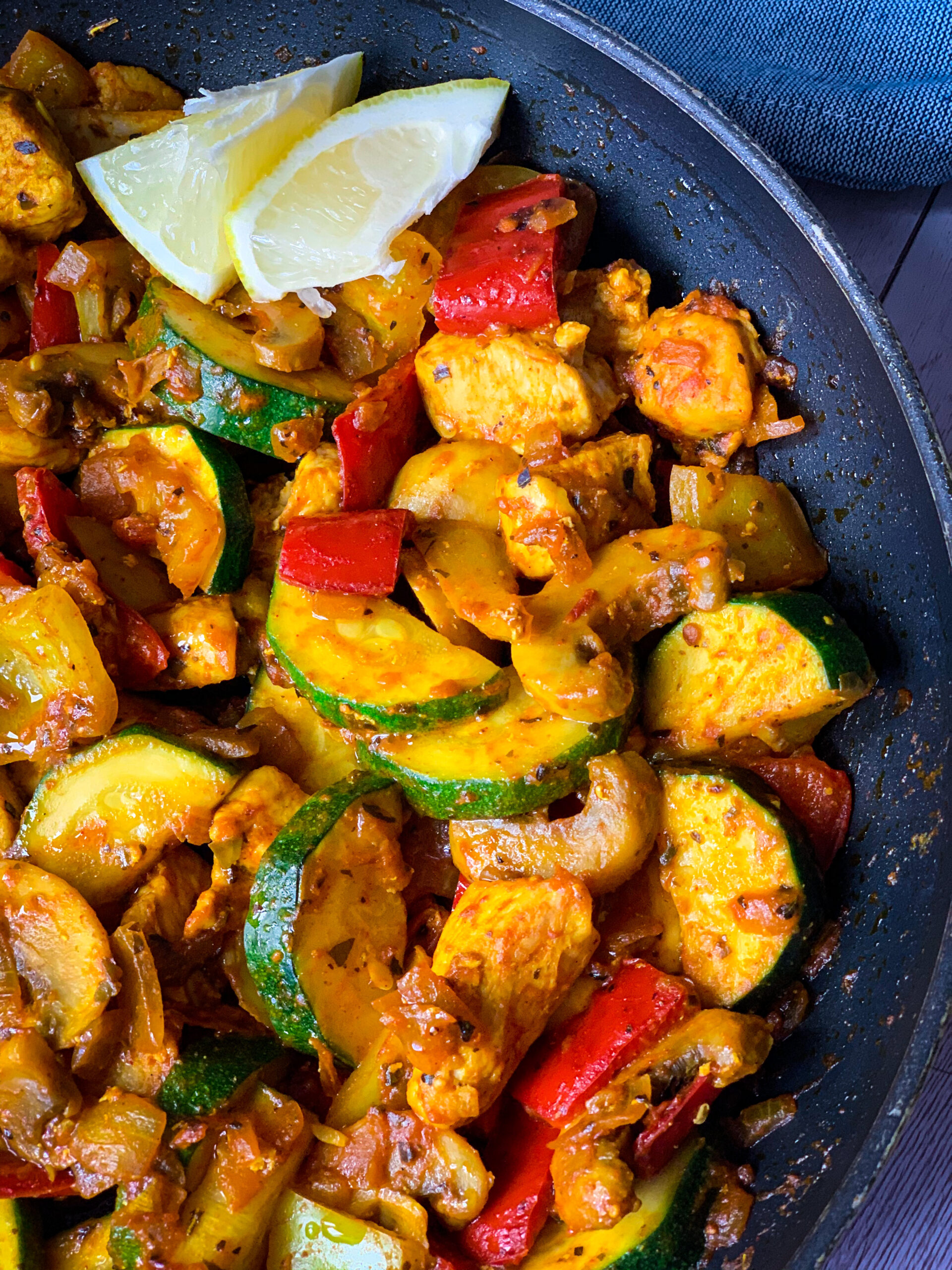 LIKE AND SHARE!
If you like my recipes, leave a comment!
Would you like to calculate your macros? I have an easy to use and reliable keto macros calculator!
Connect with me on FACEBOOK, INSTAGRAM, PINTEREST and join my TELEGRAM CHANNEL. Scroll down and subscribe to my newsletter to get my recipes on your email!
Enjoy!
Ines
One skillet chicken with vegetables - Mediterranean keto recipe
Print Recipe
Ingredients
Olive oil 2 TBS

Chicken breasts or thighs cut in small bite sized pieces 400 g/14 oz

1 small onion 70 g

Red and green or yellow bell peppers 220 g/7.7 oz

Mushrooms cut in smaller pieces 150 g/5.3 oz

1 large zucchini 330 g/11.6 oz

Crushed tomato or tomato sauce 1/4 cup/50 ml

Water or vegetable broth 1/4 cup/50 ml

Salt to taste

Freshly ground pepper to taste

Dried basil 1 tsp

Dried oregano 1 tsp

Turmeric powder 1 tsp

Red paprika 1 tsp

TOPPING

Feta cheese 100 g/3.5 oz

Lemon juice 1 small lemon

Extra virgin olive oil to drizzle
Instructions
1
In a large pan or a large skillet heat 2 TBS olive oil.
2
Cook chicken meat on a hot oil until golden brown on the edges and cooked. When cooked remove it from the skillet and set it aside on a plate.
3
On a remaining fat saute onion until translucent and golden brown.
4
When onion translucent, add mushrooms, peppers and zucchini. Add salt, pepper and spices and stir until veggies stat to get golden brown color on the edges and coated in spices.
5
Put back cooked chicken meat and add crushed tomato and 1/4 cup water and stir.
6
When vegetables cooked to your liking remove from the heat and serve.
7
On top you can put feta cheese or goat cheese and drizzle with extra virgin olive oil and lemon juice.
Notes
This amount gives 5 servings. Nutritional value per serving: Cal 232, Fat 12 g, NET Carbs 6.83 g, Protein 21 g. This is for your information only, please calculate your own macros with ingredients you use.