Vegan keto cinnamon roll bites are easy to make, no bake keto vegan energy balls. This low carb vegan dessert is gluten free and dairy free!
These keto vegan no bake cinnamon cookies are so delicious. Perfect treat during the summer heat. We are literally melting outside and cooking or baking would be ridiculous. That's why I created this recipe! I was craving for something sweet and nutritious but baking seemed impossible. S0, I turned on my blender and made these wonderful keto vegan bites.
These are super nutritious, so you can have them for breakfast, after work out, as a healthy snack for kiddos or as a wonderful sweet treat when you need it. It works in every occasion.
Because of the whole ingredients, these keto vegan cinnamon roll no bake cookie dough balls are creating that well known good feeling when you're eating them. I hope you understand what I mean!
Anyhow, continue to read my tips how to make it fast and sweet!
HOW TO MAKE VEGAN KETO CINNAMON ROLL BITES?
SOAK THE ALMONDS
Put the almonds in a big bowl and cover them completely with water. Leave almonds in water for at least 20 minutes or more. You can soak them even over night. Rinse almonds properly and drain before putting them into a food processor or in a blender.
Soaking is needed because you need them softer and moist to be able to process and shape the balls easier. It is good to soak the nuts because when soaked, your body has a better chance to absorb the nutrients. So, don't skip this part!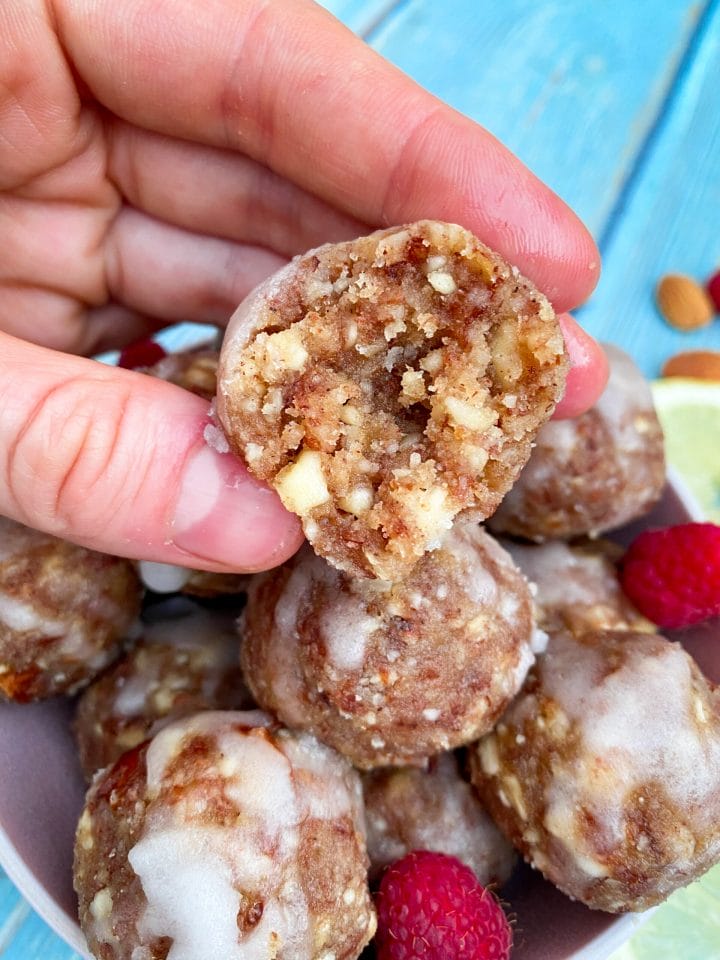 OTHER INGREDIENTS
After soaking almonds just put everything in a food processor or in a stronger blender. I was using coconut flour, almond butter, melted coconut and cinnamon. Low carb sweetener is a great addition to make it as a proper dessert. You can use the sweetener you like the best. I was using erythritol. You can use also xylitol, monk fruit or another low carb sweetener, jut adapt to quantity to your liking.
LEMON GLAZE
Glazing is optional, but if you have that lemon, just squeeze it, add some powdered sweetener and make that glazing. It will be so delicious! You need just 1 TBS of lemon juice and 3 TBS of powdered sweetener for this glazing.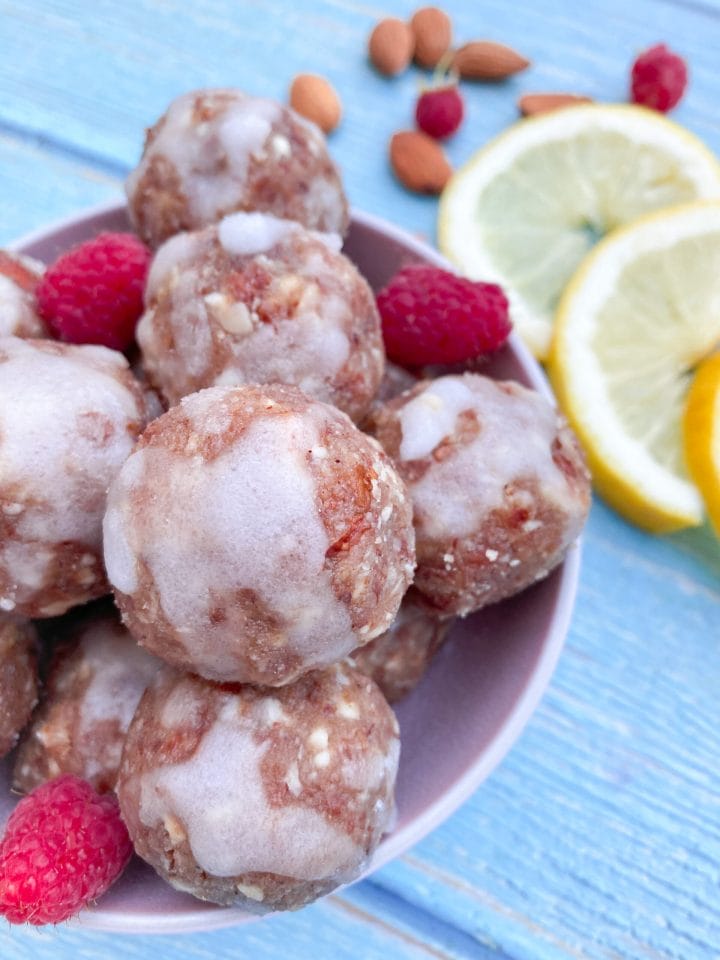 SERVING VEGAN KETO CINNAMON ROLL NO BAKE COOKIE DOUGH BALLS
You may serve these yummy keto vegan raw bites as a dessert or with a cup of coffee or lemonade to enjoy your lazy afternoon, the same as I do it now!
LIKE AND SHARE!
If you like this recipe, please leave a comment and share on your social networks and in favorite groups to support my work! Share in INSTAGRAM stories and tag @familyonketo.
Want to calculate your macros? I have an easy to use, and reliable keto macros calculator!
Connect with me on FACEBOOK, INSTAGRAM, PINTEREST and join my TELEGRAM CHANNEL. Scroll down and subscribe to my newsletter to get my recipes to your email!
Enjoy!
Ines
Vegan keto cinnamon roll bites
Additional Time:
20 minutes
Vegan keto cinnamon roll bites with lemon glaze are easy to make, no bake keto vegan energy balls. This low carb vegan dessert is gluten free and dairy free!
Ingredients
Soaked almonds 2 cups/280 g/9.9 oz
Coconut flour ¼ cup/36 g/1.27 oz
Erythritol 2 TBS
Almond butter 2 TBS
Cinnamon ½ TBS
Melted coconut oil 4 TBS/55 g/1.9 oz
LEMON GLAZE
Lemon juice 1 TBS
Powdered low carb sweetener (xylitol or erythritol) 3 TBS
Instructions
ENERGY BALLS
Soak almonds in water for at least 20 minutes or overnight. Rinse and drain them and grind in a food processor or in a strong blender.
Add other ingredients until all combined.
Form the balls with an ice cream scooper or with your hands.
Optionally glaze with lemon glaze.
GLAZE
In a small bowl combine 1 TBS of lemon juice with powdered sweetener and drizzle over energy balls.
Leave them in fridge for 10 minutes & enjoy!
Nutrition Information:
Yield:

14 balls
Serving Size:

1/14
Amount Per Serving:
Calories:

169
Total Fat:

12g
Net Carbohydrates:

1.8g
Protein:

5.3g
This is for your information only, please calculate your own macros with ingredients you use.