Keto cherry cream pie is refreshing keto pie with cherries and creamy keto pie filling.
Again I was very active with baking and cooking during the weekend so I created few really delicious recipes. As I am in a very busy life period, I don't have time to publish every keto recipe I would love to share with you, so I organized a little voting on my Instagram account. And, you all voted for this creamy keto cherry pie.
There was a really tight race between cookies and this low carb cherry pie, and pie won!
That's not strange, because this low carb cream cherry pie is really delicious! It's flavorful, refreshing and creamy, on a wonderful and tasty almond pie crust... It has all the components of a really delicious keto dessert.
My kids love it, and my family members who are not on keto asked for a slice more! So, it was a huge win. And, this is so easy keto cherry pie. You really don't have to have some special baking super powers, just a good will to try to make it.
TIPS TO MAKE KETO CHERRY CREAM PIE
KETO ALMOND PIE CRUST
This keto pie crust is so easy to make. I was using ground almonds, but you can use almond flour instead or blanched almond meal, actually whatever version of almonds you have. Everything will be delicious, I'm sure.
You will just need to combine all the ingredients to make a dough and press it into a pie pan. Bake it on 180 C/350 F for 10 minutes just to make it firm. It won't be firm immediately after baking, you will need to leave it to rest after baking for at least 15 minutes to become firm. Also, after baking it could be a little bit puffed, but you can just gently press it with a spoon or a fork to make it flat.
KETO CHERRY PIE FILLING
This pie filling is sweet, creamy and delicious. It goes perfectly with sour cherries. To make this low carb sweet pie filling, also you don't have to cook or bake heavily, just mix eggs, sweetener, vanilla, cinnamon, heavy whipping cream and mascarpone cheese until you get a nice and smooth cream.
Pour the filling over the pie crust, put on top cherries and bake it in a preheated oven on 180 C/350 F for 30 minutes.
After it was baked, leave it in the fridge for few hours because it taste much better when it's cold.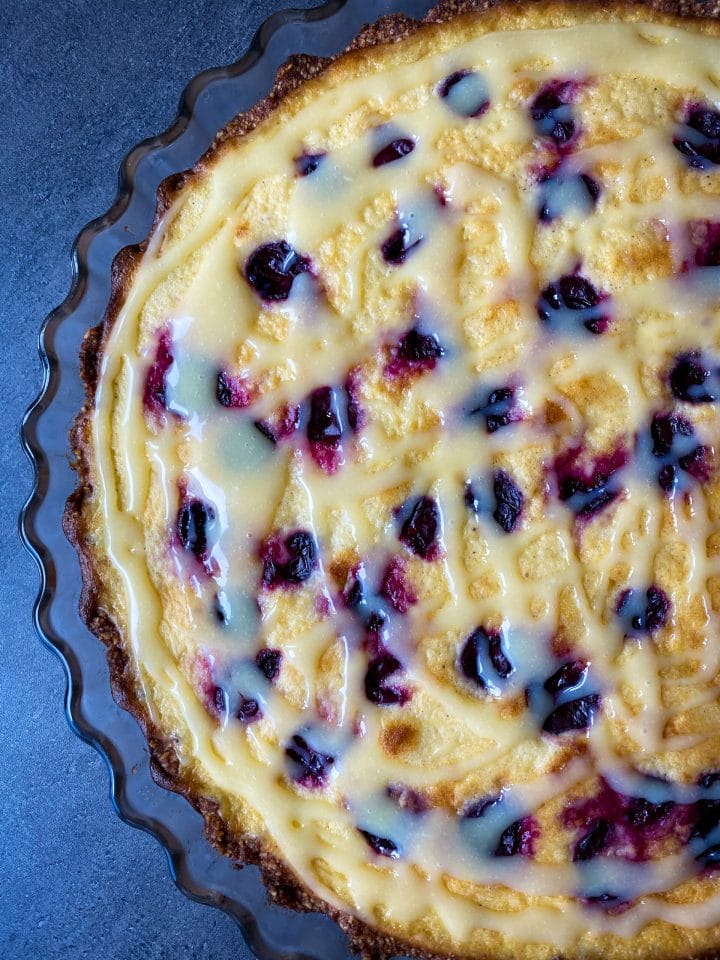 DECORATION
I decorated this cherry pie with melted sugar-free white chocolate and some whipped heavy cream. This is totally optional and you can do it if you like it. When it's decorated like this it looks really decadent. However, it gives to the pie a little bit more carbs too, so I leave this as your choice to decide.
Would you like to try my latest keto dinner recipes?
Here is so delicious way to prepare pork belly in Vietnamese style! It's sticky and with wonderful flavor. Perfect keto lunch or dinner! If you're for a more rustic dinner, try this golden and crispy duck, prepared in a clay pot!
LIKE AND SHARE!
Do you like my recipes? Please leave a comment and share to support my work! Want to calculate your macros? I have an easy to use, and reliable keto macros calculator! Connect with me on FACEBOOK, INSTAGRAM, PINTEREST and join my TELEGRAM CHANNEL. Scroll down and subscribe to my newsletter to get my recipes to your email!
Enjoy!
Ines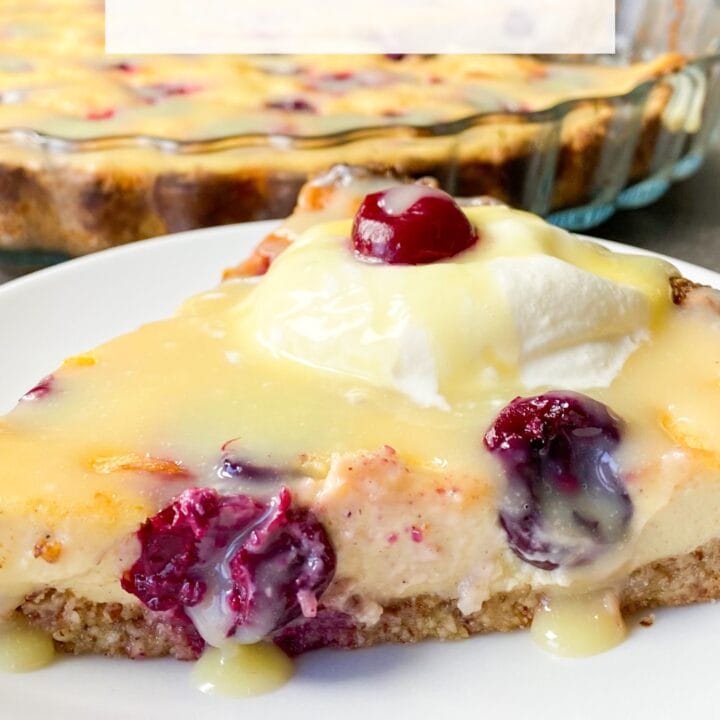 Keto cherry cream pie
Keto cherry cream pie is refreshing keto pie with cherries and creamy keto pie filling. 
Ingredients
KETO ALMOND CRUST
Ground almonds or almond meal 1.5 cup/160 g/5.64 oz
Coconut flour 3 TBS/24 g/0.85 oz
Erythritol or other low carb sweetener ¼ cup
Softened butter 100 g/3.7 oz
Pinch of salt
Cinnamon ½ tsp
KETO CREAM FILLING
Mascarpone cheese 1 cup/250 g/8.8 oz
Heavy whipping cream ½ cup/100 ml
2 eggs
Low carb sweetener (erythritol) 6 - 8 TBS
Vanilla extract 1 tsp
Cinnamon 1 tsp
CHERRIES
Unsweetened cherries fresh or defrosted ⅔ cup/120 g/4.23 oz
DECORATION
Melted sugar free white chocolate 10 g/0.35 oz
Heavy whipping cream ½ cup/100 ml + powdered erythritol 2 TBS
Instructions
KETO ALMOND CRUST
Preheat the oven to 180 C/350 F.
Combine all ingredients together in a food processor or with your hands to get the dough.
Press in the dough into the greased 25 cm/10 inch diameter pie dish.
Bake in a preheated oven on 180 C/350 F for 10 to 15 minutes or until golden brown on the edges.
Leave it to rest for 15 minutes before you pour the filling.
If crust is puffed, press it gently with a spoon to make it flat.
KETO CREAM FILLING
Just mix all ingredients together until you get smooth filling. It will be liquid, don't worry, after baking and cooling in the fridge it will become firm.
When mixture is smooth, pour it on a baked pie crust.
Spread the cherries on top and bake in a preheated oven on 180 C/350 F for 30 minutes.
Leave it in the fridge for few hours to cool completely.
DECORATION (optional)
Decorate the pie with some whipped heavy whipping cream and drizzle with melted sugar free white chocolate.
Decorate just before the serving.
Enjoy!
Notes
This amount is for 25 cm/10 inch diameter pie dish.
Nutrition Information:
Yield:

12
Amount Per Serving:
Calories:

270
Total Fat:

25g
Carbohydrates:

3.95g
Net Carbohydrates:

2.69g
Fiber:

1.26g
Protein:

6.22g
This is for your information only, please, calculate your own macros with ingredients you use.