Keto magic cookie bars with berries, pecans and dark chocolate are delicious low carb sweets. Keto cookie bars in combination with mixed berries, chocolate and pecans, covered with layer of thick sugar free condensed milk.
At the moment of writing this blog post about keto magic bars, almost whole world is in isolation. You need to eat, even when isolated, and you need something sweet also. Maybe even more you crave for good, healthy keto sweets. We are not immune to these cravings too.
Especially in the time of crisis we need to eat healthy, sugar free food. I was surprised to see the results of a poll on Instagram account of one fellow keto blogger. More than 60% of people said that they are not on keto now when isolated. And now is more than ever important to stick with keto plus all take all other measures of protection.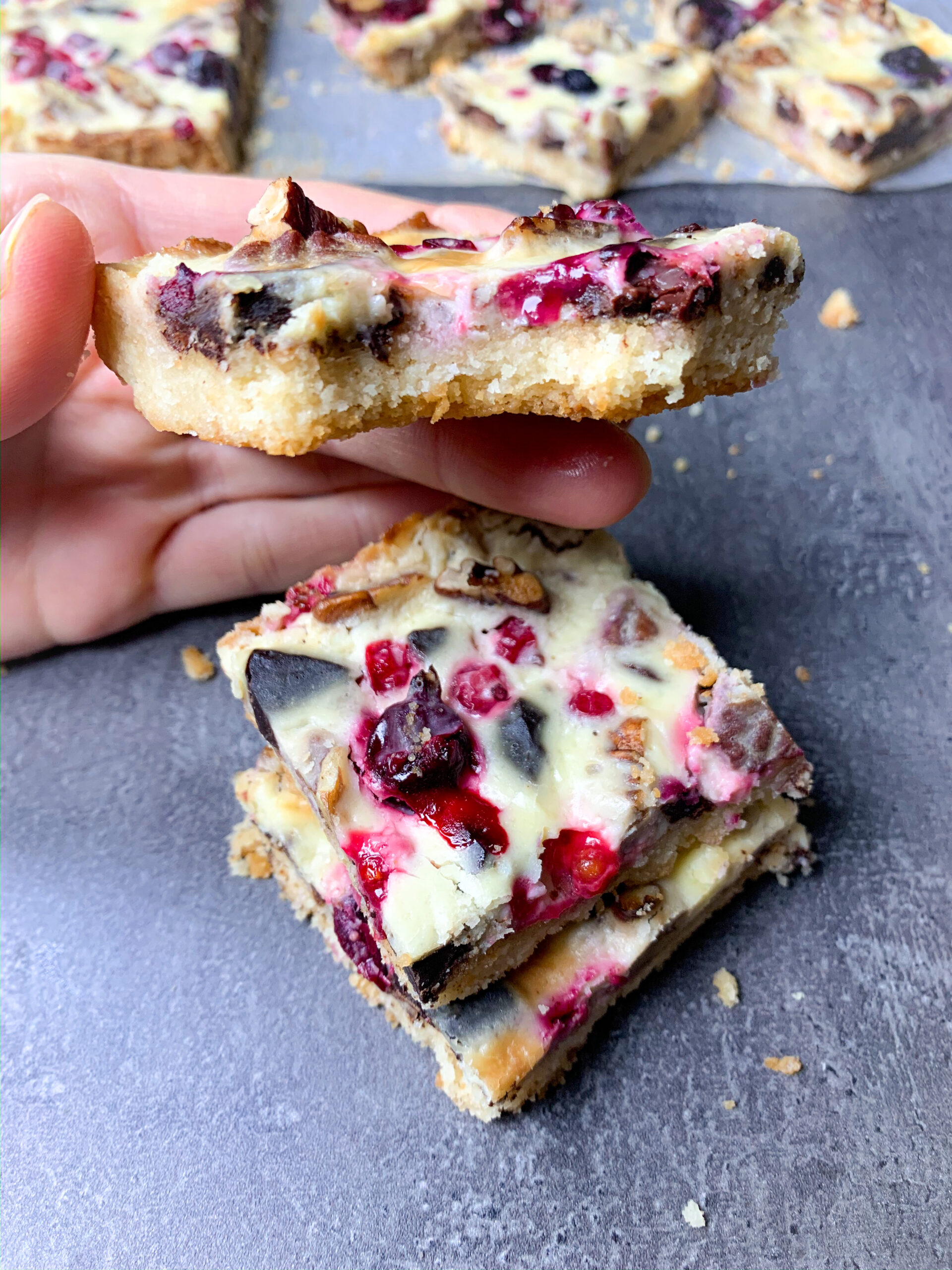 Maybe you noticed, I have skipped my Sunday blog post because we had an earthquake here. Like quarantine was not enough! So, you can imagine that I was not in the right mood to write a blog post. However, I created these wonderful keto magic cookie bars recipe and we enjoyed them so much. My children especially love these magic cookie bars.
There is one special addition to these cookie bars. I put some mixed berries on top, together with pecans and chocolate. That's why these low carb magic cookie bars are somehow refreshing also. Sugar free magic keto bars with berries – could it be better!?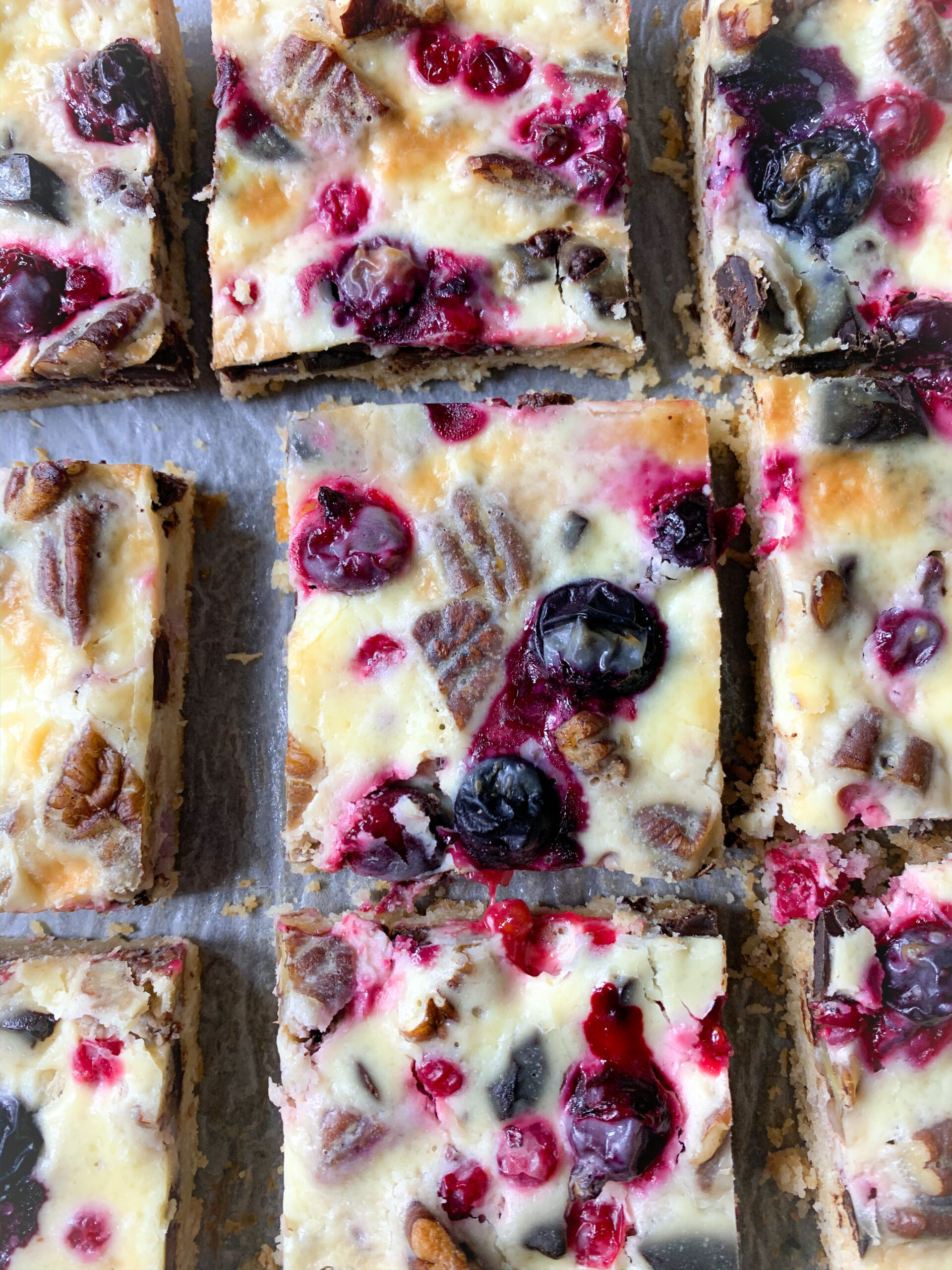 How to make keto magic cookie bars
Crispy keto cookie
For the bottom of these delicious keto magic cookie bars I have actually used my recipe for the bottom of keto peanut butter cheesecake bars. That's one of my favorite keto dessert recipes published on my blog. That cookie bottom has a wonderful flavor and smell. It's crispy but it's firm enough to keep this rich topping together.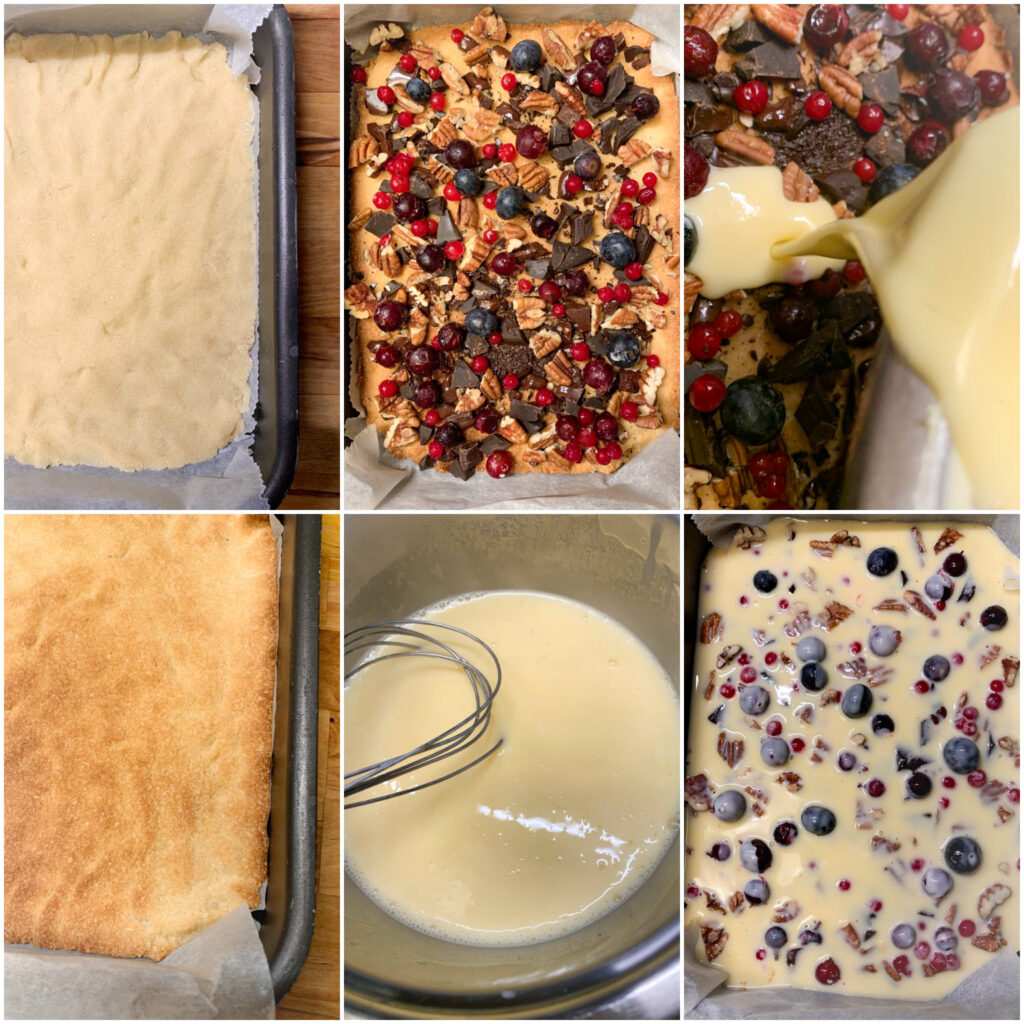 Magic cookie topping
For the topping of this delicious low carb dessert I choose chocolate, pecans and mixed berries. Instead of pecans you can use walnuts also. Walnuts would work great instead of pecans, if you don't have pecans, or you just love walnuts more. I had a package of pecans so I use what I have on hand.
From mixed berries I had some fresh blueberries and I've combined them with our frozen homegrown blackcurrants and red. currants. I just had these in my freezer. If you have some other fresh or frozen berries you may use them. Raspberries would be fantastic.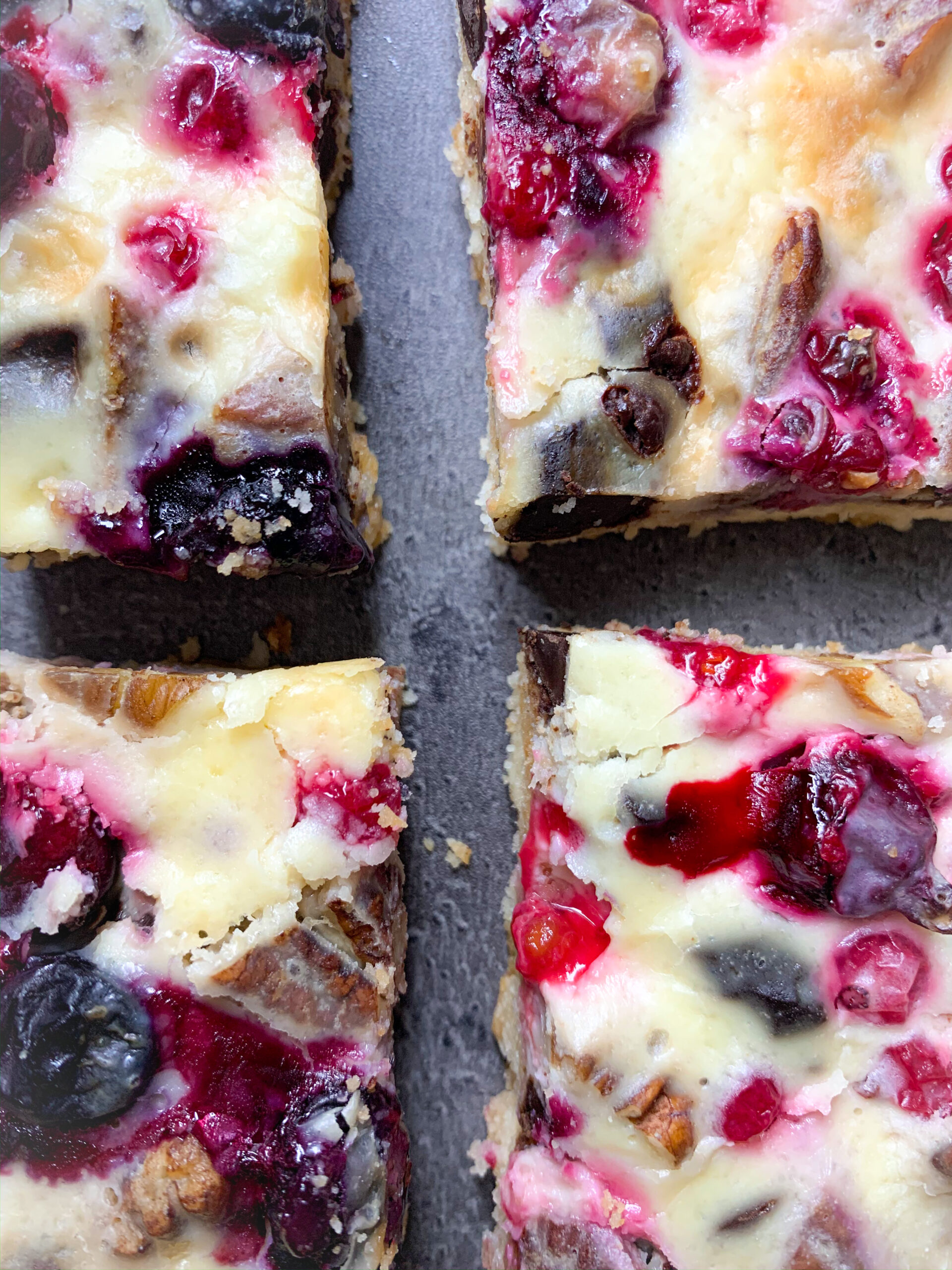 Low carb condensed milk
I haven't used milk, of course, I was using heavy whipping cream with melted butter, erythritol and with one egg to thicken it. Here I added some rum extract for divine smell. You can use vanilla extract instead if you like it better. Just use one of these because aroma is making a huge difference.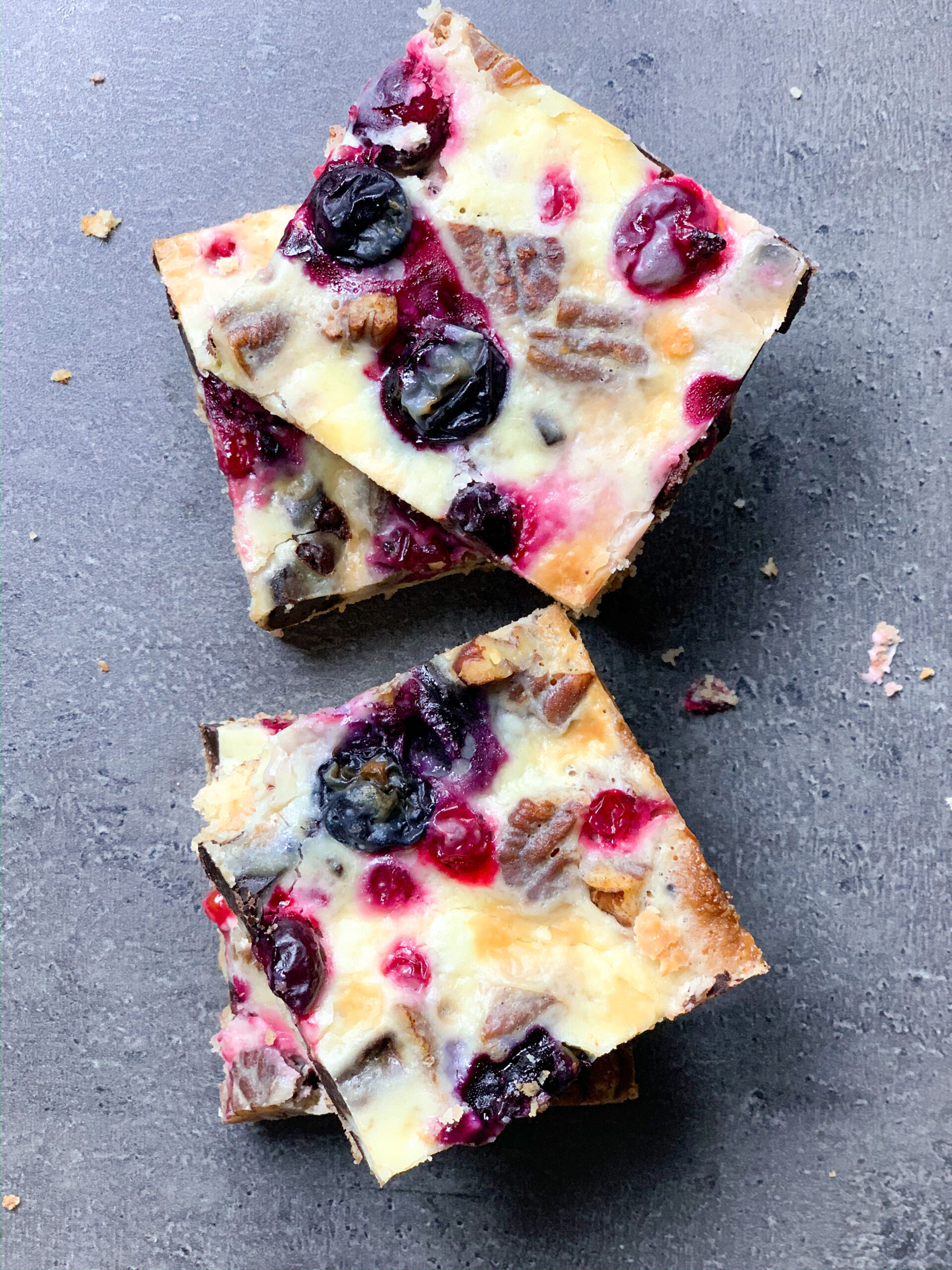 Would you like to try other delicious keto recipes from my blog?
Balkan style meatballs with feta cheese sauce

Share with your friends and connect!
If you like my recipes, leave a comment! Connect with me on FACEBOOK, INSTAGRAM, PINTEREST and join my TELEGRAM CHANNEL. Scroll down and subscribe to my newsletter to get my recipes on your email!
Ingredients
KETO COOKIE BOTTOM INGREDIENTS

Blanched almond meal 1 cup/105 g/3.7 oz

Coconut flour 2 TBS/15 g/0.5 oz

Erythritol or another low carb sweetener (Sukrin or Swerve) 1/4 cup

Softened butter 5 TBS/75 g/2.7 oz

Pinch of salt

TOPPING

Chopped pecans or walnuts 1/4 cup/35 g/1.24 oz

Berries 1/2 cup/60 g/2.1 oz

Dark chocolate 40 g/1.41 oz

KETO CONDENSED MILK CREAM

Butter 50 g/1.8 oz

Heavy whipping cream 1/2 cup/110 ml

Erythritol 4 TBS

Pinch of salt

Rum extract 1 TBS

1 egg
Instructions
1
Preheat the oven to 180 C/350 F.
2
Prepare baking tin 22 cm x 15 cm/ 8 x 5 inch, layered with a parchment paper.
3
KETO COOKIE BOTTOM INSTRUCTIONS
4
Mix all ingredients for cookie together until you get a keto dough.
5
Press in the dough into a baking tin layered with a parchment paper.
6
Bake the dough for 10 to 15 minutes until golden brown on the edges on in a preheated oven on 180 C/350 F.
7
When baked put the topping on top of the baked cookie bottom - chopped pecans, berries and chopped dark chocolate.
8
Pour prepared keto condensed milk cream on topping.
9
KETO CONDENSED MILK CREAM INSTRUCTIONS
10
In a sauce pan on a medium heat melt the butter with erythritol.
11
When butter and erythritol completely melted, add heavy whipping cream and egg and whisk until all nicely combined. Don't cook it, just whisk it to combine it.
12
Add rum extract, whisk together and pour over the topping.
13
Bake in a preheated oven on 180 C/350 F for 10 - 20 minutes or until keto condensed milk cream is firm on top.
14
Set it to cold in the fridge for few hours.
Notes
This amount serves 15. Nutritional value per bar/serving: Cal 111, Fat 6.8 g, Carbs 3.64 g, Fiber 1 g, NET Carbs 2.64 g, Protein 2.93 g. This is for your information only. Please calculate your own macros with ingredients you use.