Balkan style meatballs with feta sauce are spicy, flavorful and juicy. Perfect blend of meat, spices, cheese and paprika are the key to this delicious Balkan recipe.
These meatballs are inspired with famous flavor of Leskovački uštipci. That's basically very similar recipe, only Leskovački roštilj required more preparation and meat needs few days to be properly prepared.
Please, don't think that these Balkan style meatballs with feta cheese sauce are uštipci for poor people. This recipe is delicious!
This recipe is seriously delicious! Balkan food is the food I enjoy most. It's actually food I love eating and preparing. We are huge meat eaters and I love preparing it.
As you probably know, I live in Croatia, so Croatian, Balkan and Mediterranean dishes are my expertise. In Balkans we love meat, cheese and veggies. And it's very easy to stay keto here with all these fresh whole food ingredients.
Keto Balkan food
As my blog is full keto, these are keto meatballs with feta sauce. Meat is keto, cheese is keto, paprika is low carb... so, combination of ingredients here is perfectly ketolicious!
Few weeks ago I tried similar meatballs in kajmak sauce in Novak restaurant in Belgrade. I loved it so much so I needed to make my recreation of the recipe. If you go to Belgrade visit Novak's restaurant, food is amazing and you can try many Serbian domestic specialities. I just need to recommend you to visit also Hotel Moskva in the evening and enjoy delicious teas with Russian songs on piano. You really feel like a time traveller. 🙂
I need to tell you that result was awesome. Delicious, juicy and spicy meatballs with ground beef in flavor feta cheese sauce with paprika.
Tips to prepare Balkan style meatballs with feta sauce
Grilled and pealed paprika/capsicum - I use grilled and peeled peppers I prepared during the autumn and I keep it in the freezer. Of course you can use fresh paprika it will be also good, however if you have a little bit more time and a grill, make this on the grill. First paprika on the grill and after that you grill meatballs. If this meat is grilled it has special flavor and taste.
Grilled meatballs - if you gill these meatballs they will have incredible taste. Of course, if you don't have grill you can bake them in the oven or on the pan. I love to bake them in the oven because it's really easy and convenient. Especially for busy working mom who wants to be a food blogger too! 🙂
Love keto Balkan food recipes? Here are some recipes from my blog
Sharing is caring!
If you like my recipes, leave a comment! Connect with me on FACEBOOK, INSTAGRAM, PINTEREST and join my TELEGRAM CHANNEL. Scroll down and subscribe to my newsletter to get my recipes on your email!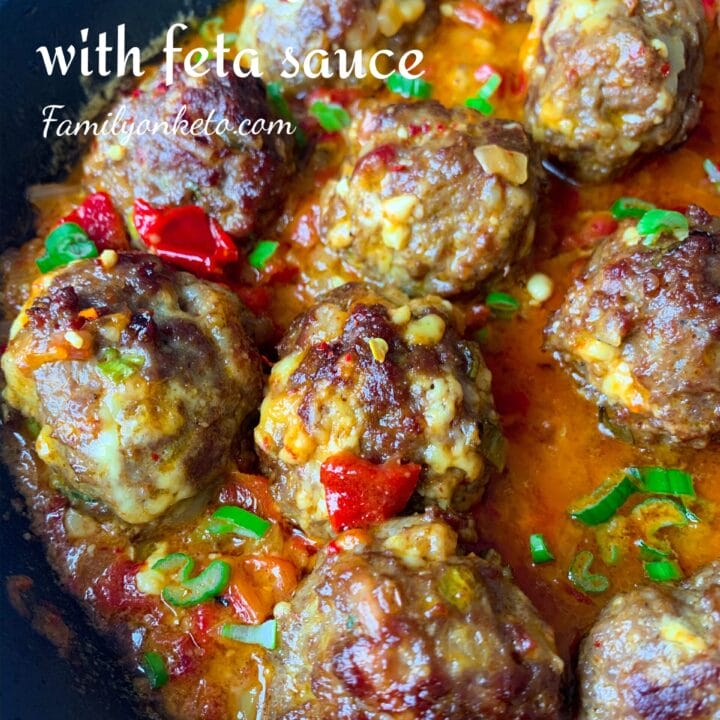 Balkan style meatballs with feta sauce
Balkan style meatballs with feta sauce are spicy, flavorful and juicy. Perfect blend of meat, spices, cheese and paprika are the key to this delicious Balkan recipe.
Ingredients
MEATBALLS INGREDIENTS
Ground beef or lamb 800 g/28 oz
Smoked bacon finely sliced 140 g/5 oz
Cheddar cheese cut in very small cubes 100 g/3.5 oz
Freshly ground pepper to taste
Salt 2 tsp
Cayenne pepper ¼ tsp
Crushed chili pepper 1 tsp
Ground smoked paprika powder 1 tsp
Powdered garlic ¼ to ½ tsp
Dried basil 1 tsp
1 spring onion finely chopped 30 g/1 oz
FETA CHEESE SAUCE INGREDIENTS
Olive oil or lard 2 TBS
Grilled and peeled or fresh finely chopped pepper/capsicum 120 g/4.2 oz
Small onion 30 g/1 oz
Feta cheese 100 g/3.5 oz
Beef broth 1 cup
Salt to taste
Ground smoked paprika ½ tsp
Pepper to taste
Crushed chili pepper to taste
Instructions
MEATBALLS INSTRUCTIONS
Mix all ingredients for meat balls and form balls with your hands.
Bake the balls on the pan, in the oven or on the grill.
Grilled meat balls have the best taste and easiest way is to bake them in the oven on a sheet pan layered with a parchment paper for 20 minutes in a preheated oven at 180 C/350 F.
FETA CHEESE INSTRUCTIONS
On a hot olive oil or lard fry finely chopped onion until caramelized and translucent.
Add finely chopped red pepper/capsicum grilled and peeled or fresh finely chopped capsicum and stir until wilted.
Add beef broth or vegetable broth, feta cheese and spices and stir until nicely combined. Be careful with salt because feta is salty and broth might be salty.
Cook for 5 minutes on a medium high heat or until starts to boil.
Add meat balls and cook them on a medium low heat for 10 minutes.
Serve meatballs and enjoy!
Nutrition Information:
Yield:

7
Serving Size:

2 meatballs
Amount Per Serving:
Calories:

622
Total Fat:

54g
Carbohydrates:

2.97g
Net Carbohydrates:

2.54g
Fiber:

0.43g
Protein:

28g
This is for your information only. Please calculate your own macros with ingredients you use.