Keto peanut butter cheesecake bars are crispy low carb dessert with amazing taste. Reminds on Snickers, Twix and Mars in keto, sugar free and gluten free version!
When I say that this keto peanut butter dessert reminds on Twix, Snickers and Mars, I mean it taste like you put a bite of each in your mouth. And then everything melt in your mouth together. It's incredible how I came to this recipe! I saw other people eating "forbidden chocolate bars" and I wanted something similar and keto. That's how I created this recipe.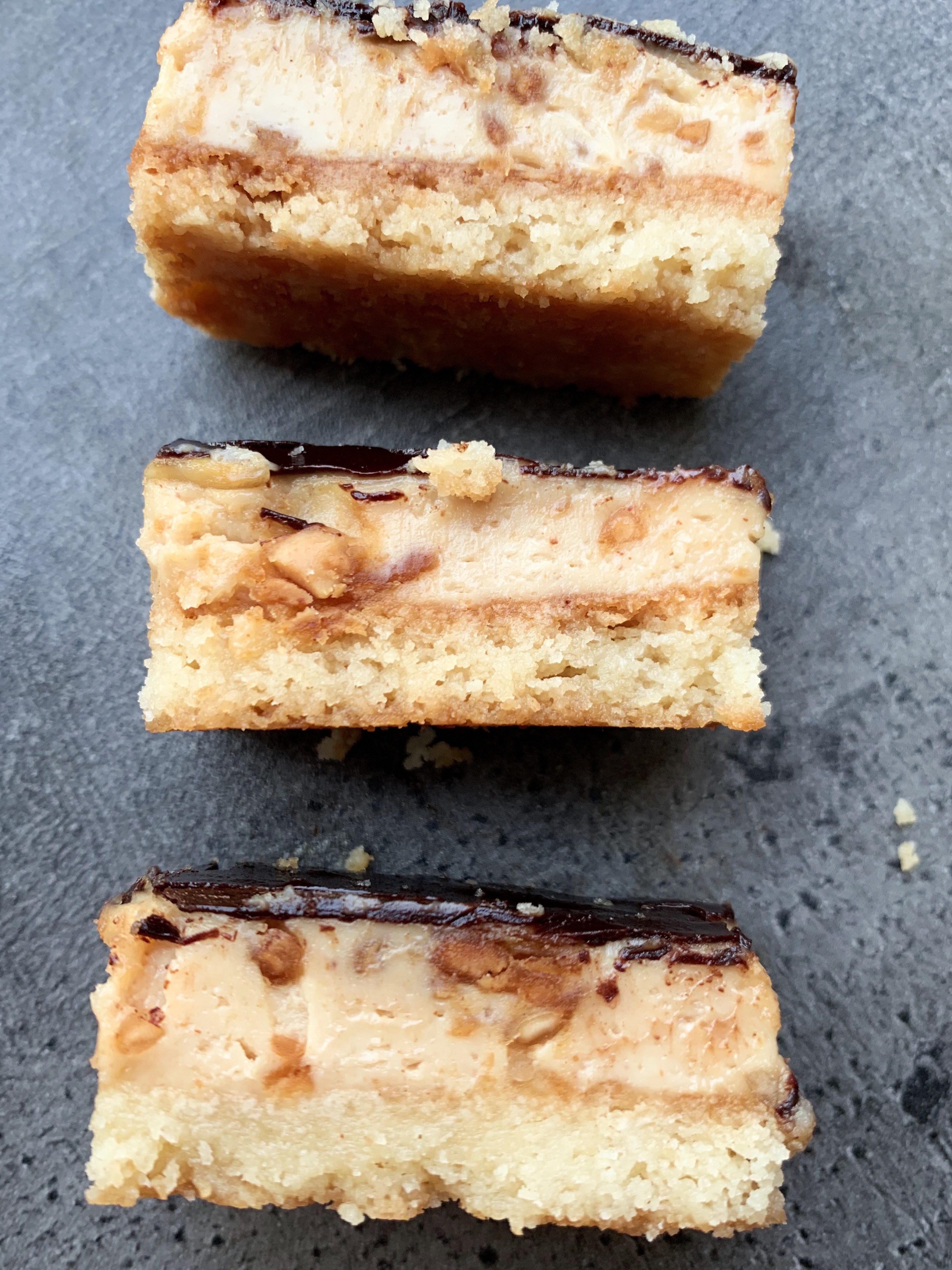 My pictures of this yummy keto bars will never show you how tasty this actually is. Keto crust is delicious and crispy. It's melting in mouth immediately. And it's so easy to make it! Only thing is that you have to wait until bottom part is cooled before you out cream cheese layer. So that part with waiting is the most difficult part related to this cake.
Tips to nail keto peanut butter cheesecake bars
Keto crust is delicious, flavorful and crispy! When you remove it from the oven it's not completely hard, it's rather fluffy on the surface. That's why you have to leave it to cool for at least 15 minutes before you put cream layer on top of it.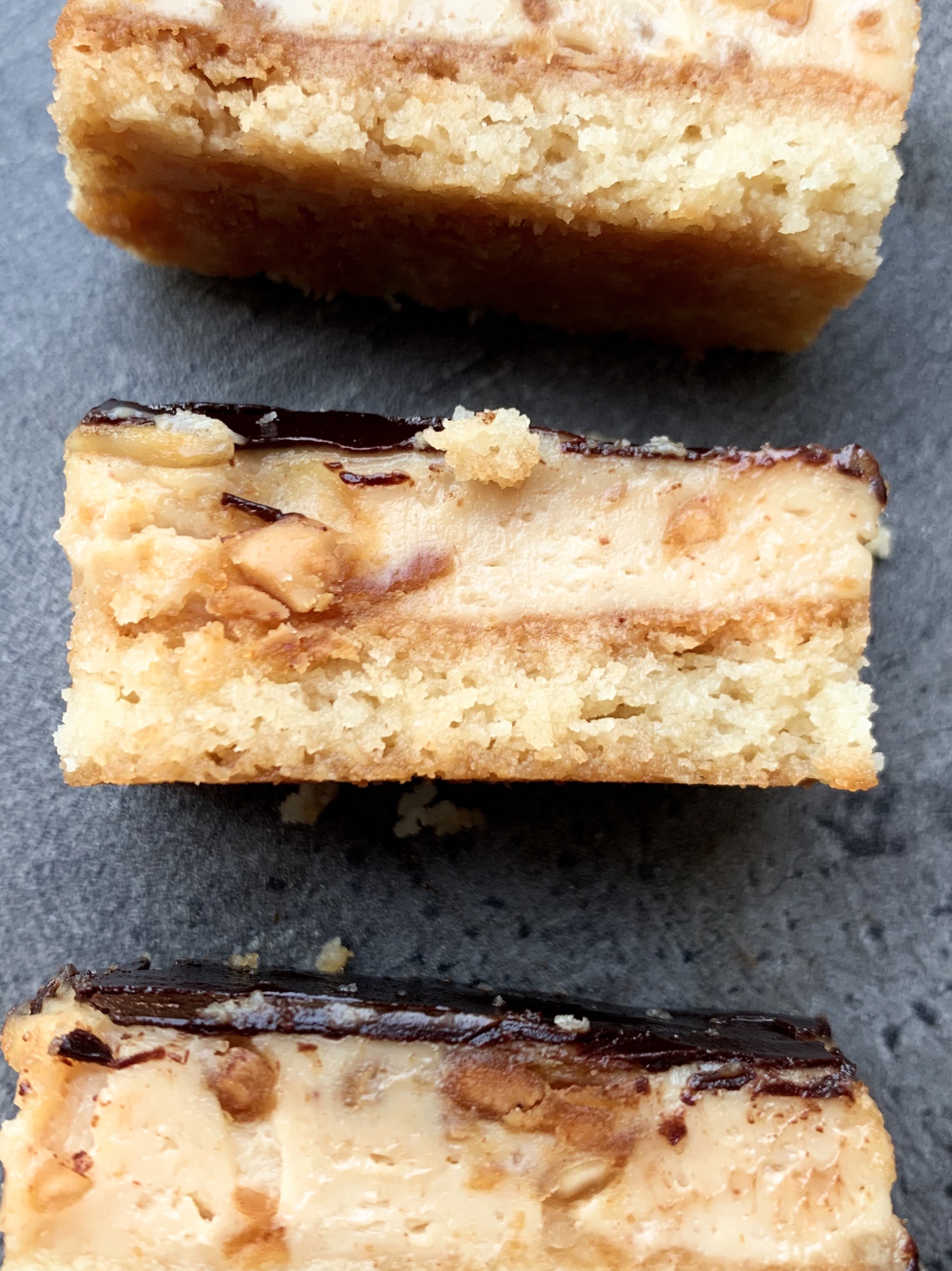 Peanut butter cheesecake layer
Low carb peanut butter cheesecake layer is the best if you have crispy unsweetened peanut butter. If you don't have crispy peanut butter you can use smooth unsweetened peanut butter and add 1 or 2 tablespoons of crushed peanuts. It's so much better with a small chunks of peanuts in your cream layer. It's the best if you have full fat mascarpone cheese because of it's creamy taste and quite neutral flavor. I put some erythritol sweetener and it works great. You might use Swerve or Sukrin also.
Thin dark chocolate layer
It's easiest if you just take dark chocolate and butter, put it in a microwave safe bowl and melt it in the microwave. It's done in a less than a minute. If you don't use microwave you can melt it in a double boiler. Both options are good. You need to distribute chocolate in a very thin layer with spoon or silicone spatula very gently because you don't want to ruin peanut butter cheesecake layer. You might put the cake in the fridge for 10 minutes before putting a chocolate layer.
Serving peanut butter cheesecake bars
This cake is very nutritious so you can have it as a nice keto breakfast with your morning coffee. I like to have it after a nice meal, as a keto dessert. We had this delicious pork chops with mushroom sauce and cauliflower gnocchi few days ago, and this keto cake bars were for the dessert. It was fantastic and my family members really enjoyed.
If you like my recipe, please leave a comment and share in your favorite social network group. I will be happy if you follow me on Instagram and Facebook, that's how you will always be on the source of great family friendly keto recipes!
Enjoy!
Ines <3
Ingredients
Ingredients for keto crust

Blanched almond meal 1 cup/105 g/3.7 oz

Coconut flour 2 TBS/14 g/0.5 oz

Erythritol or another low carb sweetener (Sukrin or Swerve) 1/4 cup

Softened butter 6 TBS/75 g/2.7 oz

Pinch of salt

Ingredients for peanut butter cream layer

Crispy unsweetened peanut butter* 1/2 cup/150 g/5.3 oz

*If you don't have crispy peanut butter add 1-2 TBS of crushed peanuts to your unsweetened peanut butter.

Mascarpone cheese 1 cup/250 g/8.9 oz

Erythritol or another low carb sweetener (Swerve or Sukrin) 5 TBS

Vanilla extract 1 tsp

Ingredients for chocolate layer

Dark chocolate 70% or more 20 g/0.70 oz

Butter 1 TBS
Instructions
1
Preheat the oven to 180 C/350 F.
2
Mix blanched almond meal, coconut flour, sweetener and a pinch of salt.
3
Add butter and mix all together until keto dough is formed.
4
Press keto dough into the baking pan layered with parchment paper.
5
Bake in a preheated oven with vent for 10 - 20 minutes or until baked (depends on your oven). It should be golden brown on the surface. When you remove it from the oven it won't be immediately hard, it should be cooled.
6
When keto crust is baked leave it to cool for at least 15 minutes.
7
Prepare peanut butter and mascarpone layer.
8
Mix mascarpone, sweetener, vanilla and peanut butter until everything nicely combined. You can do it with mixer or whisk.
9
Distribute cream mixture on top of cooled keto crust.
10
Leave the cake to cool for 10 - 15 minutes in the fridge before you make a chocolate layer.
11
Prepare dark chocolate layer.
12
Put chocolate and butter in a microwave safe bowl and microwave for 15 seconds, whisk with a fork, microwave for another 15 seconds and whisk until chocolate is melted and combined with butter.
13
Pour chocolate over the peanut butter and mascarpone layer in very thin layer. Distribute with a spoon or silicone spatula.
14
Leave keto cheesecake bars in the fridge for at least 20 minutes before eating.
Notes
This recipe is for 22 x 15 cm/8 x 5 inch or smaller pan. It serves 15 bars. Nutritional value per bar/serving: Cal 208, Fat 19.5 g, Carbs 3.5 g, Fiber 1.1 g, NET Carbs 2.4 g, Protein 5.7 g. This is for your information only. Calculate your own macros with ingredients you use.