Keto mushrooms in oven with hazelnuts is delicious keto vegetarian meal or great low carb side dish.
Mushrooms in oven with hazelnuts and arugula are super easy to prepare. Literally you just need to cut mushrooms and crush some hazelnuts. Throw everything in the oven with some seasoning and voila!
Ingredients for keto mushrooms in oven recipe
Mushrooms – mushrooms are stars of this delicious keto meal. When you simply bake them in the oven like this with modest seasoning and not many other ingredients, you get so much earthy and flavorful taste.
Don't slice them too thin, it's ideal to cut mushrooms in 2 – 3 pieces. You need to have a mushroom flavor when chewing.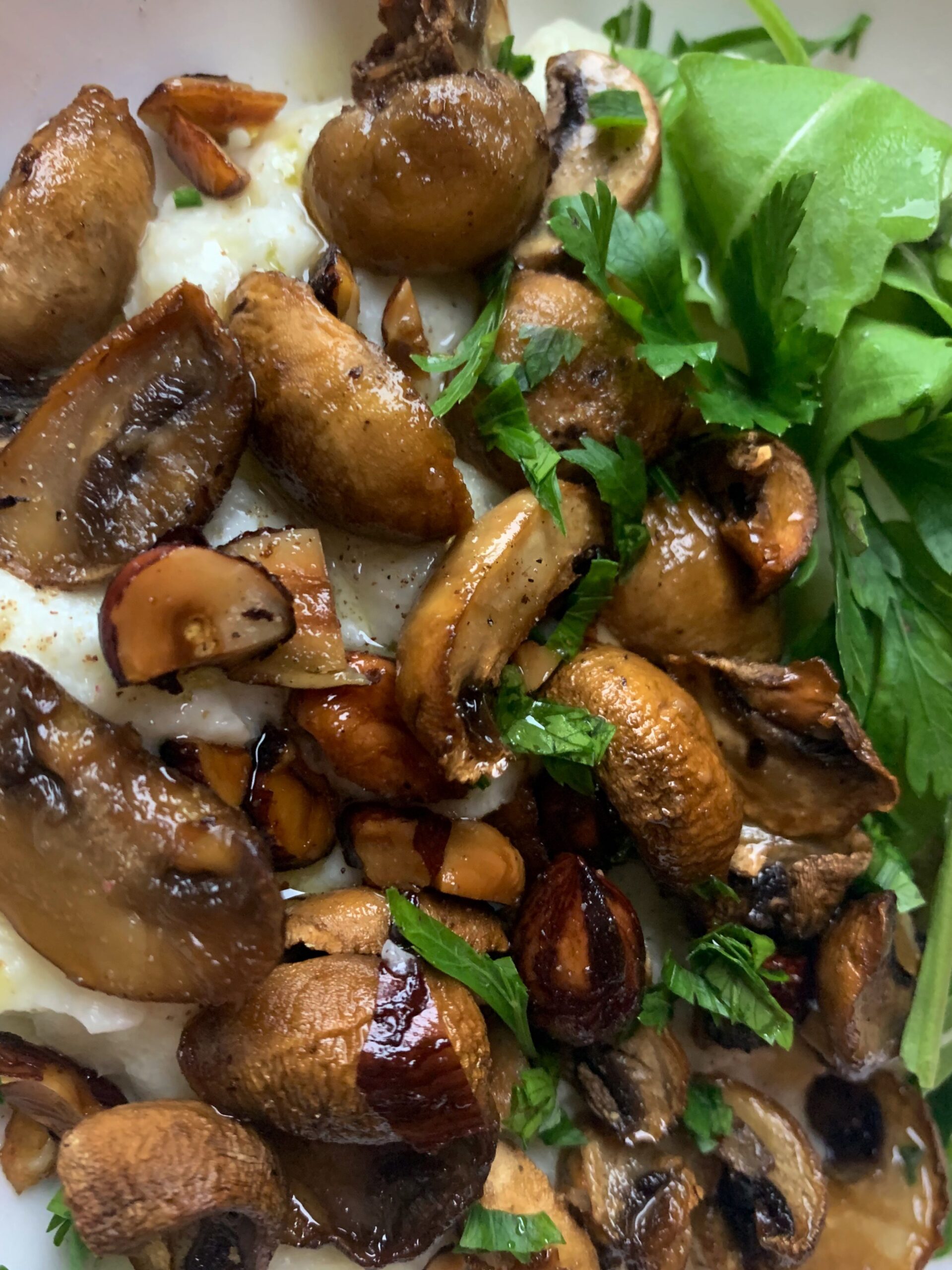 Hazelnuts – without hazelnuts this dish won't be even close to what it could be with them. Crushed, chunky hazelnuts baked with mushrooms in the oven are incredibly flavorful.
Roasted hazelnuts release their oils and wonderful smell. Together with mushrooms are really special. Especially if you add some butter on top. OMG, fantastic flavor!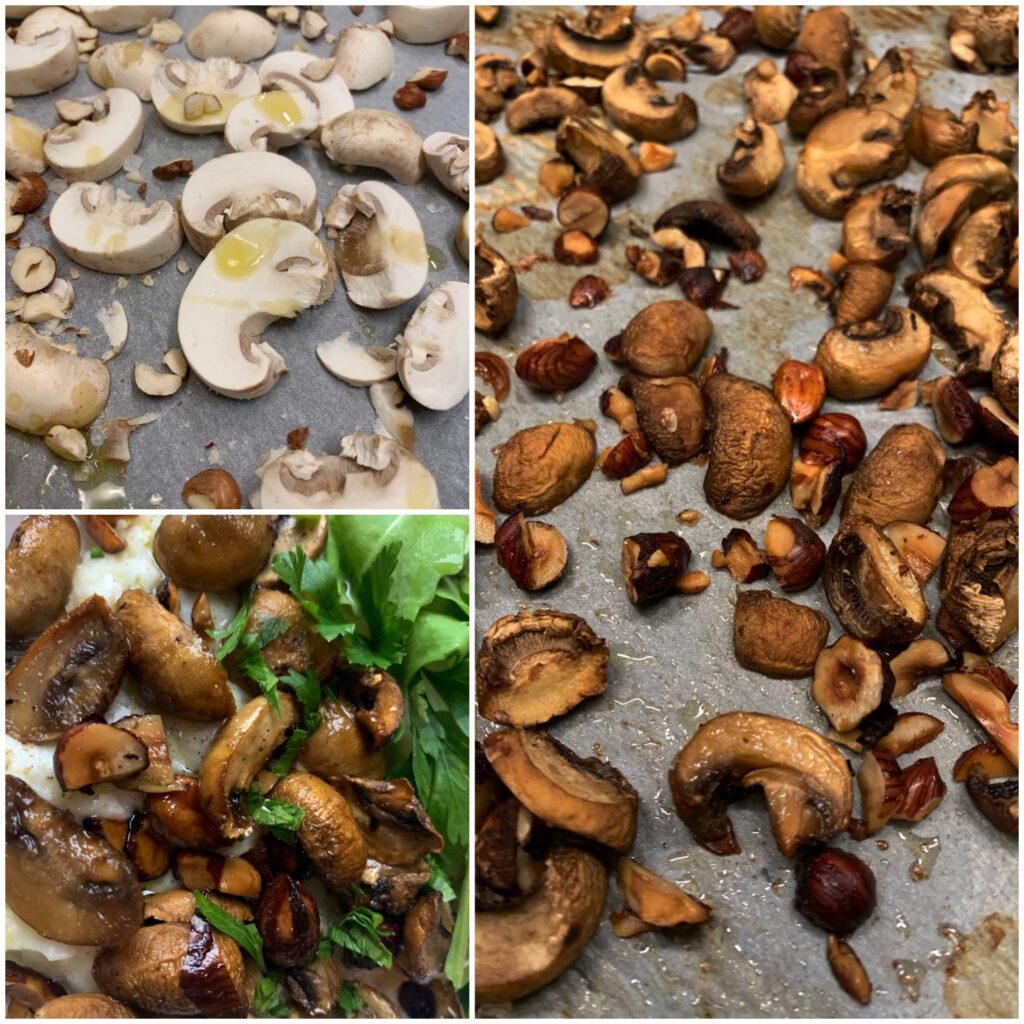 Olive oil and butter – be generous with good virgin olive oil. Sprinkle mushrooms and hazelnuts before baking and after, when mushrooms are baked. When everything is baked, it's the tastiest to put some olive oil on top together with a spoon of grass fed butter. Olive oil goes fantastically here, and especially in combination with butter. Grass fed butter has wonderful taste that complement mushrooms and roasted hazelnuts perfectly.
Garlic – if you are garlic lover, you can use few cloves. Just bake them together with mushrooms and hazelnuts. If you are not a huge fan of garlic, just modestly sprinkle the mushrooms with a pinch of powdered garlic.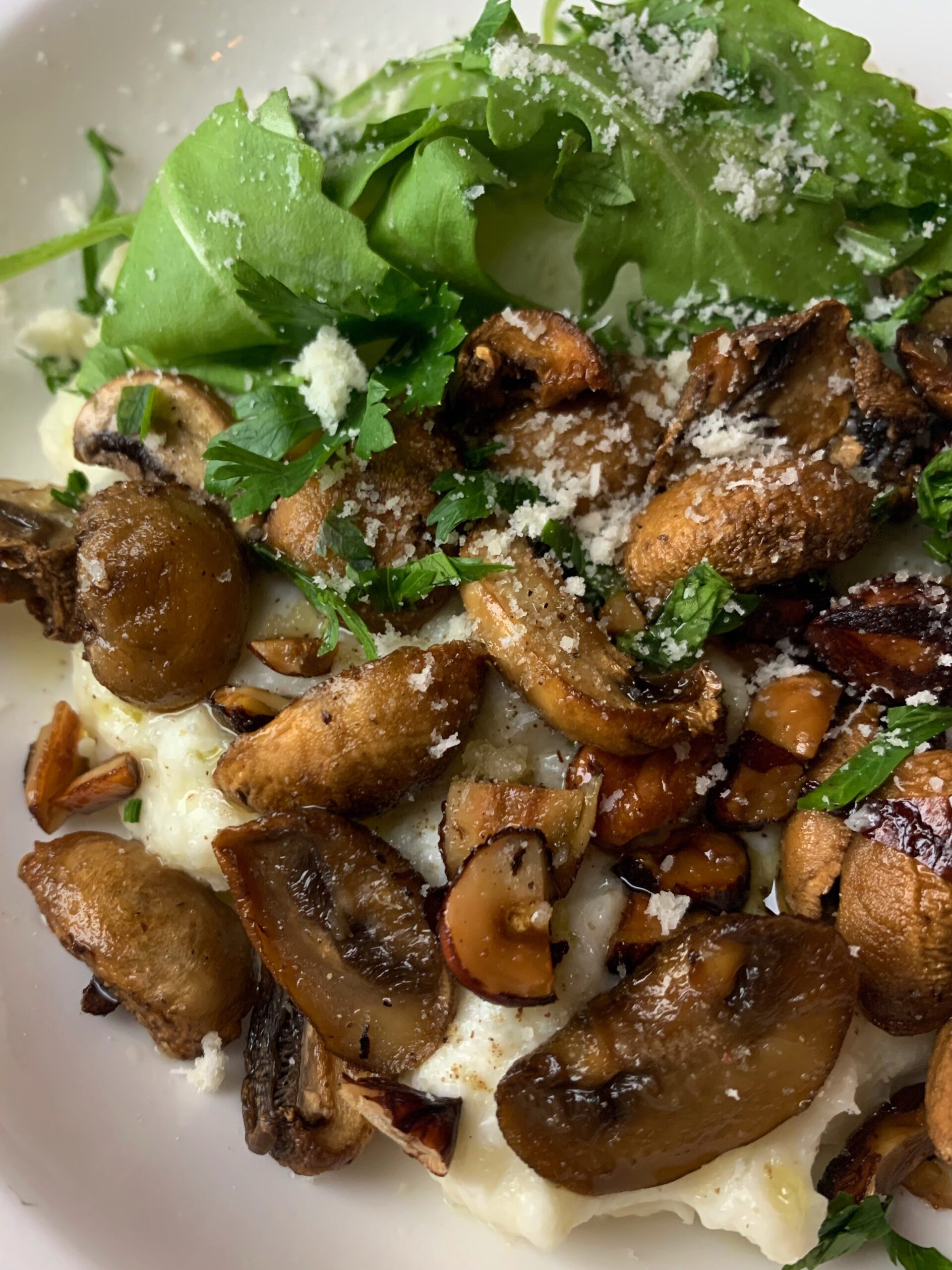 Serving low carb mushrooms in oven with hazelnuts
When you roast mushrooms with hazelnuts, just transfer them to the bowl and add 1 TBS of grass fed butter on top. You can add some olive oil too.
I like to serve this mushrooms from the oven as a main protein rich keto dish with my favorite cauliflower mash. It's fantastic as a low carb side dish when you serve it with some meat or gravy.
Definitely add fresh arugula with these mushrooms. It's so delicious combination!
If you like my sheet pan recipes, try this delicious keto sheet pan pancakes that are fantastic for breakfast!
For daily inspiration follow me on Facebook and Instagram!
Ines
Ingredients
MUSHROOMS WITH HAZELNUTS

Mushrooms 400 g/14 oz

Hazelnut chopped 1/2 cup/60 g/2 oz

Olive oil 3 TBS

Salt to taste

Pinch of garlic or few cloves if you like garlic

Pepper to taste

Butter 1 TBS

Fresh parsley to taste

Fresh arugula 2 cups for serving

Grated parmesan cheese on top
Instructions
1
Turn on oven to 180 C/350 F.
2
Slice mushrooms and put them on a sheet pan layered with parchment paper.
3
Add chopped hazelnuts, season everything with salt to taste, pinch of garlic and 2 TBS of olive oil.
4
Bake in a preheated oven on 180 C/350 F for 15 minutes or until baked and golden brown.
5
When mushrooms are baked put them into a bowl, add 1 TBS of olive oil or grass fed butter and season with freshly ground pepper and stir to combine everything.
6
Serve mushrooms on warm cauliflower mash.
7
Garnish with fresh parsley and arugula.
8
Sprinkle with parmesan cheese on top.
Notes
This recipe serves 4. Nutritional value per serving: Cal 197, Fat 19 g, Carbs 5.76 g, Fiber 2.37 g, NET Carbs 3.39 g, Protein 5.25 g. This is for your information only. Please calculate your own macros with ingredients you use.