Sugar free blueberry jam on a slice of 90 second bread is easy and delicious breakfast. This keto blueberry jam you need to have in your fridge.
There is nothing better than a slice of freshly toasted 90 second keto bread, some butter and a thick layer of this delicious homemade sugar free blueberry jam on top. You can't tell if that's the breakfast or dessert.
Whatever it is, it's perfect beginning of the day! I need to have one of my sugar free jams in the fridge. It's easy to make and my whole family enjoys these jams.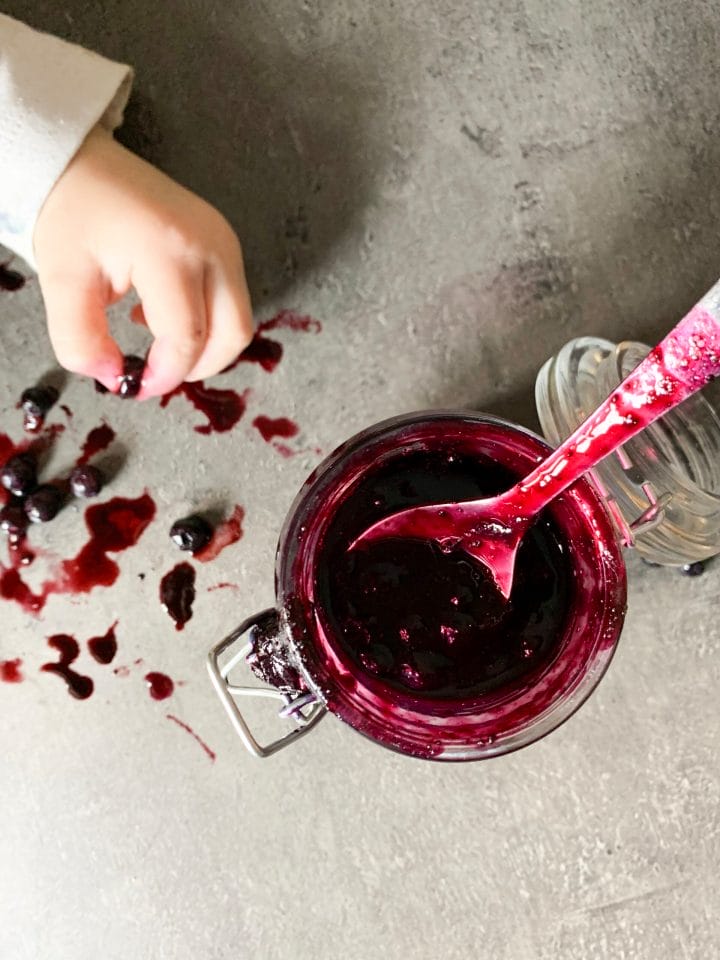 Serving keto blueberry jam
My children love it on a slice of keto bread or with a cup of yogurt. If you combine it with some Greek yogurt, you get seriously delicious low carb and sugar free dessert.
Sugar free blueberry jam is delicious with low carb pancakes and waffles. Children love that combination!
How to make sugar free blueberry jam
I use grass fed beef gelatin in this recipe and it works fine. I know that you don't even have to use any thickener here. You can just reduce the jam by cooking it.
Don't overcook your jam. Cook it until you like the thickness.
When checking the thickness, try cold plate test. You need to put a plate in there fridge when you start your jam cooking. When you think it's thick enough, you may put a spoon full of jam on that cold plate. If it's thickening on the plate, it's done!
Family on keto sugar free jams
If you like sugar free jams, here are my recipes you might love.
Sugar free apricot jam - yummy jam you need to make in the apricot season and keep it in the freezer until the day you decide to make this fantastic keto Sachertorte!
Strawberry jam without sugar - yummy keto jam to spread on your low carb bread and eat in smoothies or cakes.
If you like this sugar free blueberry jam recipe, leave a comment and share in your favorite social networks!
For daily inspiration connect with my family on Facebook and Instagram!
Enjoy!
Ines 💕
Sugar free blueberry jam
Sugar free blueberry jam on a slice of 90 second bread is easy and delicious breakfast. This keto blueberry jam you need to have in your fridge.
Ingredients
Frozen or fresh blueberries 300 g/10 oz
Erythritol 2 - 3 TBS
Lemon juice 1 TBS
Cinnamon ½ tsp
Vanilla 1 tsp
Grass fed beef gelatin 1.5 teaspoon + water 2 TBS
Instructions
Prepare gelatin. Put 1.5 teaspoon of gelatin in a small cup with 2 TBS of water and leave it aside as you cook the jam.
Put frozen or fresh blueberries with erythritol or another low carb sweetener, vanilla, cinnamon and lemon juice in a large saucepan on a high heat and cook it until blueberries release the juice and start boiling.
When start boiling, reduce the heat to medium high and stir every few minutes.
Cook for 15 - 20 minutes or until it's reduced as you like it. If you want to use it as a spread for your bread you may reduce it more.
If you want to use it for cakes or eat with yogurt, it doesn't have to be very thick.
When it's reduced enough, remove jam from the heat, add gelatin that soaked up the water and stir until it's nicely combined.
Pour the jam into a clean jar and keep it air tight in the fridge.
Notes
This recipe is for a small jar or 200 g/7 oz.
Nutrition Information:
Yield:

14
Serving Size:

1 TBS
Amount Per Serving:
Calories:

12
Total Fat:

0.06g
Carbohydrates:

1g
Net Carbohydrates:

0.89g
Fiber:

0.17g
Protein:

0.05g
This is for your information only. Please calculate your own macros with ingredients you use.