Moist and fluffy keto yogurt cake with cream cheese frosting is fantastic keto cake for every celebration. Keto birthday or keto Christmas will be much sweeter with this delicious low carb dessert.
When you make this keto cake you will be surprised how moist and flavorful it is. Yogurt in cake works perfectly. It's moist and flavorful. Especially in combination with vanilla and a pinch of lemon zest. The best of all, this is 100% keto and guilt free dessert. It's sugar free, no gluten or anything artificial. Just pure, real food dessert. The best part of this cake, except of the taste and flavor is how it's easy to make! You just need to mix it and bake. Frosting is also super easy to make, you don't need any baking skills for this.
Yogurt on keto
Yogurt could be good for you. Fermented food is rich in probiotics so it is beneficial for gut health. Usually yogurt has 4 g of carbs in 100 g when produced but on the way from the production to the store and all the way to your house carbs are additionally reduced because good bacteria are eating remaining sugar.
That's why, don't skip yogurt in this yogurt cake recipe. Flavor and texture would be completely different.
Recipe for yogurt cake
How to choose yogurt?
Look for yogurt with lower amount of carbohydrates. There are plenty in the stores now, it's not hard to find a good one.
In Europe we can easily find in the stores liquid/drinking yogurt that's similar to kefir and that's what I use in this cake. Unsweetened without any added flavor or color added. Just pure yogurt. Always read declaration and check what's inside and take the real stuff.
Low carb & keto baking
When it comes to low carb and keto baking, the most popular flours are almond and coconut flour. In this recipe for yogurt cake that's winning combination and I use both. I have a lot of cake recipes with almond flour only and with coconut flour only if you are avoiding one of those.
Yogurt cake lemon and vanilla
Organic lemon zest or few drops of good lemon essential oil and a splash of vanilla will make this cake delicious and flavorful. Smell and taste of lemon and vanilla are contributing to special holiday feeling.
Cream cheese keto frosting
Cream cheese is delicious and so good to work with when making keto desserts. I mix it with powdered sweetener and a little bit of softened butter. Also added a little bit of vanilla this time. This type of frosting is perfect for low carb and keto cakes and you can use it on other keto cakes and desserts. When choosing butter, try to find good quality grass fed butter. Color will be yellow and taste is incredibly good. You can really taste the difference with great quality butter.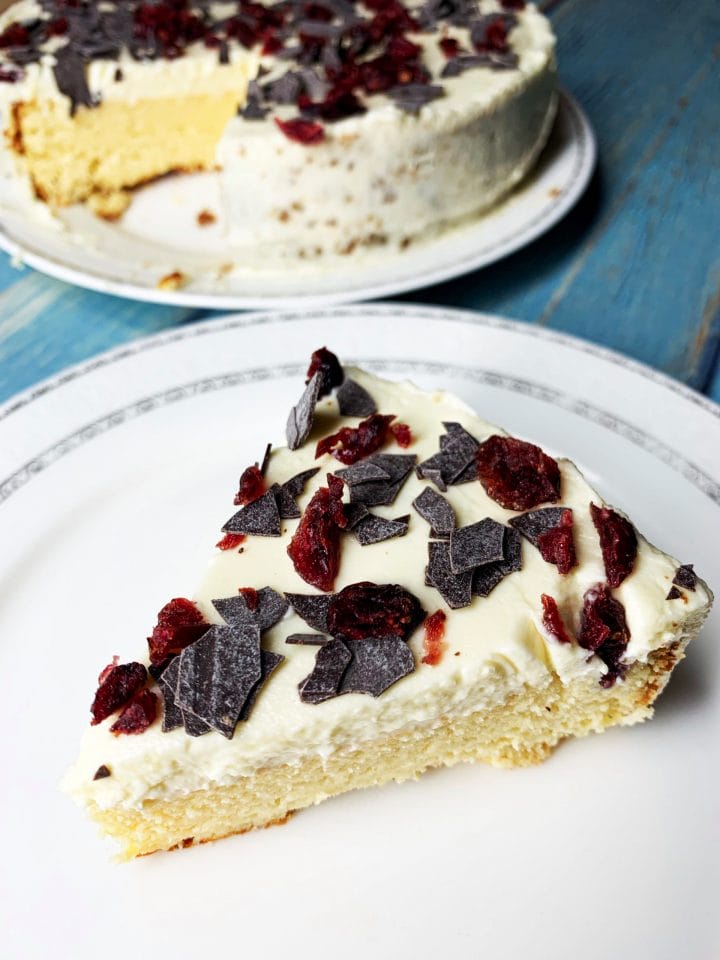 Try my recipes!
Because you like low carb cakes, here are some of my favorites:
Bračka torta - Flourless paleo & keto almond cake
If you like this recipe, share it in your favorite social network group! For everyday inspiration follow me on Facebook and Instagram!
Keto yogurt cake with cream cheese frosting
Moist and fluffy keto yogurt cake with cream cheese frosting is fantastic keto cake for every celebration. Keto birthday or keto Christmas will be much sweeter with this delicious low carb dessert.
Ingredients
For yellow keto cake
2 L eggs
Low carb sweetener ⅓ - ½ cup (Swerve or Sukrin) or combination of erythritol and stevia
Zest of 1 lemon or 2 drop edible lemon essential oil
Vanilla extract 1 teaspoon
Yogurt 1 cup/220 ml
Baking powder ½ tsp
Almond flour ½ cup/50 g/1.8 oz
Coconut flour 3 TBS/20 g/0.7 oz
Butter ⅓ cup/65 g/2.3 oz
For cream cheese frosting
Cream cheese 200 g/7 oz
Butter softened 2 TBS
Low carb powdered sweetener 3 TBS
Vanilla extract ½ tsp
For topping (optional)
Pinch of dark chocolate flakes
Pinch of sugar free dried cranberries finely chopped
Instructions
Prepare yellow cake
Turn on the oven to 180 C.
Whisk eggs until fluffy, add yogurt, vanilla, lemon zest and continue whisking.
When nicely combined add dry ingredients (almond flour, coconut flour, baking powder and low carb sweetener) and whisk until mixture is smooth.
At the end melt butter, add to the mixture and whisk until combined and mixture is smooth and glossy.
Pour the mixture in a round cake tray layered with parchment paper and bake in a preheated oven on 180 C for 15 - 25 minutes or until baked (depends on your oven).
When baked leave it to completely cool for few hours or in the fridge over night.
Prepare cream cheese frosting
Mix cream cheese with 2 TBS of softened butter, powdered low carb sweetener and ½ teaspoon of vanilla extract.
Put the frosting on top of the cake and on the sides.
Sprinkle with dark chocolate flakes and finely chopped dried sugar free cranberries (optional).
Enjoy!
Notes
This recipe is for 17 cm/7 inch cake tin.
Nutrition Information:
Yield:

8
Serving Size:

1 slice
Amount Per Serving:
Calories:

195
Total Fat:

16g
Carbohydrates:

5.26g
Net Carbohydrates:

4g
Fiber:

1.26g
Protein:

6.5g
This is for your information only, please calculate your own macros with ingredients you use.