Delicious rustic keto plum pie! This vintage low carb pie with almonds and plums is perfect keto, gluten free and paleo dessert or breakfast full of taste.
Plums on keto diet
I like to eat fruits and veggies in season. On keto diet there is not so many fruits recommended to eat but still there is few with lower amount of carbs and you can make great keto pies and cakes out of it. One of the fruits you can have in moderation are definitely plums. Plums contain only 9.6 g of NET Carbs in 100 g. This is very good, less than blueberries! If you want to read more about fruits on keto, check this article from Diet Doctor.
Keto lifestyle
I am on keto lifestyle for many years already, and this is the way I live. For me this is not a temporary diet, I see keto as a way of life. Also my food is very important for me and my family. That's why I love preparing delicious keto desserts with different ingredients. Keto desserts and creative keto kitchen are the reason why I am able to succeed for few years already.
These plums that I use in this recipe are blue plums with quite thick skin. Those are actually some old fashioned plums that grow here in Croatia and they have only a very little carbs. I prepare delicious jam with those plums, as well as ice cream.
Old fashioned keto plum pie recipe
This time I want to share this delicious keto plum cake recipe with you. It's a real old fashioned, vintage keto pie. I make it with ingredients you can easily find. Just ground almonds, a little bit of butter and eggs with a little bit of sweetener and some spices.
Plum pie reminds me of autumn. I always preserve our homegrown plums in the freezer for late autumn and winter. I remove the stones, put halves in the plastic bag an keep it in the freezer.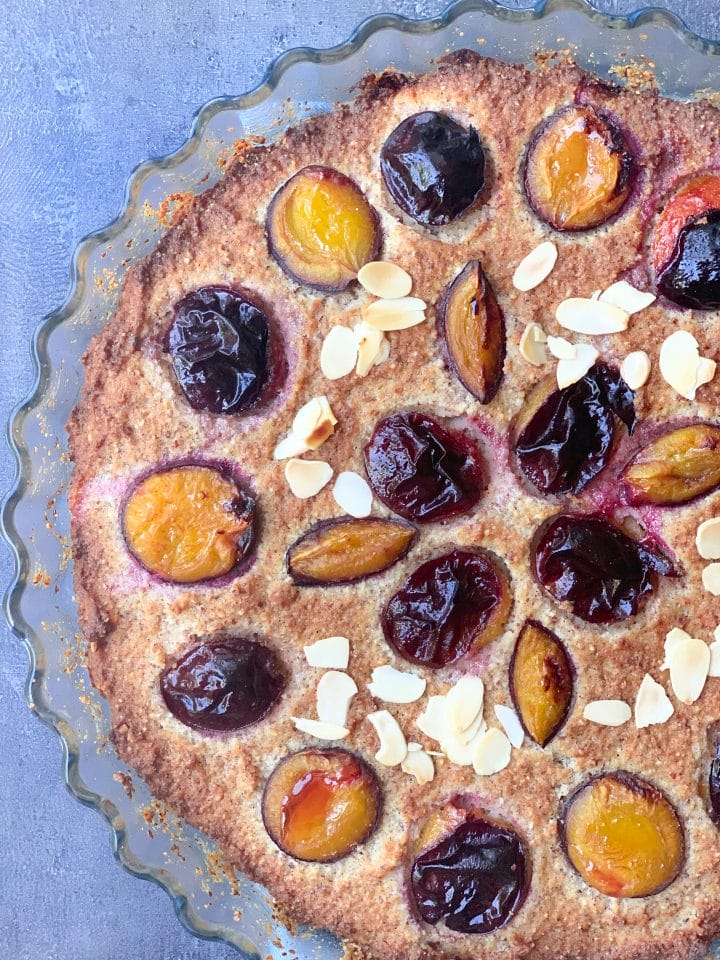 During the autumn and winter I just take few plums from the freezer and make pies. Oh, there is nothing better than sitting on sofa with nice warm blanket, cup of hot tea and a slice of keto plum pie. Cinnamon, ginger, rum and vanilla... OMG, the best! That's why I love autumn and I am happy to seeing some autumn signs already. And I see them in plums, cooler nights, nuts falling from the trees. And that's enough to feel good! 💕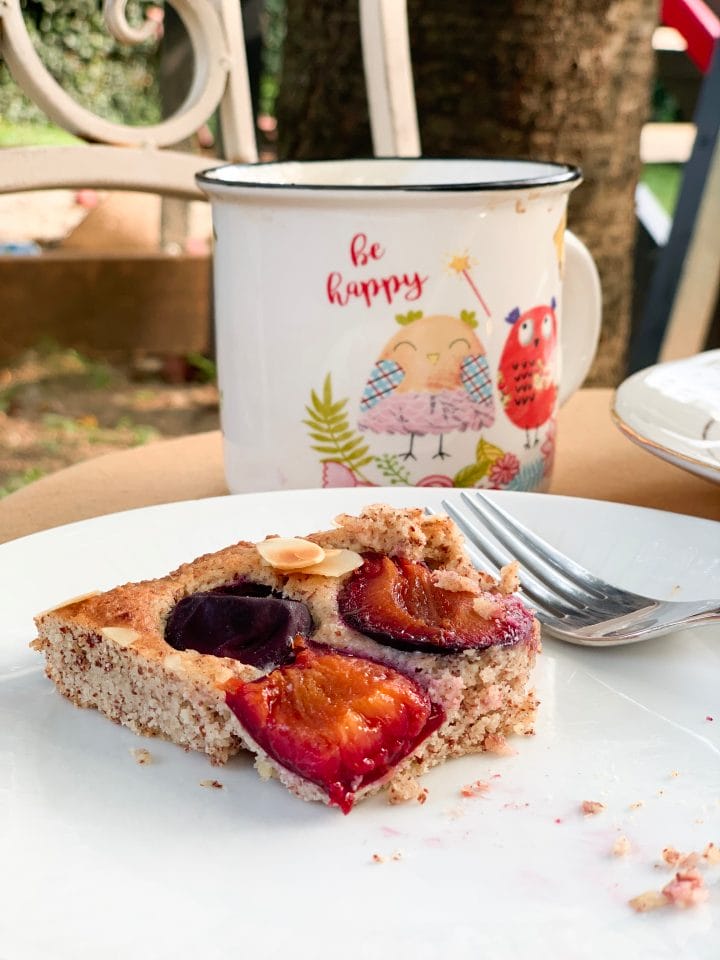 Tips for making keto plum pie
Ground almonds - use ground almonds. You can use already grounded from the supermarket but it's way more delicious if you roast them on a hot pan for a minute and grind them. You can grind almonds in a food processor or with an old fashioned nuts grinder. Whatever you have, it will be perfect!
Use plums halves
In the recipe I use fresh plums cut in halves. You can use frozen also. Just be sure that there is no ice on them. You don't need excess water on top of your pie.
Use autumn spices
I like to use cinnamon, vanilla, nutmeg and rum essence with plums. It goes great and so much reminds of autumn. It gives some nice and cozy feeling.
How to serve low carb plum cake?
I like to have a slice of plum cake with my coffee for breakfast and with afternoon tea. You can add a generous spoon of sour cream on top of your slice. It's so good!
If you like my recipe, share with your friends in your favorite social networks and leave a comment!
If you like keto pies with keto frendly fruits, check my recipe for the peach keto cake!
Cheers!
Ines <3
Keto plum pie
Delicious rustic keto plum pie! This vintage low carb pie with almonds and plums is perfect keto, gluten free and paleo dessert or breakfast full of taste.
Ingredients
Melted butter 6 TBS/75 g/2.65 oz
Low carb sweetener* (I was using erythritol) ¼ cup
For paleo version you can use honey. Honey is not recommended for keto.
Rum extract 1 tsp
Vanilla 1 tsp
Zest of 1 lemon
Cinnamon ½ tsp
Optional spices
Pinch of powdered ginger
Nutmeg powdered pinch
2 M eggs
Pinch of salt
Baking powder ½ tsp
Ground almonds/almond meal 1 cup/90 g/3.18 oz
Coconut flour ¼ cup/20 g/0.70 oz
Plum halves 1 cup/150 g/5.3 oz
Optional sour cream for serving
Instructions
Prepare plums. Cut them in halves and remove stones.
Preheat oven to 180 C with fan.
Whisk melted butter with sweetener, rum, vanilla, zest of lemon, pinch of salt, cinnamon and optional spices like pinch of powdered ginger and nutmeg.
Add eggs and continue to whisk until mixture smooth and glossy.
Whisk in baking powder, ground almonds or almond meal and coconut flour until you get nice mixture.
Butter pie pan and sprinkle with ground almonds.
Pour the mixture into prepared pie pan.
Place plum halves on top.
Optionally you can put some blanched almond slices on top.
Bake keto plum cake for 20 minutes or until baked.
Serve plum pie as a dessert or breakfast with a cup of tea or coffee. You can add 1 TBS of sour cream on top of your slice. It's delicious!
Notes
Use 23 cm/9 inch pie pan or smaller.
Nutrition Information:
Yield:

12
Serving Size:

1 slice
Amount Per Serving:
Calories:

114
Total Fat:

10.3g
Carbohydrates:

2.81g
Net Carbohydrates:

2.01g
Fiber:

0.8g
Protein:

3.4g
This is for your information only, please calculate your own macros with ingredients you use.