Keto strawberry coffee cake is easy and moist keto coffee cake with strawberries and creamy cheese filling. It's topped with flavorful streusel topping with coconut. Wonderful keto breakfast cake to enjoy with a cup of coffee or tea.
Finally, strawberry season is here! I just can't resist strawberries in all combinations, and cakes with strawberries are must in my kitchen. Last year I have published few delicious strawberry recipes, and have to continue this year.
Keto coffee cakes are my favorite, and if you ask me, there is no better relaxation than to sit in my garden and enjoy a piece of coffee cake with a cup of coffee or tea. That's what I am doing now, while writing this post, actually!
Continue reading if you want to get some tips to make this cake wonderfully!
HOW TO MAKE KETO STRAWBERRY COFFEE CAKE?
Prepare keto streusel topping
First, prepare topping and set it aside. This streusel topping is easy to make and so flavorful. Just combine almond flour, butter and shredded coconut with erythritol and that's it. Irresistible combination! It has a great flavor and because of coconut it's crunchy when baked.
Creamy cheese filling
For the cheese layer combine cottage cheese with heavy whipping cream, low carb sweetener and vanilla. It's the best to whisk it or mix it with a mixer to get a smooth mixture. If you don't have a cottage cheese and heavy whipping cream, you can use cream cheese instead.
Keto coffee cake
To get this moist, delicious and easy low carb coffee cake, you will just have to combine all the ingredients for coffee cake in a bowl. It's easier to evenly combine when you mix all dry ingredients together and then add wet ingredients. And that's it! So easy!
Assembling low carb strawberry coffee cake
On the bottom of greased deep cake pan put the coffee cake batter, then put the creamy cheese filling, and slices of strawberries on top of cheese. Sprinkle everything with streusel and bake in a preheated oven on 180C/350 F for 30 – 40 min.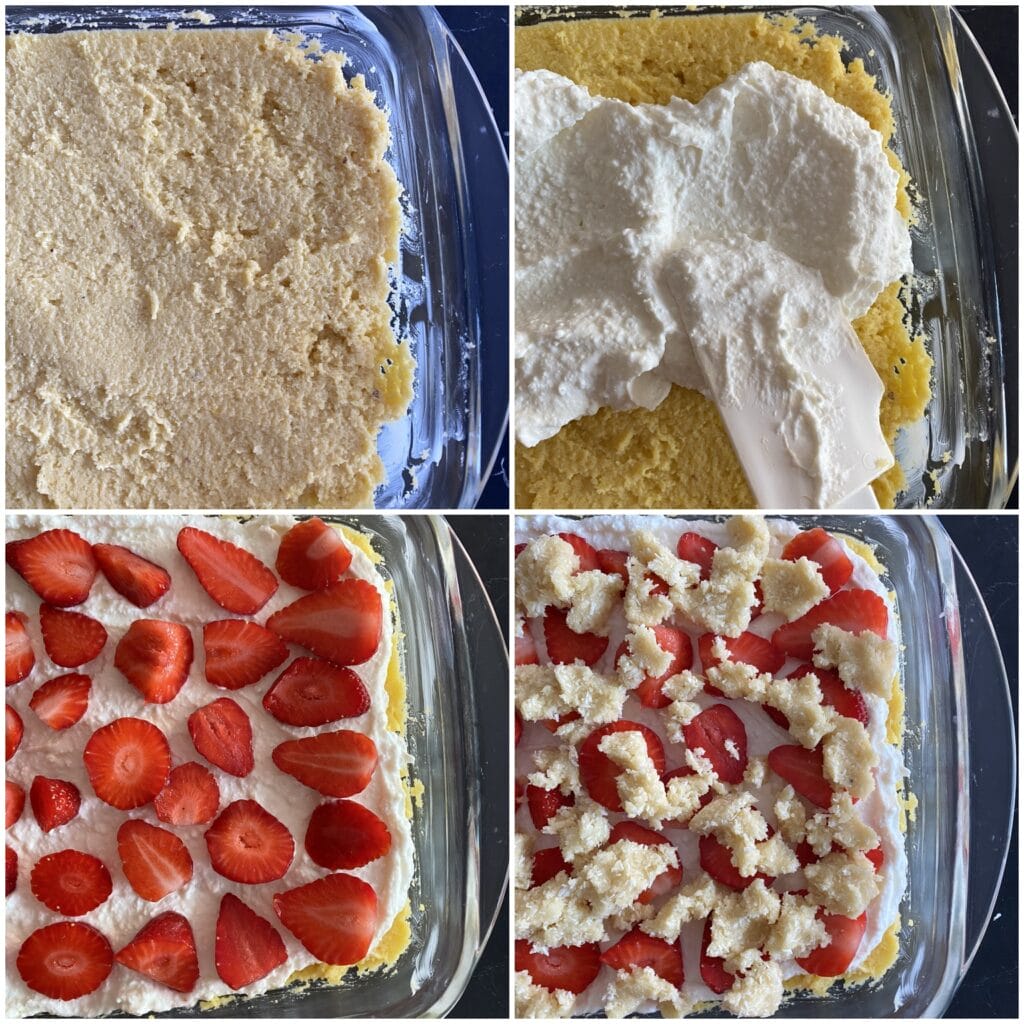 Leave it cool and serve with your favorite coffee or tea.
If you have your homemade strawberries, make few batches of this keto strawberry jam too! It's so good!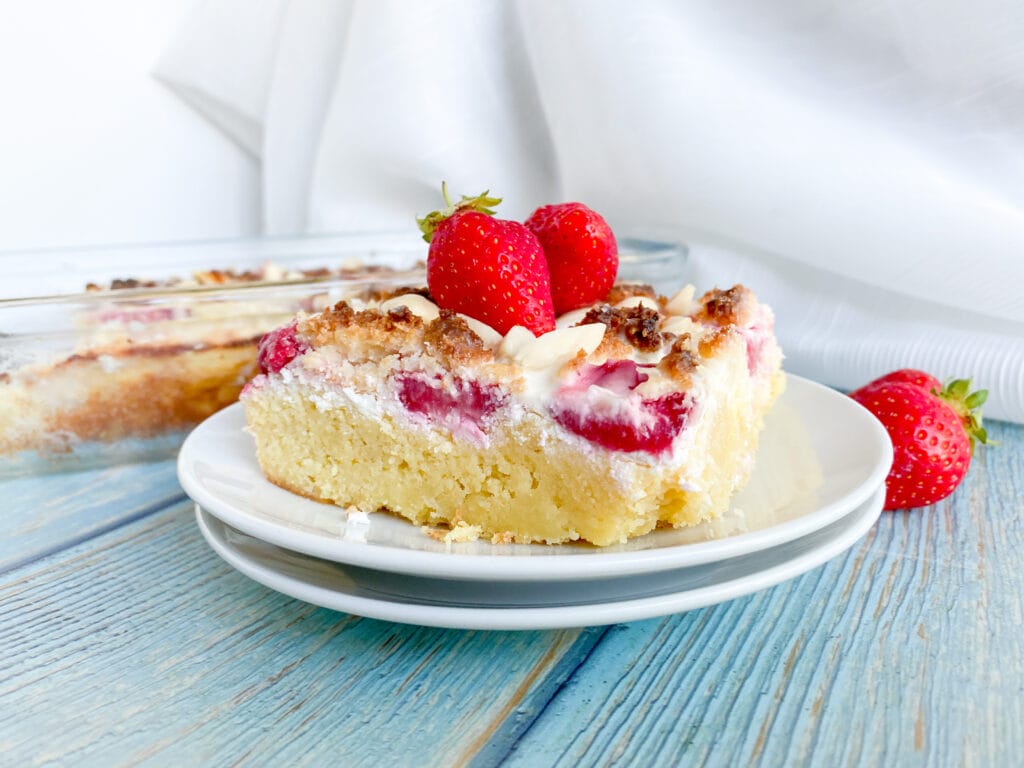 LIKE AND SHARE!
If you like this recipe, please leave a comment and share on your social networks and in favorite groups to support my work! Share in INSTAGRAM stories and tag @familyonketo.
Want to calculate your macros? I have an easy to use, and reliable keto macros calculator! Connect with me on FACEBOOK, INSTAGRAM, PINTEREST and join my TELEGRAM CHANNEL. Scroll down and subscribe to my newsletter to get my recipes to your email!
Enjoy!
Ines
Keto strawberry coffee cake
Keto strawberry coffee cake is easy and moist keto coffee cake with strawberries and cream cheese filling. It's topped with flavorful streusel topping with coconut. Wonderful keto breakfast cake to enjoy with a cup of coffee or tea.
Ingredients
KETO COFFEE CAKE
Almond flour 2 cups/200 g/7 oz
Coconut flour 1/4 cup/23 g/0.8 oz
Erythritol 1/2 cup/60 g/2.12 oz
Baking powder 1 TBS
Salt 1/4 tsp
3 eggs
Vanilla extract 1 TBS
Butter softened 1/2 cup/110 g/3.88 oz
Heavy whipping cream 1/2 cup/100 ml
CHEESE FILLING
Cottage cheese 1 cup/250 g/8.82 oz
Heavy whipping cream 1/4 cup/100 ml
Vanilla 1 TBS
Erythritol 4 TBS/30 g/1.06 oz
STRAWBERRIES
Strawberries 1 1/2 cup/210 g/7.4 oz
STREUSEL TOPPING
Almod flour 1/2 cup/50 g/1.76 oz
Shredded unsweetened coconut 6 TBS/30 g/1 oz
Butter 1/4 cup/60 g/2.12 oz
Erythritol 2 TBS/
OPTIONAL TOPPINGS
Chopped blanched almonds 2 TBS
OPTIONAL CREAM GLAZE
Heavy whipping cream 1/4 cup/50 ml
Powdered erythritol 2 TBS/5 g/0.53 oz
Vanilla extract 1 tsp
Instructions
STREUSEL TOPPING

In a small bowl combine cold butter with almond flour, erythritol and shredded unsweetened coconut until crumbs are formed.
Set aside.

CREAMY CHEESE LAYER

Combine all ingredients and mix with a mixer until creamy filling formed and set aside.

KETO COFFEE CAKE

Combine all dry ingredients together, set aside.
Beat the eggs and add the rest of wet ingredients, whisk until smooth.
Combine wet and dry ingredients and whisk to get nicely combined batter without crumbs.

ASSEMBLING CAKE

Preheat the oven to 180C/350 F.
Prepare greased cake pan 20 x 30 x 5 cm/7.9 x 11.8 x 2 inch and put coffee cake batter on the bottom.
On top of the batter put cheese filling.
Add strawberry slices on top of the cheese filling.
Sprinkle with streusel.
Bake in a preheated oven on 180 C/350 F for 30-40 minutes or until cake is baked or the top is light golden brown. Don't over bake, cheese has to set but still jiggles in the middle.
Remove from the oven and let cool completely, then keep in the fridge to for at least 1 hour before serving.

OPTIONAL TOPPING

Before serving optionally sprinkle with sliced almonds and glaze with keto cream glazing. To make the glaze heat the heavy whipping cream in a small sauce pan and add powdered sweetener and vanilla. Stir until sweetener completely dissolved and glaze is thick enough.
Notes
This recipe is for the cake pan or casserole dish 20 x 30 x 5 cm/7.9 x 11.8 x 2 inch.
Nutrition Information:
Yield:
12
Serving Size:
1/12 of the cake
Amount Per Serving:
Calories:

354
Total Fat:

32g
Net Carbohydrates:

3.91g
Protein:

10g
This is for your information only, please calculate your own macros with ingredients you use.