Sugar free strawberry jam with gelatin is low carb and keto fruit spread, great for keto breakfast or dessert. Diabetic friendly and gluten free treat for the whole family.
This sugar free strawberry jam recipe is so easy to prepare. You can make it in no time whenever you like. I was making this keto jam with fresh strawberries and with frozen strawberries. Result is the same - delicious low carb jam!
We have a small garden with strawberries. We collect them and eat. If we don't eat immediately, I make this keto jam. If I don't have time I put strawberries in the freezer. When I need fresh strawberry jam I just make a batch.
Healthy sugar free strawberry jam
My children really love this keto strawberry jam. My son would eat the whole jar with the spoon. That's not strange when you know how delicious this jam is. Smell, flavor and color. All the elements are fantastic. My husband told me that this is the best strawberry jam he has ever had.
Keto jam for keto breakfast
I like to put this jam on keto crepes, on a slice of keto bread or even on a slice of cake. It's delicious on a slice of this 90 second keto bread. That's one of my best keto breakfast combinations. Last week I made delicious keto pumpkin breakfast cake and, even though the cake is fantastic, I just had to put a spoon of this jam on a slice of cake!
Keto jam with grass fed gelatin
It's very popular to make keto jams with chia seeds. I wanted an old fashioned strawberry jam without chia seeds. So, I use grass fed beef gelatin powder for this recipe, in a small quantity. Because this is a real jam with jam consistency, it's not jelly. If you want jelly use more gelatin.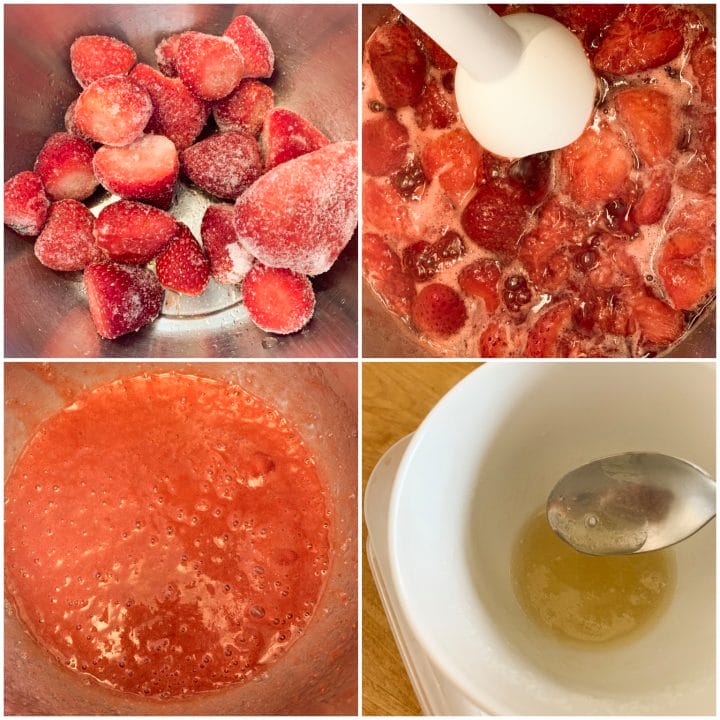 Here are video instructions on how to use powdered gelatin. When you try it once, you will be able to make anything out of it. I like to use it and I have some yummy recipes on my blog with powdered gelatin, like my keto carrot cake with jello and delicious keto chocolate pudding.
Enjoy this delicious keto strawberry jam! If you like my recipe, please leave a comment and share on your favorite social networks! Follow me on Facebook and Instagram and stay on source of delicious keto recipes!
Cheers!
Ines <3
Sugar free strawberry jam
Sugar free strawberry jam with gelatin is low carb and keto fruit spread, great for keto breakfast or dessert. Diabetic friendly and gluten free treat for the whole family.
Ingredients
Strawberries fresh or frozen 450 g/16 oz
Lemon juice 2 TBS (optional)
Erythritol 2 TBS
Stevia 10 drops
Grass fed beef gelatin powder ½ TBS
Cold water 1 TBS
Instructions
Put fresh or frozen strawberries with 2 TBS of erythritol and 10 drops of stevia or another low carb sweetener of your choice, and lemon juice if you like (optional), into a pot. Heat on the stove on medium high heat. If using lemon juice add more sweetener to taste.
When strawberries are softened (not cooked) mix them with immersion blender and cook until you are satisfied with thickness. Time to cook depends on how much water is in strawberries and if they are fresh or frozen.
When you are satisfied with thickness, remove cooked strawberries from the stove and stir in prepared and dissolved grass fed gelatin.
Pour hot sugar free strawberry jam into a clean glass jar and close it immediately.
Keep the jam in the fridge and use it in 1 week after opening.
How to prepare gelatin?
In a small glass bowl or a cup put ½ TBS of powdered gelatin and add 1 TBS of cold water. Gelatin will soak up the water in 2 minutes.
After gelatin soak the water (like a sponge) put the bowl into a pot with hot water and stir gelatin with the spoon until completely dissolved.
Check the photo of a procedure or watch the video linked in the text if this is your first time using gelatin.
Notes
This recipe gives you 1 cup or 16 TBS of keto strawberry jam.
Nutrition Information:
Yield:

16
Serving Size:

1 TBS
Amount Per Serving:
Calories:

9
Total Fat:

0.90g
Carbohydrates:

2.25g
Net Carbohydrates:

1.75g
Fiber:

0.5g
Protein:

0.2g
This is for your information only. Please calculate your own macros with ingredients you use.