LCHF Sachertorte - keto Sacher torte is famous Austrian cake. Popular flourless chocolate cake with sugar free apricot jam.
Sachertorte is probably one of the most loved chocolate cakes in Europe. We have it for every special occasion and family gathering or celebration.
I can't imagine family Christmas dinner without this sugar free and grain free Sachertorte. For me it was just normal to make it in keto version.
Favorite low carb chocolate cake LCHF Sachertorte - keto Sacher torte
Sachertorte and Black Forest cake are my favorite cakes and European cake classics. On my blog you can find both cakes in delicious keto version. My keto Black Forest cake or keto Schwarzwald cake is one of the oldest and most loving recipes on my blog.
It's very strange that I decided to write this recipe just now and not before. However I make this cake very often but it was never a perfect time to publish.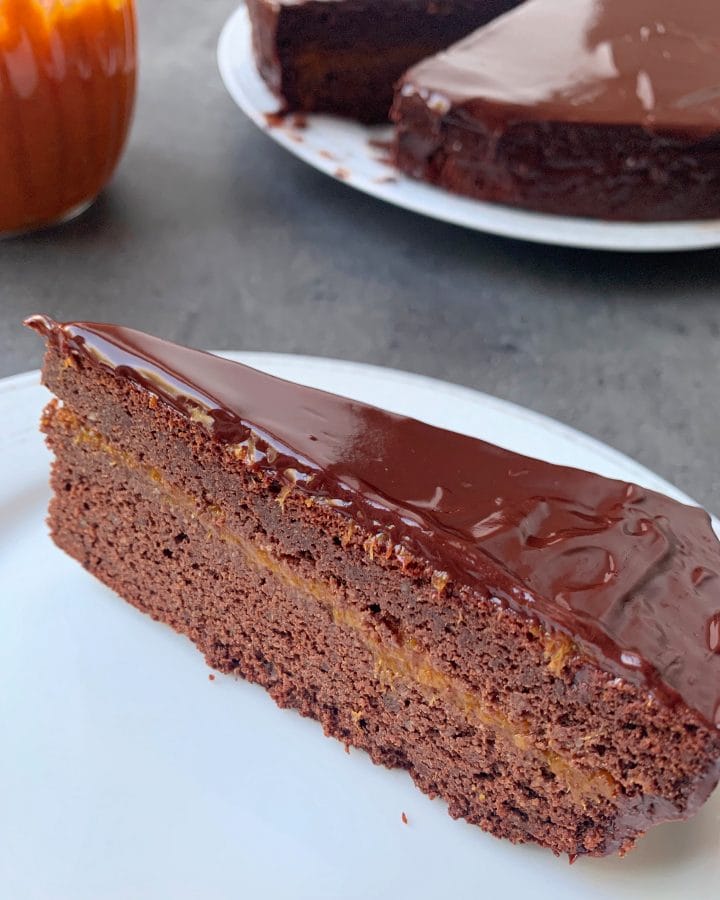 First I had to prepare my homemade keto apricot jam. Because this cake doesn't work without apricot jam. Now you can find sugar free apricot jam in grocery stores but I had my homegrown apricots so it was just normal for me to prepare everything from the scratch.
Here you can find my delicious and super easy recipe for sugar free apricot jam. It's actually very low in carbs so it's worth to make it.
Gluten free & paleo Sacher cake
My Sacher torte is without flour, with blanched almond meal and with just a little bit of coconut flour. That's why it's gluten free and paleo. My family really love this cake. Even my family members who are not on keto really love this delicious keto chocolate cake.
If you like this recipe, share it in your favorite social network group! For everyday inspiration follow me on Facebook and Instagram!
Enjoy!
Ines 💕
LCHF Sachertorte – keto Sacher torte
LCHF Sachertorte – keto Sacher torte is famous Austrian cake. Popular flourless chocolate cake with sugar free apricot jam.
Ingredients
CAKE INGREDIENTS
Dark chocolate chopped into small pieces 200 g/7 oz
Butter softened 125 g/4.4 oz
Swerve or erythritol 115 g/4 oz/1/2 cup
8 eggs separated
Blanched almond meal 1 cup/105 g/3.7 oz
Coconut flour 2 TBS/14 g/0.5 oz
Vanilla essence 1 tsp
GLAZE
Sugar free apricot jam 1 cup/225 g/8 0z
CHOCOLATE ICING INGREDIENTS
Dark chocolate 150 g/5.3 oz
Butter 60 g/2.11 oz
Low carb powdered sweetener 2 TBS (optional)
FOR SERVING
Unsweetened mixed heavy whipping cream 1 cup (optional)
Instructions
Preheat oven to 180 C/350 F with vent.
Line 23 cm/9 inch cake tin with parchment paper.
PREPARE THE CAKE
Melt the chocolate in a double boiler and set it aside.
Mix softened butter with low carb sweetener (erythritol) until fluffy.
Add egg yolks gradually while mixing.
Beat in the melted chocolate and add blanched almond meal and coconut flour until nicely combined.
Whisk the egg whites in a perfectly clean bowl until firm peaks formed.
Gently combine egg whites with chocolate mixture until you fold in complete egg whites mixture.
Pour the mixture into prepared cake tin and bake from 35 - 55 minutes (depends on your oven) or until firm.
Take it out from the cake tin and leave it to cool completely.
When completely cooled, slice in half across the middle to make 2 even-sized layers.
Brush the top of the layer with ⅔ cup of apricot jam and cover with another layer.
Brush the top of the cake with remaining apricot jam.
PREPARE THE ICING
Whisk the chocolate with butter and optional 2 TBS of low carb sweetener in a double boiler until chocolate and butter nicely combined, smooth and glossy.
Pour the chocolate icing quickly over the cake.
Leave it to set.
Serve with beaten unsweetened heavy whipping cream (optional).
Nutrition Information:
Yield:

16
Serving Size:

1 slice
Amount Per Serving:
Calories:

26
Total Fat:

22g
Carbohydrates:

12.76g
Net Carbohydrates:

5.61g
Fiber:

7.15g
Protein:

7.5g
This is for your information only. Please calculate your own macros with ingredients you use.