Easy recipe for moist and rich LCHF keto zucchini chocolate cake! Your family and friends will like it! it's delicious, flourless, contains a lot of chocolate and it's really low in carbs!
I have a lot of fresh zucchini in my fridge because they are in season and so low in carbs! Barely I could close my fridge! My children's nanny, knowing that we are a major meat eaters, asked me - What are you gonna do with all that zucchini?
Immediately, my twisted mind thought about chocolate cake with zucchini! 😀
So, I grated zucchini, add some regular keto pantry ingredients like eggs, almond meal and coconut flour, plus some cinnamon and chocolate, bake it and voila! One of the best low carb chocolate cakes! I can't explain how delicious this keto cake is, you taste chocolate and rich flavor, but actually you can't taste zucchini at all.
Really, if you don't know that there is a zucchini, you would never tell!
Obviously, I don't have to tell you that the cake came out perfectly and it comes perfectly each time. My children don't realize any zucchini in the cake - it is pure chocolate cake for them and they enjoy it! We enjoy it too because this keto chocolate with zucchini goes perfectly with a cup of coffee or tea and that's my favorite way to relax.
So I decided to take some photos and share this keto chocolate cake recipe with you. It also goes so great with a glass of some nice coconut milk or almond milk, or with bulletproof coffee or bulletproof tea if you like it.
TIPS TO MAKE KETO ZUCCHINI CHOCOLATE CAKE
GRATED ZUCCHINI
You will need to grate one big fresh zucchini. Here you can't use frozen zucchini because it won't be good. If you have a very sensitive children, I mean color sensitive, you might peel the zucchini before, to avoid them seeing little green pieces of zucchini in your cake. I don't peel mine, I always do it faster way xoxo, and my children don't mind in this case. Sometimes they mind, but not when it comes to chocolate cake!
LOW CARB FLOURS
For this keto chocolate zucchini cake almond flour and coconut flour combination is fantastic. You have really a feeling like you eat regular, rich, I mean very rich and moist chocolate cake.
Because this is a low carb chocolate cake, you will need some unsweetened cocoa or cacao powder, and I love to add few drops of my Vitality or Plus Orange edible essential oils and some cinnamon powder. Cinnamon and orange give elegant note to this cake, elevate the flavor, and it taste so much better!
CHOCOLATE AND WALNUTS
For extra boost of energy and flavor, I love adding chopped chocolate and walnuts in this cake. Instead of walnuts you can also use hazelnuts or pecans. These nuts complement to chocolate!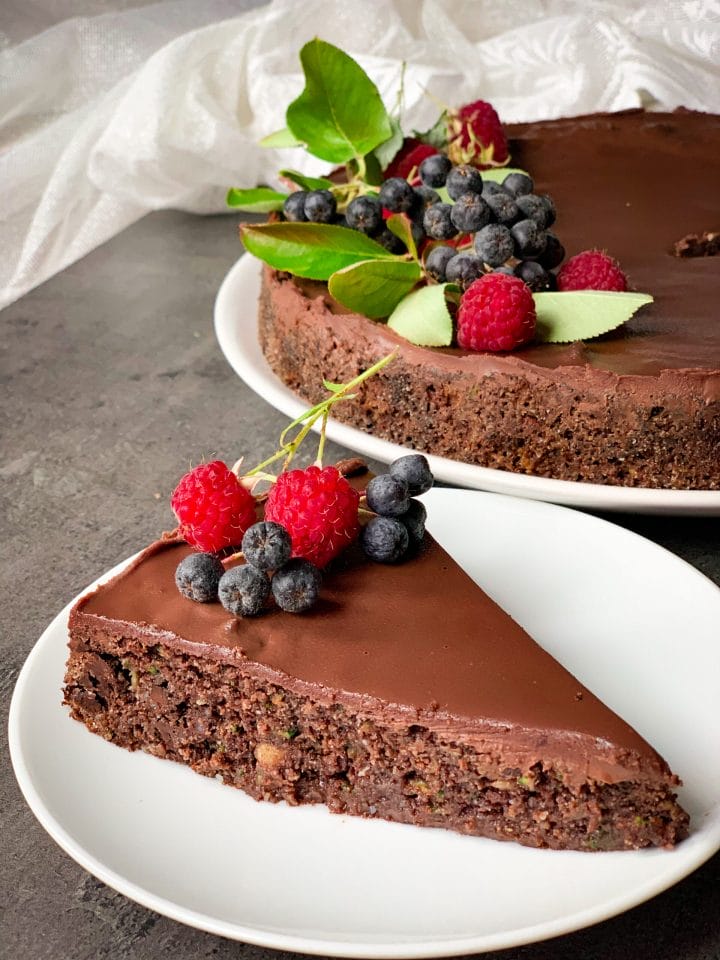 SERVING KETO CHOCOLATE CAKE WITH ZUCCHINI
I love serving this cake with just a few fresh berries or with some whipped heavy whipping cream.
Other keto zucchini recipes on my blog
Delicious keto waffles with zucchini
Keto oven baked zucchini fritters
LIKE AND SHARE!
If you like my recipes, please, leave a comment and share to support my work!
Would you like to calculate your macros? I have an easy to use and reliable keto macros calculator!
Connect with me on FACEBOOK, INSTAGRAM, PINTEREST and join my TELEGRAM CHANNEL. Scroll down and subscribe to my newsletter to get my recipes on your email!
Enjoy!
Ines
Keto Zucchini Chocolate Cake
Easy recipe for moist and rich LCHF keto zucchini chocolate cake! Your family and friends will like it! it's delicious, flourless, contains a lot of chocolate and it's really low in carbs!
Ingredients
Grated zucchini 3 cups/370 g/13 oz
Almond meal 1 cup/100 g/3.5 oz
Coconut flour ¼ cup/27 g/0.95 oz
Cacao or cocoa powder unsweetened ¼ cup/16 g/0.56 oz
Low carb sweetener (swerve or erythritol) 1 cup
Baking powder 1 tsp
Baking soda 1 tsp
3 large eggs
Melted butter 60 g/2.11 oz
Vanilla extract/essence 1 tsp
Orange zest of 1 orange or 2 drops of edible orange essential oil
Cinnamon powder 1 tsp
1 pinch salt
Dark chocolate 70% sugar free 80 g/2.8 oz
Chopped walnuts ½ cup/60 g/2.11 oz
GANACHE
Heavy whipping cream ½ cup/100 ml
Dark chocolate sugar free 70% cocoa 50 g/1.76 oz
Instructions
CAKE
Prepare 24 cm/9 inch cake tray layered with a parchment paper.
Preheat the oven to 180 C/350 F.
Grate zucchini with a kitchen grater or in a food processor and set them aside
Combine all dry ingredients with eggs, vanilla, orange zest or edible orange essential oil and melted butter, and add it to zucchini.
Combine everything together and add chopped chocolate and chopped walnuts, stir until nicely combined and bake for 30 minutes or until baked in preheated oven on 180 C/350 F.
GANACHE
In a small sauce pan heat the heavy whipping cream and when it starts simmering, remove from the heat, add chocolate and whisk until chocolate completely melted and silky. Pour it over a baked cake still in a cake pan.
Leave the cake for few hours in the fridge or overnight.
Serve cold with fresh berries or with heavy whipping cream.
Enjoy!
Nutrition Information:
Yield:

16
Serving Size:

1 slice
Amount Per Serving:
Calories:

149
Total Fat:

12g
Net Carbohydrates:

2.05g
Protein:

4.21g
This is for your information only, please calculate your own macros with ingredients you use.