Keto baked zucchini in oven is perfect keto recipe for zucchini and it's perfect low carb side dish!
I love zucchini/courgettes! They are low carb, low calorie and so versatile, you can really make everything with them, from bread to delicious cakes!
I made so many tasty keto recipes with zucchini, here are my favorite.
HOW TO MAKE KETO BAKED ZUCCHINI IN OVEN
Baked zucchini slices
Cut zucchini in slices, don't slice them too thin or too thick, let it be around 2.5 cm or 1 inch. You don't want them too thick because of too much water in them, and if too thin you will get something like chips.
Put all the slices on a sheet pan. I always layer my sheet pan with a parchment paper because it's so much easier to clean afterwards. They don't stick at the bottom and you really don't have to waist your precious time on cleaning and washing.
Seasoning and topping
Be modest with seasoning, just sprinkle with coarse sea salt and freshly ground pepper and with low carb topping.
If this would be a regular recipe, you would be using breadcrumbs. However, we don't eat bread, so instead I use parmesan cheese and blanched almond meal.
It's actually so much better in this combination. Zucchini with keto breading on top are amazing! Topping becomes golden brown what gives additional flavor, and a little bit of crunch so you can enjoy it even better.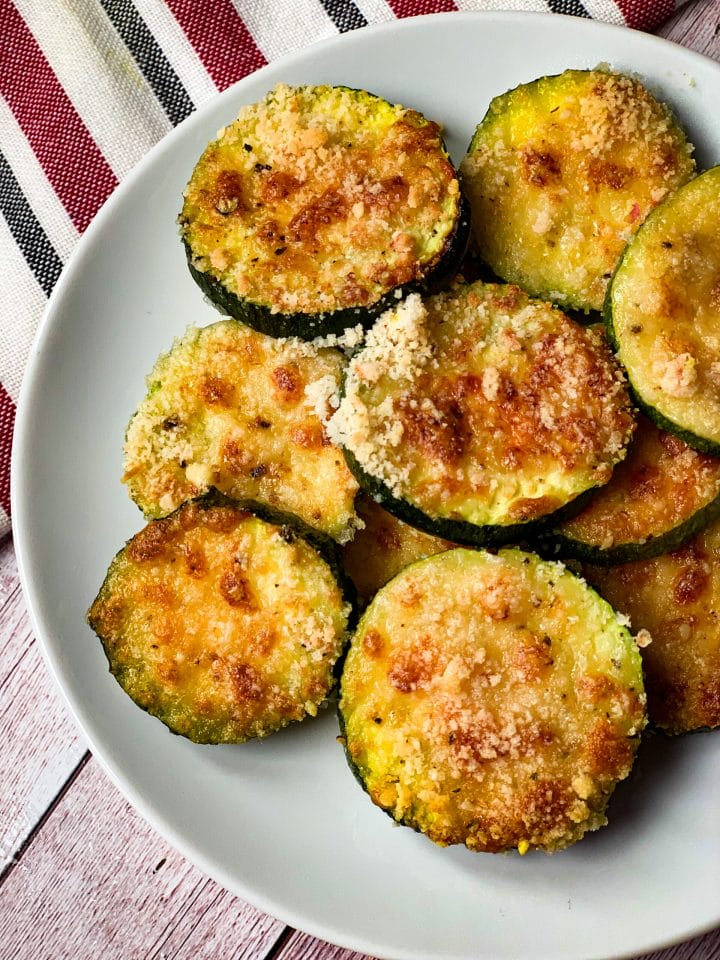 Serving oven baked zucchini slices
I love having this zucchini recipe as a keto side dish to some of my favorite meals, and here are some of my recipes you can try with baked zucchini.
Pork chops with mushroom sauce
Of course, you can serve them with some dipping sauce, sour cream or with my tuna spread or sardines keto spread.
They are also wonderful when you pour them with a generous amount of this 3 minute keto cheese sauce. Oh, I love that so much!
LIKE AND SHARE!
If you like my recipes, please, leave a comment and share to support my work!
Would you like to calculate your macros? I have an easy to use and reliable keto macros calculator!
Connect with me on FACEBOOK, INSTAGRAM, PINTEREST and join my TELEGRAM CHANNEL. Scroll down and subscribe to my newsletter to get my recipes on your email!
Enjoy!
Ines
Keto baked zucchini
Keto baked zucchini in oven is perfect keto recipe for zucchini and it's perfect low carb side dish!
Ingredients
Fresh zucchini 2 medium cut in 2.5 cm/1 inch slices 450 g/16 oz
Pinch of sea salt
Freshly ground pepper to taste
Parmesan cheese 1 cup/100 g/3.5 oz
Blanched almond meal 3 TBS/15 g/0.5 oz
Instructions
Preheat the oven to 185 C/365 F.
Cut zucchini in slices 2.5 cm/1 inch thick and layer them on a sheet pan. You may layer the sheet pan with a parchment paper to clean it easier afterwards.
Sprinkle zucchini with a pinch of salt and freshly ground pepper to taste.
Generously sprinkle on top with 1 cup of parmesan cheese and 3 TBS of blanched almond meal.
Bake in a preheated oven for 20 minutes or until baked and golden brown on top.
Serve and enjoy!
Nutrition Information:
Yield:

4
Amount Per Serving:
Calories:

141
Total Fat:

9.63g
Net Carbohydrates:

2.61g
Fiber:

2.61g
Protein:

10.5g
This is for your information only, please calculate your own macros with ingredients you use.