Keto zucchini salad is refreshing low carb zucchini summer salad with tomato, onion and feta cheese. This keto salad with zucchini is perfect as a side dish to meat, fish or anything from the grill.
Zucchini season is here and my mom has her own garden full of all kinds of homegrown veggies. So, my house is overloaded with zucchini these days. I was making so many keto zucchini recipes, and here are my favorites:
IT'S TIME FOR ALL THESE YUMMY KETO ZUCCHINI RECIPES!
It was definitely time to create more delicious and easy keto zucchini recipes! Since it's really warm here in Croatia. and we are melting on summer heat, I prepare salads every day. This salad is delicious and flavorful and you can eat it hot or cold, as you like it.
HOW TO MAKE KETO ZUCCHINI SALAD?
SAUTEED ZUCCHINI
I love this salad because of flavorful zucchini! Zucchini don't have intense taste or flavor, and that's the reason why they are so versatile and you can use them in so many ways in all your savory and sweet dishes. The trick to make them delicious is in seasoning and the way of cooking.
Zucchini for this recipe you can prepare in a pan or a skillet on the stove or outside on the grill! If you prepare them on a grill, that could be a real treat!
Just heat the olive oil and sauté zucchini cut in cubes. Season them with salt, pepper, powdered garlic, ground paprika and turmeric. And cook zucchini on a hot oil, for few minutes only. They should stay al dente, don't kill their soul with endless cooking!
PREPARE FRESH VEGGIES
Other veggies I love to use for this salad are just fresh tomato and onion. They complement to seasoned and cooked zucchini wonderfully.
FETA CHEESE AND SALAD LOW CARB DRESSING
To elevate the whole story, just add some feta cheese on top. Feta cheese is always great in this type of salads. I love to drizzle everything with extra virgin olive oil and sprinkle with crushed chili. It's lovely to add some lemon juice or balsamic vinegar too. In the case you don't have feta cheese, any goat or sheep cheese will be good substitute.
HOW TO MEAL PREP ZUCCHINI SALAD?
My recommendation is to prepare a double batch of these zucchini, especially if you have a possibility to grill them during the weekend. After cooking or grilling set them aside chilling for an hour and then you can store them in a plastic or glass airtight container for at least 4 days in the fridge. Take the amount of prepared zucchini that you need, add fresh onion, tomato and feta cheese, and enjoy! It will be nourishing and flavorful salad or a side dish every day.
You can combine it with other fresh veggies and boiled eggs in a jar and bring it with you to school, work, camping, glamping, picnic, or whatever! 🙂
For dressing use salt, pepper and olive oil as a dressing, and if you wish you can add some lemon juice, apple cider vinegar or balsamic vinegar. I love adding a pinch of crushed chili on top to make it even more tasty and to boost my immunity! 🙂
LIKE AND SHARE!
If you like this recipe, please leave a comment and share on your social networks and in favorite groups to support my work! Share in INSTAGRAM stories and tag @familyonketo.
Want to calculate your macros? I have an easy to use, and reliable keto macros calculator!
Connect with me on FACEBOOK, INSTAGRAM, PINTEREST and join my TELEGRAM CHANNEL. Scroll down and subscribe to my newsletter to get my recipes to your email!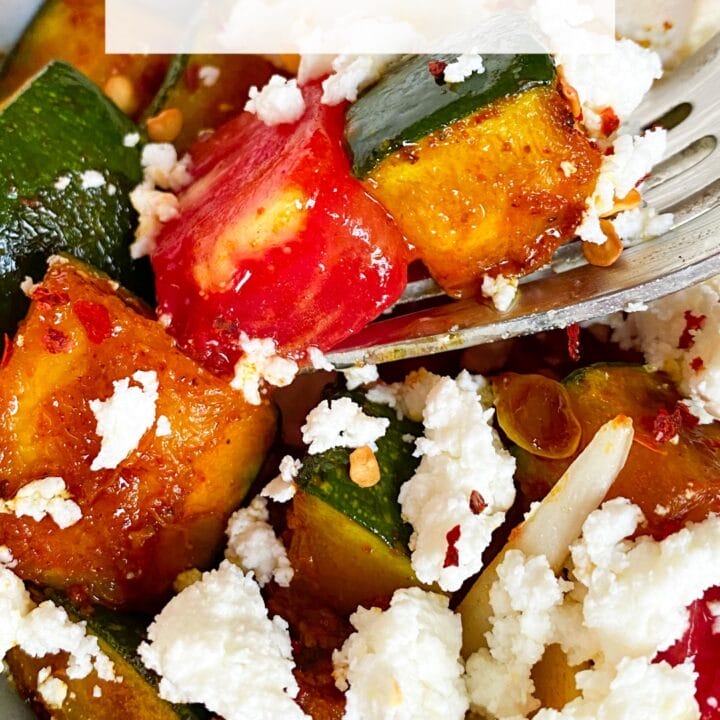 Keto zucchini salad
Keto zucchini salad is refreshing low carb zucchini summer salad with tomato, onion and feta cheese. This keto salad with zucchini is perfect as a side dish to meat, fish or anything from the grill.
Ingredients
FOR ZUCCHINI
Olive oil 1 TBS
2 large zucchini cut in cubes 5 cups/600 g/21.2 oz
Salt ½ tsp
Pepper ¼ tsp
Ground paprika 1 tsp
Powdered garlic ¼ tsp
Turmeric ½ tsp
FOR SALAD
2 large tomatoes chopped in cubes 2 cups/360 g/12.7 oz
1 small onion chopped 7 TBS/70 g/2.5 oz
DRESSING & TOPPING
Olive oil 2 TBS
Feta cheese 100 g/3.5 oz
Lemon juice 2 TBS (optional)
Balsamic vinegar 2 TBS (optional)
Fresh herbs, fresh mint (optional)
Crushed chili (optional)
Instructions
ZUCCHINI
Heat the olive oil in a large skillet on the stove and saute zucchini cubes for 2 minutes. When they start to get golden brown color, add salt, pepper and seasoning, stir and cook for 2 minutes more.
Remove from the heat and set aside.
COMBINE SALAD
Combine zucchini with tomatoes cut in cubes and chopped onion in a large bowl, season with more salt if needed.
Sprinkle crushed feta cheese on top and add more olive oil, lemon juice or balsamic vinegar (optional), crushed chili, fresh mint or another topping you like.
Enjoy!
Notes
Recommendation for meal prepping: prepare zucchini and store them in the fridge for 4 days. Each day you can use one part of prepared zucchini to make different salad to go, in the jar, with fresh veggies, onion, boiled eggs, deli meat, etc.
Nutrition Information:
Yield:

4
Serving Size:

1 .5 cup
Amount Per Serving:
Calories:

138
Total Fat:

24g
Net Carbohydrates:

6g
Protein:

4.5g
This calculation is for your information only. Please, calculate your own macros with ingredients you use.