Roasted ham hock with crispy crackling is delicious and easy to prepare crispy roasted pork. Crispy pork rind on top and tender falling apart meat.
Roasted ham hock with crispy crackling is inspired by German Schweinshaxe, Oktoberfest Bavarian tradition that came to Croatia probably with Germans. 🙂
Roasted pork knuckle become our tradition here in continental Croatia. We eat roast pork a lot. Here we have the best ham hock from our domestic black Slavonian pigs.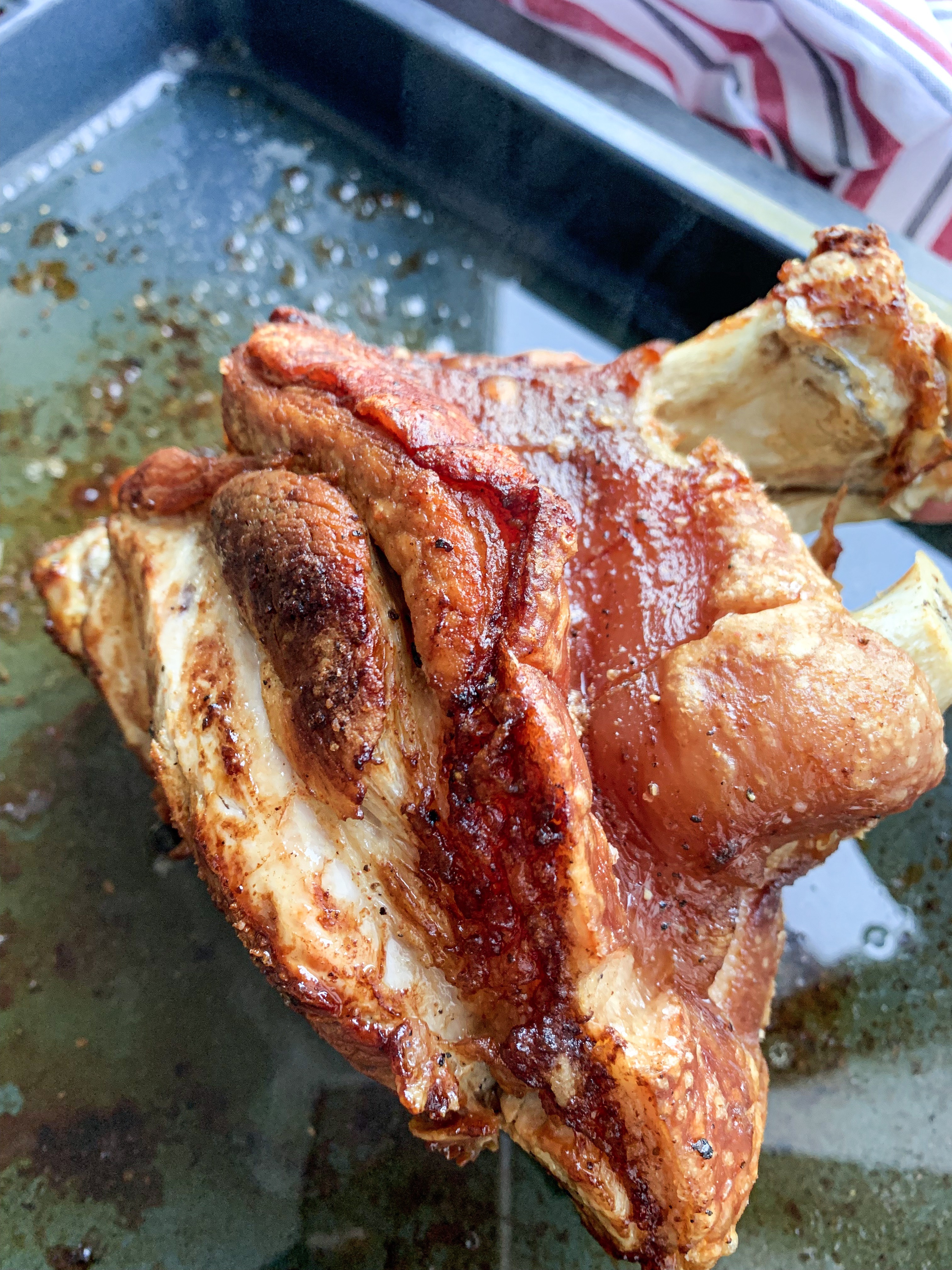 Of course, any fresh ham hock will be delicious if you prepare it on this way. I tried so many roasted pork cuts everywhere in the world. I can say that this way of preparing is really one of the best. Because you get everything – tender and moist meat sticking to your fingers and really crispy crackling on top.
Here I am bringing a delicious Bavarian roast pork recipe bone in with my personal touch. Meat is tender and delicious and skin is incredibly crispy, it's actually huge crispy crackling.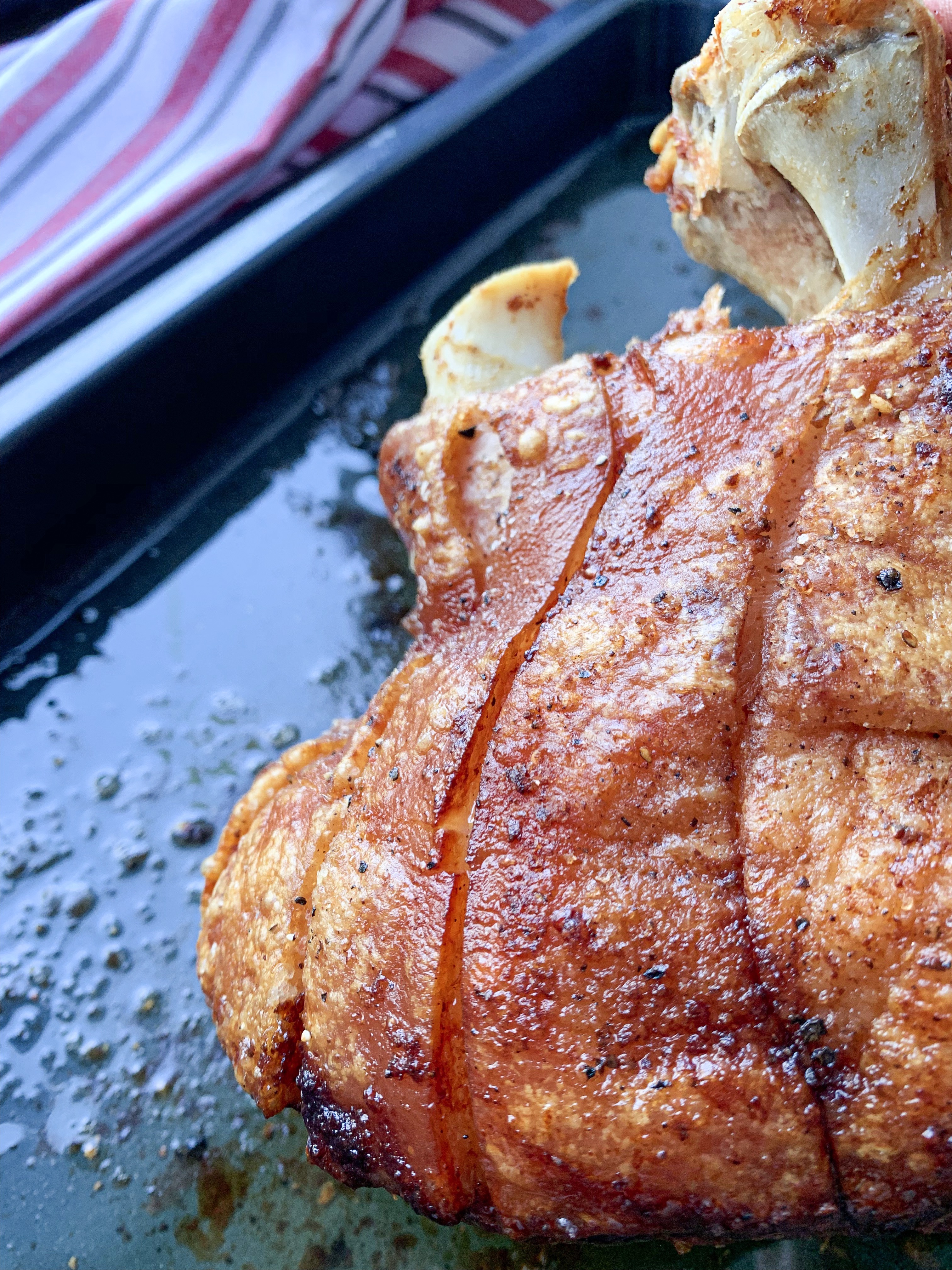 TIPS FOR PERFECT ROASTED HAM HOCK WITH CRISPY CRACKLING
Cooked pork knuckle for crispy pork rind
Before roasting you need to cook ham hock (that's actually a part of pig's leg). To prepare it right, cook it first for 20 to 30 minutes and rinse it with water to remove the foam on the surface.
After that cook it for 1 hour more. Don't skip this part of preparation. Because of cooking and roasting afterwards you will get that incredibly crispy pork skin. It will be like a huge pork rind or delicious crackling.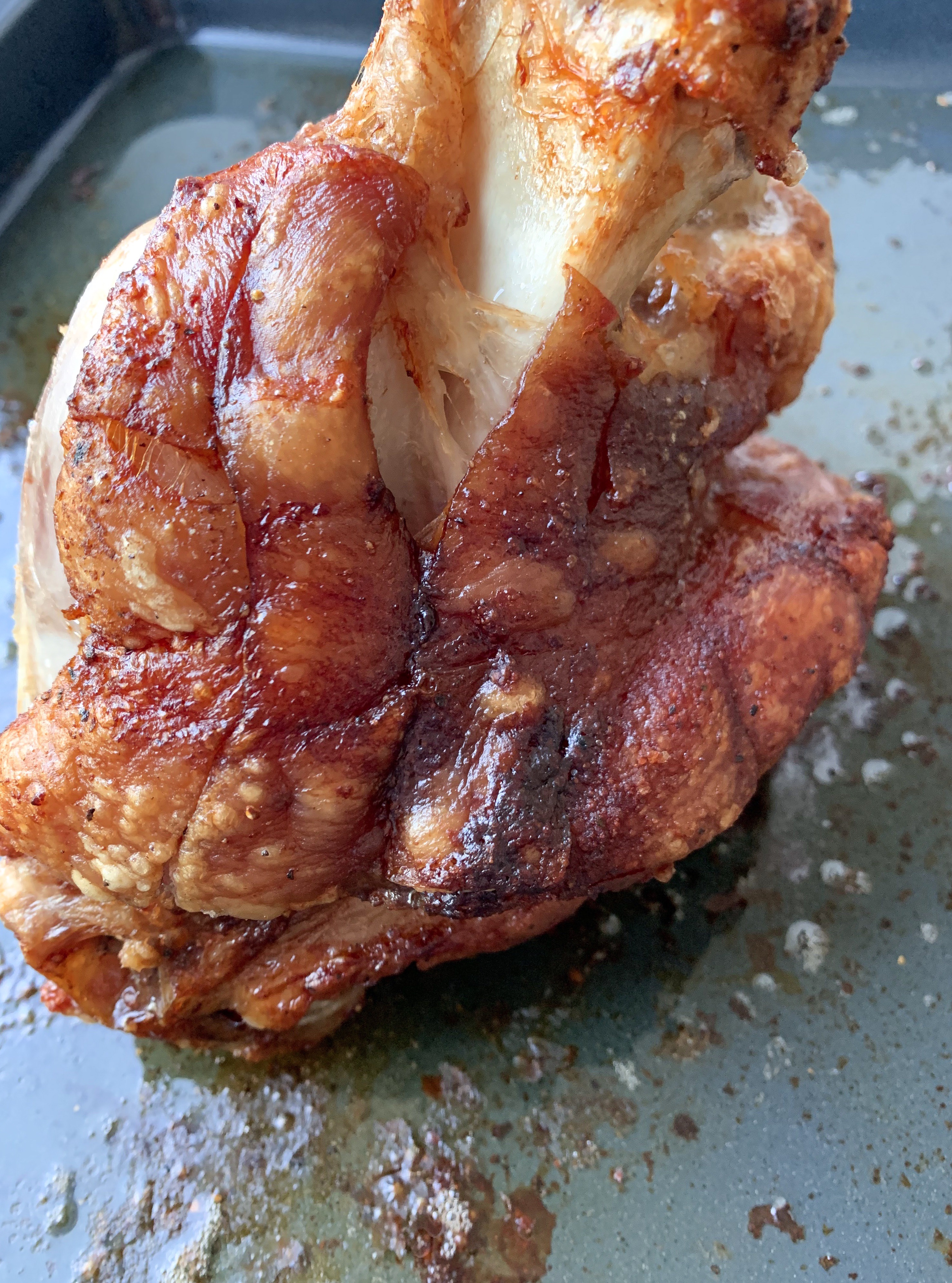 Slow roasted pork
After cooking, you will need to incise the skin in the diamond shape before seasoning.
Be generous with lard or olive oil and rub that pork ham hock well. After that, season it well with salt and pepper. Optionally you can add some ground paprika and garlic powder.
Place it in a deep sheet pan or roasting pan and bake for at least 2 hours on 180 C/350 F. It will depend on your oven so maybe you will need to bake 30 minutes longer.
If you can't place it upright in the oven, try turning to other side every 30 minutes. It's done when the meat is tender, flavorful and falling apart. Meat will be sticking to your fingers when it's properly roasted.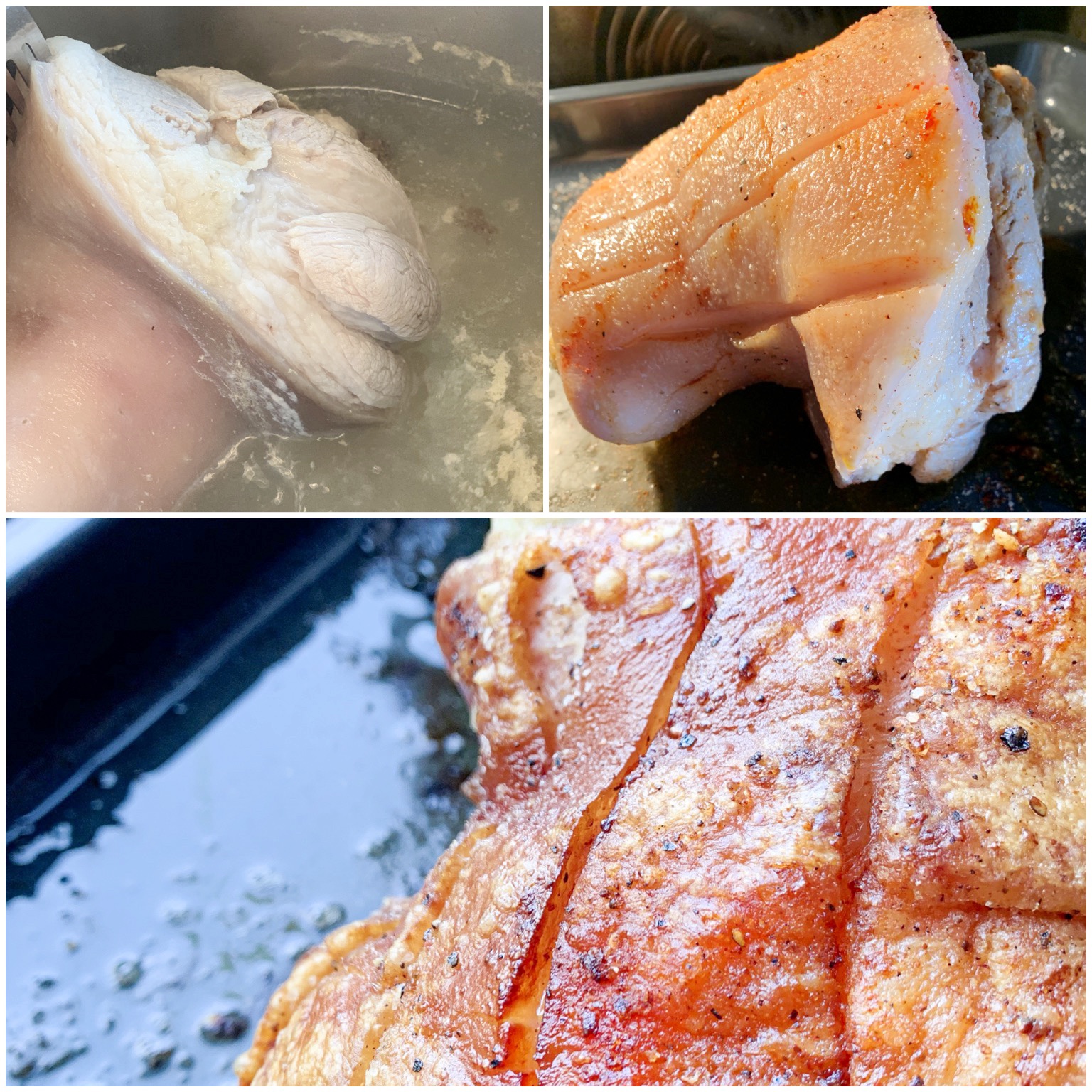 How to serve?
This pork meat is the best when served in keto version with cauliflower mash and fried cabbage or fried sauerkraut. I like it best with sauerkraut fried on lard. That's definitely my childhood flavor.
What to do with leftovers? – Prepare this keto ciabatta and make delicious keto sandwiches!
For keto dessert I recommend you Black Forest keto cake or this delicious raspberry chocolate pecan cake bars.
If you like this recipe, leave a comment! Follow me on Instagram and Facebook for daily family friendly keto meals inspiration.
Enjoy!
Ines 💕
Ingredients
Fresh ham hock with bone 1900 g

Lard 4 TBS

Salt 2 tsp or more to taste

Mixed ground pepper to taste

Red ground paprika 2 pinch

Garlic cloves and onion (optional for gravy)
Instructions
1
Wash fresh ham hock with running water and put it in a large pot. Cover with water and cook for 30 minutes.
2
Remove the water, rinse the ham hock to remove the "foam" from the surface, add fresh water and 1 tsp of salt and cook the ham hock for 1 hour more.
3
Put the ham hock in a large deep sheet pan.
4
Incise the skin with a sharp knife in a diamond shape. Skin will be very crispy at the end so if you cut it before it will be easier to cut and eat when done.
5
Put generous layer of lard all over the meat and season it with 2 tsp salt (or more to taste), pepper, optional with red ground paprika.
6
Bake in a preheated oven with vent on 180 C/350 F for 2 hours. Try to roast it in upright position. If that's not possible, every 30 minutes turn the ham hock on another side.
7
In a sheet pan you can add garlic cloves and onion for the last 45 minutes if you wish to prepare gravy with meat juices.
8
When done, serve it with cauliflower mash and fried cabbage or fried sauerkraut.
Notes
This ham hock serves 6. Nutritional value per serving: Cal 250, Fat 14 g, Carbs 0 g, Protein 27 g. This is for your information only. Please calculate your own macros.