Mediterranean chicken in Dalmatian style is flavorful, aromatic and tasty Croatian chicken dish with tomato, olives and rosemary. Tender meat in aromatic sauce is delicious low carb family friendly meal.
Nice and sunny days are always inspiring. When it's sunny and nice weather I immediately think about summer holidays in Dalmatia. Every summer I need to spend at least few days in Dalmatian coast.
I could travel the world for vacation but I don't feel like having a proper holidays if I don't visit Dalmatian coast for at least few days. I just need to soak that sun and swim in Mediterranean Sea. That's the only proper relaxation for me.
Because of this nice memories I decided to make this flavorful and aromatic Dalmatian style chicken.
Actually, it's very easy to prepare. And that's the key of Dalmatian and Croatian cuisine in general. Fresh and clean ingredients with few herbs and veggies. Very simple and clean. Croatian cuisine is normally very versatile and influenced by other great world's cuisines, and Dalmatian kitchen is one few major cuisines in Croatia. It's Mediterranean, so it's aromatic, infused with Mediterranean herbs like basil and rosemary, and of course wine.
That's how this dish is made too. Of course, this dish is perfect keto Mediterranean dish. As you know I eat keto food, so this is definitely keto Mediterranean chicken recipe.
Tips to make Mediterranean chicken in Dalmatian style
White dry wine - I use 50 ml of dry white wine in this keto chicken recipe. You can omit the wine but please don't. To have authentic and full Dalmatian and Mediterranean flavor, you need to use dry white wine. It's really small amount and contains probably 1 or 2 g of NET Carbs but it gives so much flavor and authenticity to this low carb Mediterranean dish.
Special wine aroma is really needed to this dish, and until it's cooked all the alcohol is actually gone. I recommend you to use Malvasia, or Malvazija, as we call it in Croatia. However, you can use any dry white wine that you have.
Fry chicken meat on olive oil or lard until golden brown on the edges. When meat gets nice color, pour it with dry white whine and when all the alcohol is gone, add finely diced onion and fry together with chicken meat until onion is aromatic, translucent and golden brown.
Use Mediterranean herbs - in this dish I use rosemary (only one spring of rosemary is enough). With rosemary add also 1 or 2 cloves of garlic, and some basil. I put whole rosemary spring and whole cloves to put the aroma, and when it's cooked, you just take the spring and cloves out.
Tomato is very important for this dish because tomato is one of the most popular Mediterranean ingredients. It goes great in this Dalmatian meal.
Black olives or kalamata olives have specific flavor and I take out the stones and put them after the onion becomes translucent. So I fry them a little bit to use as much of their aroma and after frying olives for a minute or two I add tomato, broth and water and cook util meat is properly cooked and falling apart.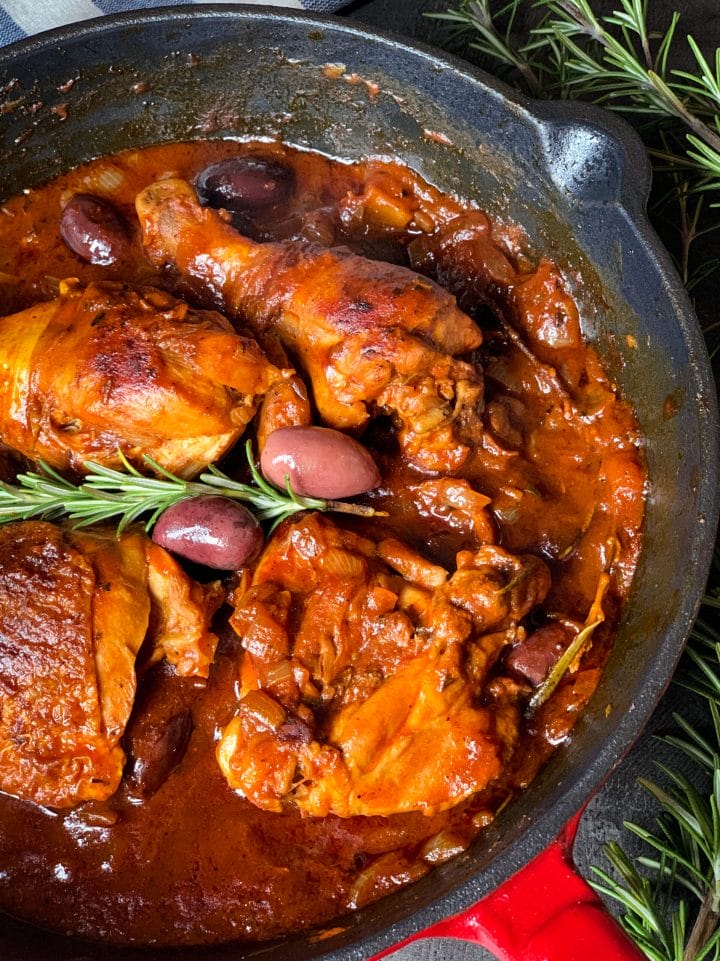 Serving Dalmatian chicken
This dish can be served with some nice low carb or keto bread. I love it with this keto focaccia bread. With focaccia you can soak all of this rich and flavorful sauce. Because the secret of this dish is definitely in delicious and aromatic Mediterranean sauce and you need to use it all.
If you like keto Mediterranean dishes, maybe you wish to try one of my keto Mediterranean recipes
Cauliflower chicken and asparagus risotto
Connect with me!
If you like my recipes, leave a comment and connect with me on FACEBOOK, INSTAGRAM, PINTEREST and join my TELEGRAM CHANNEL. Scroll down and subscribe to my newsletter to get my recipes on your email!
Enjoy!
Ines
Mediterranean chicken Dalmatian style
Mediterranean chicken in Dalmatian style is flavorful and tasty Croatian chicken dish with tomato, olives and rosemary. Tender meat in aromatic sauce is delicious low carb family friendly meal.
Ingredients
Chicken meat with bones in (thighs and drumsticks) 600 g/22 oz
Olive oil or lard 2 TBS
Dry white wine ¼ cup/50 ml
1 spring of rosemary
1 or 2 whole cloves of garlic
Finely diced onion 50 g/1.8 oz
7 black olives or kalamata olives
Unsweetened tomato puree 1 cup/200 ml
Chicken broth 1 cup/200 ml
Water ½ cup/100 ml
Salt to taste
Freshly ground pepper to taste
Dried basil 1 tsp
Instructions
Season chicken meat with salt and pepper.
Fry chicken meat on hot lard or olive oil.
When meat gets golden brown color pour with dry white wine and cook until all the alcohol is gone.
Add 1 whole spring of rosemary and whole cloves of garlic and finely diced onion.
Fry until onion is translucent and golden brown.
When onion is translucent add olives with stones removed and fry everything for 1 or 2 minutes.
Add tomato puree, chicken broth and water, gently stir and season with salt, ground pepper, dried basil and cook covered for 15 minutes on medium heat. Stir occasionally with checking the meat. If not cooked after 15 minutes, reduce the heat more and cook covered with occasional stirring until meat is cooked.
Dish is cooked when meat is falling apart.
When cooked serve with keto focaccia.
Enjoy!
Nutrition Information:
Yield:

4
Serving Size:

1 cup
Amount Per Serving:
Calories:

255
Total Fat:

16g
Carbohydrates:

4.52g
Net Carbohydrates:

2.3g
Fiber:

2.22g
Protein:

19g
This is for your information only, please calculate your own macros with ingredients you use.