Keto low carb chili with cheese crust or how they call it in Europe - keto chili con carne with crust made of cheddar cheese, almond flour and few more low carb ingredients is one of my favorite keto meals ever!
My keto chili recipe is so flavorful. Only ground beef without beans but rich in taste and thick. I like to finish it in the oven because of the cheddar cheese crust on top of the chili.
Of course you can omit that crust, but trust me, with the low carb crust is so much more tasty! Crust is inspired with my recipe for keto bacon bread. That recipe is so popular and people love it.
You can make that keto bacon bread separately and serve it with this keto chili! That's also fantastic idea.
Is chili keto?
Last week one of my IG friends asked me if I have keto friendly chili recipe, and I just got that little light bulb over my head like in a cartoon. I had to make it ASAP!
And I started to think about my favorite chili con carne I used to make in my pre-keto life and pre-children life. It was fantastic chili!
Last weekend was the time when my best chili recipe go keto! Beans are definitely not included in this recipe. It's totally beans free chili, so it's definitely keto!
Keto chili instant pot
Of course, you can make this chili in instant pot or in a crockpot, it will be yummy and tasty. However, it doesn't require much more time if you make this keto chili in a skillet or in cast iron Dutch oven. I made my in cast iron Dutch oven OMG, it turned out so good!
Keto chili seasoning
Freshly ground pepper and salt - I use freshly ground pepper in almost every recipe. Every savory dish is better with a little bit of pepper. It has to be freshly ground, it brings much more flavor. It's the best to have a pepper mill, so you have your freshly ground pepper always on hand.
I use salt to taste. Salt is important ingredient and everything taste better with salt, even chocolate! 🙂
Cumin is fantastic addition to chili, it goes great with ground meat and it's probably must have spice fo chili.
Cayenne pepper is a little bit hot and brings a lot of flavor, definitely put some in your keto chili!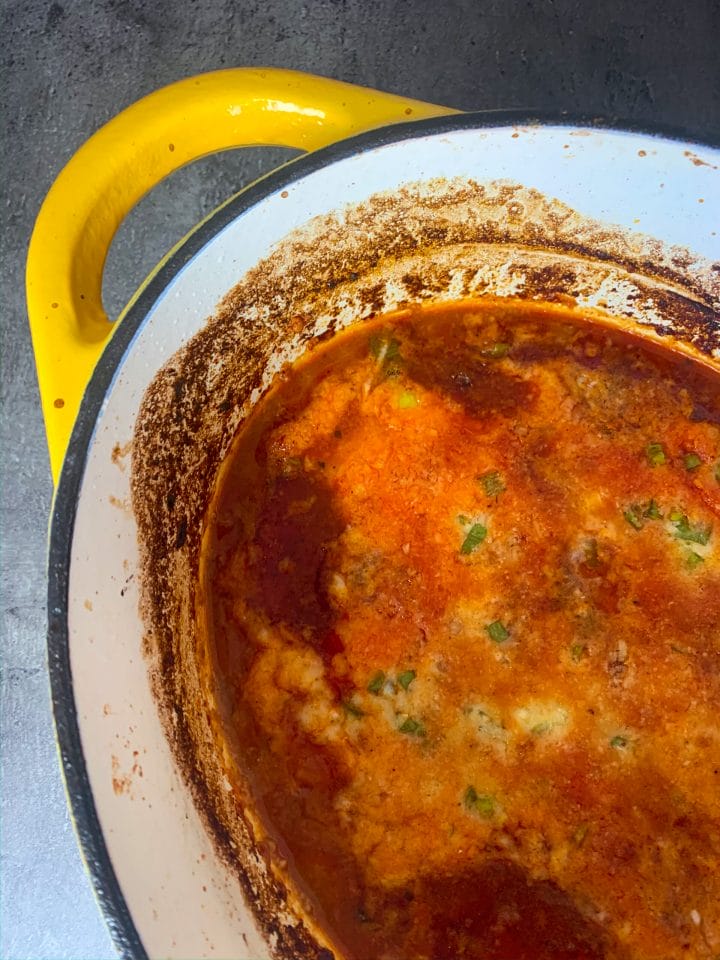 Ground smoked paprika is my favorite seasoning, immediately after salt and pepper. I currently live in Baranja, it's the region famous for paprika or capsicum so I am very fortunate to have access to the best smoked paprika in the world and I love to promote it. Definitely, put some smoked ground paprika in your low carb chili con carne! You will love it!
Crushed chili pepper is probably what makes chili a proper chili. If you have a small children don't put too much but you also might be surprised how children can handle spicy and hot chili. My 2.5 years old daughter loves my spicy keto chili. She is just saying - Oh, it's hot and spicy - and continues to eat. 😃
TIPS TO MAKE KETO CHILI CON CARNE - LOW CARB CHILI WITH CHEESE CRUST
Saute and caramelize onion - that's first step to delicious keto chili con carne. Sauteed onion brings so much taste to any meat dish. With sauteed onion you get that deep, rich and hearty taste.
Use lard or coconut oil to fry bacon and onion - lard and coconut oil are great sources of healthy fats. We love these fats in our ketogenic kitchen. Leave the bacon aside for the crust. You will love it!
Grilled pepper/capsicum - I love using them so if you have access to them use them. If not, just cut fresh pepper and cook together with meat.
Browned ground beef - you need to brown that meat until golden brown color. That will give a flavor to your dish. Seasoning and spices are great, but a real comforting taste is coming from caramelization on onion, meat and from beef broth!
Use beef broth - for cooking of meat dishes you can use water but when using broth your keto meal is getting gut healing properties and it's great for immunity. It was ancient key to recovery from many diseases.
Cook it as longer as you can on a low heat or in a crock pot. There is something in long and slow cooking, every meat dish is much tastier if you cook it longer. As longer as you cook it, more taste you get.
Finish your chili in the oven until cheese crust is baked and golden brown. That crust is delicious addition to this chili. I would say it gives restaurant quality to this keto meal.
Try my keto desserts!
After this rich keto meal, you will need some good keto pie. I recommend you one of these delicious keto pies:
Sharing is caring!
If you like my recipes, leave a comment! Connect with me on FACEBOOK, INSTAGRAM, PINTEREST and join my TELEGRAM CHANNEL. Scroll down and subscribe to my newsletter to get my recipes on your email!
Enjoy!
Ines
Keto chili con carne – low carb chili with cheese crust
Keto low carb chili with cheese crust or how they call it in Europe – keto chili con carne with crust made of cheddar cheese, almond flour and few more low carb ingredients is one of my favorite keto meals ever!
Ingredients
CHILI INGREDIENTS
Lard or coconut oil 2 TBS
Finely sliced smoked bacon 60 g/2 oz
Onion diced 150 g/5.3 oz
Ground beef 800 g/28 oz
Garlic 2 cloves or 1 teaspoon garlic powder
Red paprika/capsicum 120 g/4.23 oz
Tomato purée 1 cup/200 ml
Salt 2 tsp
Ground pepper to taste
Ground red smoked paprika 2 tsp
Crushed dried chili 1 or 2 teaspoon (depends how hot you want it to be)
Cayenne pepper ½ tsp
Cumin ½ tsp
Unsweetened cocoa powder 1 TBS
Beef broth 1 cup/200 ml
Water 1 cup/200 ml
CRUST INGREDIENTS
Shredded cheddar cheese 1 cup/115 g/4 oz
Almond flour ½ cup/50 g/1.77 oz
Cottage cheese or cream cheese 2 TBS/20 g/0.7 oz
1 spring onion chopped 20 g/0.7 oz
Pinch of salt
Pinch of pepper
TOPPING
Spring onion chopped
Fresh cilantro leaves
Sour cream
Instructions
KETO CHILI INSTRUCTIONS
Melt lard in a large and deep skillet, Dutch oven or similar cooking pot and fry bacon until cooked and crispy.
Set bacon aside and keep it for the crust.
Put on remaining lard finely diced onion and fry until golden brown and translucent.
When onion is translucent add ground beef, chopped paprika/capsicum and crushed and diced garlic and stir occasionally until meat is caramelized and browned.
Add tomato puree, beef broth, water, salt, pepper, unsweetened cocoa, all other spices, stir and bring it to boil.
When start boiling cook covered for 15 - 20 minutes on medium high heat or 30 minutes on medium low heat with occasional stirring. It depends how fast you want to finish. Longer cooking gives better taste.
While chili is cooking, prepare cheese dough for the crust and turn on the oven to 180 C/350 F.
CRUST INSTRUCTIONS
Mix shredded cheddar cheese, almond flour, fried bacon, pinch of pepper and salt, chopped spring onion and cream cheese or cottage cheese.
Form the dough and spread on the parchment paper with your hands or roll in between 2 pieces of parchment paper.
When keto chili con carne is cooked put gently crust dough on top and bake for 10 - 15 minutes uncovered in a preheated oven or until crust is golden brown and baked.
SERVING
When chili is cooked and crust baked, serve it with a soon of sour cream on top.
Garnish with cilantro or chopped spring onion.
Enjoy!
Notes
Nutritional value per serving without crust: Cal 423, Fat 42 g, NET Carbs 3.4 g, Protein 17 g.
Nutrition Information:
Yield:

7
Serving Size:

2 cups
Amount Per Serving:
Calories:

526
Total Fat:

49g
Net Carbohydrates:

5.6g
Protein:

23g
This is for your information only. Please calculate your own macros with ingredients you use.