Keto blueberry pie is low carb pie with blueberries. Moist, rich and flavorful, nutrient dense family friendly dessert or delicious keto breakfast.
Do you like blueberries? I love them, especially since I started to eat keto food. I have so strong sweet tooth and I could literally eat just red meat and keto sweets and wouldn't be missing anything in my life. Of course, I try to be creative with my keto meals, so I have some really tasty keto sides here on my blog, you can check them here. But blueberries are special, I just love everything with blueberries and I have some really popular recipes with blueberries on my blog.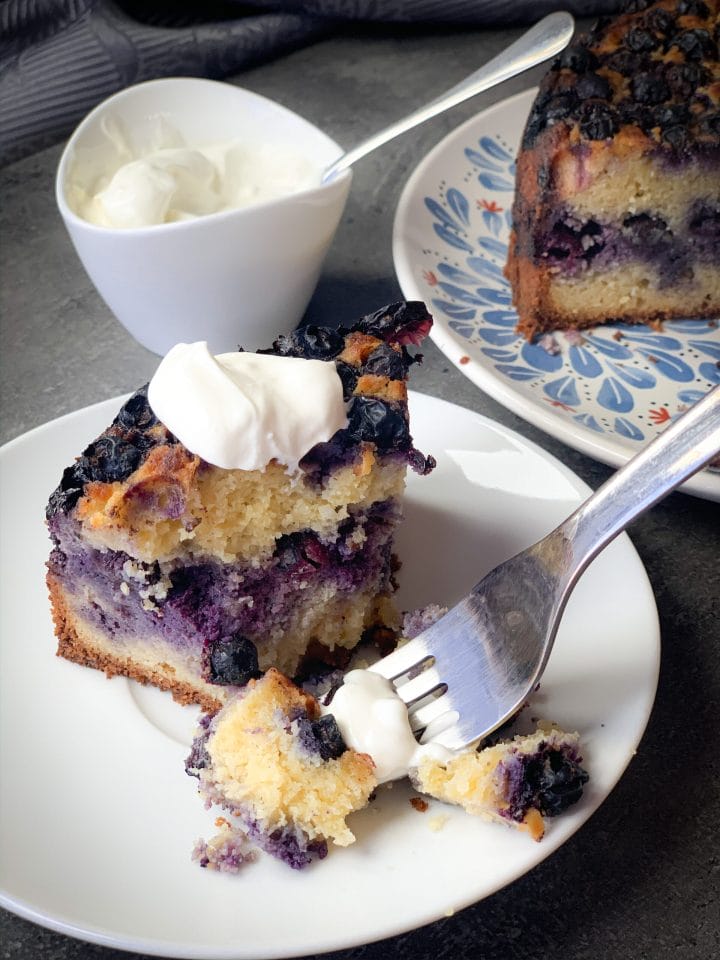 But, despite everything, I love to finish the day with a cup of coffee and a piece of a good cake. That's why I regularly bake cakes, cookies, pie... All the recipes here on my blog are actually my family's meals and desserts.
So, two weeks ago I made this yummy blueberry pie. I bought a lot of blueberries and my children couldn't eat them all, so I just wanted to bake something quickly to use those blueberries. And, it was worth of writing a blog post about it! 🙂
Keto blueberry pie was gone in few hours. My mom and sister came and "helped" us to eat it faster than usually.
HOW TO BAKE KETO BLUEBERRY PIE
Mix of almond and coconut flour - this mix of almond and coconut flour is great for keto baking and I use it very often in savory and sweet baking. So you can find similar combinations in my different recipes, for fathead dough in keto meat pie or in my classical keto yogurt cake. It always turn so good and somehow these two flours neutralizes each other. Coconut has strong coconut flavor and in combination with almond flour that flavor is suppressed. Also, coconut gives standard baking flour consistency to almond flour.
Use lemon zest of organic lemon. With lemon zest in the mixture you get completely different flavor, elevated and classy. Lemon goes fantastically with blueberries, it's just a great combination. If you have troubles with finding organic lemons, equip yourself with edible lemon essential oil. I am a huge fan of it, and I have it always in my kitchen. If you want to know more about these oils, just drop me an email on [email protected] or contact me on Instagram and I will share with you everything I know about it.

How to serve low carb blueberry pie
Sprinkle this pie with powdered low carb sweetener if you like. It's really delicious to serve a piece of this keto blueberry pie with a full spoon on sour cream. Have a cup of some good tea or coffee and enjoy. This pie could be a delicious keto breakfast also!

Share recipes!
If you like my recipes, share with friends! Connect with me on FACEBOOK, INSTAGRAM, PINTEREST and join my TELEGRAM CHANNEL. Scroll down and subscribe to my newsletter to get my recipes on your email!
Enjoy!
Ines
Keto blueberry pie
Keto blueberry pie is low carb pie with blueberries. Moist, rich and flavorful, nutrient dense family friendly dessert or delicious keto breakfast.
Ingredients
KETO PIE INGREDIENTS
Softened butter 150 g/5.29 oz
Low carb sweeter (erythritol) ⅓ cup or more if you like it sweeter.
Lemon zest of 1 organic lemon or 5 drops of edible lemon essential oil
3 medium eggs
Almond flour ⅔ cup/70 g/2.47 oz
Coconut flour ¼ cup/20 g/0.70 oz
Baking powder 1 tsp
Liquid yogurt ¼ cup/70 g/2.47 oz
FOR BLUEBERRIES
Fresh blueberries 1 cup/115 g/4 oz
Cinnamon 1 tsp
Low carb sweetener (erythritol or xylitol) 1 TBS
Sour cream for serving (optional)
Instructions
Preheat oven to 180 C/ 350 F.
Place softened butter, sweetener and lemon zest or lemon essential oil in a bowl and mix for 5 - 10 minutes or until light and creamy.
Gradually add the eggs, almond and coconut flour, baking powder and yogurt.
Mix until well combined and smooth mixture combined.
Wash blueberries, put them in a bowl and sprinkle with 1 teaspoon cinnamon and 1 TBS of low carb sweetener.
Pour half of the pie mixture in 17 cm/6 inch round baking tin, lined with a parchment paper.
Top with half of blueberries and pour the rest of the mixture on blueberries.
Top the pie with another half of the blueberries.
Bake in preheated oven with for 40 - 50 minutes or until baked.
Leave to cool and sprinkle with powdered low carb sweetener (optional).
Serve with sour cream on top (optional).
Enjoy!
Nutrition Information:
Yield:

12
Serving Size:

1 slice
Amount Per Serving:
Calories:

154
Total Fat:

14.5g
Carbohydrates:

3.94g
Net Carbohydrates:

2.47g
Fiber:

1.47g
Protein:

3.5g
This is for your information only, please calculate your own macros with ingredients you use.