Thai fried cauliflower rice is keto version of popular Thai dish with riced cauliflower, shrimp, eggs and oyster sauce. Delicious Thai flavors for low carb, easy to make lunch.
This keto recipe calls for shrimp, but you can make it with chicken, mushrooms, tofu or something else. My keto family likes this Thai flavors. That's why we have this flavorful keto dish very often for breakfast, lunch and dinner.
Real beauty of this low carb Thai dish is not only in taste but also in easiness to prepare. If you really don't have time to cook, you can make this in 5 minutes!
What do you need to prepare Thai riced cauliflower?
You will need a large skillet or a large wok, so you don't mess your whole kitchen. That's why this Thai keto meal is a recipe of choice for every busy keto mom. Imagine! One wok and few minutes to prepare delicious keto meal from the scratch!
Riced cauliflower - keto rice
I always grate my cauliflower and prepare fresh cauliflower rice. I know that now it's possible to buy frozen or fresh riced cauliflower in regular stores. How great is that!? Literally you can make your delicious keto stir fry in few minutes! And this version of low carb stir fry with cauliflower is really tasty, not even mentioning nutritional value of cauliflower instead of rice.
Proteins with riced cauliflower
You will prepare scrambled egg in wok plus another source of protein. I use shrimp or prawns. You can use chicken or mushrooms and tofu for vegetarian version or something else that you like.
Soy sauce and oyster sauce in keto recipes
I use 1 TBS of soy sauce and 1 TBS of oyster sauce in this recipe. Sauces are what is giving that authentic Thai flavor to this dish. If you want to avoid soy, you can use coconut aminos. Coconut aminos are low glycemic and gluten free - very good alternative to soy sauce. Keto people are using that a lot instead of a soy sauce. Fish sauce is also popular, so you might use that if you like. Oyster sauce is having a little bit more carbs so if you want to reduce the carbs even more, skip the oyster sauce. In that case you will probably have to put sam salt. But, without the taste and aroma of the oyster sauce, it won't be the same. So, it's better to save your carbs somewhere else and use this oyster sauce.
How to make Thai fried cauliflower rice?
You just need 5 minutes of time to fry everything in a large wok dish. First you need to heat the oil and gradually add finely chopped onion. When onion is translucent add shrimp.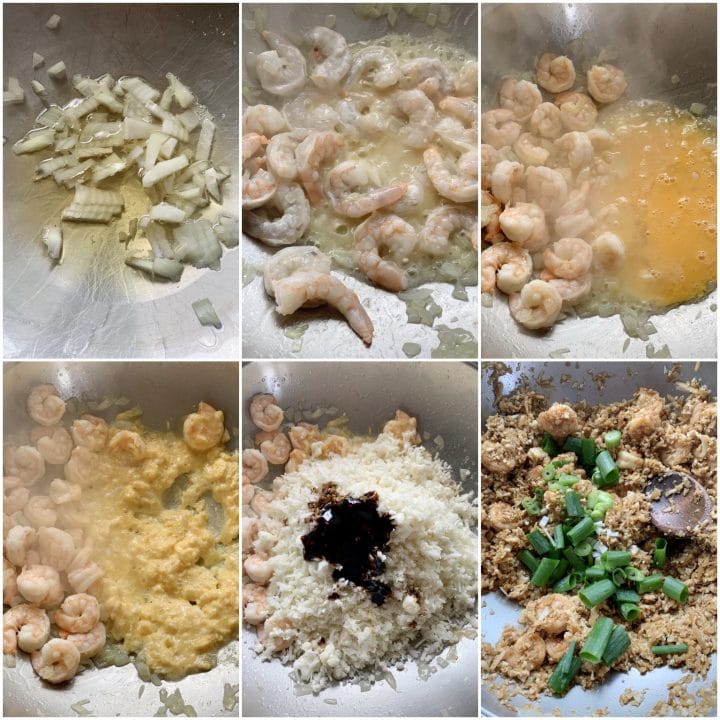 When you notice that shrimp are becoming orange colored, push onion and shrimp on one side and scramble eggs.
When you are done with eggs, add riced cauliflower, powdered garlic and sauces. Stir everything for 2 minutes, add chopped green onion, stir and eat!
For extra flavor and to add more fat to your meal, drizzle finished fried cauliflower rice with non refined sesame oil or peanut oil. That gives more flavor besides healthy fats. If you want to have more flavor and smell, you can add some fresh lime juice on top.
If you like Thai food, you will like this recipe. You can have this dish for your keto breakfast, lunch or dinner. You can even make it in the evening and have it reheated for breakfast. It will be still delicious!
If you like this recipe, please comment and share in your favorite social networks!
I recommend you to try my easy and amazing Keto peanut butter cheesecake bars or Zucchini breakfast carbonara. Both recipes are keto and really fast to prepare.
Follow me on Instagram and Facebook!
Enjoy!
Ines <3
Thai fried cauliflower rice – easy keto recipe
Thai fried cauliflower rice is keto version of popular Thai dish with riced cauliflower, shrimp, eggs and oyster sauce. Delicious Thai flavors for low carb, easy to make lunch.
Ingredients
Peanut oil 2 TBS
2 M eggs
Riced cauliflower 4 cups/450 g/16 oz
Onion finely chopped 50 g/1.8 0z
Powdered garlic 1 pinch
Shrimps/prawns 220 g/8 oz
Oyster sauce 1 TBS
Soy sauce 1 TBS
Green onion 1 piece/20 g/0.70 oz
Optional ingredients
Peanut oil or sesame oil to drizzle on top
Fresh lime juice
Fresh cilantro leaves
Crushed roasted peanuts
For serving (optional)
Fresh cucumber
Fresh tomato slices
Leafy greens
Instructions
Heat peanut oil in a large wok or a large skillet over medium high heat.
Add onion and stir fry for 30 seconds.
Add shrimps and fry for a minute together with onion.
Push everything to the side and pour whisked eggs onto the other side and scramble less then a minute.
Add riced cauliflower, pinch of powdered garlic and sauces. Stir fry for 2-3 minutes.
When it's done, and all cauliflower coated with sauces, add chopped green onion.
If you want to add more fat, drizzle with sesame oil or peanut oil on top.
For more flavor and smell add some lime juice on top.
You may garnish with fresh cilantro and crushed roasted peanuts and serve with fresh cucumbers, leafy greens or slices of tomato.
Serve hot and enjoy!
Nutrition Information:
Yield:

5
Serving Size:

1 cup
Amount Per Serving:
Calories:

130
Total Fat:

8.2g
Carbohydrates:

6.71g
Net Carbohydrates:

4.63g
Fiber:

2.08g
Protein:

10.18g
This is for your information only. Please calculate your own macros with ingredients you use.