Keto moussaka with eggplant is delicious Greek lasagna with low carb ingredients. Ground beef, Mediterranean spices, eggplant, and a thick layer of rich keto bechamel sauce.
We eat this dish very often in Croatia and everywhere in Balkans and it's part of our tradition. In my family it was made more often with potatoes but this eggplant version is much lower in carbs and it's equally delicious.
I just love this low carb dish! It's incredible how good it can be. I have never been a huge fan of eggplant and I was avoiding it until recently. Some of my friends shared how they have moussaka for lunch and I just started to be curious.
So, I took that eggplant in my hands and tried to make moussaka! Result was nutritious and incredibly tasty keto meal. Even my children love it!
TIPS TO MAKE DELICIOUS KETO MOUSSAKA WITH EGGPLANT
Ground meat
For moussaka you can use ground beef or ground lamb meat. I believe that lamb is more traditional to use but ground beef will be equally delicious and great for keto on budget. Ground beef is affordable and easy to find, so your cooking will be easy and on time.
Prepare eggplant
You can grill the eggplant, you can fry it on a pan or you can bake it in the oven in the sheet pan for 5 - 10 minutes. Every technique is good and eggplant will be delicious. I like to bake eggplant in the oven. As you could notice I always take easier way. I'm a working mom and always in a hurry. That's why baking in the oven is my choice.
Salt the eggplant
Before baking, grilling or frying cut the eggplant on slices, put some salt on it and leave it to sweat in a bowl. This step is very important because thanks to salt, water will be removed from the eggplant. You need to remove the water because you don't want to get watery moussaka. With water you're getting rid of bitterness too.
After 10 minutes of sweating, wash the eggplant slices and dry it with a cotton cloth or with a paper towel. When completely dry you can grill it, fry or bake it.
Moussaka keto meat sauce
Moussaka meat sauce is very similar to Bolognese sauce. When preparing it just cook it until it's thick enough. I put some cinnamon in this sauce, I don't put cinnamon in classic Bolognese sauce.
Keto bechamel sauce
Instead of starchy bechamel sauce that's usually made with flour, this sauce is very low carb. And it's not cooked. Actually, you can make it in a minute. Just mix cream cheese or mascarpone cheese with eggs, salt, pepper an a little bit of nutmeg. And that's your keto bechamel sauce! It's thick, and it has to be thick for low carb moussaka!
Moussaka layers
It's easy to assemble moussaka layers. Put the eggplant layer, meat layer, another eggplant layer and keto bechamel sauce on top. Sprinkle everything with grated parmesan cheese.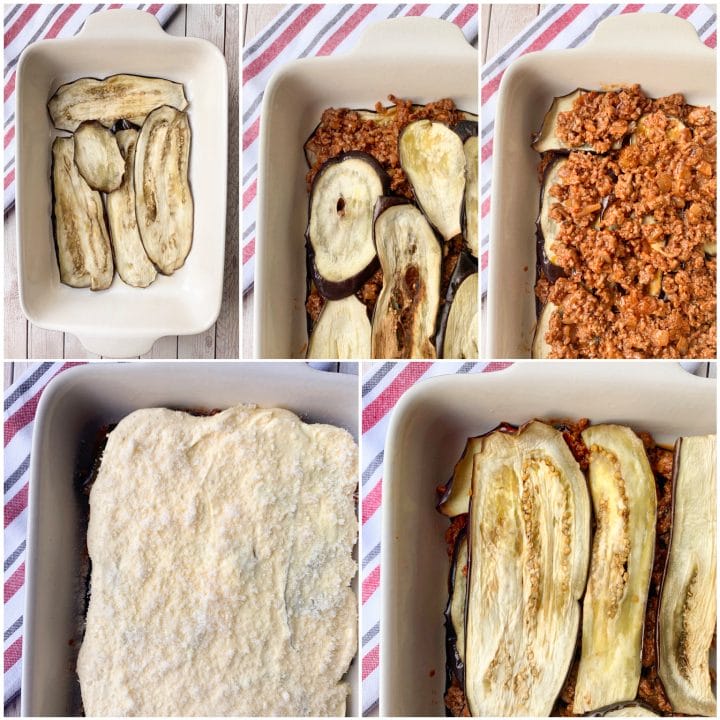 When you prepare this delicious low carb moussaka, I am sure you will need some yummy keto dessert recipe. Here is what I can recommend you:
Cake with sugar free strawberry jam
Low carb breakfast pumpkin cake
If you love my recipes, like my Facebook page and my Instagram and get daily keto inspiration!
Enjoy and leave a comment or share this recipe in your favorite social network group!
Cheers!
Ines <3
Keto moussaka with eggplant
Keto moussaka with eggplant is delicious Greek lasagna with low carb ingredients. Ground beef, Mediterranean spices, eggplant, and a thick layer of rich keto bechamel sauce.
Ingredients
EGGPLANT
Eggplant 400 g/14 oz
Salt 1 tsp
MOUSSAKA MEAT SAUCE
Olive oil 1 TBS
Ground beef 450 g/16 oz
Onion 50 g/1.7 oz
Sugar free tomato sauce ½ cup
Tomato paste 1 TBS
Water or beef broth ½ cup
Salt to taste
Pepper to taste
Powdered garlic ¼ tsp
Cinnamon ¼ tsp
Oregano ½ tsp
Basil ½ tsp
1 bay leaf
KETO BECHAMEL SAUCE
Cream cheese or mascarpone cheese 200 g/7 oz
1 M egg
Pinch of salt
Pepper to taste
Pinch of nutmeg
Pinch of powdered garlic
TOPPING
Parmesan cheese 2 TBS
Instructions
PREPARE EGGPLANT
Slice eggplant to thin slices.
Salt it generously and leave it for 10 minutes to sweat in the bowl.
After 10 minutes rinse it well with a plenty of water.
Dry eggplant and put it on a sheet pan on a piece of parchment paper.
Bake for 10 to 20 minutes in a preheated oven with vent on 180 C/360 F or until slightly softened and browned.
MEAT SAUCE PREPARATION
Heat 1 TBS of olive oil.
Sauté chopped onion on hot olive oil until translucent.
Add ground meat and stir until browned.
Add salt, pepper, powdered garlic, herbs and stir.
Pour tomato sauce, tomato paste and water or broth and stir.
Put the bay leaf and leave it to cook uncovered until water dissolved. Stir occasionally.
While cooking the sauce, preheat the oven to 180 C/360 F.
PREPARE KETO BECHAMEL SAUCE
Mix cream cheese or mascarpone cheese with 1 M egg. Add pinch of salt, pepper, powdered garlic and a pinch of nutmeg. Whisk or mix until nicely combined.
ASSEMBLING MOUSSAKA
Place half of the eggplant slices on the bottom of deep lasagna dish and top with meat sauce.
Place another half of eggplant slices on the sauce layer.
Pour everything with keto bechamel sauce.
TOPPING
Sprinkle with 2 TBS of parmesan cheese.
Bake in preheated oven with vent on 180 C/360 F for 15 - 30 minutes (depends on your oven) or until golden brown crust is formed on top.
Serve keto moussaka hot with some leafy green salad.
Enjoy!
Notes
This keto moussaka is for the deep lasagna dish size 26 x 17 x 7 cm (10 x 7 x 3 inch).
Nutrition Information:
Yield:

6
Serving Size:

1 slice
Amount Per Serving:
Calories:

392
Total Fat:

33g
Carbohydrates:

5.91g
Net Carbohydrates:

3.91g
Fiber:

2g
Protein:

15g
This is for your information only. Please calculate your own macros with ingredients you use.