Easy recipe for berry meringue keto dessert with low carb custard cream on top and chocolate shavings. Whipped heavy cream and vanilla with delicious keto meringue and berries is fantastic low carb treat!
Are you looking for a perfect keto recipe for Valentine's Day or another special day? Or you just need some no guilt dessert on your keto journey? I have this easy and delicious low carb dessert for your special day.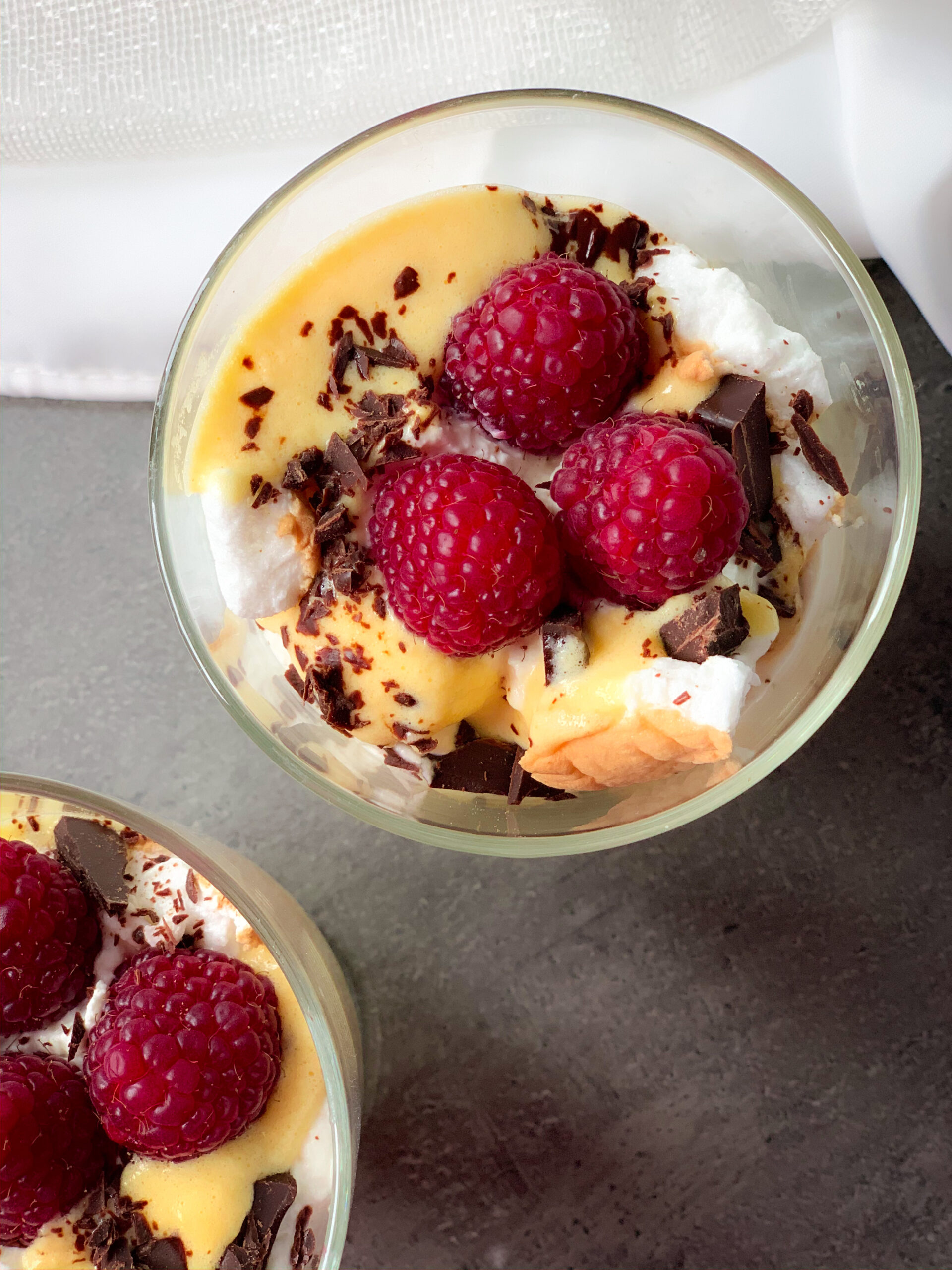 Berry meringue keto dessert for a special day!
Do you remember floating island dessert from our childhood? Oh, I loved that delicious dessert. My mom used to make it often for us.
Well, this berry meringue has very similar taste and flavor with a little addition of whipped heavy cream and some berries and chocolate.
Different from floating island is that I bake mixed egg whites in the oven so the procedure is a little bit easier.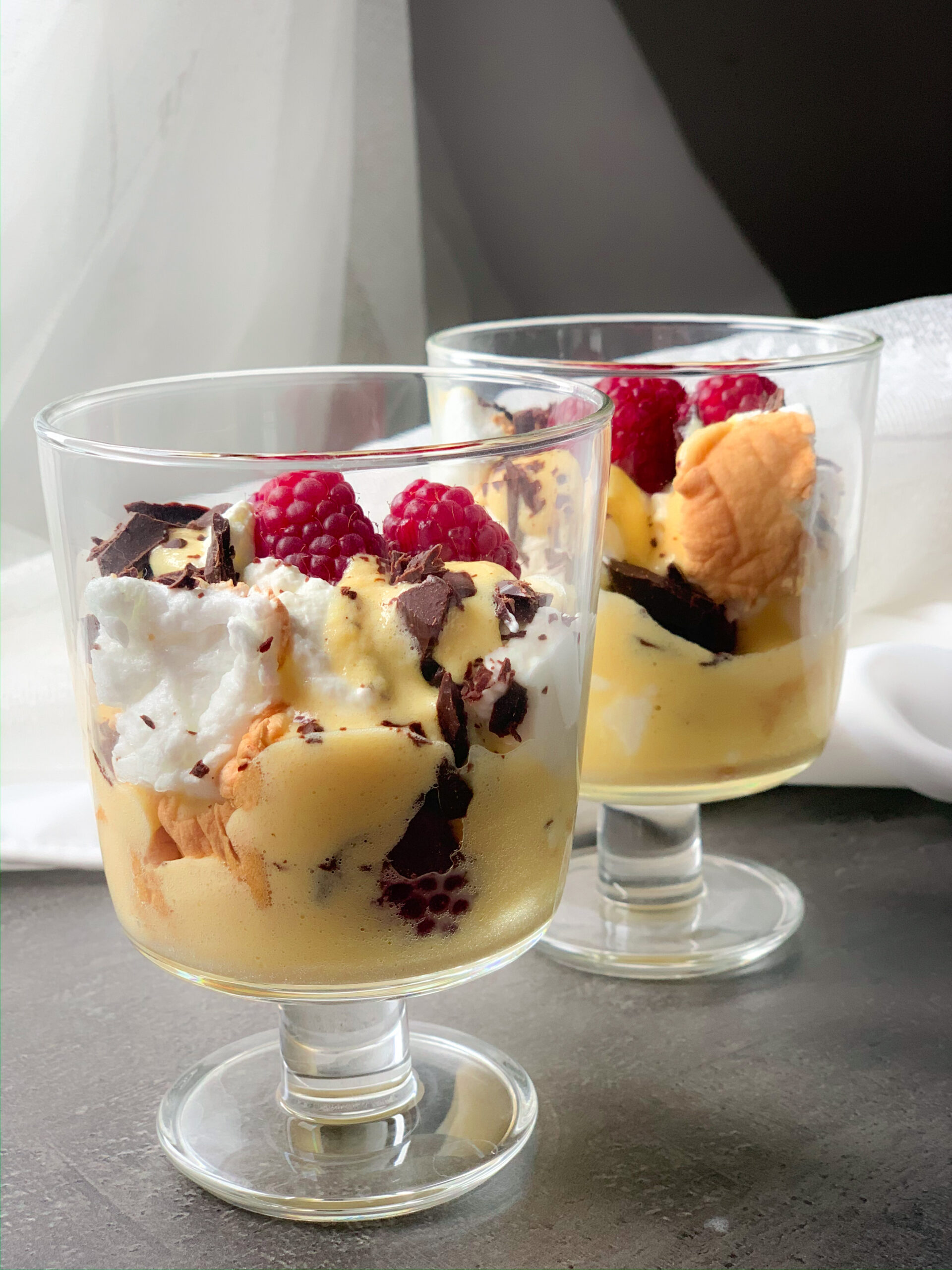 Few ingredients low carb dessert
For this keto dessert you will need literally few ingredients. Separated eggs, low carb sweetener, and a little bit of vanilla or rum and few berries. All other ingredients are optional and good to have. But if you don't have it you can still get very good and flavorful dessert.
So, if you're looking for a nice and easy to make low carb dessert, this berry meringue will be great. It works wonderfully as a last minute dessert because it's so easy to prepare and it's tasty if you serve it immediately too.
Definitely you may cool this dessert but I love it warm also. It's somehow comforting. Nice, warm vanilla custard cream is something that immediately reminds on childhood. At least in my case! 😊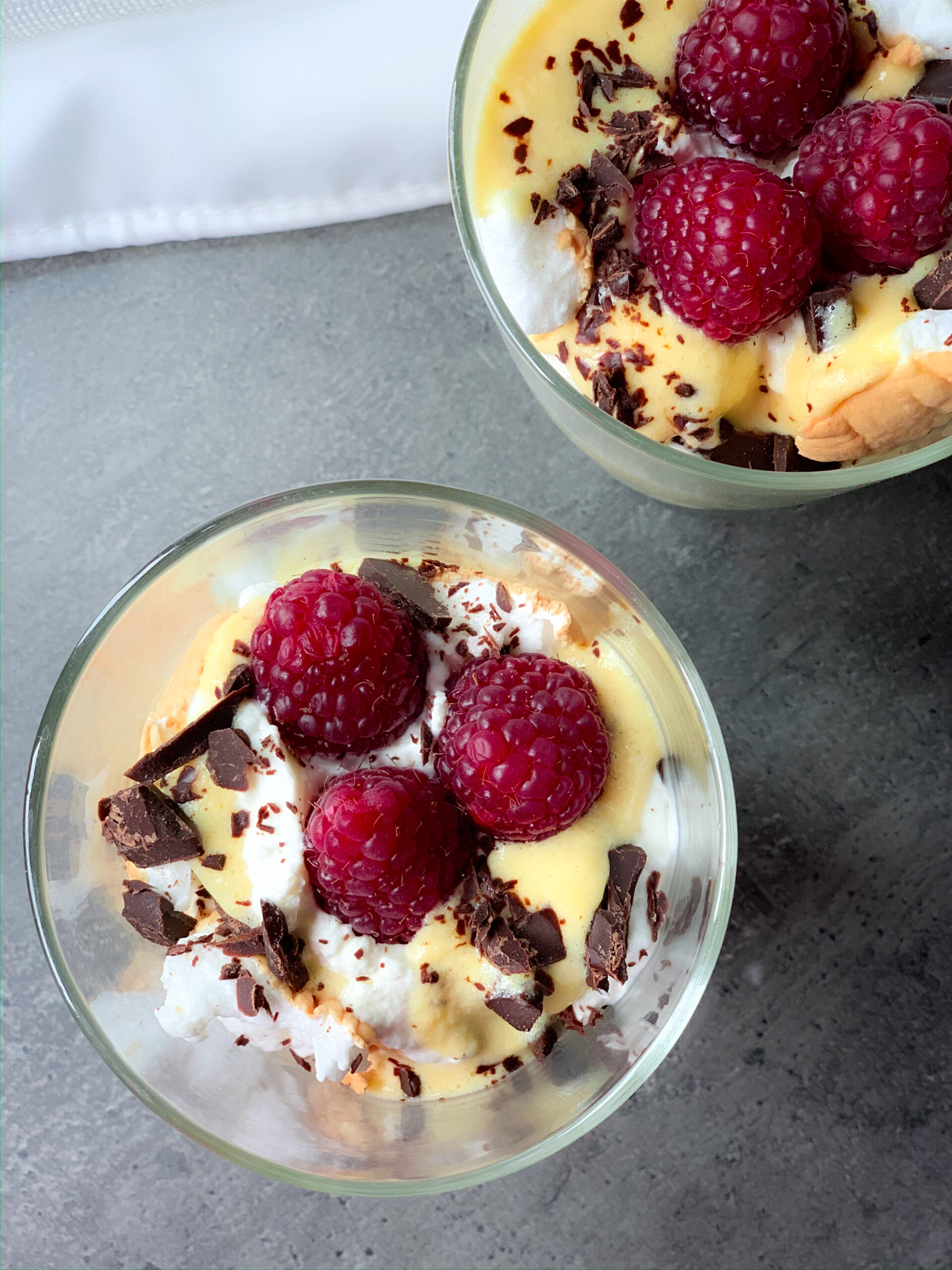 Tips for perfect keto meringue
FIRM PEAKS – Beat the egg whites with sweetener until firm peaks are formed. It should be really firm and mixture should stay on the mixer paddles. Pinch of salt and lemon juice will contribute to make really firm mixture. To make it more tasty you can add some vanilla extract.
POWDERED SWEETENER – Use powdered low carb sweetener if possible. Of course, you might use granulated also but it might turn out crunchy. Swerve, Sukrin or erythritol are fine. I like to add few drops of stevia to erythritol just to reduce cooling effect of sugar alcohol.
CLEAN BOWL Make sure to have very clean mixing bowl because if it's even a little bit greasy it might not turn out good and you won't be able to get that firm peaks.
SLOW BAKING – Bake it slow on a very low temperature no higher than 165 C/325 F. You will need to bake it for 20 minutes or until golden brown on surface. If you want it crispy and completely white you will need to bake it even slower on lower temperature at 95 C/200 F for 1 – 2 hours (depending on your oven and size of your meringue). When meringue is baked, open the oven doors and leave meringue in the oven until dry and crispy.

Try my other recipes!
Maybe you would like to try some of my most popular keto desserts:
If you like my recipes, leave a comment! Connect with me on INSTAGRAM, PINTEREST and FACEBOOK!
Enjoy!
Ines
Ingredients
KETO MERINGUE

2 egg whites

Low carb sweetener (erythritol or Swerve) 2 TBS or 1 TBS + liquid stevia 3 drops

Vanilla extract 1 tsp

Pinch of salt

Lemon juice 1/2 tsp

KETO CUSTARD CREAM/CREME ANGLAISE

2 egg yolks

Low carb sweetener (erythritol or Swerve) 2 TBS

Heavy whipping cream 1/2 cup/120 ml

Vanilla or rum extract 1 tsp

Butter 1/2 TBS

WHIPPED CREAM

Heavy whipping cream 1 cup

Vanilla extract 1 tsp

TOPPING

Finely chopped dark chocolate or dark chocolate shavings 20 g/0.7 oz

Berries of your choice (raspberries, strawberries) 1 cup/110 g/4 oz
Instructions
2
Preheat the oven to 95 C/200 F for crispy version or 165 C/325 F for softer version.
3
Line baking sheet with parchment paper.
4
Beat egg whites with sweetener, lemon juice, pinch of salt and vanilla until firm peaks are formed.
5
Carefully distribute meringue mixture on a baking sheet layered with parchment paper.
6
Bake in preheated oven on 95 C/200 F for 1 - 2 hours or on 165 C/325 F for 20 minutes or until baked. Time to bake depends on your oven and the size of meringue or how thick it is. It is done when it's firm and you can easily release it easily from the parchment paper.
7
After baking leave it in the oven with open doors until it's dry and crispy. If you don't want it crispy you can take it out from the oven immediately.
9
In a double boiler or in a sauce pan, over a medium heat, whisk heavy whipping cream with egg yolks, sweetener and vanilla.
10
Bring to simmer over low heat, whisking constantly for 5 minutes or until cream starts thickening and becomes smooth.
11
When it becomes thicker and staying on the spoon, remove from the heat and add 1/2 TBS of butter and whisk until becomes smooth cream.
13
Beat heavy whipping cream with vanilla extract until firm peaks formed.
15
To serve take the glasses or bowls and layer meringue, cream, berries and whipped cream as you like.
16
Pour some custard cream at the bottom, add meringue cut in cubes or crumbled, pour more cream, add whipped cream, berries and chocolate shavings on top.
17
Serve in 2 or 4 glasses (depends how big servings you want).
18
Serve warm or cold and tuck in!
Notes
This amount serves 4. Nutritional value per serving: Cal 341, Fat 33 g, NET Carbs 4.2 g, Protein 5 g. This is for your information only, please calculate your own macros with ingredients you use.