Veal steaks with caramelized onion sauce is low carb and nutritious family meal. Onion dip with veal is irresistibly tasty!
Veal steaks in a pan or skillet could be very satisfying keto friendly family dinner. When dipped into delicious onion dip you get amazingly good experience.
Best part of this keto dinner, besides it's flavorful, nutrients and other goodies is the amount of time you need to prepare it.
For this veal steaks with keto French onion dip you literally need less than 30 minutes. Freshly prepared family meal in no time!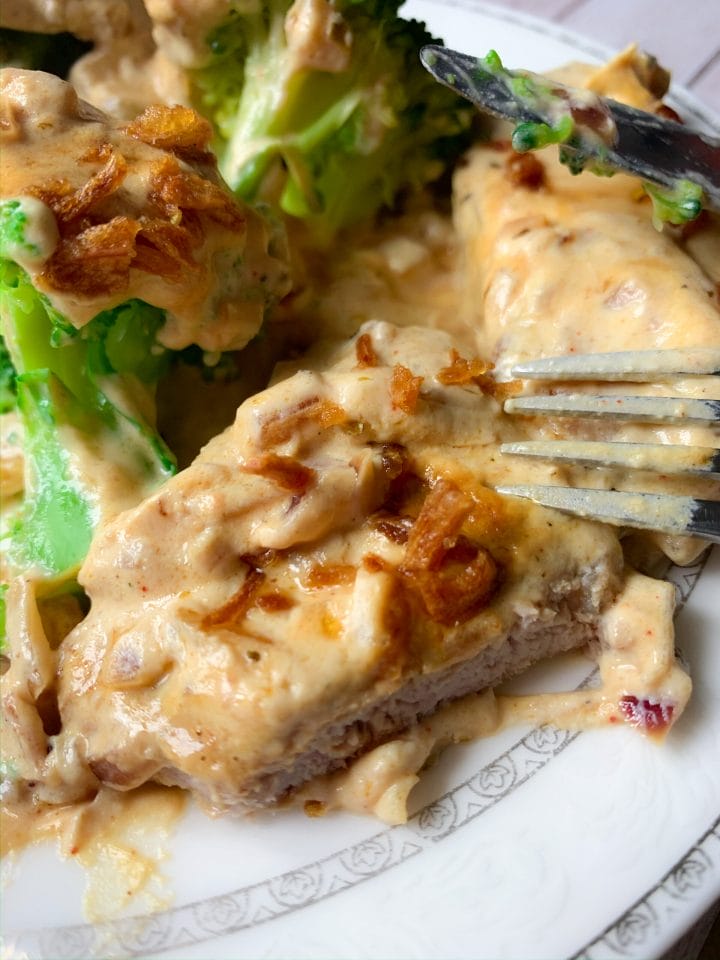 I love this type of cooking. Freshly prepared meals in less than 30 minutes in one skillet are my specialty. I was a happy child of a home stayed mom and I get used to eat freshly prepared dinners as a child.
Today I'm a working mom and traveling mom but when I am at home I tend to cook easy and nutritious meals for myself and for my family, of course. Why do I do it? Because I love to eat, I love nourishing my family, I am so happy seeing them eating and being healthy and happy.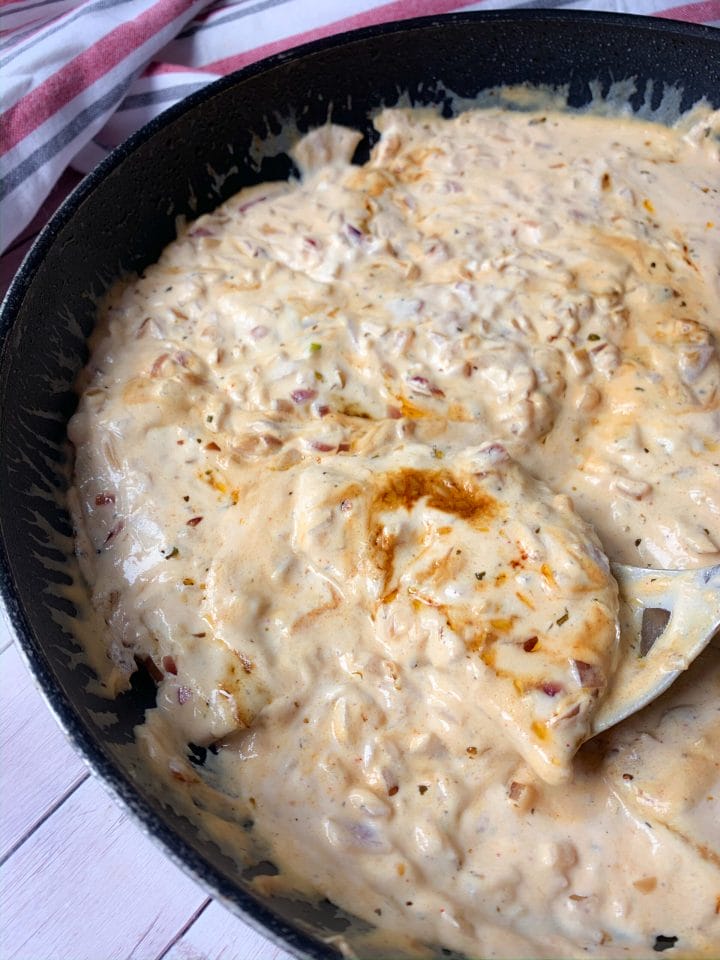 Tips for cooking veal steaks in keto onion sauce
Cook steaks on the pan or skillet and use lard, butter or olive oil. Definitely . use one of these healthy fats. Cook it until it's done and golden brown on the outside. That brown caramelized color will give the taste to meat.
Keep the fat from cooking the meat. On that fat cook finely diced onion. Onion should be caramelized, golden and translucent. When onion is translucent add other ingredients. On that way your sauce will get deep and rich caramelized onion flavor.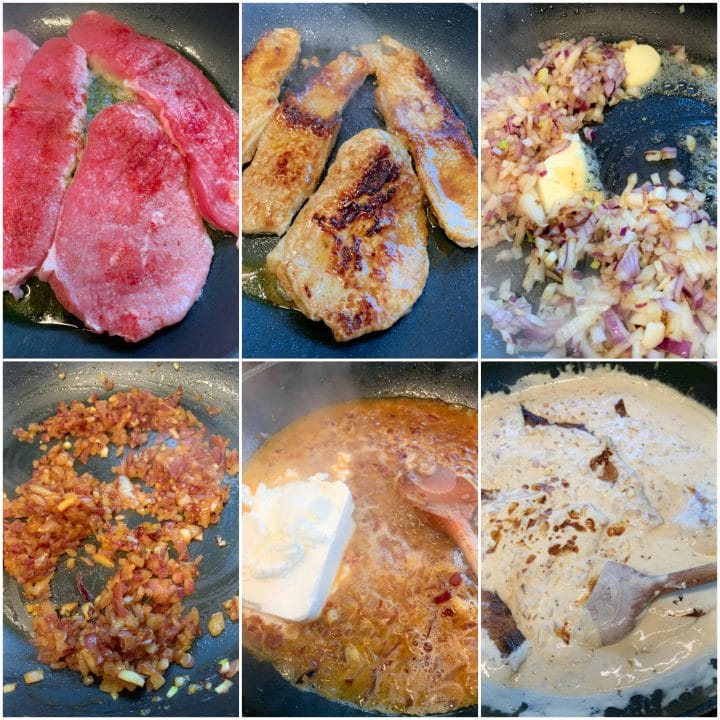 Keto French onion dip
Yes, you are right, onion has quite some carbs but onion is so healthy! From time to time you can treat yourself with a little onion! Despite everything, this meal is low carb and great for keto diet. If you love onion, you will definitely love this keto caramelized onion sauce. Caramelized onion in combination with Mediterranean herbs and cream cheese is wonderful and goes great with these veal steaks.
You can make it as a separate dish and pour it over any steamed veggies like cauliflower, broccoli or green beans.
Serving veal steaks with caramelized onion sauce
This veal steaks with onion gravy are rich in taste so you can serve them with cauliflower mash, broccoli mash or with steamed broccoli or steamed green beans.
I love this dish served with my keto cauliflower gnocchi. They are so easy to prepare and go fantastic with this delicious French onion dip.
You can even make this keto onion dip only and serve it with cauliflower gnocchi, without meat and it will be still very tasty and flavorful.
Sharing is caring!
If you like my keto and low carb recipes please leave a comment and share in your favorite social network groups!
Thinking about some delicious KETO DESSERT? Here are some ideas for you to try!
Yogurt cake with cream cheese frosting
Connect with me on INSTAGRAM, FACEBOOK and PINTEREST.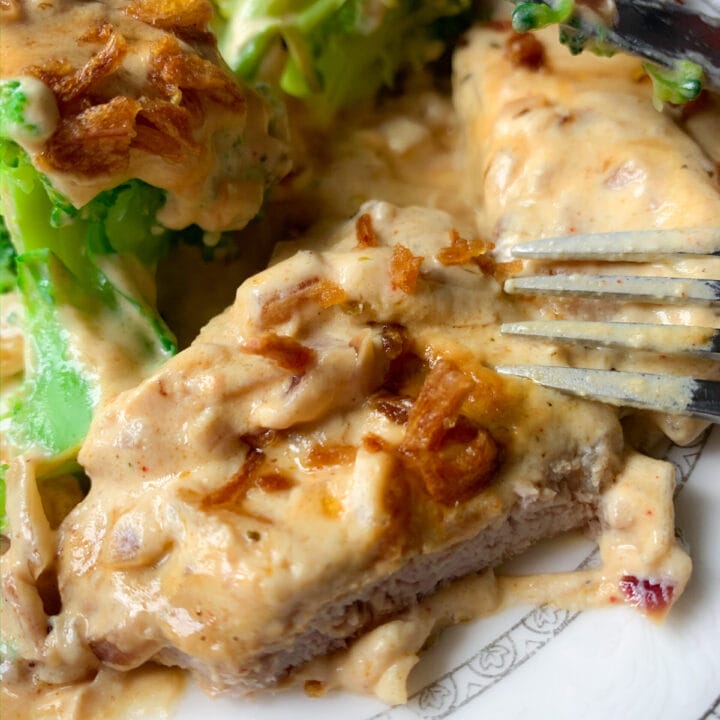 Veal steaks with caramelized onion sauce
Veal steaks with caramelized onion sauce is low carb and nutritious family meal. Onion dip with veal is irresistibly tasty!
Ingredients
VEAL STEAKS
Veal steaks 4 pieces/450 g/16 oz
Ground red paprika 1 tsp
Salt to taste
Freshly ground pepper to taste
Butter, ghee or lard 2 TBS
FRENCH ONION SAUCE/DIP/GRAVY
Onion finely diced 180 g/6.4 oz
Water or broth 1 cup
Cream cheese 300 g/10.5 oz
Salt to taste
Freshly ground pepper to taste
Powdered garlic 1 tsp
Cayenne pepper ½ tsp
Dried oregano 1 tsp
Dried basil 1 tsp
Fried crispy onion 1 TBS to garnish
Instructions
Season the steaks with salt, pepper and ground paprika.
Heat the lard, ghee or butter and cook the veal steaks 3 - 5 minutes on each side or until golden brown on the edges and cooked.
Remove cooked steaks and set them aside on a plate.
Put finely diced onion and a pinch of salt on remaining fat and add 2 TBS of butter. Cook the onion on medium heat and stir occasionally until onion is translucent, golden and caramelized. You will probably need at least 10 minutes to get caramelized onion.
When onion caramelized add 1 cup of broth or water, cream cheese, powdered garlic, oregano, basil, pepper and cayenne pepper and salt to taste (if using broth be careful with salt, it's the best to try). Stir everything well until nicely combined.
Put the steaks in the sauce and leave it on a medium heat for 2-5 minutes or until sauce is thick enough.
Serve veal steaks with caramelized onion sauce with steamed veggies, cauliflower mash or with cauliflower gnocchi.
Garnish with crispy fried onion (optional).
Enjoy!
Nutrition Information:
Yield:

4
Amount Per Serving:
Calories:

4.27
Total Fat:

33g
Carbohydrates:

6.3g
Net Carbohydrates:

5.4g
Fiber:

0.9g
Protein:

2.6g
This is for your information only. Please calculate your own macros with ingredients you use.