Coconut dessert in glass is keto, vegan and dairy free. Family friendly keto coconut dessert recipe is refreshing and flavorful. No bake, just mix all ingredients together and enjoy!
Do you like keto coconut recipes!?
If you're following my Family on Keto recipes, you might see that I love coconut! I already have few delicious keto coconut recipes here, keto coconut desserts and different savory keto coconut dishes.
Fish with coconut and lime sauce
Keto chicken curry with coconut sauce
Coconut ice cream cake with lime
Low carb pork and coconut curry
My blog is keto, so all my recipes are low carb and keto. Coconut is fantastic ingredient for keto because it's full of good and healthy fats which we enjoy.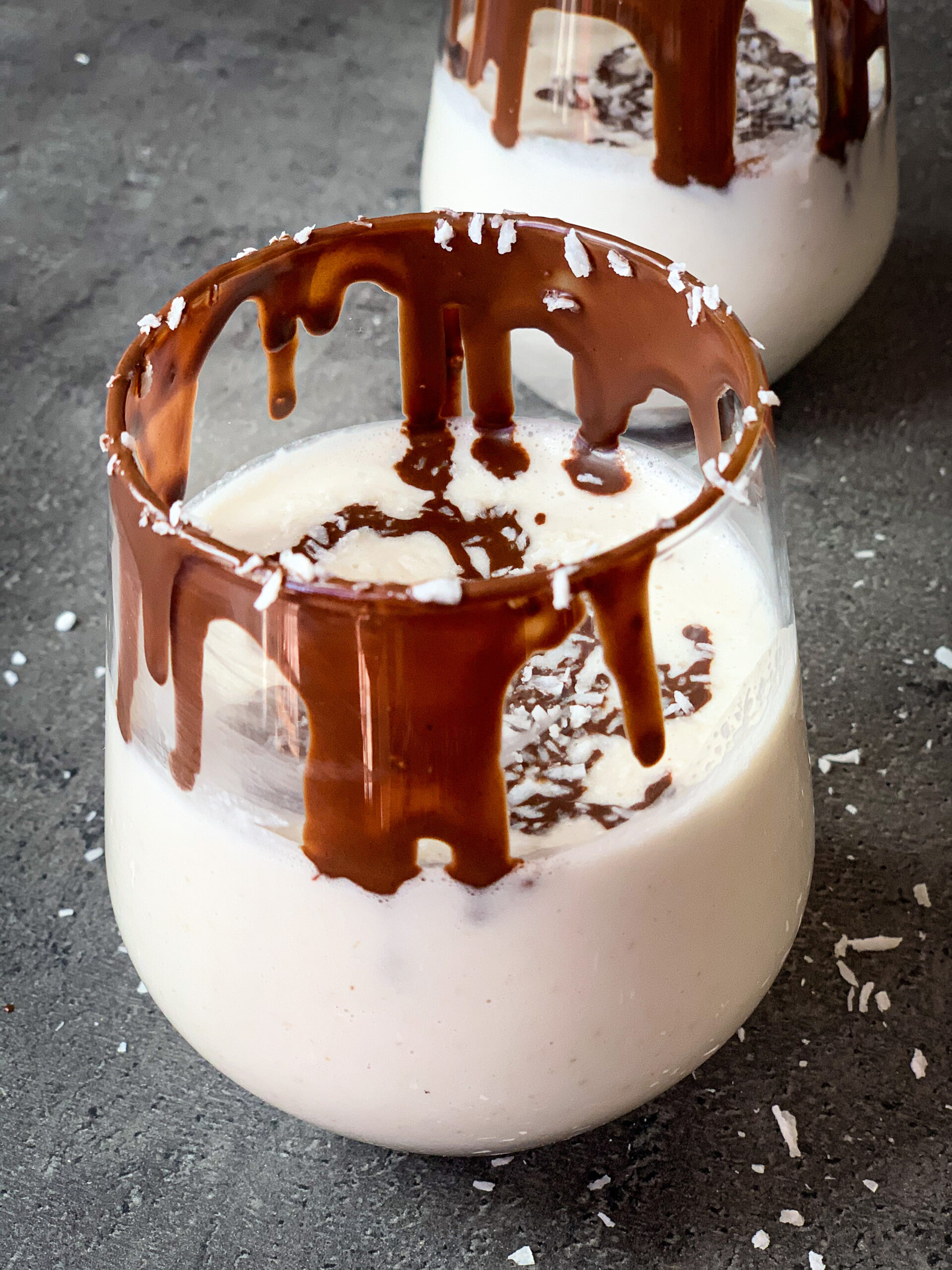 HOW TO MAKE KETO COCONUT DESSERT IN GLASS?
This coconut dessert is probably the easiest dessert to make! Literally, you just need to put these few ingredients in a blender and mix it for few minutes until it's all combined.
INGREDIENTS FOR COCONUT DESSERT
FULL FAT CANNED COCONUT
For this coconut dessert recipe you need full fat canned coconut milk. Full fat coconut milk is great option for keto vegans too. Because of coconut milk, this is dairy free coconut dessert and dairy free keto dessert.
TOASTED SHREDDED COCONUT
You may use shredded coconut that is not toasted, but if you toast it on a pan for a minute only, it will make a huge difference.
When toasting, extra coconut smell and flavor are released and you get so much more out of this ordinary coconut dessert in a glass.
LIME JUICE IN KETO DESSERT
Lime juice is great addition to coconut. It gives a little kick and somehow elevating coconut flavor.
One more thing, coconut and lime are match from heaven. Just perfect combination.
If you have organic lime, you can add lime zest too. If you don't have, I recommend you to use this amazing brand of edible lime essential oil in your coconut and lime dessert. Or any other lime dessert! You can even put it in a lemonade. It't perfect, flavorful and therapeutic grade so you will have so many benefits out of it. As always, if you want to know more, just send me an email and I will be happy to help you!
LOW CARB SWEETENER
I love using erythritol or xylitol. Both are great, just be careful with xylitol if you have a puppies because xylitol could harm them.
If you're on sweetener free lifestyle, this recipe is perfect for that too. Just skip the sweetener and enjoy! I love it sweetener free best!
LIKE AND SHARE!
If you like my recipes, please, leave a comment and share to support my work!
Would you like to calculate your macros? I have an easy to use and reliable keto macros calculator!
Connect with me on FACEBOOK, INSTAGRAM, PINTEREST and join my TELEGRAM CHANNEL. Scroll down and subscribe to my newsletter to get my recipes on your email!
Enjoy!
Ines
Coconut dessert in glass - keto, vegan, dairy free
Print Recipe
Ingredients
Toasted shredded coconut 1.5 cup/120 g/4.23 oz

Canned full fat coconut milk 1 can/400 ml

Lime juice 1/2 small lime or 3 drops of edible lime essential oil

Coconut extract 1 tsp

Low carb sweetener (erythritol or xylitol) 1/4 cup

TOPPING

Dark chocolate 47 g/1.65 oz

Coconut oil 1 TBS

Sweetener 1 TBS (optional)
Instructions
2
On a large hot pan or skillet toast shredded coconut until it starts to be golden brown (it takes less than a minute). Stir all the time to avoid burning.
3
Mix toasted coconut with canned full fat coconut milk, sweetener, lime juice and coconut extract in a blender until smooth and nicely combined (depends on a blender, it will take 3 - 5 minutes).
4
Pour coconut cream in 5 smaller glasses and prepare topping.
6
Melt chocolate with coconut oil and optional sweetener in a microwave or in a small sauce pan on the stove.
7
Pour on top of each coconut cream in a glass.
8
Sprinkle with a pinch of shredded coconut.
9
Leave it in the fridge for few hours.
Notes
This amount serves 5. Nutritional value per serving: Cal 318, Fat 30 g, NET Carbs 3.91 g, Protein 3.52 g. This is for your information only. Please calculate your own macros with ingredients you use.