Easy keto coconut ice cream cake with lime is sugar free, gluten free and diary free low carb dessert. This is keto vegan coconut ice cream!
Do you like Bounty bars and ice cream? If your answer is yes, you will like this keto dessert similar to Bounty ice cream.
I like combination of coconut and lime so I use lime zest and lime juice or lime edible essential oil. I use certified edible essential oils in my cooking and baking very often. Also I am using pure essential oils for many other things. If you want to learn more about essential oils usage I can include you in our educational group. Just drop me an email to [email protected]. We are sharing experiences, DIY recipes and a lot more! 🙂
However, there is no lime in the original Bounty so you can just omit the lime if you don't like it or you want more original taste. I just had to put some lime in this coconut mixture. Lime is one of my favorite essential oils. I use it in my diffusor and putting few drops in my drinking water if I don't feel great, lacking energy, if I didn't sleep well and always when I want to boost my energy during the day.
I made this keto dessert yesterday and this morning we had it for breakfast. Why not having this dessert as a breakfast when it has good fats and other nutrients from coconut milk and extra virgin olive oil? It was really yummy and goes great with a cup of coffee. I was definitely enjoying my breakfast today! 😃
Tips for making keto ice cream cake
This recipe is a recipe for coconut ice cream cake and I am cutting it when it's frozen to ice cream bars, in shape of regular cake bars. Of course, you can put prepared ice cream mixture to popsicle molds and have it like individual ice creams or keto popsicles. This ice cream is a little bit harder when it's frozen so it's not so much for scooping. I like it better in the form of ice cake.
Paleo coconut ice cream cake
Recipe is diary free and sugar free. I use low carb sweetener erythritol. For paleo version you can use honey, maple syrup or another paleo friendly sweetener of your choice.
Coconut recipes by Family on Keto
I really like coconut in all forms, extra virgin coconut oil is my favorite oil to put in low carb desserts and for some bakings. I like coconut cakes, bread and biscuits. Here you can check some of my recipes with coconut:
Biscuits with cheddar cheese and coconut flour
Coconut flour bread without eggy taste
If you like this recipe, please leave a comment and share in your favorite social networks! It means a lot! If you want to know more about essential oils, don't be shy, just drop me an email on [email protected]!
Cheers!
Ines 💕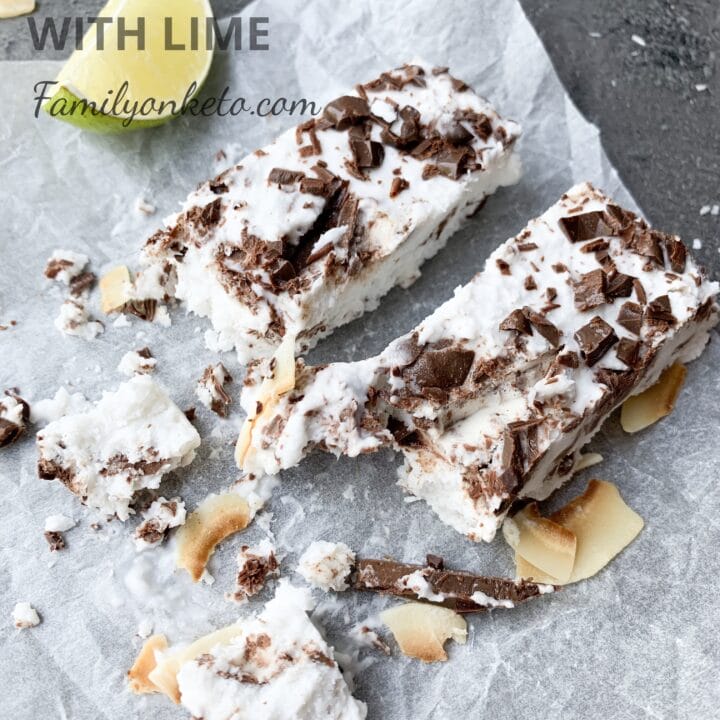 Coconut ice cream cake with lime
Easy keto coconut ice cream cake with lime is sugar free, gluten free and diary free low carb dessert. This is keto vegan coconut ice cream!
Ingredients
Coconut milk full fat 1 can/400 ml
Extra virgin coconut oil 4 TBS
Low carb sweetener (erythritol or xylitol) ¼ - ⅓ cup (adapt to your taste)
For paleo use honey or maple syrup 3 -4 TBS instead of low carb sweeteners
Shredded unsweetened coconut 1 cup/70 g/2.47 oz
Lime zest + 1 teaspoon juice or 4 drops edible lime essential oil
Vanilla extract 1 tsp
Dark chocolate 20 g/0.70 oz
Instructions
Put full fat coconut milk in a blender and add extra virgin coconut oil, sweetener, shredded coconut, vanilla, lime and blend for few minutes until everything nicely combined.
Pour the mixture into a plastic container lined with parchment paper and sprinkle with shredded chocolate on top.
Keep it in the freezer for at least 1 hour.
Cut it into ice cream cake bars and serve.
Enjoy!
Nutrition Information:
Yield:

6 slices
Serving Size:

1 slice = ⅙ amount
Amount Per Serving:
Calories:

297
Total Fat:

29g
Net Carbohydrates:

3.85g
Protein:

2.65g
This is for your information only. Please calculate your own macros with ingredients you use.