Keto baked low carb stuffed peppers Balkan style! Hearty low carb peppers stuffed with ground beef and zucchini in delicious tomato sauce.
Summer is here and we have to use our delicious homegrown peppers because we have a lot! There a few good ways to use them, you can make anything out of them, but stuffed are so good! There is nothing more appealing than delicious smell of baked peppers. Especially when you prepare it Balkan style!
It's so warm outside, we are just thinking about when to go to the beach – immediately or after one more cup of coffee. Summer in Croatia is really warm! For us is quite easy because we know that we have our keto lunch cooked! This baked low carb stuffed peppers you can freeze and unfreeze when you need your yummy keto meal. Baked peppers stuffed with beef meat are delicious winter food also. Nothing can warm you so nicely like a bowl of warm tasty meal.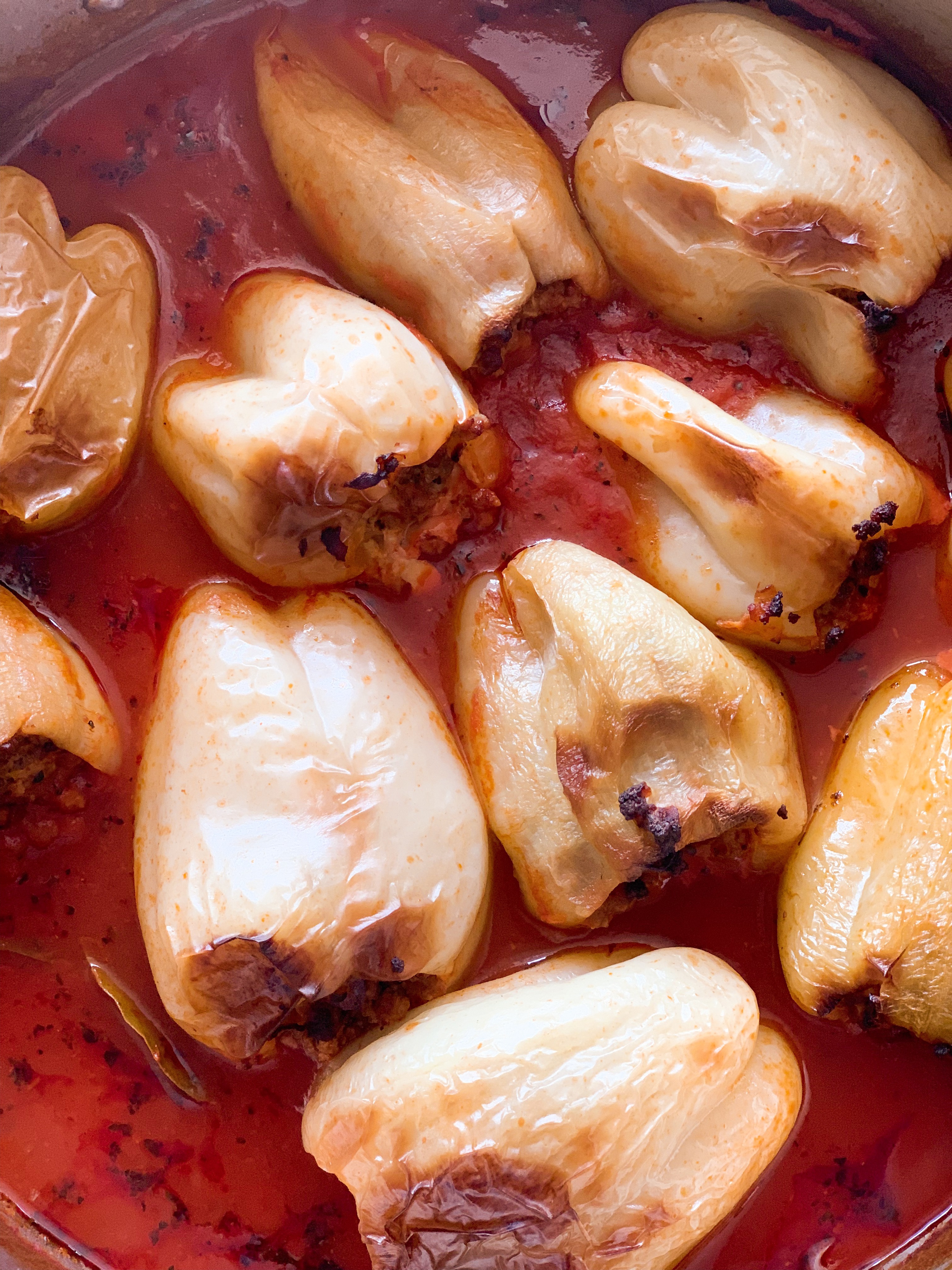 My tips for baked low carb stuffed peppers
Bake stuffed peppers in the oven uncovered first until they get nice brown color. After they are browned bake them covered until they are completely soft. They have to stay whole. Balkan style stuffed peppers have to be really well done cooked but whole!
Use grated zucchini
I got the idea to combine ground beef with zucchini from one beautiful lady and a great cook Boba Vlajsavljević. ❤️ In the original Balkan and Croatian version especially, they use rice. As we can't use rice on keto, zucchini is so good replacement. But you have to grate it and drain it really well. Squeeze grated zucchini with your hands to remove as much of the water as you can.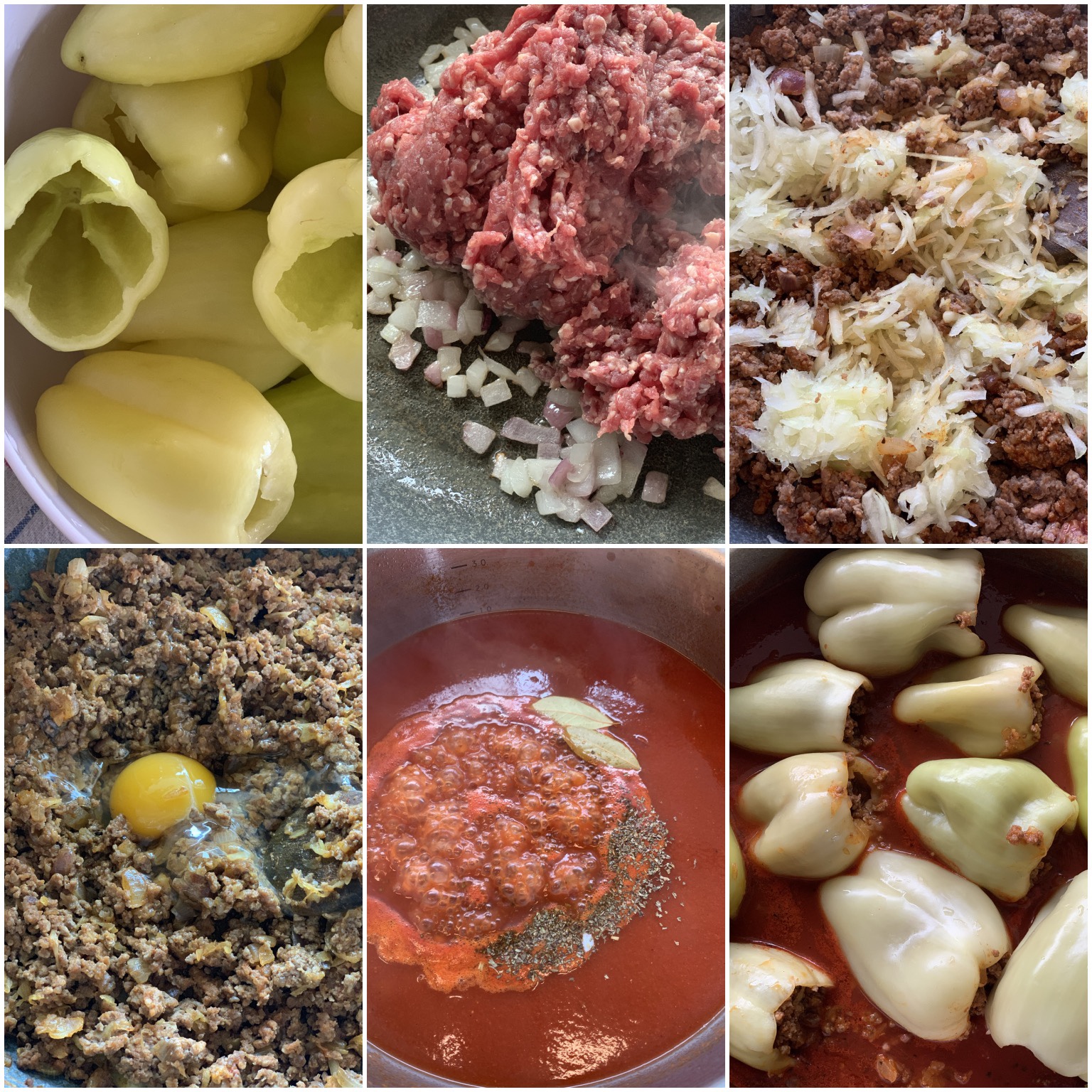 Peppers on keto
I like peppers and peppers are often on my low carb and keto menu. You can really use them on so many ways, fried in omelette, fresh or roasted in salads… For this type of Balkan way stuffed peppers in tomato sauce, I use wax peppers or Hungarian banana peppers. It's similar to bell pepper but with thinner skin.
If you like Balkan low carb and keto food, try Satarash with chicken. It's also a recipe with peppers and loaded with veggies.
Here are some of my keto sides to combine with stuffed peppers
Ingredients
Peppers 600 g/21.16 oz

Stuffing ingredients

1 TBS lard

Ground beef 600 g/21.16 oz

Onion 70 g/2.46 oz

Spring garlic or powdered garlic pinch

1 L egg

Grated and drained zucchini 2 cups/250 g/8.81 oz

Sea salt 1 tsp

Pepper to taste

Red ground paprika 2 tsp

Sauce ingredients

1 TBS lard

Onion 30g/1.05 oz

Spring garlic or powdered garlic to taste

Sugar free tomato sauce 2 cups/400 g/14 oz

Water 2 cups

Dried basil 2 tsp

Bay leaves 2 pieces
Instructions
1
Clean the peppers, remove petals and seeds and make a hollow in each pepper. Wash it from the seeds and put a little pinch of salt on each. Set prepared peppers aside and prepare the stuffing.
3
Melt 1 TBS of lard and add chopped onion (70g/ 2.46 oz), stir until golden brown and translucent.
4
When onion is translucent add ground beef and stir until browned.
5
Add grated and properly drained zucchini. It's the best to squeeze it with your hands to remove as much water as possible.
6
Stir few minutes and add salt, pepper, red paprika, spring or powdered garlic. When all the spices nicely combined with meat, onion and zucchini, remove it from the heat and add 1 L egg and combine it with the rest of ingredients.
7
Stuff previously prepared peppers and keep on the plate until you prepare the sauce.
8
Now is probably the time to turn on the oven on 190C (375F).
9
How to prepare tomato sauce?
10
Heat 1 TBS of lard and add finely chopped onion. Stir until golden and translucent.
11
When onion translucent add water, sugar free tomato juice, salt, pepper, basil and 2 bay leaves. Cook until start boiling. When sauce is boiling add stuffed peppers and bake in preheated oven.
12
Bake uncovered in the oven on 190C (375F) with vent for 20 minutes or until golden brown.
13
When peppers are golden brown cover it and bake for 15 - 20 minutes more or until peppers satisfying soft.
14
Serve stuffed peppers with cauliflower mash or a slice of keto bread.
Notes
This recipe serves 8. Nutritional value per serving: Cal 268, Fat 15 g, Carbs 10.5 g, Fiber 1.65 g, NET Carbs 8.8 g, Protein 22 g. This is for your information only. Please calculate your own macros with ingredients you use.