Keto scones with ham are low carb savory scones with ham, spring onion, cream cheese, almond flour and coconut flour. Delicious keto breakfast or snack!
I made this keto savory scones with ham leftovers from our Easter celebration. Easter ham is perfect for these delicious low carb scones.
My children asked for some food and I knew that they won't be very happy to eat ham again. 🤪 That's why I decided to make them low carb scones with ham! Xoxoxo 🙂
They eat these gluten free and grain free savory scones with yogurt. That's so wonderful combination. It could be perfect keto breakfast or keto snack. Also could be fantastic keto food to bring to work or to school, for lunch prep. If you have keto kids, this is great and healthy food for your keto kids and they will love it! If your kids are not on keto but you just want them to eat healthy breakfast or lunch in the school, this low carb scones recipe could be great for you!
I eat these yummy keto scones with sour cream. It would be good with butter or with any salty spread you like.
As you can see, I put inside finely chopped ham, spring onion and cream cheese. Full Easter leftovers scones! They could be actually good with cooked bacon and any meat leftovers you have at home. Doesn't have to be ham, however, if it's not ham, jus add some cooked bacon for the flavor.
HOW TO MAKE KETO SCONES WITH HAM
Blanched almond meal and coconut flour combination is my favorite low carb flour for all my keto baked goodies. Here you probably won't notice that small amount of coconut flour, but it gives much better structure to these keto scones.
I use blanched almond meal, it's not superfine almond flour.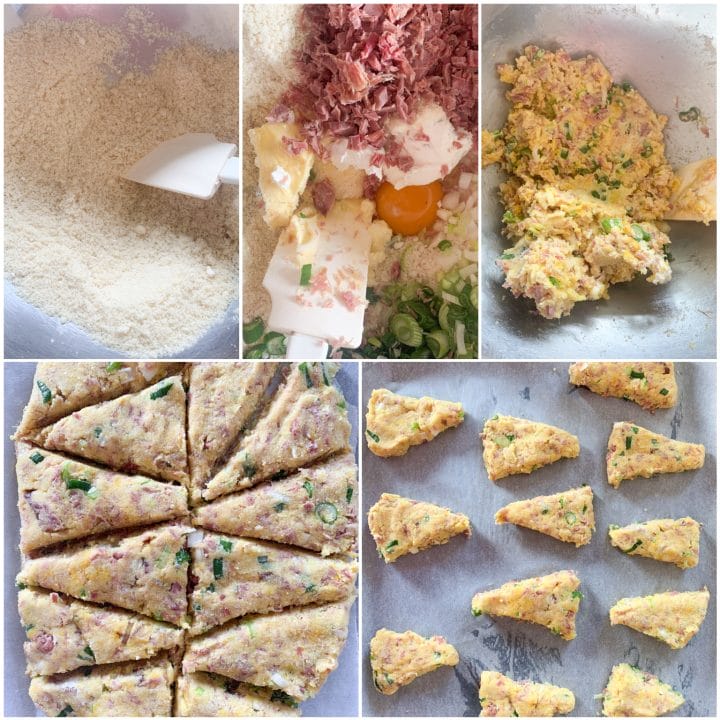 Ham leftovers are great for these scones. I think you can substitute them with cooked bacon too, just if using bacon put smaller amount (½ cup). Because bacon has stronger taste it could be too heavy. This keto scones recipe is great if you want to use any meat leftovers too, but in that case, add some cooked bacon for a better flavor.
Cream cheese is a binder here together with 1 egg and butter. You need something to keep low carb flours together with ham and spring onion.
Spring onion is great addition to ham. That's just perfect combination. Spring onion will give additional flavor and freshness to these keto scones.
SERVING KETO SCONES
These savory keto scones are perfect with yogurt, cream cheese, butter or sour cream.
You can serve them with soups, with ham and cheese for keto breakfast or with some nice salad.
Here are some recommendations of low carb dishes you can have with low carb scones
Would you like to try one of my delicious keto desserts?
Keto German chocolate cheesecake
Share with your friends and connect!
If you like this recipe, leave a comment! Connect with me on FACEBOOK, INSTAGRAM, PINTEREST and join my TELEGRAM CHANNEL. Scroll down and subscribe to my weekly newsletter to get my recipes on your email!
Enjoy and let me know how was it!
Cheers!
Ines
Keto scones with ham
Keto scones with ham are low carb savory scones with ham, spring onion, cream cheese, almond flour and coconut flour. Delicious keto breakfast or snack!
Ingredients
SCONES INGREDIENTS
Blanched almond meal 1.5 cup/150 g/5.3 oz
Coconut flour 2 TBS/20 g/0.7 oz
Baking powder ½ tsp
Pinch of salt
Ham finely chopped 1 cup/120 g/4.23 oz
1 spring onion finely chopped 20 g/0.7 oz
1 large egg
Cream cheese ¼ cup/60 g/2.11 oz
Softened or melted butter ¼ cup/60 g/2.11 oz
OPTIONAL INGREDIENTS
Pinch of garlic
Pinch of pepper
Pinch of red paprika or crushed chili pepper
Instructions
Preheat the oven to 180 C/350 F and prepare a baking tray layered with a parchment paper.
Mix almond meal and coconut flour with baking powder and pinch of salt.
Add finely chopped ham and spring onion, egg, cream cheese and butter.
Stir everything with a spoon, spatula, or with your hands to form the scones dough.
Form the scones (see photo in the blog post) and bake in a preheated oven on 180 C/350 F for 15 - 20 minutes or until baked (depends on your oven).
Serve and enjoy!
Nutrition Information:
Yield:

12
Serving Size:

1 scone
Amount Per Serving:
Calories:

153
Total Fat:

12g
Net Carbohydrates:

3.33g
Protein:

6.3g
This is for your information only, please calculate your own macros with ingredients you use.