Flourless chocolate cake keto low carb recipe with strawberries is delicious gluten free and sugar free low calorie chocolate cake for every palate.
I love this keto flourless chocolate cake! When I say flourless, I mean really flourless, without any type of flour! Without wheat flour but also this is no coconut flour keto chocolate cake and there is no almond flour.
You make this cake with eggs and sugar free dark chocolate. However, this cake is with eggs but it's not eggy!
Is flourless chocolate cake keto?
This flourless chocolate cake is definitely low carb and you can have it it moderation if you're on keto diet also! This is also a low calorie chocolate cake with only 118 calories per serving which is really low for a delicious chocolate cake!
As always, you need to adapt everything to your needs and your keto goals. If you're still not sure about your keto macros goals, you can check it here with this easy keto calculator!
Definitely, it's important to control your portions but with nutritious keto desserts everything is easier. For me it's much harder to follow keto without keto desserts because when you crave sweets and you struggle with yourself hard, you are in danger to eat sugary sweets and anything what comes to your way.
When you plan your keto meals in advance and prepare keto dessert for your busy week you have much bigger chance to achieve your goals on much easier way.
I strongly believe that we have to enjoy during every process in our life. Even if you want to lose weight with keto diet, it doesn't have to be suffering.
Keto flourless chocolate cake recipe
This keto flourless chocolate cake recipe is so easy to make. Process of preparation and baking is really fast. As majority of my keto recipes this keto cake is really easy to make. You can prepare it even if you're not experienced and skilled baker.
I'm sure you will love this recipe for gluten free chocolate cake, because my family members rank this keto dessert very high. And trust me, I bake a lot! Here are some of my other keto cakes for you to choose!
Keto German chocolate cheesecake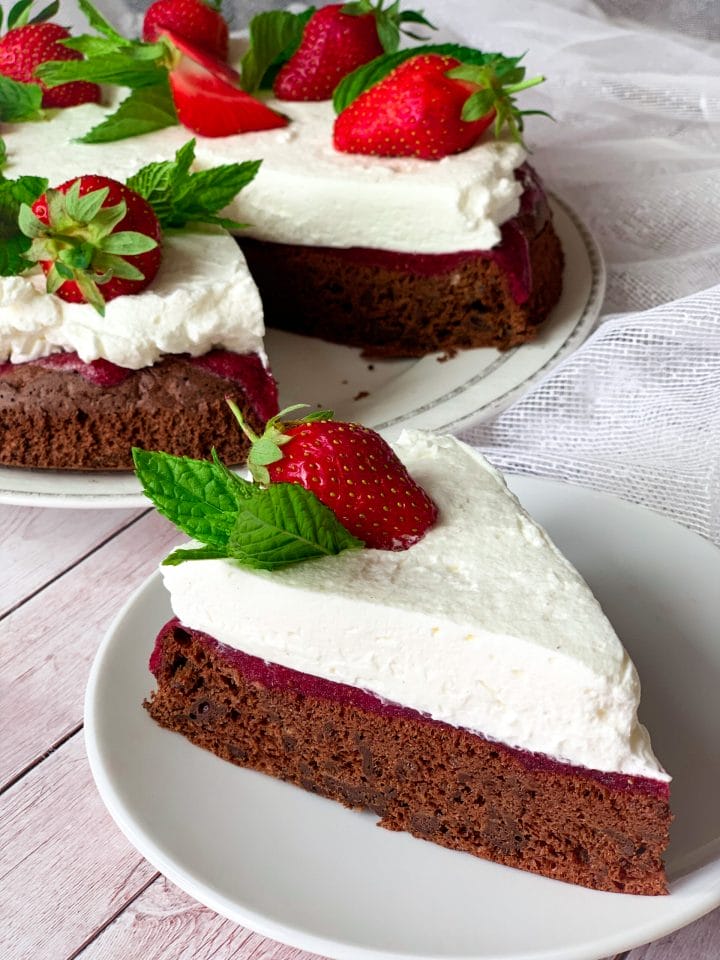 TIPS FOR FLOURLESS CHOCOLATE CAKE KETO RECIPE WITH STRAWBERRIES
Chocolate cake - this flourless chocolate cake is really easy to make. You will need to separate egg whites from egg yolks and beat or mix egg whites with low carb sweetener and baking powder until firm peaks are formed. To make it more firm I add a pinch of salt to this mixture.
Separately whisk egg yolks with melted dark chocolate. I use sugar free dark chocolate to reduce the number of carbs. You may choose dark chocolate available to you, just check the NET Carbs and what is the sweetener inside. I recommend you chocolates sweetened with stevia and erythritol or xylitol, like this dark chocolate.
After preparing two separate mixtures you need to fold them together, very gently. It has to stay fluffy but combined. If you do it to energetically it might turn to liquid and you want to avoid it to be completely liquid. After combining you just bake it for 20 to 30 minutes or until it's baked. When cake is baked it's the best to poke it with a straw like in a photo bellow so that your jam could enter to these little holes.
Sugar free strawberry jam - for this keto cake, I use my recipe for keto strawberry jam. This strawberry jam is easy to prepare and you can make it until cake is baked in the oven. Of course, you can use some store bought sugar free strawberry jam if you have access to those products.
Heavy whipping cream - for the topping I just use heavy whipping cream mixed with low carb sweetener and vanilla. So easy and delicious!
Sharing is caring!
If you like my recipes, leave a comment! Connect with me on FACEBOOK, INSTAGRAM, PINTEREST and join my TELEGRAM CHANNEL. Scroll down and subscribe to my newsletter to get my recipes on your email!
Enjoy!
Ines
Flourless chocolate cake – keto low carb recipe with strawberries
Flourless chocolate cake keto low carb recipe with strawberries is delicious gluten free and sugar free low calorie chocolate cake for every palate.
Ingredients
FLOURLESS CAKE
6 eggs separated
Low carb sweetener/erythritol ½ cup
Pinch of salt
Baking powder 1 tsp
Dark chocolate 70% cocoa 120 g/4.23 oz
STRAWBERRY JAM
Keto strawberry jam ⅔ cup
TOPPING
Heavy whipping cream 1 ¼ cup/250 ml
Powdered low carb sweetener (erythritol) ¼ cup
Vanilla extract 1 tsp
Fresh strawberries to for topping 100 g/3.5 oz
Fresh mint leaves (optional)
Instructions
CAKE INSTRUCTIONS
Preheat the oven to 180 C/350 F.
Prepare 24 cm/9 inch cake tray layered with a parchment paper.
Separate egg whites and egg yolks.
Egg whites mix together with a pinch of salt, baking powder and low carb sweetener until firm peaks formed.
Beat the egg yolks in a separate bowl.
Melt chocolate in a double boiler or in the microwave and add it gently to the egg yolks. Don't pour it immediately to avoid making scrambled eggs. Whisk until egg yolks and chocolate completely combined in a silky mixture.
Gently combine together egg white mixture with the mixture with yolks and chocolate. Don't do it too energetically because it could become liquid. Gently fold it with spatula.
When combined pour it to layered cake tray and bake in a preheated oven on 180 C/350 F for 20 - 30 minutes or until baked (depends on your oven).
When cake is in the oven, prepare keto strawberry jam. Or use store bought.
When cake is baked poke it with a straw on the surface and leave it to cool.
TOPPING
When cake is completely cooled put the jam on top.
Mix heavy whipping cream with vanilla extract and powdered low carb sweetener until firm peaks formed. Don't over mix it to avoid making butter.
Put the whipped heavy cream on top and decorate with fresh strawberries and mint leaves.
Enjoy your cake!
Nutrition Information:
Yield:

16
Serving Size:

1 slice
Amount Per Serving:
Calories:

118
Total Fat:

10g
Net Carbohydrates:

2.53g
Protein:

3.9g
This is for your information only, please calculate your own macros with ingredients you use.