Keto salmon recipe – one skillet salmon and asparagus with creamy garlic and dried tomato Tuscan sauce. This Keto Tuscan pan seared salmon with creamy keto Tuscan sauce is delicious and nutritious family friendly low carb meal!
Is salmon keto?
Salmon is definitely keto! Generally, fish on keto is always encouraged and salmon is one of the best choices. If you have an access to wild salmon that's even better!
Salmon is rich in potassium, selenium, vitamin B and especially in omega-3 fatty acids, healthy fats and protein. That's why, salmon is great for keto and low carb diet. And it's so tasty!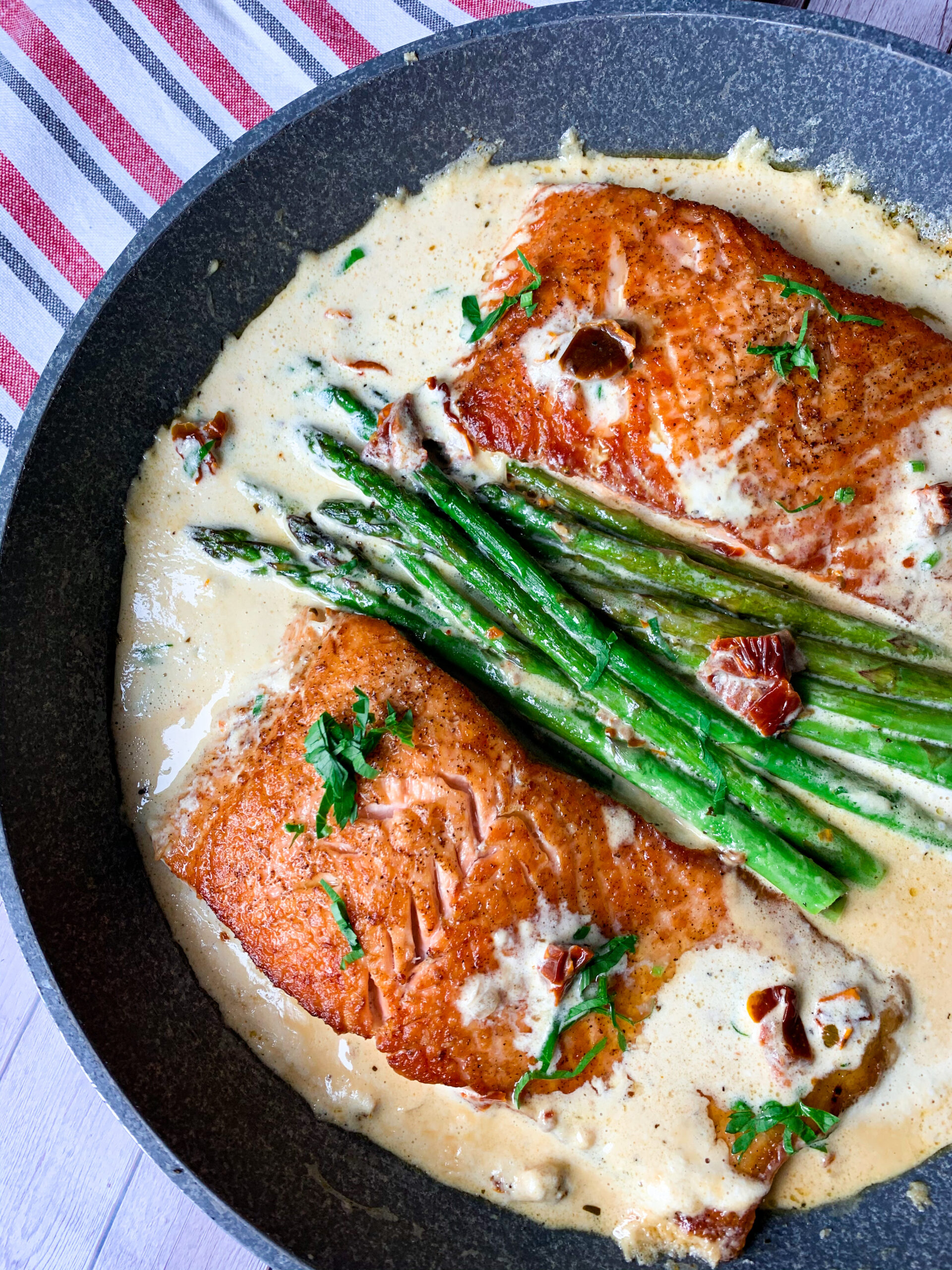 TIPS TO PREPARE KETO SALMON RECIPE IN ONE SKILLET WITH ASPARAGUS AND CREAMY TUSCAN SAUCE
One skillet keto dish
This is my favorite part of this meal, you prepare it in just 1 large skillet. I have to admit, I am a huge fan of one skillet keto meals. As a busy mom, I love keeping my cooking simple and easy to have more time for fun with my family and enjoy my hobbies, reading and learning.
Here are some of my favorite one skillet keto meals
Sauté asparagus
Before you start cooking salmon you need to sauté asparagus for just a few minutes on a hot olive oil, just a slightly seasoned. It's the best if you season every component of this dish because they actually don't cook together with sauce for a long time. Also, be careful not to put too much of salt and pepper because you will need to season keto Tuscan sauce too.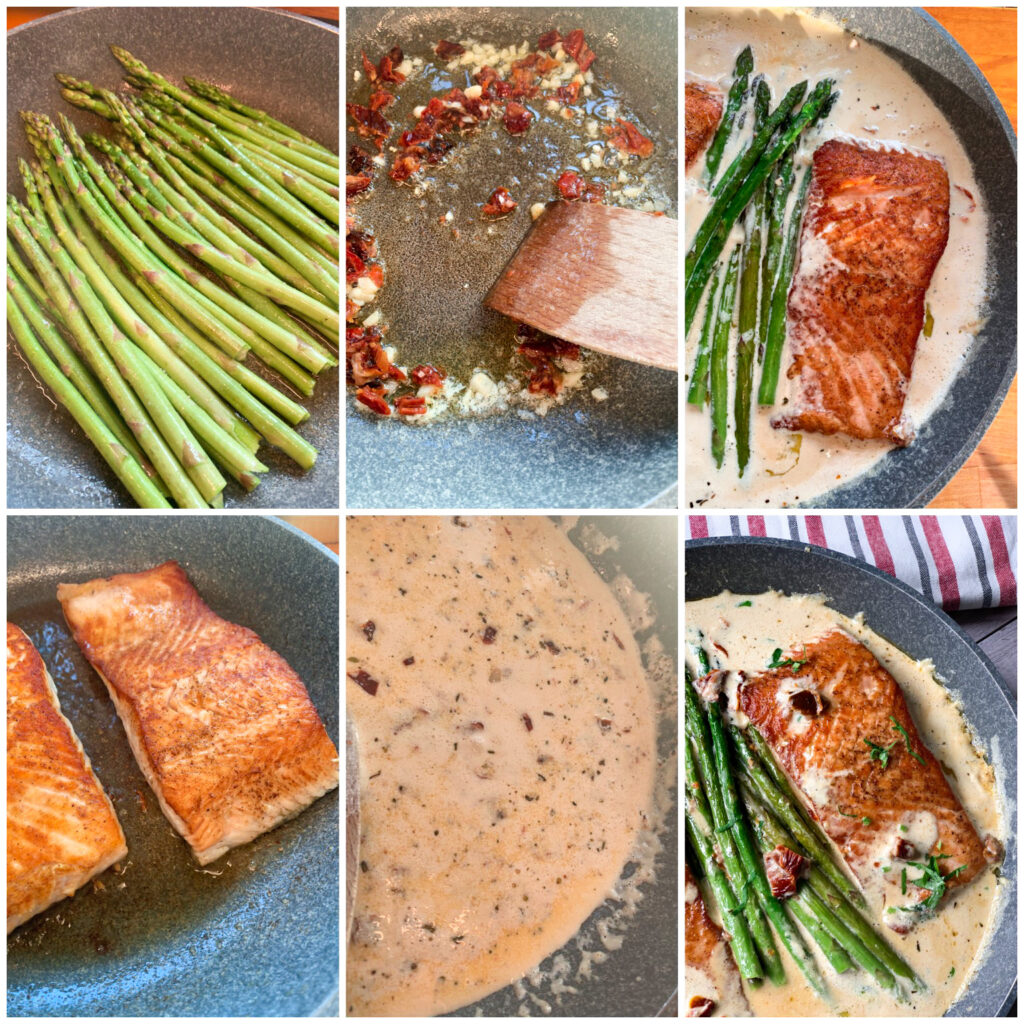 Cooking keto salmon
Salmon is also cooked on a hot olive oil and butter separately, after asparagus are done. Before cooking pat dry salmon with a paper towel and season with salt and pepper to your taste. On keto we are not afraid of salt but still be modest with salt because each component will be seasoned separately.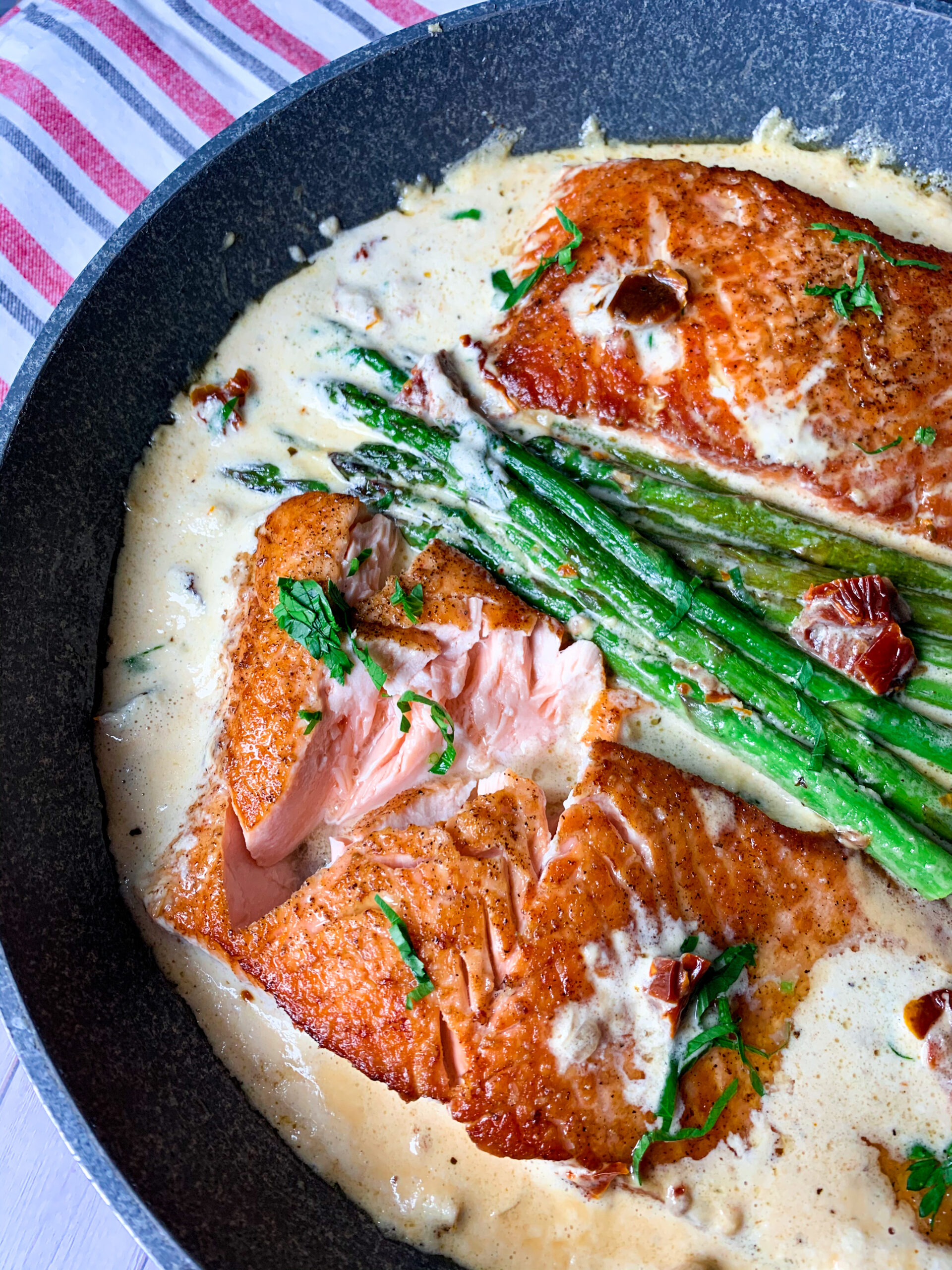 Keto creamy Tuscan style garlic sauce
After asparagus and salmon are done it's time to cook keto Tuscan style sauce. Every sauce is much better when you start with sautéed onion. Onion needs to caramelize, to be translucent and golden brown on the edges.
When onion is translucent it's time to add finely diced and crushed garlic and finely chopped dried jarred tomatoes.
Add just a little bit of dry white wine. Those 2 TBS of dry wine don't have too much of carbs in it but the difference you get in flavor and umami is incredible. If you don't have to, don't skip this part!
After 1 or 2 minutes alcohol from the wine will completely evaporate so you can add heavy whipping cream, salt, pepper and Tuscan style Italian seasoning. I buy this seasoning blend in local spice store but you can mix it yourself with basil, oregano, powdered garlic, thyme, dried tomatoes and ground paprika.
If you like your sauce to be thicker you may add 1/4 cup of parmesan cheese.
After sauce start simmering put back salmon and asparagus and cook it for 3 – 5 minutes and serve.
I love serving it just like that, delicious keto salmon with asparagus in creamy sauce. If you want another low carb side dish, I recommend you this keto cauliflower mash. It will go fantastically with this keto Tuscan sauce.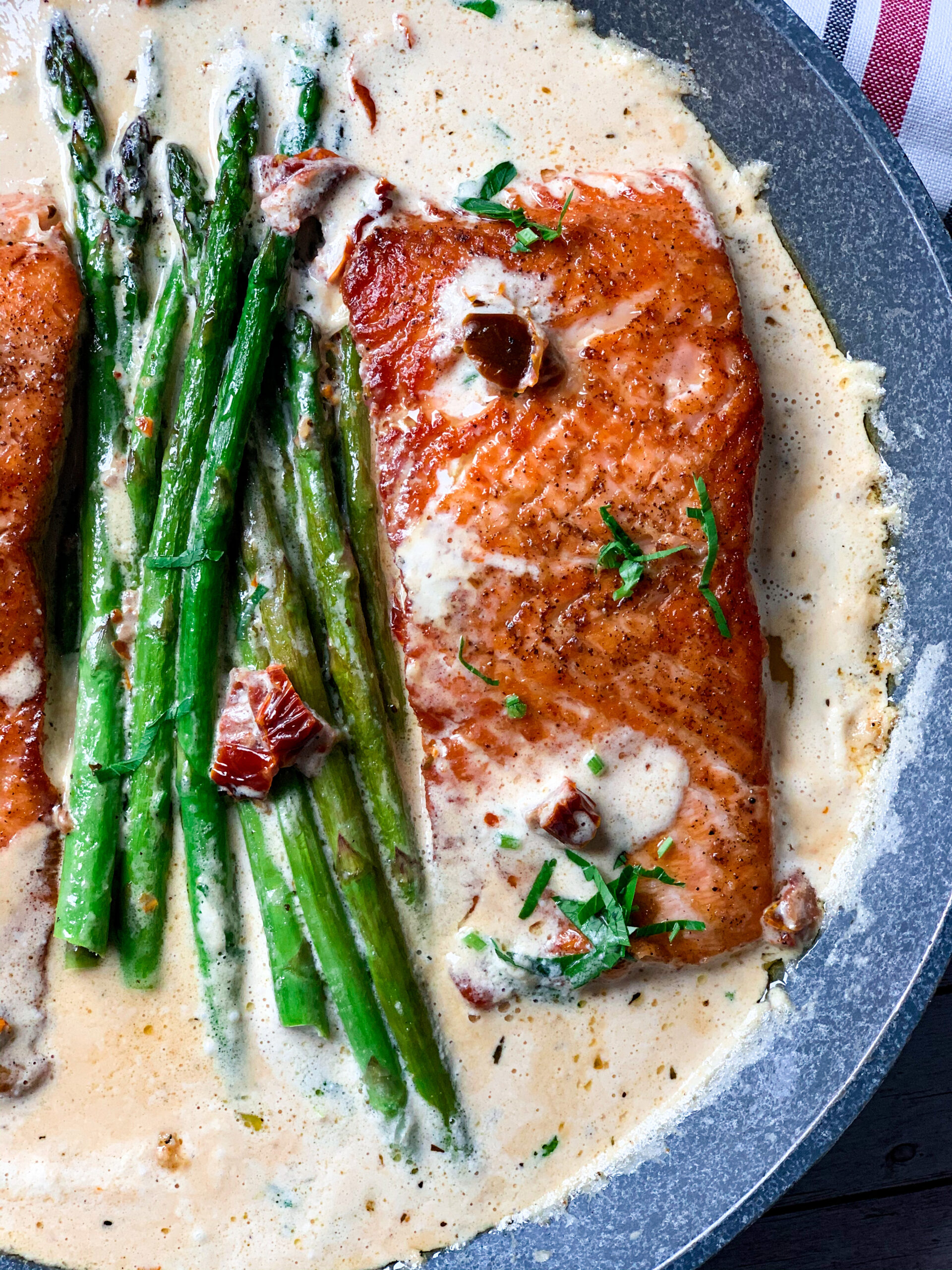 Sharing is caring!
If you like my recipes, leave a comment! Connect with me on FACEBOOK, INSTAGRAM, PINTEREST and join my TELEGRAM CHANNEL. Scroll down and subscribe to my newsletter to get my recipes on your email!
Enjoy!
Ines
Keto salmon recipe - one skillet salmon and asparagus with creamy Tuscan sauce
Print Recipe
Ingredients
FOR ASPARAGUS

Olive oil 2 TBS

Asparagus 300 g/10.6 oz

Pinch of salt

Pinch of freshly ground pepper

FOR SALMON

Fresh salmon 2 big or 4 smaller fillets 600 g/21.16 oz

Salt to taste

Peper to taste

FOR TUSCAN CREAMY GARLIC SAUCE

Butter 2 TBS

1 small onion finely chopped 20 g/0.7 oz

Garlic crushed and minced 4 cloves

Sun dried tomatoes from oil 1/4 cup/20 g/0.70 oz

Dry white wine 2 TBS

Heavy whipping cream 1.5 cup/300 ml/10.6 oz

Salt to taste

Pepper to taste

Dried basil 1 tsp

Italian Tuscan herbs blend with dried tomato 2 tsp

Parmesan cheese 1/4 cup/25 g/0.88 oz (optional)

Lemon juice 2 TBS
Instructions
2
Clean asparagus and remove hard parts. Pat dry asparagus with a kitchen paper towel.
3
In a large skillet heat 2 TBS olive oil and when hot sauté asparagus for 2 - 3 minutes. Season asparagus with a pinch of salt and freshly ground pepper.
4
After 3 minutes remove asparagus from the skillet on a plate.
6
Season salmon from both sides with salt and pepper to taste and put it on a remaining hot oil. If needed add more oil or butter. Cook salmon on the fish flesh side first and after on a skin side. Cook it for 5 minutes on each side or until cooked to your liking.
7
When salmon is cooked on both sides, remove it from the pan and set it aside on a plate.
9
To remaining oil add 2 TBS of butter, finely chopped onion and stir.
10
When onion is translucent, add crushed and minced garlic cloves and finely chopped dried jarred tomatoes and sauté for 2 minutes with stirring.
11
Add 2 TBS of dry white wine and stir for 1 or 2 minutes or until alcohol is gone.
12
Reduce the heat to medium low, add heavy whipping cream, stir all together, add salt and pepper to taste, dried basil and 2 tsp of Italian seasoning with dried tomatoes and stir until all ingredients nicely combined and start simmering.
13
For thicker sauce add 1/4 cup of grated parmesan cheese (optional).
14
When sauce combined and simmering, add 2 TBS of lemon juice and put back salmon and asparagus and cook all together for 5 minutes.
15
Serve this dish alone or with cauliflower mash.
Notes
This amount gives 6 servings. Nutritional value per serving: Cal 430, Fat 35 g, NET Carbs 3.41 g, Protein 22 g. This is for your information only. Please calculate your own macros with ingredients you use.