This keto chocolate chip cookie dough cheesecake is loaded with sugar free chocolate chips and keto edible cookie dough. Full of flavor and amazingly tasty, real food dessert!
I love cheesecakes and cookies, but my true love is this low carb edible cookie dough. OMG, I can't describe how good it is! Recently I published a recipe for keto edible cookie dough and it is absolutely delicious! I have received so many positive comments and messages about the recipe, and a logical move was to create keto cookie dough cheesecake recipe afterwards.
I even organized voting on my Instagram account and hundreds of people voted for publishing this cookie dough cheesecake recipe!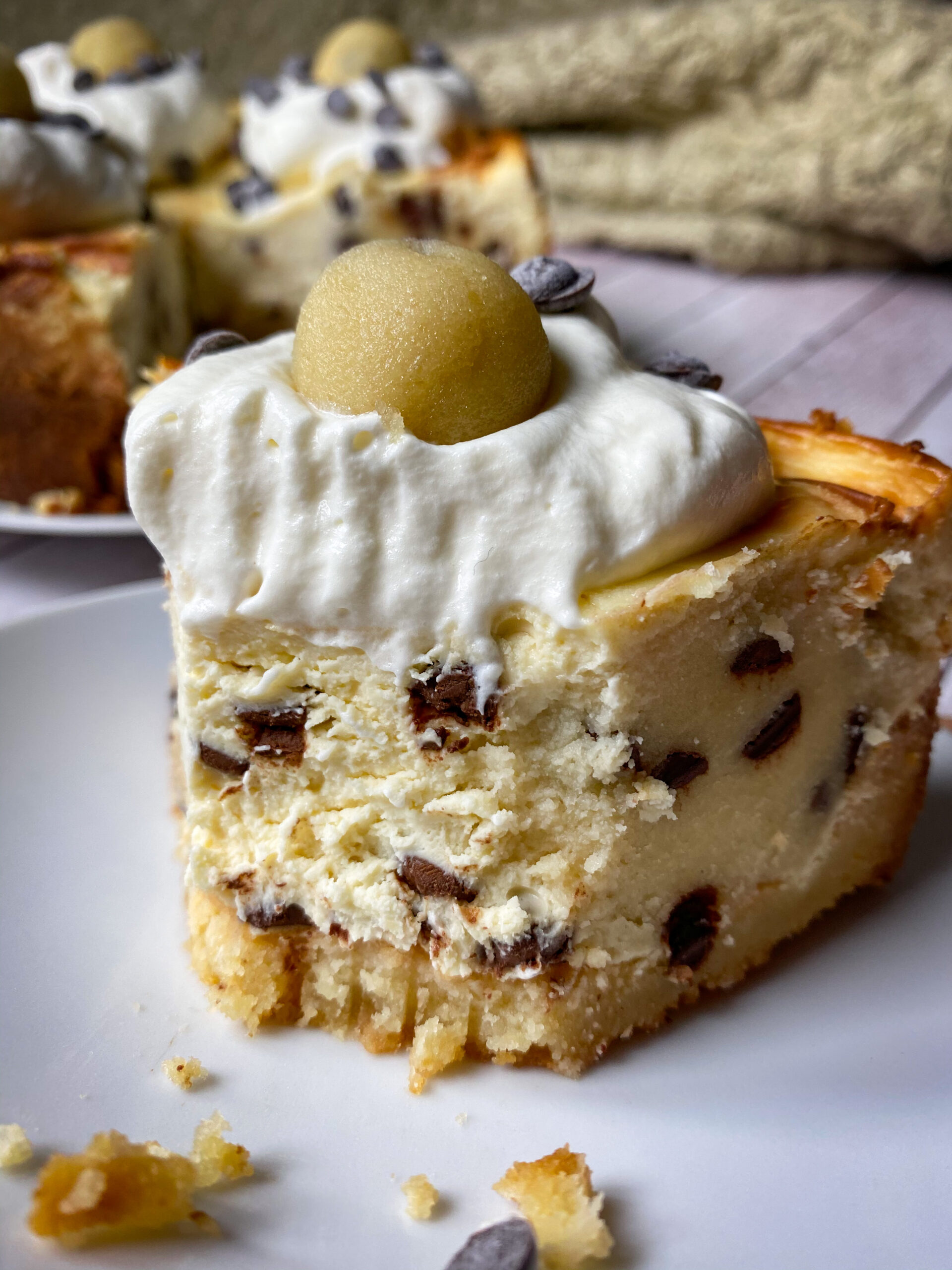 Trust me, this keto cheesecake is extremely delicious, and if you're a fan of edible cookie dough you will enjoy this recipe so much. Because this low carb edible cookie dough is so much better than the so called "real thing". I would say that this is actually a real thing because it's made with natural and real, whole food ingredients. No artificial ingredients, aromas and similar junk.
I feel really satisfied when my children are eating a slice of this easy keto edible dough cheesecake. It's sugar-free and gluten free. This dessert is also diabetic friendly.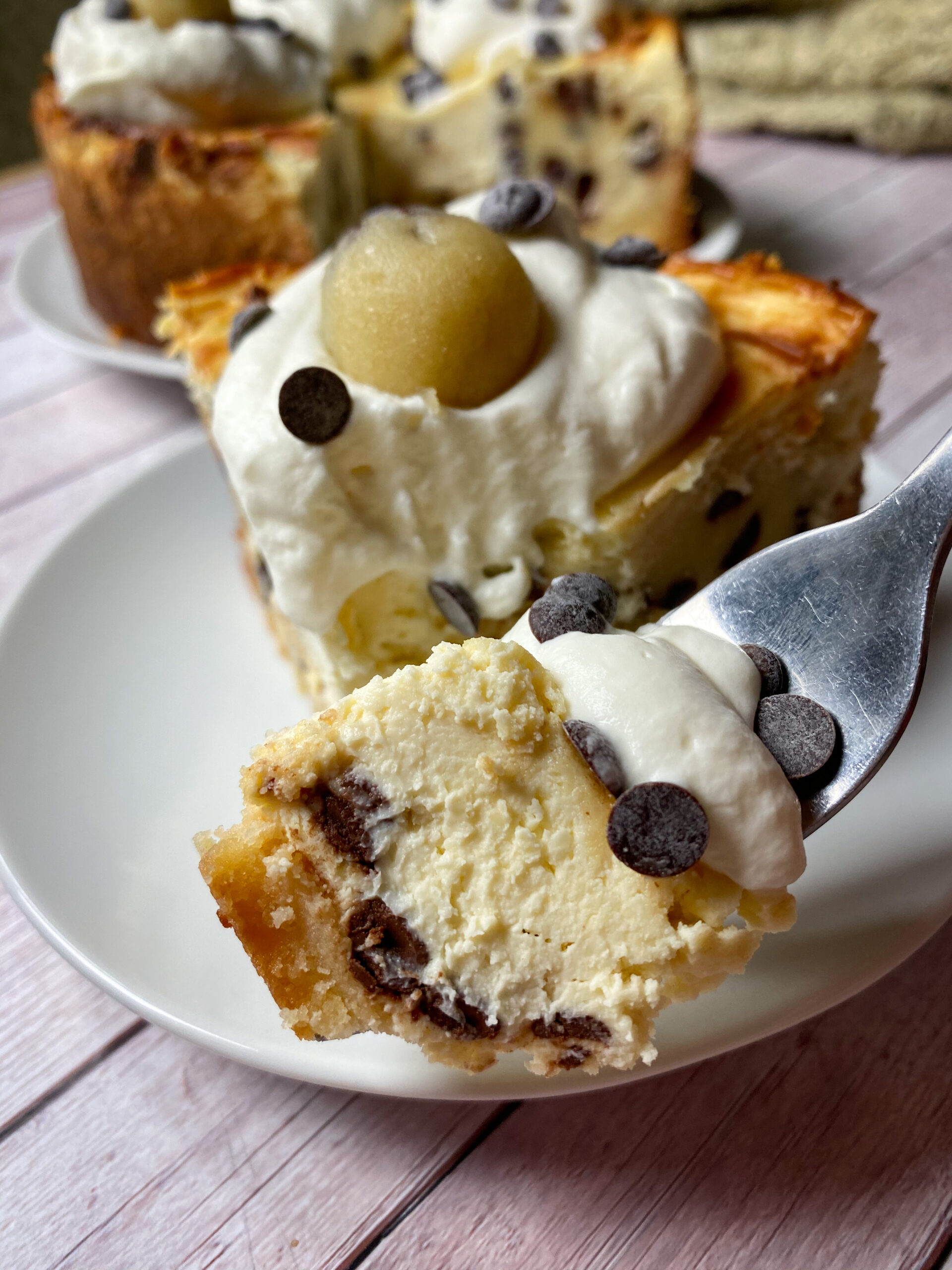 HOW TO MAKE KETO CHOCOLATE CHIP COOKIE DOUGH CHEESECAKE?
PREPARE EDIBLE KETO COOKIE DOUGH
It't easy to make this keto edible cookie dough, literally you need few minutes. Here is the recipe, and you will need a half of this amount for the cheesecake, so you may just reduce all ingredients in half or leave the half of the dough for the decoration or to eat it as a separate keto dessert. You will love it, because, it's so yummy!
It's the best if you prepare this edible cookie dough before and leave it in the fridge while you're making keto cheesecake crust. After you made a crust and whipped the cheesecake filling, you take your cookie dough from the fridge and make a little cookie dough balls.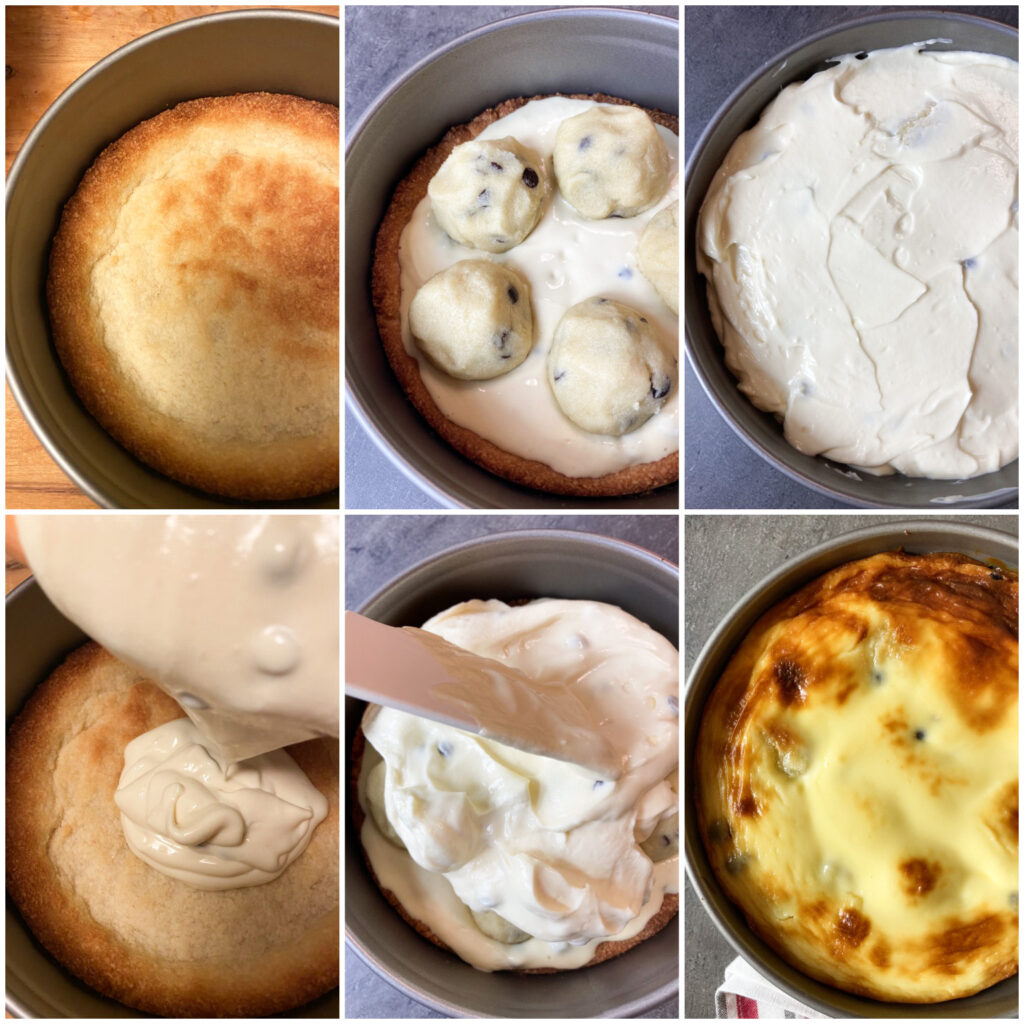 MAKE DELICIOUS KETO CHEESECAKE CRUST
I have several cheesecake and pie recipes on my blog and I can say that I have really make these pie crusts perfect! That's why I am sure you will love this keto crust on the bottom of delicious cheesecake. It's flavorful and so tasty. As all my recipes, it's easy to make, too! You literally just need to combine all ingredients in a bowl in few minutes, press it at the bottom of a cake tray layered with a parchment paper and bake!
Keto pie crusts are usually not crispy and firm immediately when you take them from the oven. You will need to leave them cool for at least 10 or 15 minutes until they become firm.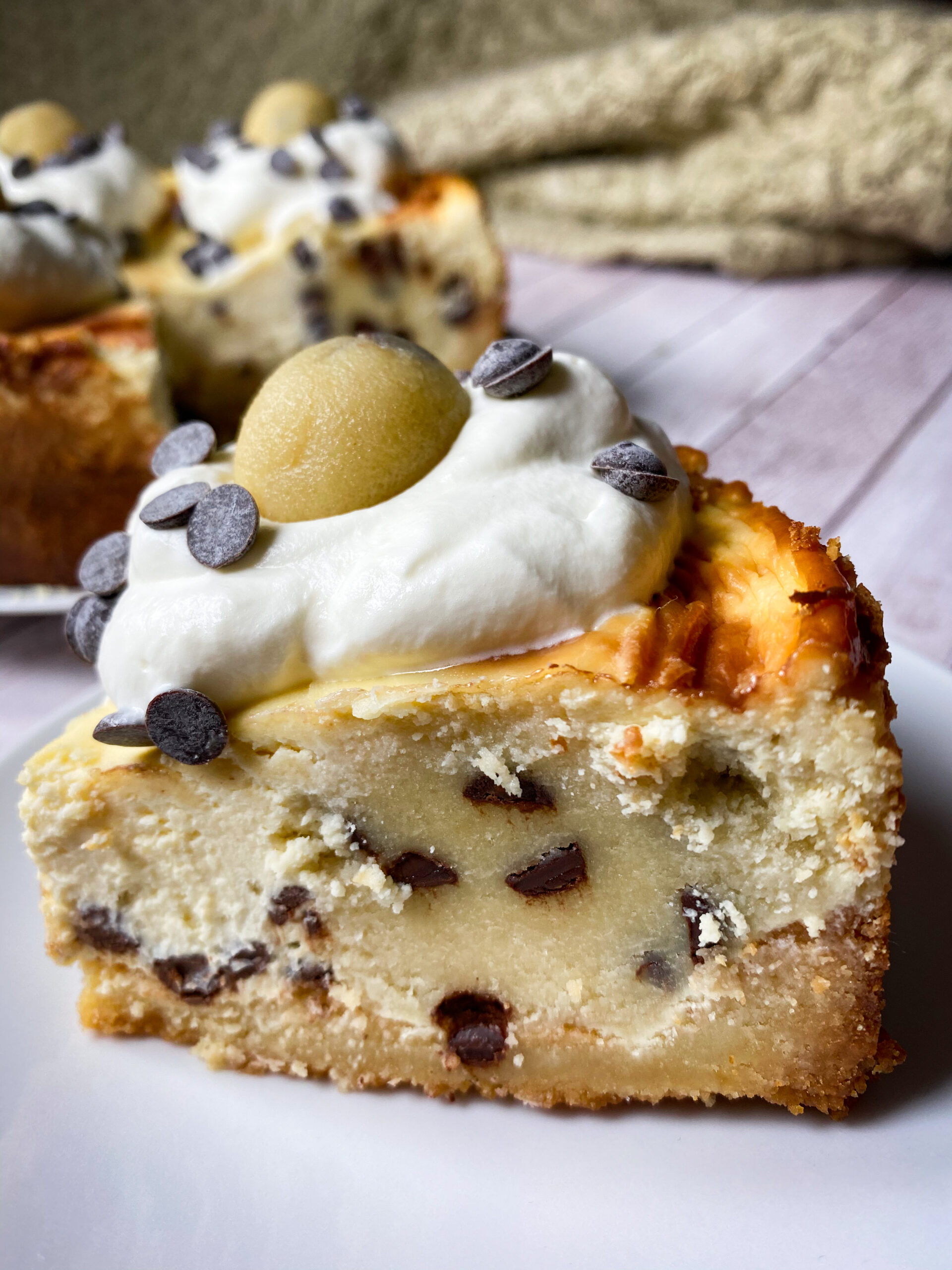 KETO CHEESECAKE FILLING
This cheesecake filling is also very easy to make, just mix all ingredients together until you get nice and smooth mixture. Pour it over the crust and keto cookie dough balls and bake for 20 to 30 minutes on 180 C/350 F and leave it to cool when baked.
It's the best to make this cheesecake in the evening so you can put it in the fridge overnight and don't think about it until completely firm. Maybe you will dream about it, but that's a different story! 🙂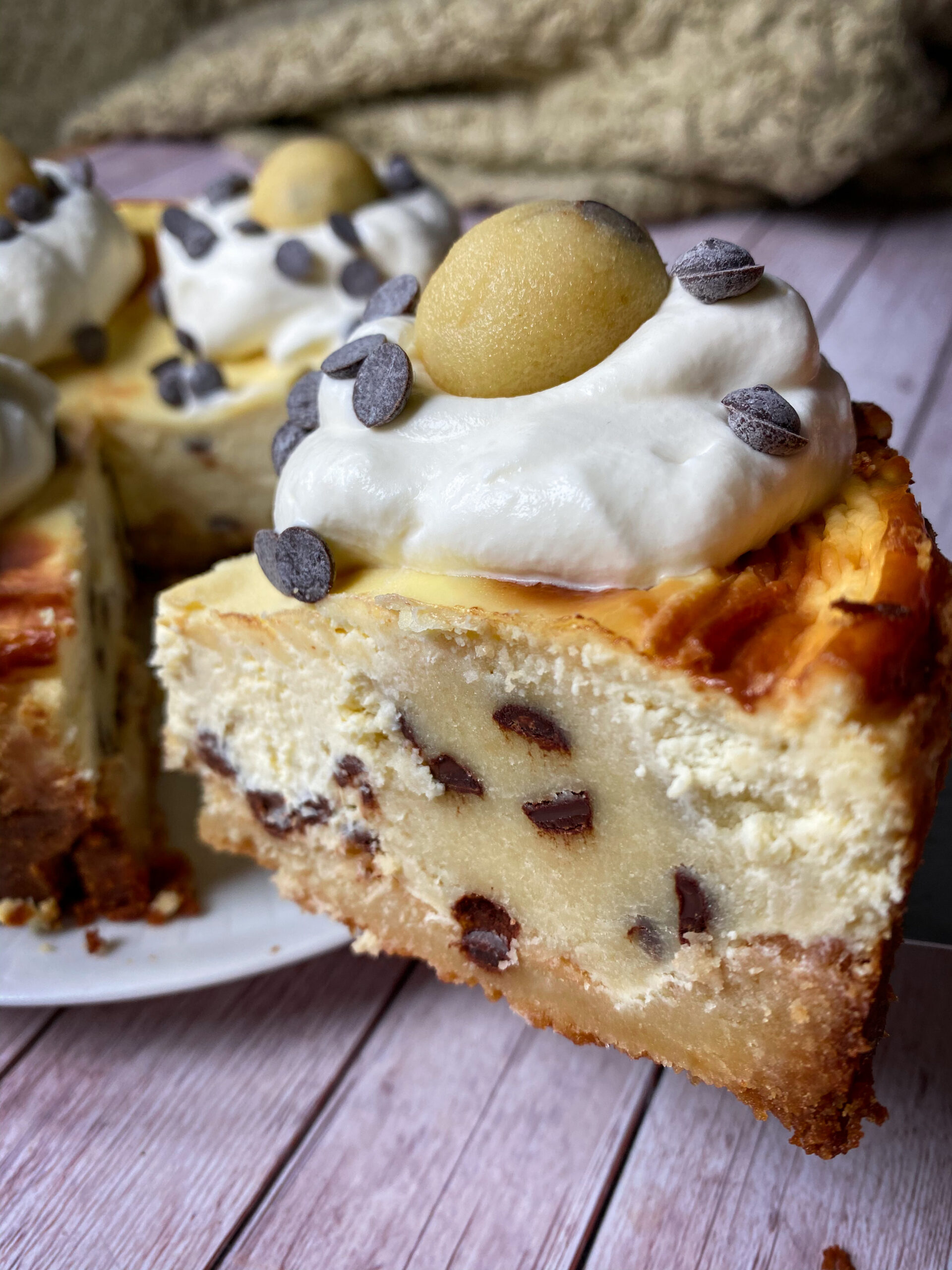 Want to try more keto cheesecakes recipes?
Keto pumpkin cheesecake balls are no bake and delicious! Also, this keto chocolate cheesecake is so light but rich low carb dessert you might love. And so easy to make! I am not sure if you have tried already my keto pecan pie cheesecake, but that is heavenly delicious dessert!
LIKE AND SHARE!
If you like my recipes, please leave a comment and share to support my work! Want to calculate your macros? I have an easy to use, and reliable keto macros calculator! Connect with me on FACEBOOK, INSTAGRAM, PINTEREST and join my TELEGRAM CHANNEL. Scroll down and subscribe to my newsletter to get my recipes to your email!
Enjoy!
Ines
Ingredients
KETO EDIBLE COOKIE DOUGH

1/2 amount of this keto edible cookie dough

KETO CRUST

Almond flour or blanched almond meal 1 cup/105 g/3.7 oz

Coconut flour 2 TBS/16 g/0.56 oz

Low carb sweetener (erythritol) 1/4 cup

Softened butter 5 TBS/75 g/2.65 oz

Pinch of salt

CHEESECAKE FILLING

Cream cheese 350 g/12.4 oz

Heavy whipping cream 1/4 cup/50 ml

1 large egg

Low carb powdered sweetener (erythritol) 1/3 cup

Sugar free maple syrup 2 TBS

Vanilla extract 1 tsp

Dark chocolate chips 25 g/0.9 oz

DECORATION

Heavy whipping cream 1/2 cup/100 ml

Powdered low carb sweetener (erythritol) 1 TBS

Dark chocolate chips 1 or 2 TBS

The rest of the edible cookie dough formed in a small balls
Instructions
3
Leave it in the fridge while you prepare the cheesecake crust and cheesecake filling.
5
Preheat the oven to 180 C/350 F.
6
Mix all dry ingredients in a bowl, add softened butter. Mix ingredients in a food processor or with your hands until you get the dough.
7
Press in the dough into a deep cake tray 17 cm/7 inch diameter, layered with a parchment paper.
8
Bake in a preheated oven on 180 C/350 F for 15 minutes or until golden brown and baked.
9
It won't be firm when baked, leave it to rest and cool for at least 15 minutes to become firm.
11
Mix all ingredients except dark chocolate chips with a mixer until you get smooth mixture.
12
Add dark chocolate chips into the mixture and whisk until evenly distributed.
13
ASSEMBLING COOKIE DOUGH CHEESECAKE
14
On a baked and cooled cheesecake crust pour 1/3 of cheesecake filling.
15
On the cheesecake filling put 2/3 of prepared edible cookie dough formed in a balls.
16
Pour the rest of the cheesecake filling over the cookie dough balls and bake in a preheated oven on 180 C/350 F for 20 to 30 minutes or until baked. When baked it will be golden brown on top and not completely firm, it will be just a little bit jiggly in the middle. It will become completely firm after few hours in the fridge.
18
Decorate when cheesecake is completely cooled.
19
Mix heavy whipping cream with low carb sweetener until fluffy and firm peaks formed. Don't over mix to avoid making butter.
20
Put mixed heavy whipping cream on top and decorate with small balls of the rest of the edible cookie dough and sprinkle with dark chocolate chips.
Notes
This cake is for deep cake tray 17 cm/7 inch diameter. It serves 12 servings. Nutritional value per serving: Cal 303, Fat 26 g, NET Carbs 3.84 g, Protein 4.9 g. This is for your information only, please, calculate your own macros with ingredients you use.