Keto chicken fried rice is very satisfying. Cauliflower rice and chicken in delicious low carb combination with other vegetables makes nutritious keto meal.
I really like a real fried rice flavor. And you wouldn't believe how "real rice" flavor this cauliflower rice has. Keto cauliflower fried rice tastes just as good as regular fried rice. Only it has bigger nutritional value and less carbs which is great!
Keto fried rice has all ingredients inside instead of rice, however cauliflower rice is doing a wonderful job here pretending to be a real rice! 😀
Since I discovered that cauliflower could be fantastic rice, I made so many cauliflower rice dishes. In my family we adore Thai cauliflower rice and Chicken and asparagus cauliflower risotto.
Favorite family friendly keto fired rice
This keto chicken fried rice is favorite meal in my family. My daughter who is 2.5 years old enjoys this keto fried rice meal so much. I think she said 10 times - Thank you mommy! - while eating her lunch. It was so cute. <3
Sometimes it's so funny to see a little child enjoying food so much. It seems to me that children are so picky today so I feel so good looking at my children while they eat whole food.
One more advantage of this homemade keto fried rice is that is great keto meal prep and it's cooked under 30 minutes! It's wonderful reheated and you can make it from chicken leftovers!
Tips for making keto chicken fried rice
Fried rice should be cooked quickly on a really hot skillet. It's the only way to get that "fried" flavor. That's why you need to preheat your skillet well before adding ingredients.
Prepare all your ingredients before heating the skillet because you will be adding ingredients in a skillet very fast. Ingredients should be crisp and golden brown.
Use peas and carrot, it's small amount and it won't raise the carbs count so much but it will give a lot to authenticity and flavor. You will definitely have a feeling of eating a real fried rice. Also, peas and carrot gives delicious look to this low carb fried rice.
If you want to avoid soy sauce, you can use coconut aminos. It will be great replacement because it taste like a soy sauce.
Keto fried rice recipe procedure
First you need to heat some olive oil or avocado oil on a skillet. When really hot fry chicken meat. After frying meat, remove it from the skillet or a pan and add beaten eggs.
Fry eggs on lower heat to avoid burning and caramelization and cut fried eggs in small peaces. Set it aside on a plate and fry veggies.
Add veggies gradually, carrot, spring onion, peas and celery stalks and when these veggies are fried add riced cauliflower. You can use fresh or frozen veggies.
Fry veggies until golden brown. Don't overcooked! You need your rice to stay crispy "al dente", firm to bite and not completely cooked. It has to keep it's consistency.
After your veggies are properly fried, add salt, pepper, spices, soy sauce or coconut aminos, and herbs and put back eggs and chicken meat. Stir well and serve.
When serving you can garnish with some finely chopped cilantro or spring onion. Definitely drizzle with sesame oil. It will be fantastic!
Check my other recipes under 30 minutes!
Chili scallops and prawns on pak choi
Keto mushrooms in oven with hazelnuts
Cauliflower risotto with chicken and asparagus
For more recipes and daily inspiration connect with me on INSTAGRAM, FACEBOOK & PINTEREST.
Enjoy!
Ines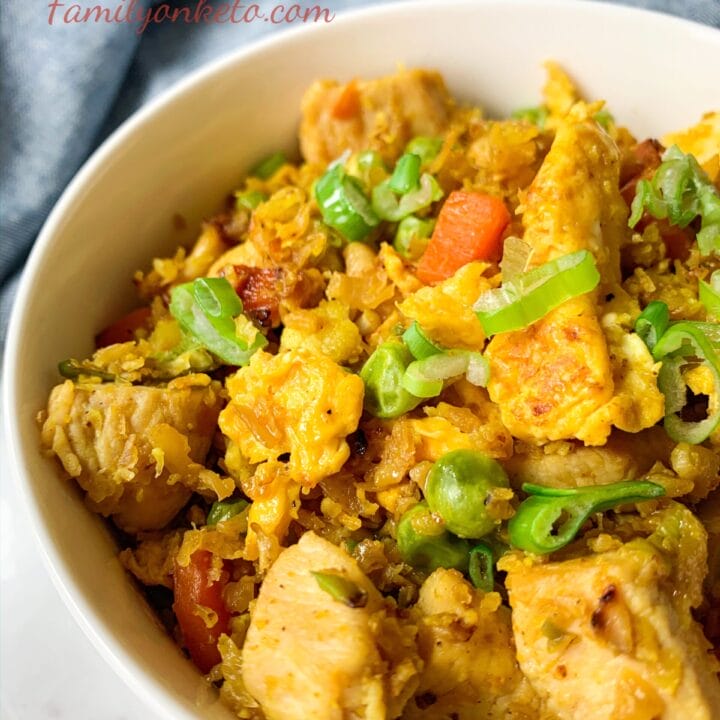 Keto chicken fried rice
Keto chicken fried rice is very satisfying. Cauliflower rice and chicken in delicious low carb combination with other vegetables makes nutritious keto meal. 
Ingredients
Olive oil or avocado oil 2 TBS
Chicken meat (chicken breasts or chicken tights) cut into small cubes 600g/21 oz
3 L eggs
Green peas ⅔ cup/100g/3.5 oz
1 small carrot cut in cubes 50g/1.8 oz
1 celery stalk cut in small pieces (optional) 20 g/0.7 oz
1 spring onion cut in small pieces 20 g/0.7 oz
Riced cauliflower drained 2.5 cup/360 g/12.5 oz
Salt 1 teaspoon or to taste
Soy sauce or coconut aminos 2 TBS
Powdered garlic 1 pinch
Turmeric ½ tsp
Sesame oil to taste
Garnish (optional)
Cilantro leaves
Spring onion
Instructions
Prepare all ingredients before you start frying. Cut all vegetables and meat to small cubes.
Heat olive oil or avocado oil on a high heat in a skillet or a large pan.
Cook chicken for 5 minutes or until completely cooked stirring occasionally. Chicken should be golden brown on the edges. When cooked, transfer chicken meat to a plate.
Reduce the heat and pour beaten eggs on a pan and scramble for a minute. Cut scrambled eggs to a smaller pieces and transfer on a plate with meat.
If needed, clean the skillet with a paper towel and add more olive oil.
Boost the heat to high and cook chopped carrot, spring onion and optional celery, stir and when start to be brown add well drained cauliflower rice and peas.
Cook veggies with rice until start to be brown. Don't overcook it, it should be al dente, firm to bite and shouldn't lose the form.
When vegetables with cauliflower rice is cooked add salt, pepper, soy sauce or coconut aminos and other spices and herbs, stir well and add cooked chicken and scrambled eggs.
When finished drizzle with sesame oil and garnish with fresh cilantro leaves or chopped spring onion.
Enjoy!
Nutrition Information:
Yield:

5
Serving Size:

1 cup
Amount Per Serving:
Calories:

328
Total Fat:

13g
Carbohydrates:

7.92g
Net Carbohydrates:

5.09g
Fiber:

2.83g
Protein:

43.2g
This is for your information only. Please calculate your own macros with ingredients you use.